Valerie back on two wheels thanks to Scotland Cycle Repair Scheme
Valerie Souter, 63, has cycled for as long as she can remember. Growing up in Portsoy on the Aberdeenshire coast it was the best way to get around and have fun with her friends. Living and working in Aberdeen as a police officer alongside her husband Sandy, cycling became part of their daily lives together.
She said: "My bike was a vital element for both enjoyment and commuting to work in and around Aberdeen city centre. Parking in the city was hard so the only logical way to travel was by bike."
Cycling together was a big part of Valerie and Sandy's relationship, especially exploring Scotland's stunning landscapes while on holiday.
Sadly, the couple's cycling journey came to an end when Sandy was diagnosed with motor neurone disease in 2017. The physical limitations of the condition were particularly difficult for him as he had always enjoyed such an active lifestyle. Valerie commented: "He did what he could to remain as active as possible, but the illness slowly took away everything he loved."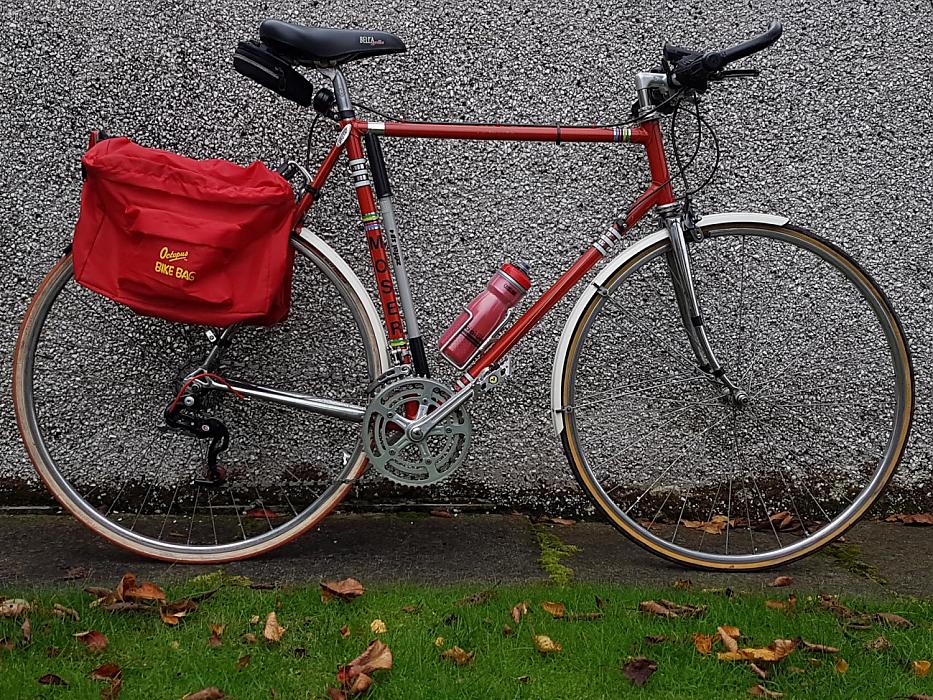 Sandy died in February, just before a lockdown was imposed due to the coronavirus crisis.
"I take comfort in the fact that I spent time with him as I was able to visit him in the hospice while that was still permitted," Valerie said.
It was seeing large numbers of people out cycling and walking with dogs at the start of the pandemic which encouraged Valerie to bring her bike out from the shed again. Although her beloved bike looked to be fine, Valerie was concerned about the safety of riding a cycle which had been stored for three years.
"My husband always gave our bikes a good check over and carried out any maintenance, but my capabilities extended to brushing off the cobwebs and giving my bike a good clean," Valerie said.
Inspired to act by the launch of the Scotland Cycle Repair Scheme, Valerie checked her bike in for a service with Adventure Aberdeen. Funded by the Scottish Government and delivered through Cycling UK and participating retailers, the scheme provides free bike repair and maintenance work up to a value of £50 with the aim of bringing bikes back to life.
It wasn't long before Valerie was back out cycling for the first time in three years, rediscovering her favourite local routes and experiencing the pleasure of cycling as a way to help cope with her loss.
Life must go on, although it's been rough, tragic and sad. For me cycling is a nice escape

Valerie Souter
As well as providing an escape, cycling near home and testing the capacity of her panniers with shopping trips to the local supermarket has had other benefits, too.
"It's a confidence boost with the loss of my husband, to do things on my own," she explained.
Looking back, Valerie says some of her happiest memories are of the holidays she and Sandy took with friends twice a year to Aviemore. The couple would spend their days exploring the beautiful Cairngorm mountains on their bikes, meeting up with friends for a meal and a cosy evening together.
Although she now enjoys riding solo, Valerie is looking forward to creating new memories with friends who have also rediscovered cycling during lockdown, when conditions allow.
Having received guidance from mechanic Joe at Adventure Aberdeen on how to carry out regular safety checks, Valerie can be confident her bike will remain safe for plenty of rides to come.
Getting Valerie and as many other people as possible in the area cycling is important to Adventure Aberdeen, which is part of Sport Aberdeen, a local community charitable leisure trust.
Head of sport and active communities Graeme Dale said: "It's heartening to hear of Valerie's story and the team at Adventure Aberdeen were thrilled to be able to help in getting her back on her bike and re-engaging with an activity she clearly has many fond memories of. It is my hope that we can help more people in the community make the most of this brilliant opportunity."