Scotland Cycle Repair Scheme
The Scotland Cycle Repair Scheme will help fix flat tyres, loose brakes and clunky gears to get folk pedalling again.
Finances are tight for many people at the moment, so we know it can be difficult to pay for essential bike repairs. If you need a helping hand to get your bike into shape, this scheme provides free repair and maintenance work up to the value of £50 for standard bikes and up to £100 for non-standard cycles. Whether you've got an old bike in the shed that needs attention – or the one you're riding requires some care – you can access a quality mechanic to get your bike repaired, safe and back in use.
It's a simple process – just contact your nearest participating bike shop or mechanic and get your repair booked in. Remember to tell them you want to make a booking under the Scotland Cycle Repair Scheme.
All cycles are welcome in the scheme including adults' and children's bikes, e-bikes and non-standard cycles like trikes, tandems, cargo bikes and recumbents. Manual wheelchairs can also be repaired through the scheme.
Use our map to find your nearest Scotland Cycle Repair Scheme centre. Need more information? Read our detailed FAQs.
Cycle repairs for those who need it most
Free cycle repair and maintenance
Up to £50 per person
Over 250 retailers participating
All cycles welcome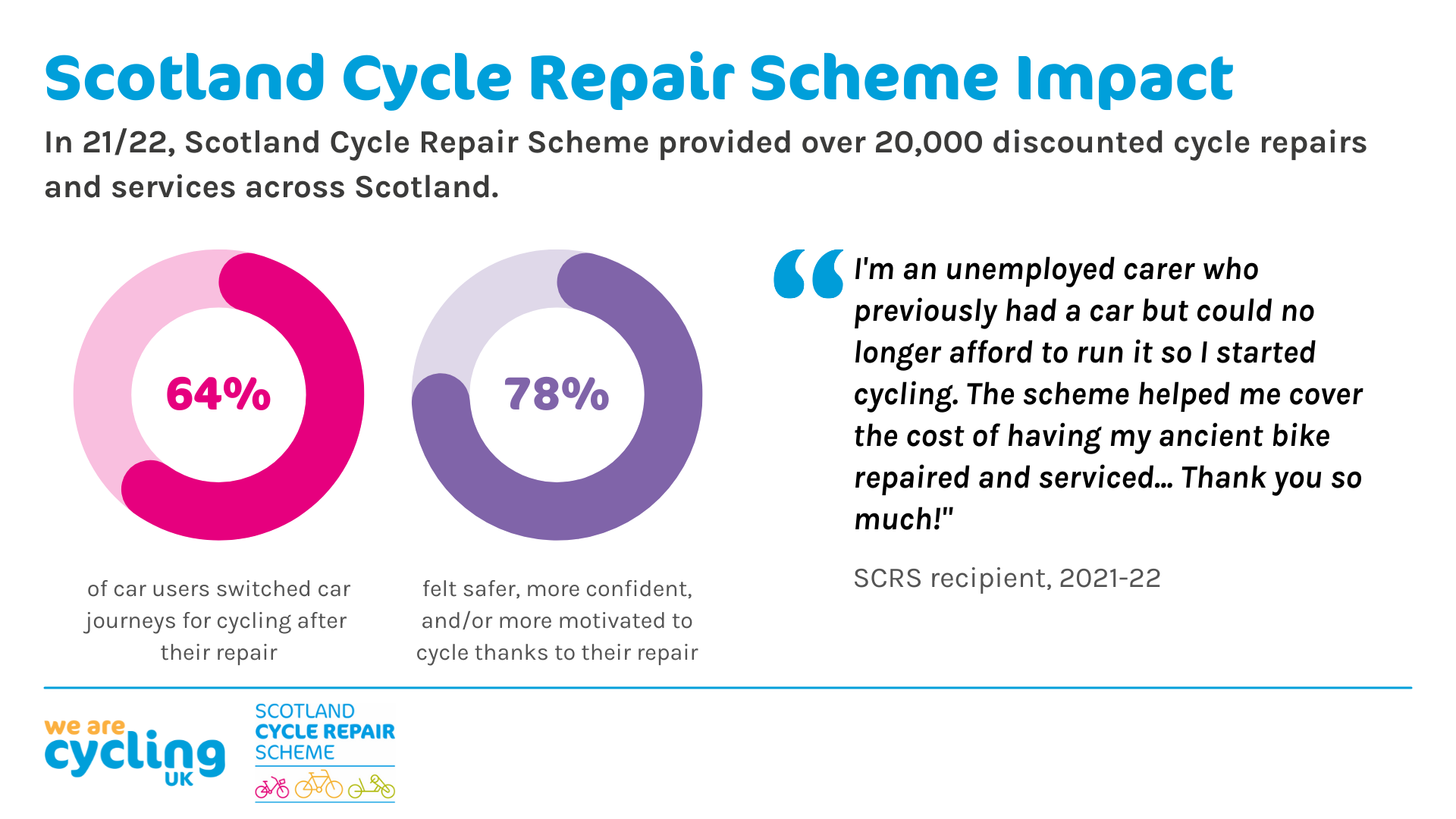 Find your nearest participating bike shop
We anticipate that interest in the scheme will be very high, so please be patient with our hard-working bike shops if you can't access a free repair right away. Please remember to state that you want a repair under the Scotland Cycle Repair Scheme when making your booking.
The scheme is funded by the Scottish Government and is administered by Cycling UK.