Meet our volunteers: ride leader Colette Evans
Sarah Wood and Joolz of Ride Rushmoor wanted to thank Colette for her hard work volunteering with the Cycling UK-affiliated group. So they filled in our simple form to nominate Colette for a 'Going the Extra Mile' long-service award for over one year of volunteering as ride leader for the group.
Sarah says: "This is largely for the help she has given in leading rides for Ride Rushmoor, a Cycling UK-affiliated group that was set up around three years ago in North Hampshire. The group is inclusive in many ways, including gender, minorities and promoting bike riding as an everyday activity for everyone.
"With the support of Colette, Ride Rushmoor has grown. Colette is the one who usually leads the Wednesday ride and she has also set up a longer weekend ride. She flexes around the weather and tailors the ride according to who is coming.
Embodying Cycling UK's values
Sarah told me "At Ride Rushmoor, we come from a variety of backgrounds. We do support each other and have a tacit understanding of the importance of being inclusive and non-judgemental. All are welcome and, if the bike they are riding is not roadworthy, we help them fix it – in my case by sending them to the local bike shop – and we also help them with skills from learning to ride a bike to improving skills.
"Our main activity is to organise led rides but we also run adult confidence sessions. So far, these have been supported by Rushmoor Borough Council Ward funding. When these happen, Colette volunteers to help. She also volunteered when when we ran our first Big Bike Revival session and led a ride with another volunteer, Clare, while I led a children's session and Joolz worked on bike skills with adults."
Sarah goes on to tell me that Colette has become "an important part of the team. Joolz and I both work part time and are not always available to lead the Wednesday ride and weekend rides. Colette's involvement has enabled us to keep going and the Wednesday rides are a permanent fixture. She came on our first ride leadership training event as it is important to Ride Rushmoor that rides are led to a standard."
Colette is also really good at keeping the ride together and making everyone feel welcome. Best of all, she includes rest times and brings sweets!

Sarah Wood, Ride Rushmoor
"Both Joolz and I are also both National Standard cycle instructors and it is important that we adhere to the Highway Code and follow that standard. Colette supports us in that aim. She is also really good at keeping the ride together and making everyone feel welcome. Best of all, she includes rest times and brings sweets!
"This is the aim of Ride Rushmoor and Colette supports this aim. The rides are mixed gender and include minorities, including members of Rushmoor's Nepalese community. The rides are also for all ages over the age of 18. Our eldest riders in in his late 80s. Although many of our riders are retired we have young riders as well.
"I hope by reading the above you appreciate how brilliant Colette is. It really is time that she gets some recognition although she will not expect it. She is very deserving of a huge 'thank you' for the way she has helped us."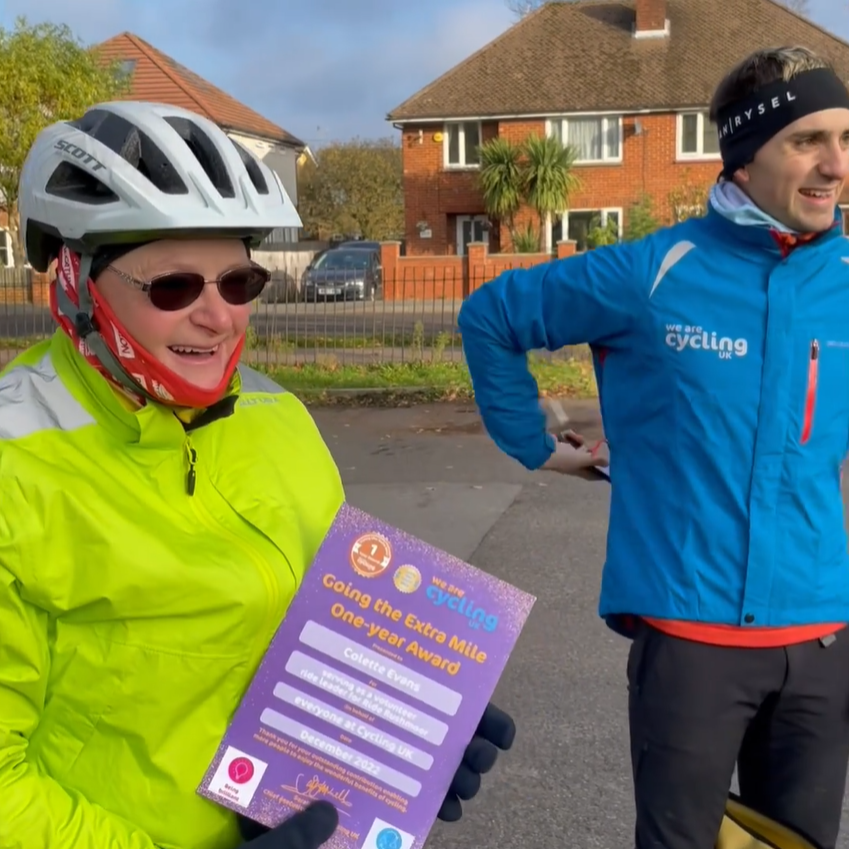 Being a ride leader
I asked Colette why she became a ride leader. She replied: "There was not always someone available to lead rides, I know the area very well and decided to give it a go. I am lucky with the hours of my job, I have around four to five hours in the middle of the day free. I lead a ride most Wednesdays and quite regularly a longer ride on a Saturday or Sunday.
"I know that lots of people won't cycle on their own, so by leading group rides, I am enabling them to get out on their bikes."
Meeting new people
Colette says that what she most enjoys about the role is "meeting new people and showing people new areas near to where they live. I have met a variety of people I would not have met otherwise".
Challenges include "keeping a large group together" and "thinking of new routes suitable for all," but she is very proud of "helping out on a confidence course, seeing people nervous of cycling or new to cycling, then seeing them grow in confidence and really enjoy coming out on rides".
She says to anyone considering volunteering as a ride leader: "Give it a go!"
Get involved
Do you know of someone who, like Colette, thoroughly deserves a big pat on the back for their dedication to helping others through cycling and living Cycling UK's values? Why not nominate them for our Volunteer Awards 2023?
Cycling UK's ride leader standards set out our minimum requirements for leading safe, enjoyable and inclusive rides. Our member group ride leaders are encouraged to sign up for free online ride leader standards training and our Ride Leader Toolkit contains a free guide plus other resources for existing and potential ride leaders for other groups.