Meet our members: Patrick Hyett, 86-year-old century rider
Proudly displaying the previous 11 date bars attached to his Tri-Vets badge, Patrick was presented with a cup for being the oldest male finisher by Dave Matthews, president and chair of the Cycling UK member group Chester & North Wales CTC Caer a Gogledd Cymru.
Patrick, who lives in Derbyshire and has been a Cycling UK life member since 1952, has completed the past six such events because not only is the route through the Vale of Chester to Shrewsbury largely flat but also because the Chester & North Wales CTC Caer a Gogledd Cymru Tri-Vets is such a popular and social occasion. This year, he rode in the group led by experienced ride leader Sue Booth.
For him, it is not so much the accomplishment of riding 100 miles in a day, although this is a not something many far younger people would necessarily be able to do, but the chance to meet fellow cyclists and enjoy a well-organised event with some delicious food and entertaining company on offer that keeps him coming back: Patrick was one of the 80 entrants who set off in small groups of ten at five-minute intervals. 
Just one regret
Patrick's only regret is that he didn't start riding Tri-Vets events as soon as he was eligible aged 50 in 1986 – he didn't have any way to get to a ride and didn't think it was a big deal to miss it. Now, of course, he realises he would have a complete set of 13 date bars had he taken part in that first one.
However, once he'd made his Tri-Vets debut in 1989, he enjoyed it so much that he hasn't missed any others in the past 33 years. But, as he'll be coming up 90 when the next Tri-Vets takes place, sadly, he feels that realistically he may now have taken part in his last ever such event.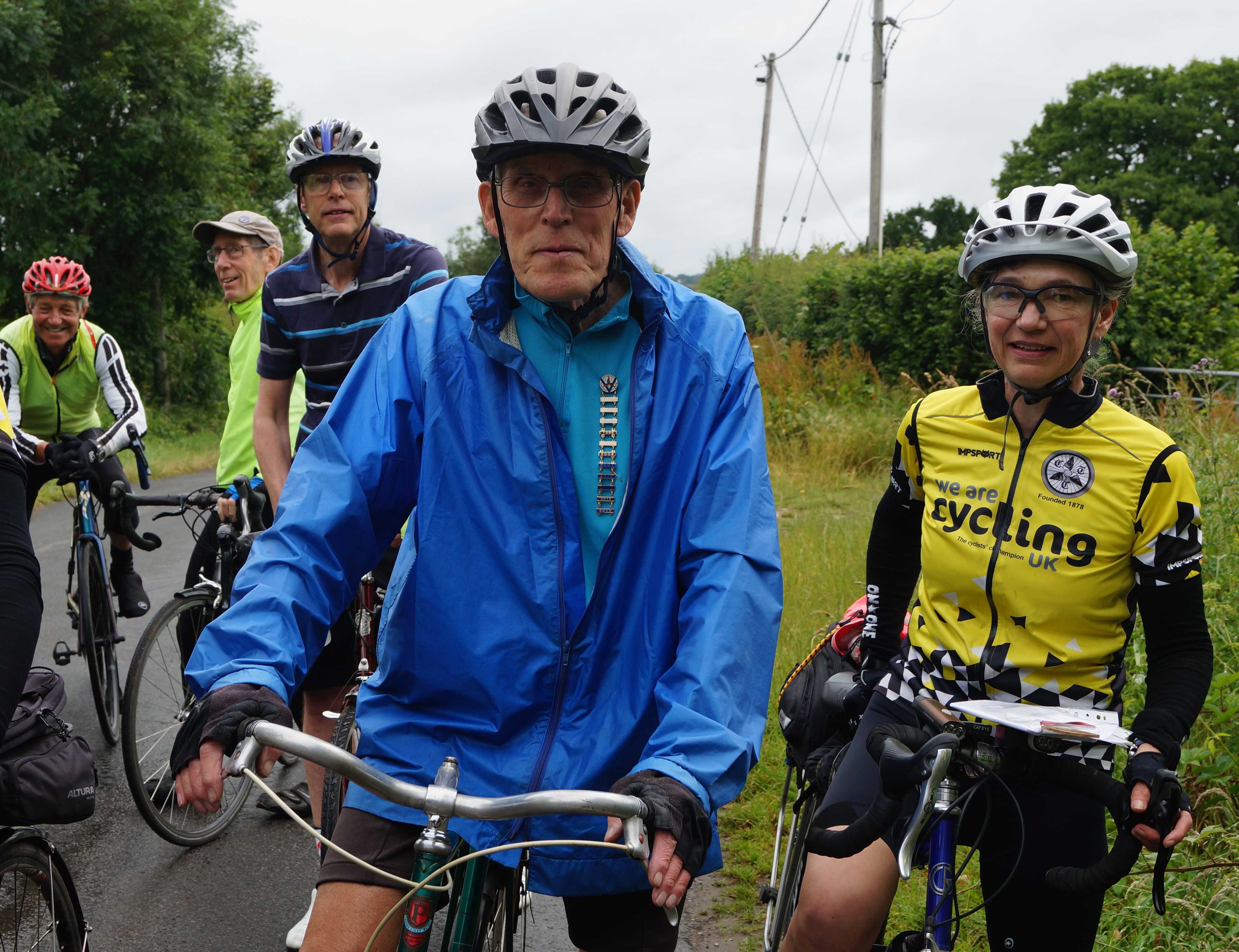 However, if he does continue, he'll have no shortage of bicycles to choose from: he rode this year's Tri-Vets on a vintage hand-built FC Parkes lightweight tourer (pictured above) but has a stable of between twenty and thirty similar machines from the 1950s and 60s tucked away in his shed. 
The FC Parkes maybe old and battered but was built up to his own specification and is widely regarded as the best model turned out by the Sun Factory, says Patrick. The others he maintains and regularly rides, some more than others, but often takes them out just because he enjoys looking at them, admiring their elegant forms including "their thin pencil-sized stays and curly front forks". 
Still riding every day
There are plenty of opportunities, though, to give Patrick's fleet an airing, as he uses a bike to get around nearly every day, having not owned a car or even driven one since he retired from his 40-year career as a surveyor for Ordnance Survey in 1994. Even then, he cycled the eight miles each way to the office and enjoyed longer rides with various CTC groups at weekends.
No matter the weather, he will still ride around four miles daily to the shops and perform other errands by bike, preferring it to the bus as he "doesn't like sitting next to others".
Now a great-grandad, Patrick is pleased that, although living close to his family, he is very independent. In fact, his daughter-in-law says he is a well-known figure locally but Patrick says he's too busy looking at the road to notice other people waving at him!
A lifetime of cycling
What is his secret to maintaining such an enviable record of riding into his late eighties? Although Patrick still cycles 50-60 miles twice a week on forays out into the local countryside, age has now caught up with him a little: he finds it difficult to turn his head round to look behind so sometimes dismounts and walks across roads and crossings.
He also worries about being a bit too slow to keep up with other riders so prefers to ride mostly on his own, apart from when he rides in the Tri-Vets.  E-bikes don't tempt him just yet though as "the technology is not quite there – if you run out of battery, it's a worry how you'd get home."
He's quite dismissive of a modern generation that considers it a miracle if you cycle five miles. He credits his lifetime of cycling for his good physical and mental health, having not seen a doctor in years and only had a few days off work in four decades – and that was mostly because of stitches in his hand from an accidental work injury. 
Get involved
This year's Tri-Vets rides are over for another three years but Chester & North Wales CTC Caer a Gogledd Cymru hold a vets 100 event in July every year, which when it isn't a Tri-Vets year is called the Bert Bailey Memorial Vets 100. You can find the route sheet and GPX file for this year's event attached.
The next Tri-Vets series will take place in 2025. If you completed this year's ride, you still have time to order a 2022 date bar and badge.