Learning to ride a bike helped Narinder cope with bereavement
Narinder Kaur's father Sohan Singh came to the UK in 1961. A young man of 28, he left his home in Punjab, India, to give his family a better future. More than 50 years later, Sohan had five grown-up children and was planning a three-week holiday to visit friends and family; it was a trip he had made frequently since his retirement.
On the day Sohan was planning to fly to India, the 85-year-old was taken ill and rushed to the hospital. "It was all so sudden," said Narinder. "We lost him the next day. After it happened, I was in so much pain; I was devastated."
Struggling to cope with her grief, 54-year-old Narinder looked for support. As a nurse, she knew that exercise has positive effects on people's health and wellbeing. "I was running all the time and I was off work, but nothing was helping."
A chance encounter
Everything changed for Narinder as she was out running in the park one day and bumped into Steve, a volunteer for the Cycling UK Community Cycle Clubs, Walsall Arboretum Community Cycling Club and Walsall Bike Project Maintenance Cycle Club. "I saw a sign and decided to join in. I had bought a bike years ago, but I had never learnt to ride so I couldn't use it. The first time I went along with my bike, everyone was so nice, they made me feel so welcome."
"Being part of the group has helped build up my confidence. Concentrating on a learning how to ride has also helped a bit to take away the pain from losing my dad. After losing someone close to you, it's so hard to motivate yourself to do anything.
I'm not over the grieving process yet and I'll always miss my dad, but cycling has opened doors for me

Narinder Kaur
"To anyone else going through a bereavement, I'd recommend getting out there and learning a new skill like cycling. Something that makes you feel good about yourself. I'm not over the grieving process yet and I'll always miss my dad, but cycling has opened doors for me."
Out and About
After Narinder learnt how to ride a bike she went on to cycle more in her everyday life. "At first, I just took my bike to Walsall Arboretum, now I can ride my bike from one park to another. Sometimes I ride to the allotment, or to my parents' home. I have so much more confidence."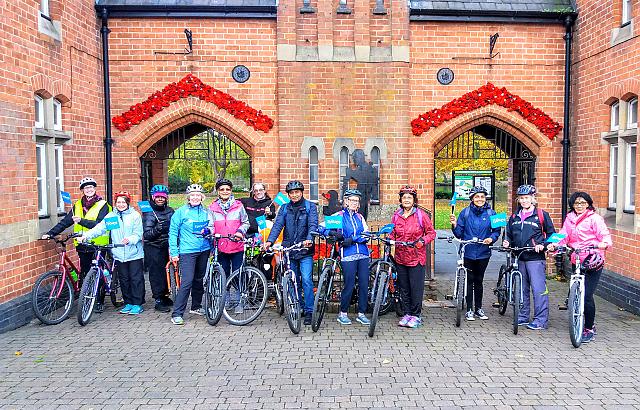 Giving back
Narinder hasn't stopped at learning how to ride a bike. After completing Cycling UK group leader training programmes she is now a volunteer for her local clubs.
Leslie Evans, Cycling UK community development officer for the West Midlands, said: "Narinder has been a great asset to all of the Walsall Community Cycle Clubs. Since learning how to ride a bicycle in 2018, soon after the loss of her father, she has embraced cycling with a selfless attitude to help others take to two wheels. She's a keen volunteer. She is very caring in her working life and continues this trait in her volunteer work. She's a good listener, a friend to all and she passes on her ever growing knowledge of cycling."
"Now I'm giving back and teaching other people," Narinder explained. "It's been great, a lot of people come in with their own health issues and to see their faces when they can ride a bike is just lovely. Everyone's got a story to tell. Some people who come to the group haven't been on a bike for 50 or 60 years."
Cycling is now a part of Narinder's life: "I'm not about to give my bike away!"
For Narinder, learning how to ride a bike was only the first part of her journey. "My dad volunteered regularly at the Sikh temple and for the city council at the arboretum and now I feel like I'm giving back to the community, too. I hope he's proud of me."
If you're interested in learning how to ride a bike, increase your confidence on the road or just join a group to go cycling with, then look for your nearest Cycling UK group.
If like Narinder you want to try volunteering with us then get in touch.