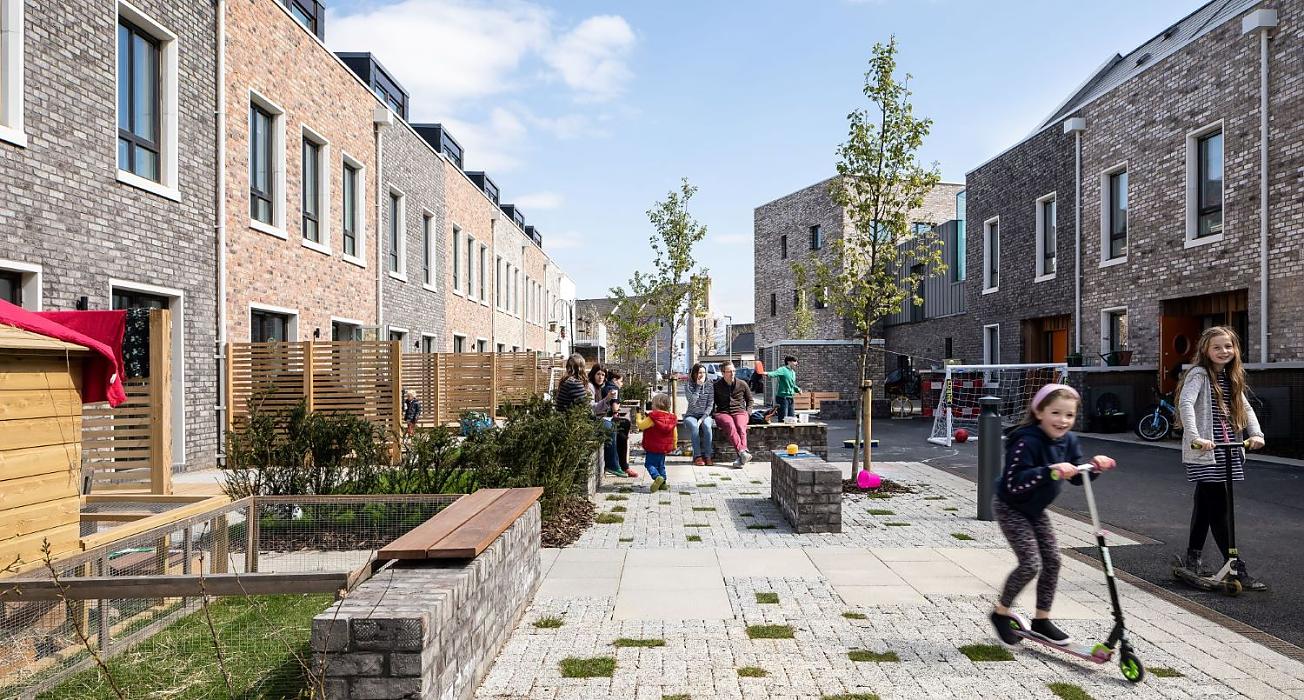 Let's put people at the heart of the planning system
Cycling UK, alongside MPs, proposed amendments to the Levelling Up & Regeneration Bill, to achieve a planning system which supports the climate and prioritises cycling and walking.
Over 1500 supporters wrote to their MP using our online action, asking that they support these amendments. A massive thank-you to all of you!
Despite these efforts, the Government shrugged off these proposals, and indeed everything else put forward by the Better Planning Coalition (BPC) and its member organisations.
They're still opportunities on the horizon where Cycling UK, alongside the BPC, hope to influence planning legislation to make new developments cycle-friendly. For a full update, please see this blog.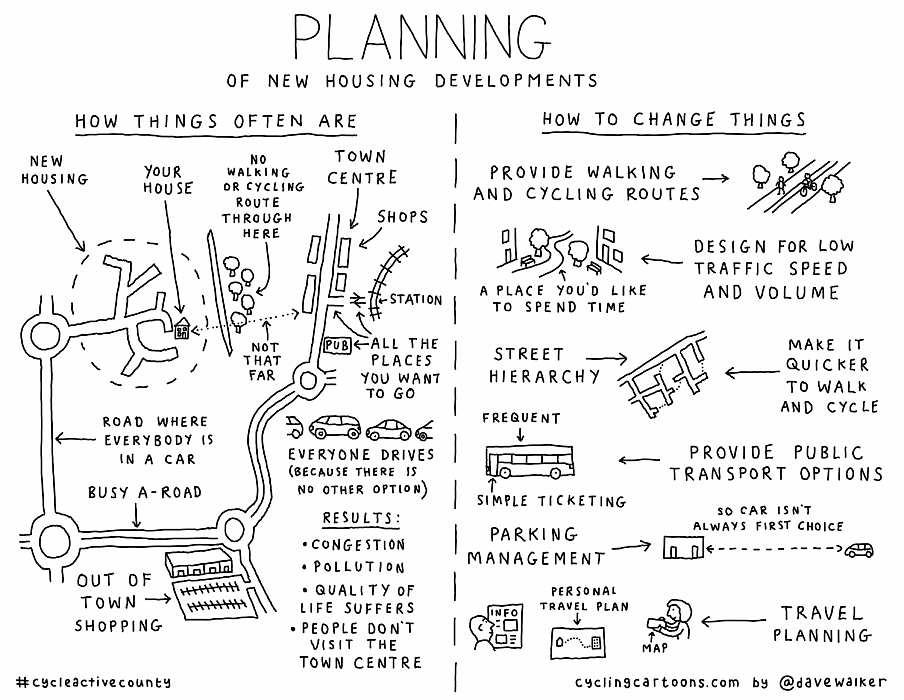 Why campaign for better planning?
The UK is amidst a house-building boom. However, most new developments are designing for car dependency and planning for poor health.
What we're building is as many car parks as we are homes, embedding lifestyles in which we are forced to drive everywhere, with congestion, road danger and physical inactivity rife across our communities.
This crisis is not the fault of homeowners, but the nature of flawed legislation. The absence of a robust planning system has repeatedly failed to incentivise developers to provide basic active travel infrastructure in new estates. But this can change.
At Cycling UK, we're calling for Pedal-Powered Planning, to place people at the heart of the planning system and enable walking and cycling for everyday journeys. People deserve to buy a house in an area where they have choice - we need future developments to allow residents to walk, cycle and drive.
Working together to create healthier, happier neighbourhoods
Cycling UK is proud to be a part of The Better Planning Coalition (BPC), which represents 29 organisations across the environment, housing, planning, heritage, and transport sectors. The BPC understands the unequivocal links between today's pressing social and environmental issues and the ability and potential of the planning system to tackle these in the round.
Cycling UK endorse the aims of amendments proposed by the BPC.
Want to know more?

Call Cycle SOS Cycling UK Incident Line today about:

Personal injury claims for Cycling UK members
Personal injury claims for non-members
Incidents caused by road traffic incidents and poor road conditions, such as potholes
Injuries from incidents whilst commuting, off road cycling or even on holiday overseas
Life-changing injuries caused through a cycle accident, where specialist support is required
Damage-only, smaller claims and expert advice from passionate cyclists
Crashes and/ or injury resulting from component failure 

We can assist with any incident or injury if you've been injured cycling or wheeling your bicycle in the UK. Large or small claim – we can help! Visit Cycle SOS Cycling UK Incident Line website for more information or call the Incident Line direct on 0330 107 1789*.

*0330 numbers are free to call if your landline or mobile phone plan includes free calls to landlines. If your phone plan doesn't include free calls, calls will be charged at the same rate as a standard landline. Please note that the previous 0844 number which is printed on your membership card is still valid, but you will be charged. Costs will vary depending on your supplier. 

The above offers and discounts are presented entirely at the discretion of the provider shown.

Terms and conditions

Please read the terms and conditions carefully as not all incidences and situations may be covered within the Cycling UK membership. However, Cycle SOS may still be able to provide legal assistance and advice.  Call the Cycle SOS 'Cycling UK Incident Line' today on 0330 107 1789* to speak to a specialist adviser or visit their website. 

If you have questions about the change of legal provider from Slater & Gordon to Cycle SOS please visit our FAQ page.