Winners: Cyclist Café of the Year Awards
Saturday, 06 October 2018
The winners
 After the votes were counted, a panel of judges from across the UK looked in detail at the cafés who made the shortlist and they decided the winners. 
Cyclist Café of the Year in England
Café Velo (Hampshire)
Café Velo is dedicated to all to cyclists. The owner runs a workshop, his cafe is described as 'second to none', serving large platefuls of excellent food at very reasonable prices; coffee included in all the breakfast/brunch options: vegan, vegetarian, regular. There is indoor storage for bikes, cycling memorabilia on the wall and a workshop incorporated.
Owner Peter said of the win: "We've only been open since Easter. I'm chuffed. I cannot tell you how proud we are. The support of cyclists and the local community has been incredible. I hope I have given them what they require.
It's always been a dream of mine to open a café and for something like this to happen so early on… I'm lost for words.
"It's always been a dream of mine to open a café and for something like this to happen so early on… I'm lost for words.
"We run rides out from the café every Saturday and Sunday, and a gravel ride the first Sunday of the month. We also have an on-site workshop with an in-house mechanic six days a week.
"We're in Ringwood, but we have cyclists coming from as far as Portsmouth and the Isle of Wight. We've even had a group from Swindon."
Cyclist Café of the Year in Northern Ireland
Bow Bells (County Down) 
Bow Bells received the highest number of votes for Northern Ireland. Bow Bells is owned by local councillor Mark Brooks and is a warm and friendly place to stop. Many people who nominated Bow Bells said they served delicious large cakes with one nomination declaring they baked 'the best buns in County Down'. The café puts on a club barbeque every year and supports local cycling clubs and groups.
Owner Mark Brooks said: "It's an honour to receive an award for what we do, we are glad we have so many happy customers".  
Cyclist Café of the Year in Scotland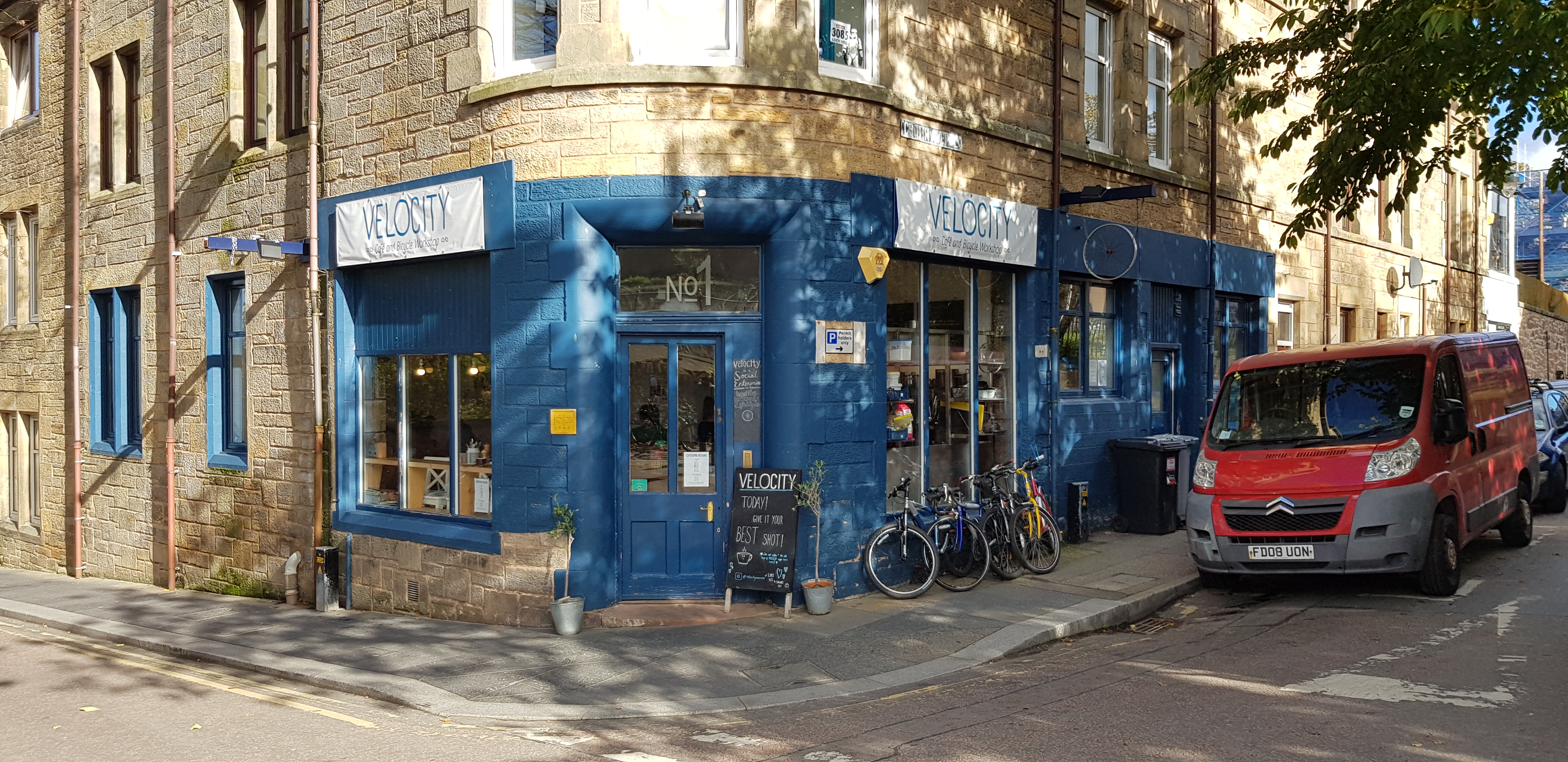 Velocity (Inverness)
Velocity has been described as a unique place with no fixed seating arrangement or standardised menu. It's very relaxed inside and makes lovely locally sourced healthy food at great prices. It's a social enterprise with an adjoining bike repair shop, which also runs all sorts of courses to promote inclusivity for cycling.
Dave Sage who is the General Manager said: "We are just about to celebrate our 6th birthday, Velocity is a social enterprise and the café space provides a hub for everything to happen.
"There's a lot of people putting in hard work to create a warm, welcoming environment for cyclists and other customers, it's really so lovely that we have been recognised as a place people can come and relax."
What's popular on the menu? The hot lunch special is really popular and it changes every day. If it's cold outside, the soup and a sandwich lunch is also a winner. Almost everything is homemade and food is locally sourced and prepared by the staff on site.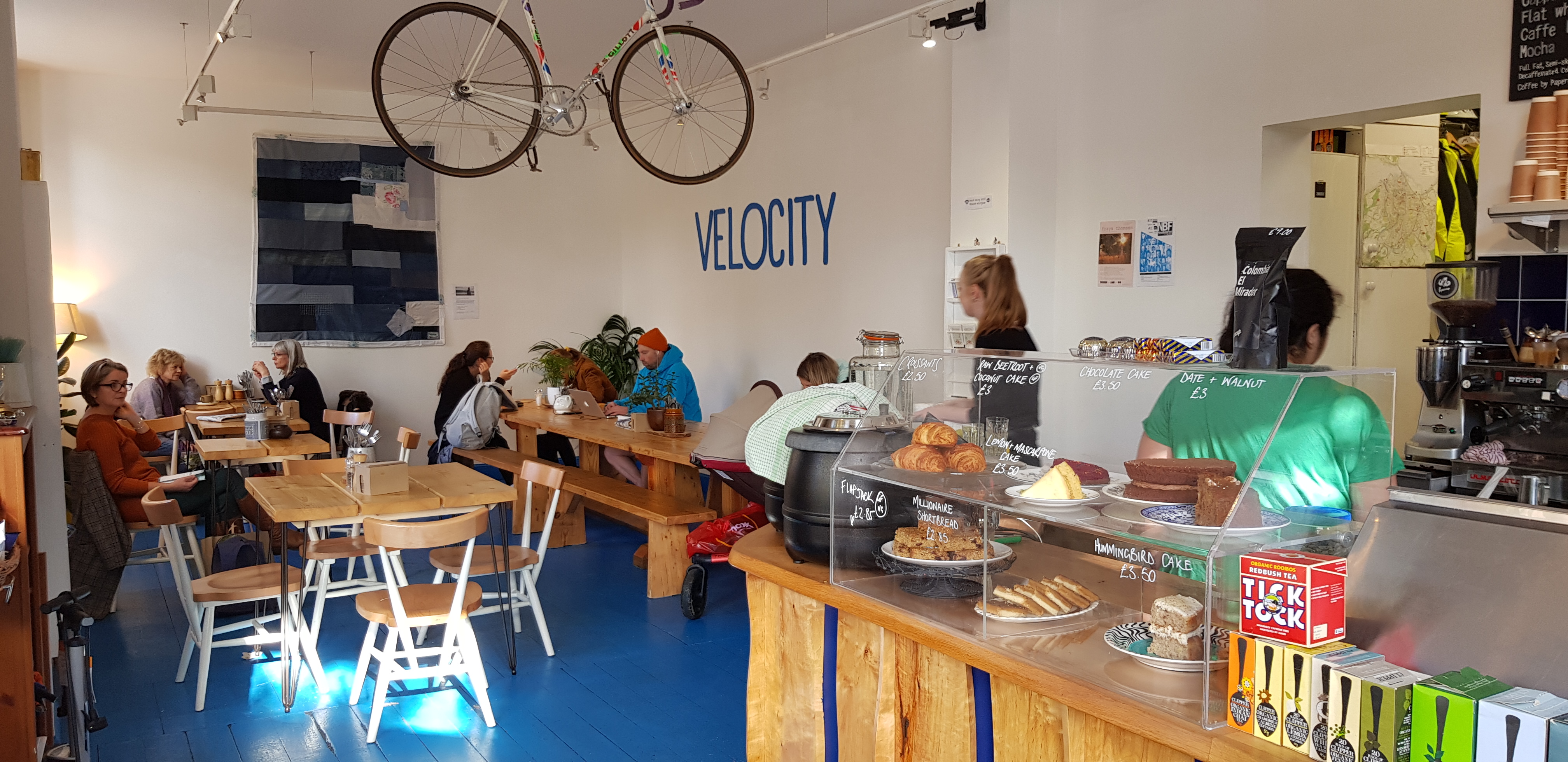 Cyclist Café of the Year in Wales
I want to ride my bike café, bar and workshop (Cardiff)
I want to ride my bike opened in July 2017 and has quickly established its place at the heart of the Cardiff cycling community. Owner Jonathan Wright was inspired to open a cafe and bar where you could come and watch the Tour de France and meet others. They serve local craft beer and have big screens to watch races on. They also pride themselves on serving generous portions of cake. 
I want to ride my bike has a workshop and classes (mixed or women only) to help cyclists to be ready for any mechanicals on the road and they organise regular rides too. 
Owner Jonathan Wright is extremely happy to win the award, saying "We are not a destination café in the countryside, but a city centre café that is popular with students from the University, local campaigning groups, those who work at the Welsh Assembly or visit the National Museum across the road. 
"We aim to encourage more people to leave their cars at home and cycle in Cardiff city centre, we are also an information hub about cycling."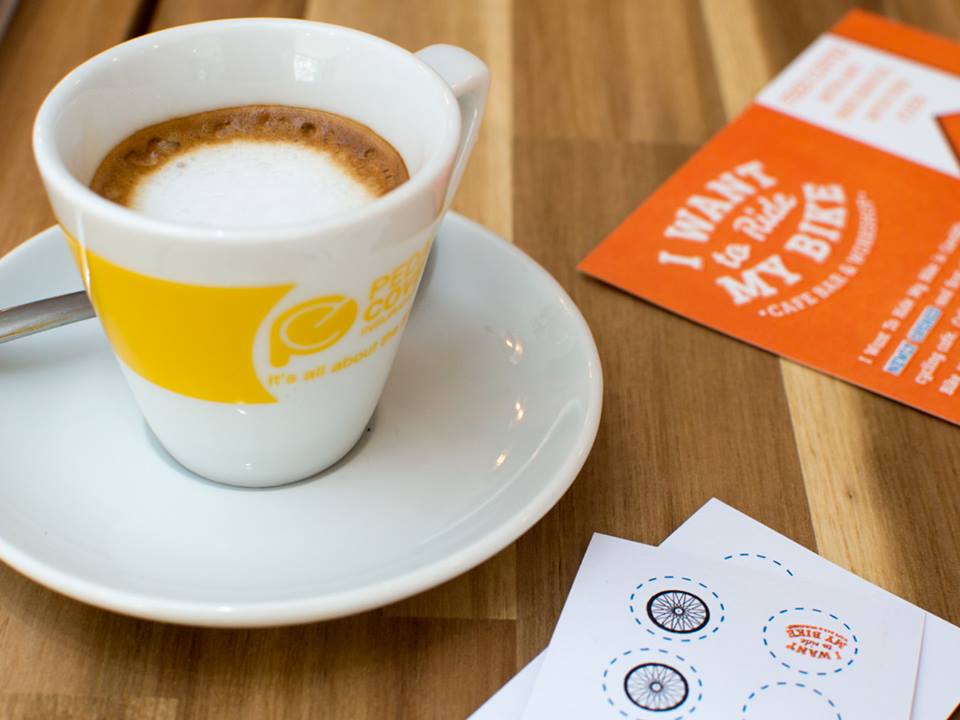 Lifetime Achievement 
Eureka Café in Two Mills, Chester
Eureka Café, which is also known to regulars as the Mills, has been serving cyclists since 1929.  It received a lot of nominations from people who have been stopping there by bike for decades.
Owner Anne Peek, who has been running the cafe for 17 years, said: "This award is not just for us, it is for our amazing customers too. It is the people who make a place. So many of them have stories to tell about cycling in the area - Eureka is a real community.
"We are only a little café, but it's a place where people love to come by bike to."
Popular items on the menu include 'beans and spare' - which is beans on toast with extra toast. There is also the special cheese mixture, which is a special recipe passed down from the original founders of the café.  
Eureka has an interesting history, the name is supposedly from when a sailor returned to Two Mills looking for his long-lost love, when he found her he shouted "Eureka!"