London Edinburgh London: Cycling UK volunteers make a difference
On Sunday 7 August, an expected 2,000 cyclists from around the world will start the 930 mile round trip from London to Edinburgh and back again in under 125 Hours. The UK's biggest Audax ride is only possible because of the volunteer army who will be on hand to feed and take care of the riders.
London Edinburgh London (LEL) has long relied heavily on the support of the cycling community and many Cycling UK members are actively involved with every aspect of the event.
From the early planning stages through to recruiting volunteers and staffing the control points, cyclists have come together to support riders from 54 countries. Participants will visit 13 stops along the route where volunteers will serve up an estimated 35,000 meals and countless gallons of tea and coffee before being tucked up into around 3,800 inflatable beds.
Volunteers will serve up an estimated 35,000 meals and countless gallons of tea and coffee

Liam Fitzpatrick
Long-time Cycling UK member, George Alexander will be managing the control at St Ives in Cambridgeshire. Because, at the 100km mark, it's the first rest stop, his team of 67 helpers expects up to 80 riders to arrive every 15 minutes during the peak on Sunday. And they will be on hand later in the week to greet riders on the return leg before they tackle the last stages.
"It's going to be busy, but it's a lot of fun" says George who is looking forward to welcoming cyclists from around the world for what he describes as a "festival of Audax",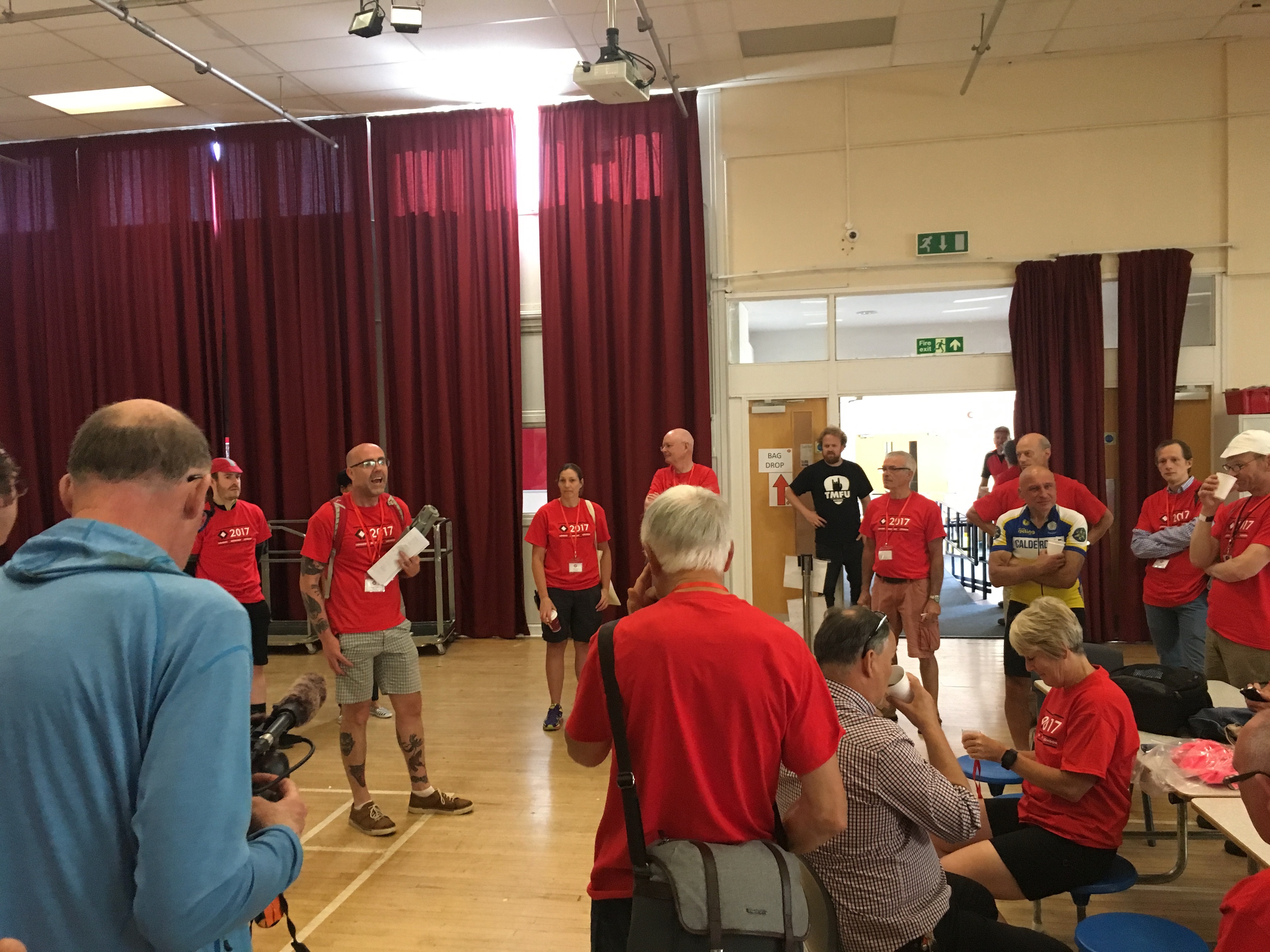 From Cambridgeshire, the mandatory route works its way up through Lincolnshire, crossing the Humber Bridge into East Yorkshire. At 367km, the Malton control expects many riders to bed down for their first sleep, but by then, the field will have spread out.
Yorkshire cyclist Jacqueline Mountford-Green at Malton knows the drill as this will be her fourth LEL as a volunteer. "You can't predict what people want to eat by the time they reach us" she explains "it could be a proper meal or just be cake – they have stopped thinking about the time of day and are just listening to their bodies. You have to ready to support them whatever they need."
She reflects that Cycling UK members are ideal volunteers for an event like LEL. "We have an inkling of what these people are going through on long rides."
Like most helpers, Jacqueline says that although volunteering on epic rides is an endurance challenge in itself, it is highly rewarding. "You meet people from around the world – riders and supporters and it's inspiring to see so many people just having a go."
Fellow Malton volunteer, Bernard Marden from Thirsk, echoes the pleasure to be had from making connections with people who share his passion for cycling. And, as a past rider of the event in 2005, he understands the importance of a friendly and empathic face at the low moments.
"When I saw the call for volunteers from Cycling UK, I jumped at the chance to get involved" he explains.
When I saw the call for volunteers from Cycling UK, I jumped at the chance to get involved

Bernard Marden, LEL volunteer
Riders head out from Malton to tackle the Howardian Hills and the Pennines before crossing Cumbria and entering Scotland at Gretna. They head over the Forth Bridge into Fife for the halfway control at Dunfermline where Edinburgh cyclist Carolyn Dyson will be on hand.
She sees helping out as simply being part of the community of riders. "I'm grateful that other people organise things and, when I can, I contribute. Even if I might never ride a particular event, it all evens up in the end."
The route returns through Edinburgh and the Borders before retracing down through Co Durham and Yorkshire and back to the start. The organisers estimate that as the first finishers arrive home in Essex, the last entrants will still be in Edinburgh.
LEL has been running since 1989 when just 31 hardy pedallers set out. Since then, the route has evolved and was even tweaked right at the last minute a couple of weeks ago because of a road closure on Yad Moss. This year's event attracts an eclectic mix of cyclists, from the super speedy carbon riders hoping to complete in under 100 hours to Bromptoneers raising money for charity alongside an eliptigos world record holder and a small clutch of velomobiles. Rumour has it that an Indian film star is taking part (although he won't be the first!).
There is still time to volunteer via the LEL website and cyclists are being encouraged to look out for LEL riders on the road. During Sunday 7 August, the best chance of seeing LEL pass by will be between Essex and Lincolnshire. The sections through Yorkshire, Co Durham and Cumbria will be busiest during Monday 8 and on Tuesday 9. And from Wednesday 10, the increasingly spread out field will be in Scotland or on the road back south.
Some of the riders can be followed on the Dotwatcher website. Although a partial view, it will give a sense of the field's position across the course.
Plus, news of the event and images will be posted on social media using the hashtag #LEL2022 and Cycling UK members are encouraged to post their own sightings or experiences of LEL.