Dutch-style roundabouts and low-level signals tested
Mini-traffic lights, simple yield markings, zebra crossings without archaic orange Belisha beacons and zig zag markings...
Walk down any street in the Netherlands and you will encounter signs, road markings and items of street furniture like those listed above. These are, however,  forbidden under the UK's stifling street regulations.
But now - commissioned by Transport for London (TfL) - TRL (previously the Transport Research Laboratory) - trials of some of these approaches are being conducted on its vast test track. A video of the test can be seen on the BBC website.
This may mean that on-street trials can be carried out soon, with TfL aiming to install a new design on the north end of Lambeth Bridge, a poor design for which was rejected last year.
However, with very high levels of traffic at this junction, a roundabout with priority for cyclists may prove problematic. Where traffic exceeds 25,000 vehicles using junction per day, the Dutch would normally use traffic signals or grade separate (tunnels or bridges) cycle tracks. Each arm of the roundabout carries around 30,000 vehicles. 
The new design trials  follow years of lobbying from cycling organisations - and now TfL - for the simple, high quality approaches to providing for cyclists common in the rest of Europe.
It's really encouraging to see that Transport for London is pushing hard for proper, high quality segregated facilities. Their initial proposal for Lambeth Bridge showed exactly the sort of 'get-cyclists-off-the-road' approach to segregation that has plagued British cycle planning for decades."

Chris Peck
CTC Policy Co-ordinator
Dutch style roundabouts employ a much tighter geometry, with - usually - only one entry and exit lane and a narrower circulating lane. These roundabouts are rare in Britain, where engineers concentrate on maximising speed through the junction, to increase the capacity.
The Dutch usually provide a fully-segregated cycle facility that retains priority over the carriageway arms of the roundabout;  currently this would be anathema to British traffic engineers.
View Larger Map - an example of a Dutch roundabout in Hilversum
Current regulations do not permit the use of priority crossings for cycle tracks unless the track is placed on a humped crossing. Furthermore, regulations state a 28-metre warning line must be placed on the approach to the yield line - an impossible requirement in many locations, where cycle tracks cross side roads.
It is this inflexibility that frustrates designers hoping to employ techniques giving cyclists priority at junctions. It leaves designers with the all too familiar approach of expecting cyclists to yield to turning traffic, or, even worse, erecting a 'cyclists dismount' sign at each junction.
CTC's campaigner in Lincoln, Rodney Jelfs, calls non-priority crossings such as these 'dismount and dash', which alliteratively describes the present approach to cycle crossings on shared use footways - the normal form of off-carriageway provision in the UK.
Low level signal heads 
Another so-called innovation being trialled by TRL is low level traffic lights - small, cycle specific traffic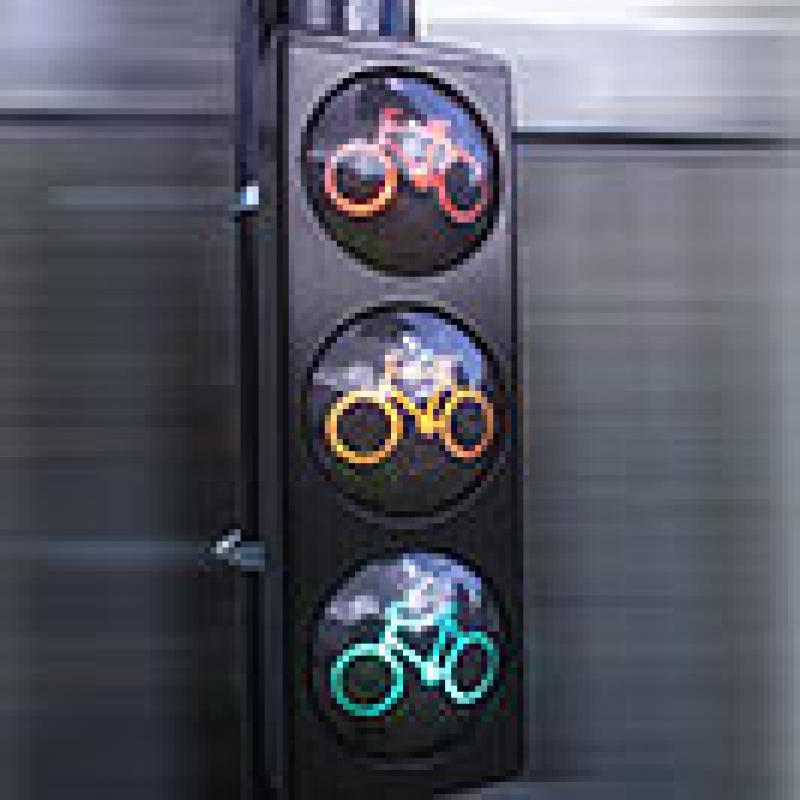 The Department for Transport has hitherto been implacably opposed to mini traffic lights, despite their use in virtually every other country in Europe. They would greatly save space and reduce the need for the forest of traffic columns that currently festoon attempts to segregate cyclists and motorists at junctions such as Bow Roundabout.
These - and many more - simple regulatory changes will make junctions much easier and safer for cyclists.
However, any changes will need to be made clear to motorists to make sure that they understand and observe them.