The Big Bike Celebration award winners
The event saw a diverse range of members, volunteers, staff, trustees and supporters from around the UK come together to listen to the inspirational speakers, congratulate the award winners, enjoy a delicious lunch and meet other people passionate about cycling and Cycling UK's work. Some even went on a led bike ride in the autumn sunshine around Birmingham's local cycle infrastructure before getting down to the main business of the day: 'How to get Britain cycling'. 
Speakers 
Kicking off proceedings was former Olympic and Tour de France racing cyclist and now TV presenter Chris Boardman MBE. Chris spoke to Cycling UK Chief Executive Paul Tuohy about his new role as Greater Manchester's cycling and walking commissioner. He discussed his priorities for achieving an increase in more active travel in the region, including building high-quality cycling infrastructure and a wider roll-out for 20mph limits.
Taking questions from the audience, he rejected the idea of compulsory road skills training for cyclists, saying that he preferred to remove any potential barriers to more people cycling, rather than creating more. Asked what we could learn from the much greater levels of cycling in European cities, he talked about changing junction priorities, explaining how on a recent trip to Copenhagen with then minister for cycling Robert Goodwill MP, they observed car drivers giving priority to cyclists and pedestrians. 
Another question focused on what individuals can do to nudge the agenda and press for more investment in cycling. In response, Chris urged people to write to their MPs and local councillors, saying that they are more likely to look at an issue if they receive lots of letters on the same subject.
Finally, he recognised that it could take a long time - perhaps as much as three years - to make a difference but he is focusing on specific measurable targets to bring about this. 
Throughout the day, Chris was a popular figure amongst the attendees, with many posing for pictures with him. He said:  "Great to see a room full of so many people directly on the ground enabling others to enjoy bikes. Inspirational."
Following Chris, former international mountain biker and a Director of the Adventure Syndicate Lee Craigie took to the stage. She started her talk with a photo of a lawnmower, recounting how as an eight-year-old she persevered for two hours to start her father's machine, before finally resorting to cutting the grass herself by hand. This seemingly superfluous anecdote was, in fact in her view the start of her journey to becoming a mountain bike racer and adventure cyclist: it proved to her that you can do anything if you try hard enough and presumably was an early indication of the tenacity of mind and strength of character that would lead to her winning many national mountain bike titles.
However, she told the attentive room, after finishing one particular event in Andorra, she realised that intensive training and racing had left her feeling somewhat burnt out and in danger of losing her love of just riding a bike for its own sake. She therefore took the decision to ride all the way back from Andorra to southern England, rediscovering her love of cycling in the process!
Now, Lee devotes much of her time to long-distance challenges such as the recent Tour Divide in the United States and promoting adventure cycling to others, particularly women and girls through the Adventure Syndicate. Describing how she recently worked with a group of Edinburgh schoolgirls by taking them on an overnight bikepacking trip, Lee explained how testing their limits in the outdoors helps develops confidence and independence, allowing them to believe they can achieve their goals. 
How lovely to be in a roomful of people who are passionate about encouraging others to get outdoors and physically active.

Lee Craigie
Of the Big Bike Celebration, Lee said: "How lovely to be in a roomful of people who are passionate about encouraging others to get outdoors and physically active."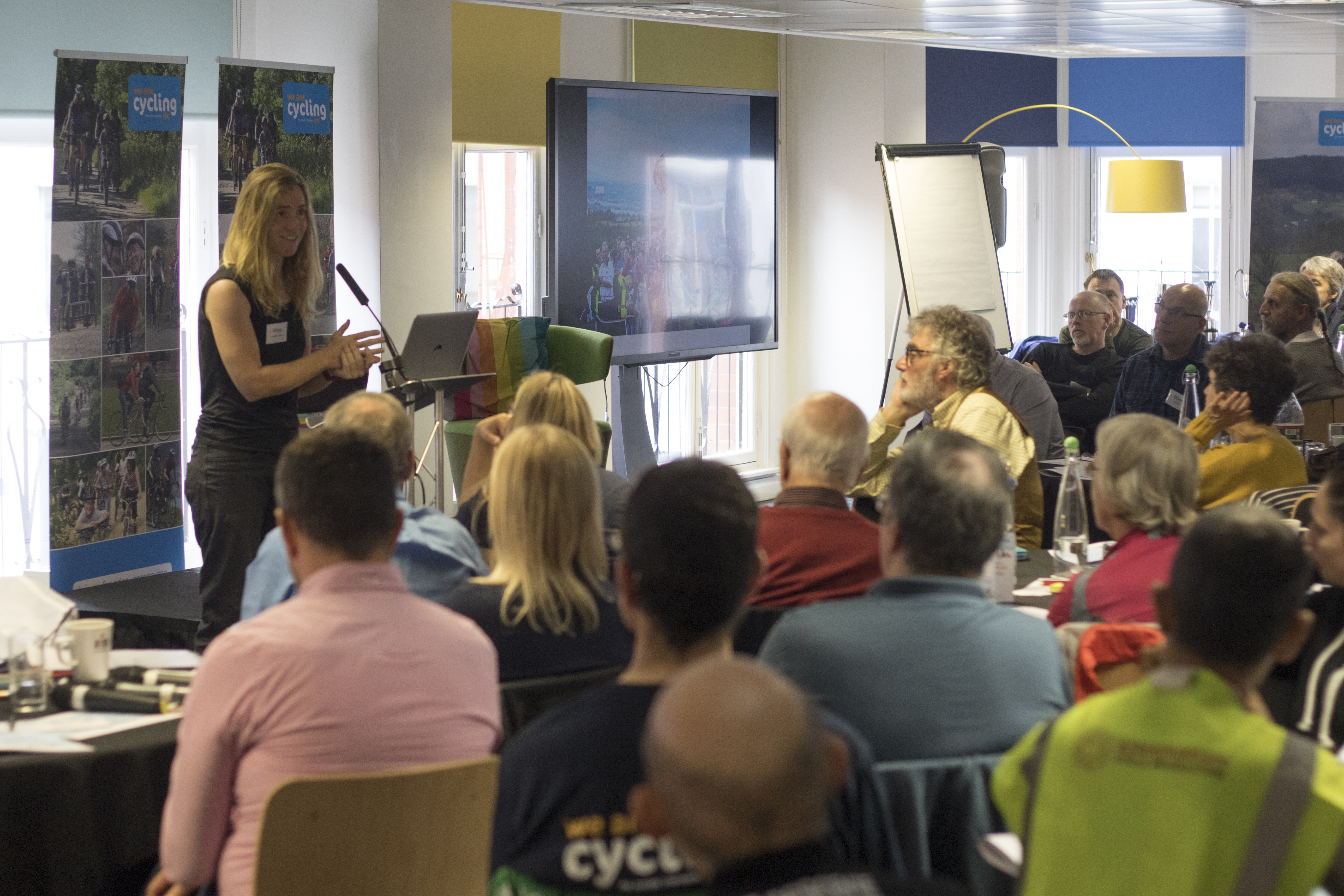 Other speakers included Councillor Ian Ward of Birmingham City Council, who explained his commitment to making the city much better for cycling. He shocked the room with statistics showing that 80% of the region's population are currently physically inactive whilst 40% are overweight or obese. A graphic tube map-style representation showed how there is a nine-year difference in life expectancy in different areas of the city.
Following Ian, Lorraine Dixon of the Joyful Bellas and Fellas Community Cycle Club based at Birmingham's Edgbaston Reservoir, in conversation with fellow member Joy Anibaba, entertained the audience with the story of how she rediscovered a love of cycling after a break of 11 years. Not only has she lost weight, improved her health and found new friends, she has also taken on challenges such as the recent Velo Birmingham, completing 55km of the very hilly route. 
Following their talk, Councillor Ward said: "We need more people like Joy and Lorraine to show the real side of cycling."
Cycling UK Volunteers of the Year 
The Volunteers of the Year Awards provide Cycling UK with an opportunity to celebrate a variety of individuals, groups and clubs from across the UK that devote many hours to supporting people to experience cycling. 
The winners were announced at the charity's annual conference and the awards were presented by Chris Boardman MBE and Lee Craigie. 
Cycling UK's Chief Executive Paul Tuohy said: "It has been extremely positive 12 months since our last conference. Getting together to celebrate our successes with our members, partners and loyal volunteers demonstrates the positive impact we are making across the UK. We have made great progress but there is so much more to do, and people lending their support ensures we can continue to be the cyclists' champion."
Best Community Project
1st Step Bikes is an inspiring success, run by volunteers who have mainly been affected by addiction, and are often at risk of offending or being victims of crime. The group support recovery through developing new skills and friendships using cycling. Having built a strong team of volunteers, 1st Step Bikes welcomes people from across West Lothian and Falkirk, tackling stigma by drawing in people from the wider community.
In the last year, Monty's Bike Hub has grown from a few young people fixing bikes in a youth group, to a social enterprise which is getting more people cycling, thus improving skills and employment prospects. With nearly 20 volunteers, Monty's Bike Hub runs weekly adult 'bike kitchen' sessions and youth bike workshops, has maintained over 100 people's bikes and sold around 20 recycled second-hand bikes to the local community.
Resurrection Bikes in Harrogate thrives due to the commitment and enthusiasm of John who started it from scratch. In the last year, it has recycled over 700 bikes, raised over £20,000 for a number of charities and trained many volunteers in bike maintenance, as well as working with young offenders and provided bikes for refugees and work experience. It continues to grow its support and have a great impact.
B10 Community Cycle Club has shown great passion for getting the cycling group up and running in a relatively short time. The volunteers are very pro-active at attracting new members and, whatever the weather, led rides are held for people in their local community. They put a lot of effort into engaging people, including having a presence at events around Birmingham and getting local bike shops involved. B10's hard work is very impressive.
Best Group Achievement or Cycling Event
Bradford Bikery community bike project, joining forces with another cycling organisation The Capital of Cycling, provided practical help and support to asylum seekers and refugees in Bradford through their "Cycling to Sanctuary" initiative. With Big Bike Revival funding, and the Margaret Carey Foundation supplying bikes refurbished in prison workshops, they have given away over 100 free bikes. Some of the recipients are in absolute transport poverty so a bike can be a crucial tool.
They also provide group activities, bike repair and organised rides, giving people a positive experience and helping them integrate into the local community. Dave Robison from Bradford Bikery said "Our volunteers give a lot to the project but also get a lot back – it helps them to integrate if, for example, they're refugees. The local volunteers look on them in a different light and see them as people with useful skills to offer, rather than a drain on resources. Volunteers are often in transport poverty and can't even afford bus fares so having access to a bike helps them get around and also reduces the burden on the NHS by helping them to stay fit and healthy."
Shortlisted nominee – OpenMTB, Wales
This group has supported Cycling UK since 2015, helping communicate and gather support and engagement for our off-road campaigns. The work OpenMTB put in to make 'Trails for Wales' an award-winning campaign was clear – at the BikeBiz awards the success for the Rides of Way report plus the volunteers' efforts gained crucial media coverage. Their support has contributed greatly to Cycling UK's second 'Trails for Wales' campaign, helping us to communicate with another 30,000 people with interests in off-road cycling.
Shortlisted nominee – Cycle Ayrshire, East Ayrshire
Cycle Ayrshire is a very successful Member Group, led by Pat and Drew Standen. For many years, they have run a wide variety of rides for all abilities and recruited many volunteer ride leaders. They particularly encourage female cyclists with dedicated long and short rides for them. This year, in addition to their already busy programme, the group organised 'Heels to Wheels', a festival for female cyclists run as part of Cycling UK's Big Bike Revival, and they also took part in our inaugural Women's Festival of Cycling.
The Edinburgh Festival of Cycling has become a key event in Scotland's cycling calendar. Now in its fifth year, it highlights the sheer breadth of cycling and the humble cycle's versatility. Featuring everything from inspiring talks from cycling's big hitters, to family try-a-bike events, to races and competitions, EdFoC offers something for everyone. The festival is completely run by volunteers, and offers over 60 events across a 10-day span.
Best Campaign
Winner – Caernarfon Bypass volunteer group, Wales
A dedicated team of campaigners – namely Roy Spilsbury, John Mather, Richard Keating and David Wood – have been working tirelessly to try and ensure that the popular and scenic Lon Eifion cycle path will remain safe and in use when the A487 Caernarfon & Bont Newydd bypass is constructed. They have liaised with many bodies, including Sustrans, Ramblers, Cycling UK and Antur Waenfawr to raise objections and put forward alternative proposals for safe crossings at the Goat Roundabout. Between them, they have organised the collection of data on the use of the path and given reasoned evidence in support of their arguments.  They have shown unstinting dedication and hard work on behalf of cyclists in North Wales.
Shortlisted nominee – Cycle Bath, Adam Reynolds - Bath
Drawing on the 'cycle tube map' first created by the Bristol Cycling Campaign in 2015, Adam Reynolds created his own tube map that depicts clearly the quality and extent of a local cycle network. In addition, Adam created a simple tool that allows local campaigners across the country to create their own 'tube maps'. The map and the tool now form a central part of the Space for Cycling campaign – and since the Bath cycle network map was created, tube maps have been made for towns and cities across the UK, from Edinburgh to Taunton!
Shortlisted nominee – Cycling Network, Robin Tucker - Oxfordshire
2017 saw full council elections take place in shire counties across the country. Influencing these can be a real challenge due to the sheer number of candidates and the perception that cycling is generally an issue for urban areas. Despite the challenges, Robin threw in an enormous amount of energy. He created a full county-wide network of desired cycle routes and got sixty candidates in Oxfordshire signed up to seek the funding to build them. He ran an excellent event outside the county hall and as a result, now has over twenty elected councillors who have pledged to work with him to create the Oxfordshire Cycling Network.
It's hard to think of two officers who have done more to help raise awareness on how to drive safely around people cycling, or who have done it with such passion. These two officers identified the problem of close passing on their patch and came up with a simple and effective operation which reduced reported close passes by half overnight. Their methods are now being studied and emulated across the UK and overseas; the term 'West Midlands Police' is now almost a byword for best policing practice among cycling circles.
Young Achiever of the Year
Winner – Erin Spray, Chester
Inspired by a cousin with anorexia, 11-year-old schoolgirl Erin Spray has cycled the length of Britain to raise funds for a mental illness charity. The Spray family are members of Cycling UK, and Erin asked her dad if she could take on the challenge of LEJOG to raise money for Young Minds Charity. The initial target was £2000 and, having achieved that, she has now raised over £6000. Erin spent weeks planning all the travel and logistics with her dad, as well as completing long training rides to prepare for the challenge. Following the Sustrans route of 1,200 miles to make use of the low-traffic trail, it took about three weeks to complete. Erin is one of the youngest girls to complete LEJOG and is an inspiring example of a young cyclist's dedication.
Special recognition – Charlie Smirk, Southampton
Charlie, aged 16, is just starting college and lends much of his development and confidence to his involvement with Monty's Bike Hub. He first attended a Dr Bike session last year with his older brother and started helping out. Since then, he has dedicated many hours fixing young children's bikes and helping at weekend events, as well as showing other young people basic maintenance. He showed so much dedication he has recently completed a Velotech bronze qualification, which is a real asset to the club. Charlie said: "If it weren't for Monty's, I'd be in prison." He has worked very hard and in turn has developed personally. Charlie told us he: "Loved it. Really, really enjoyed the day. It's nice to be appreciated."
Shortlisted nominee – Jamie Cannell, Liverpool
When Jamie Cannell started cycling with Hope4Cycling Community Cycle Club, he was a very shy young boy and lacked confidence in his own ability. After being encouraged to ride by a family member, Jamie has gone from strength to strength and is racking up the miles in his own time, as well as completing longer rides and a bikeathon with his mentor. His contribution to the group is selfless and he encourages new or nervous members, who are at a similar stage to him when he joined.
Best Cycling Achievement/ Individual Achiever of the Year
Winner – Mick Buckley, Lancashire
Mick Buckley is a qualified cycle mechanic and selflessly volunteers for Ribbleton Bike Revival on average three days per week – his support to date has amounted to over 2,300 unpaid hours! Working in a difficult location for community involvement, with high levels of vandalism, Mick takes it in his stride striving tirelessly to try and engage young people, providing them with cycle repair tips and demonstrations. In peak times, Mick will take bikes home with him to continue the unfinished repair so customers can collect next day, always going above and beyond.
Shortlisted nominee – Julie Cunningham, Falkirk
Julie Cunningham is one of the two ride leaders at Falkirk Belles on Bikes, and has worked tirelessly to build up the club from the very bottom. Returning to cycling had a transformative effect on Julie's life, and she is passionate about passing on that impact to other people. In 2016 Julie was finding it incredibly difficult to recruit people to Belles on Bikes, but instead of giving up, Julie worked hard on a programme of Learn Then Ride sessions.  Her hard work and patience eventually paid off, and Falkirk Belles is now a healthy and very happy women's riding group, in no small part due to Julie's determination.
Shortlisted nominee – Glyn Salmon, Merseyside
Glyn Salmon's story is inspirational. A former professional football coach, Glyn turned his attention to cycling to aid his recovery from cancer. He went on to rack up the miles, participating in many sportives and cycling trips around the UK and Europe. Sadly in 2016, the cancer returned and subsequent major surgery resulted in him being unable to return to cycling on two wheels. Determined to continue with his passion, Glyn purchased an ICE Trike and, within three weeks of owning it, he was riding around the Peak District with his club. An amazing achievement from a lovable and selfless individual.