Group test: Choose the best bike bags and boxes
You need to put your bike in a bag or box to take it on a plane. Some rail services require a bike to be bagged too – European high-speed trains demanding a case no bigger than 120×90cm. Check any regulations carefully before booking.
Of the well-protected options, a hard-shell case is the most expensive, a padded bag generally the most capacious, and a cardboard delivery box from the local bike shop the most affordable.
On the other hand, plenty of seasoned travellers get by with minimal protection, on the basis that a bicycle clearly identifiable as such may be treated with more care than an anonymous box. The translucent CTC Cycling UK Plastic Bike Bag (£12 from online retailer Wiggle) is a case in point: it lets the bike be seen, and the bag can be carried rolled up on the bike.
If you regularly travel with your bike and don't fancy a folding bike, it may be worth investing in S&S couplings or the Japanese Rinko system.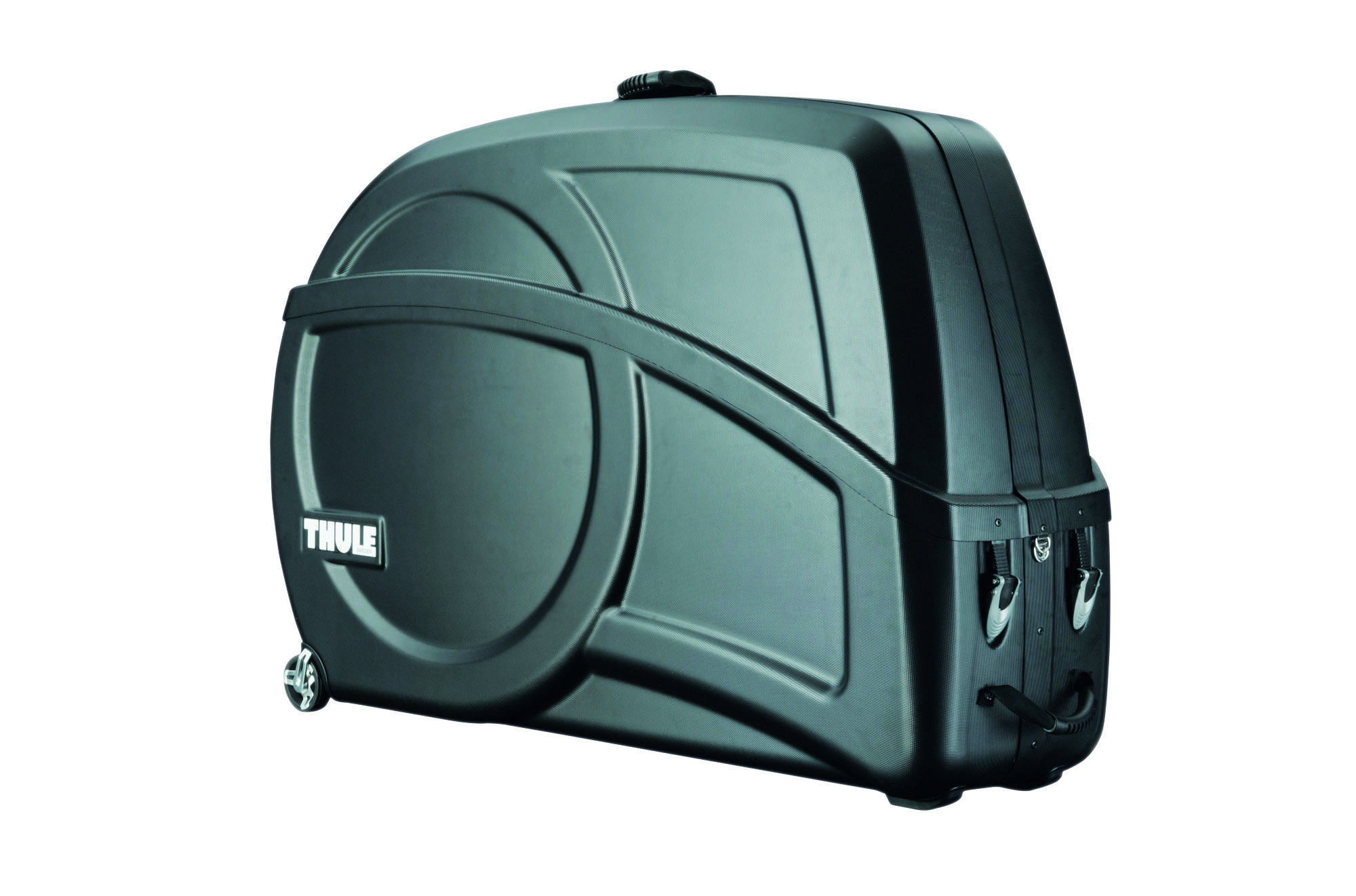 Thule's Round Trip Transition not only encases the machine in a spacious hard shell but secures it on a bracket that, when removed, forms part of a well-appointed tripod workstand. With the tripod housing removed, the bracket clips into the lower half of the case with the bike attached, its wheels having been removed and the handlebars strapped to the side. Release is a matter of pulling on a strap.
Bags are provided for the wheels, which go either side of the frame. It's all fairly easy to use, although juggling the stand-bracket-with-bike while attempting to attach the leg housing could catch out the careless. It is limited to cycles with a wheelbase of 116.8cm.
With the lid closed and latched down, the case is a stylish and sturdy affair. One of the underside 'feet' was broken on delivery, but spares are available.
Rear wheels and drag handles make it easy to pull along – but it is heavy. Even empty, at 17.6kg and 1.37×0.94m it is awkward to heft around. With a 7kg-plus bike inside, it is a baggage-handler's nightmare and simply asks for a hefty airfreight surcharge. And that's before you factor in a toolkit.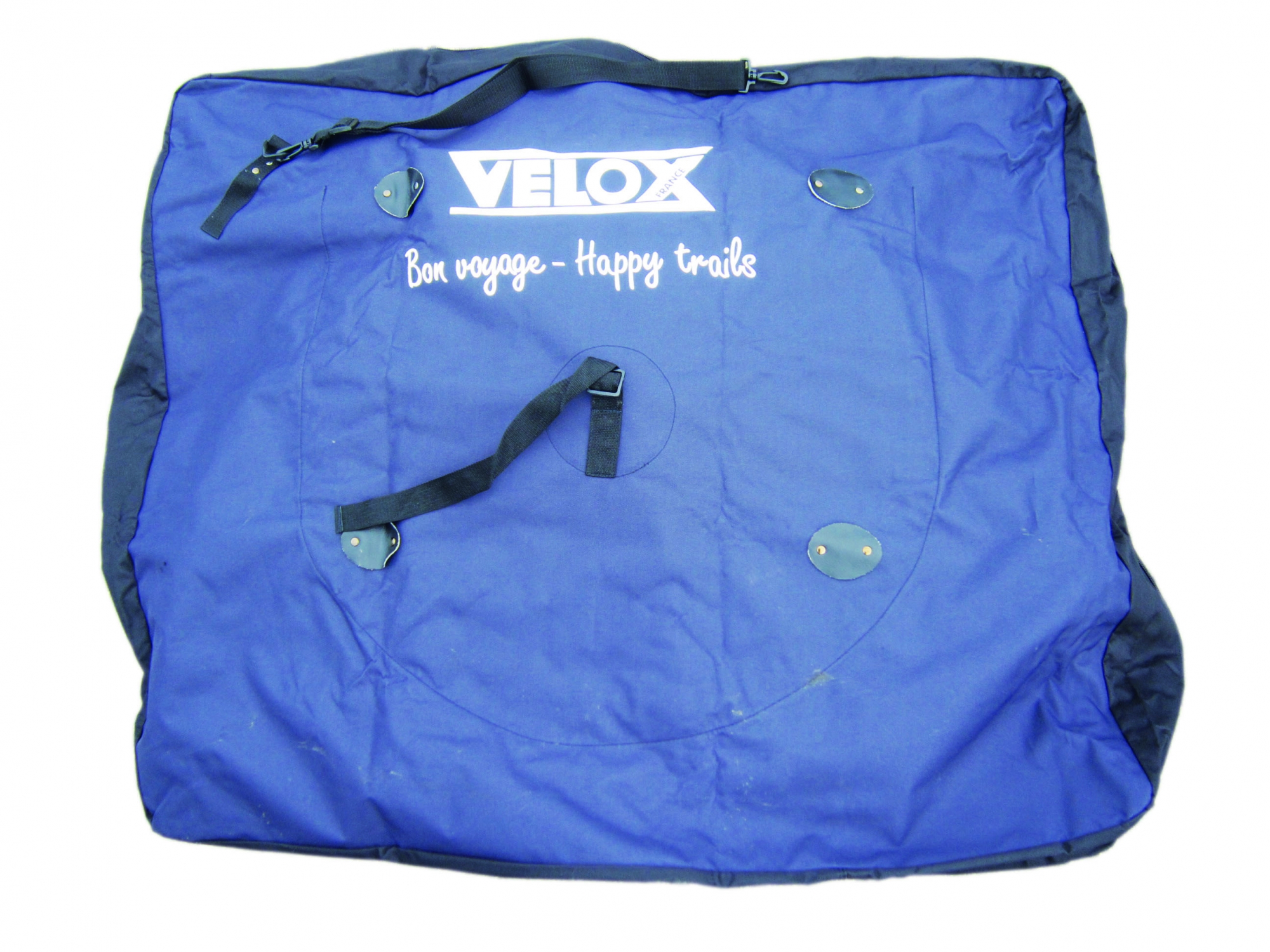 This is a capacious bag in tough Cordura fabric with zippers around two and a half sides, side pockets for wheels, and a selection of straps. Imagination, dropout spacers and additional padding are needed to get the most from it. That done, the Velox should provide adequate protection against all but the most ham-fisted handler.
Weighing 2.4kg, the Velox won't worry baggage check-in. Dimensions of 1.3×1.17m spread out don't mean that much, as packed size will depend on the cycle inside. It could conceivably be carried around on the bike, once at the destination, although I struggled to get it back in the thin nylon carrying bag provided.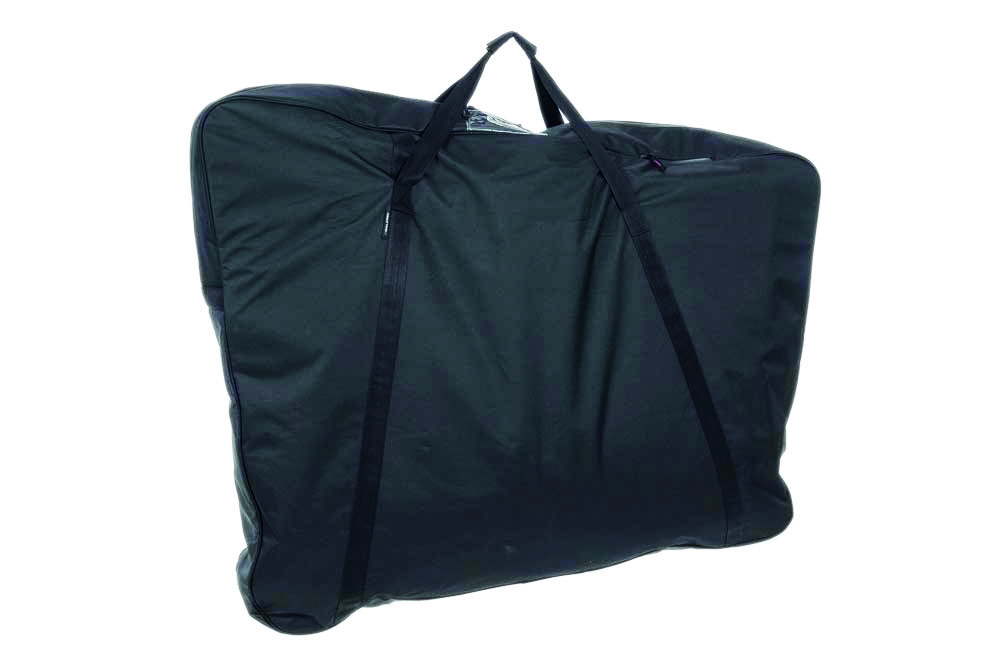 About as anonymous looking as they come, Raleigh's offering is not as basic as it looks. Constructed of a tough fabric labelled as 600D Polyester, it has a useful amount of padding in the sides, sturdy webbing handles and an address window.
Four sizeable pockets, a wheel skewer holder and a tool/pedal bag are provided inside. The wheels are held in internal pouches with reinforcements at the hub axle points and, once in place, add some measure of protection for the bike itself.
With handlebars, saddle and pedals removed, most bikes will fit comfortably inside. Protect vulnerable areas, such as the dropouts, and the Padded Bike Bag is a cost-effective, unflashy way to transport a bike.
The Axial Pod combines padded 600D fabric sides with internal stiffeners atop a rigid EVA base incorporating small castors. The stiffeners and rigid base shape of the Axial Pod surround the bike; with the wheels placed in the transmission-side internal side pockets, it is well-protected against all but heavy crushing loads.
The bike's bottom bracket sits on a foam block that keeps the chainring in free space, away from anything that might bend it. Various straps and pads locate and secure the handlebar and seat post.
There's a large mesh pocket for pedals and tools. Made to take a long-travel downhill bike, it's a bit on the spacious side for a road bike but it's simple enough to get the bike securely stashed. Weight is a modest 8.2kg empty and it measures 1.4×0.85m. With its internal stiffeners removed, it can be folded flat for storage. It comes in three colours; black or blue will look good for longer.
First published in Cycle magazine, April/May 2017 issue. All information correct at time of publishing.