Five thousand MailStars didn't end up as scrap when the Post Office abandoned bikes: they were acquired by Krizevac Project, a UK-registered charity. The organisation refurbishes the bikes and sells them as Elephant Bikes, donating another Elephant Bike to Africa for every one sold.
The name Elephant Bike was chosen not because it's stupendously heavy, although it is, but because of the colour. MailStar-riding park wardens in Malawi's Liwonde National Park discovered that the elephants didn't like Post Office red and gave chase, so the bikes were resprayed green. Problem solved.
The ex-MailStars are now shot-blasted and powder coated in the UK, after being stripped down by offenders at HM Prisons who work towards cycle maintenance certificates.
This explains why an Elephant Bike sells for £250 when it would be worth at least twice as much brand new. Everything on the one I tested was in good condition: the drivetrain looked new and the tough Schwalbe Marathon Plus tyres might have been. The drum brakes weren't but they last for ages and are perfect for a town bike.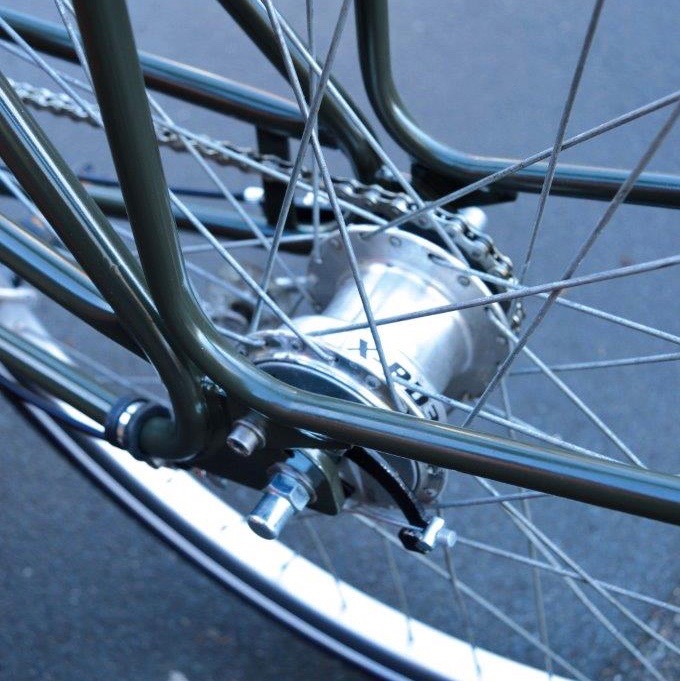 Cargo options
The Elephant Bike is essentially a small cargo bike. The steel-tubed rear rack, rated to carry 20kg, is standard. The front parcel tray, also rated to 20kg, is an optional extra that costs £30 with the wicker basket. It's worth getting for convenience. Due to its low trail, the bike also handles better with a bit of weight above the 24in front wheel.
It's very sturdy and should require little maintenance, which is ideal for an urban bike. If you do need to refit the rear wheel, vertical dropouts and a chain tensioner make that easy.
I mentioned the weight earlier; I'd fit a 24-tooth sprocket to the 3-speed hub for help on hills. A lower top gear won't matter as the bike's sit-up-and-beg riding position favours stately cycling.
Finally, there's a £30 charge for delivery, unless you pick your bike up from Uttoxeter.
First published in Cycle magazine, February/March 2017 issue. All information correct at time of publishing.