This 2016 version of the Dee 29 was discounted to £209.99 in December when I got it. The 2017 version will be £279.99 – still a good deal. It's pitched as a city bike and has mounts for mudguards and racks; low-rider fork bosses make it easy to fit a front mudguard without fouling the disc calliper. The 38/18 gear (62in) is fine on road but too high where I mostly rode it: off road.
A rigid, singlespeed 29er will not be everyone's mountain bike of choice. Yet if you can tolerate a non-variable gear, the Dee 29 rides well and is kilos lighter than anything close to it on price – and some bikes that are much dearer.
Its rigid fork is far better than a cheap coil suspension fork with no damping, providing taut, predictable handling. A rigid bike is hard work on stutter bumps but elsewhere those 29er wheels hold their momentum well – once you've thrashed the single gear up to speed.
The one change I made, other than fitting budget SPD pedals, was to the gearing. I'd have liked a 32t chainring, but that's not feasible with a five-arm 110 BCD chainset so I fitted a spare 34t from a road bike and shortened the chain. That reduced the gear to 55in.
A better option, requiring spare 1/8in chain links, would be a 22t Sturmey Archer freewheel (£12). That'd give an easier 50in gear with the original chainset and let you jettison the 18t freewheel, whose knocky bearings promise a short life.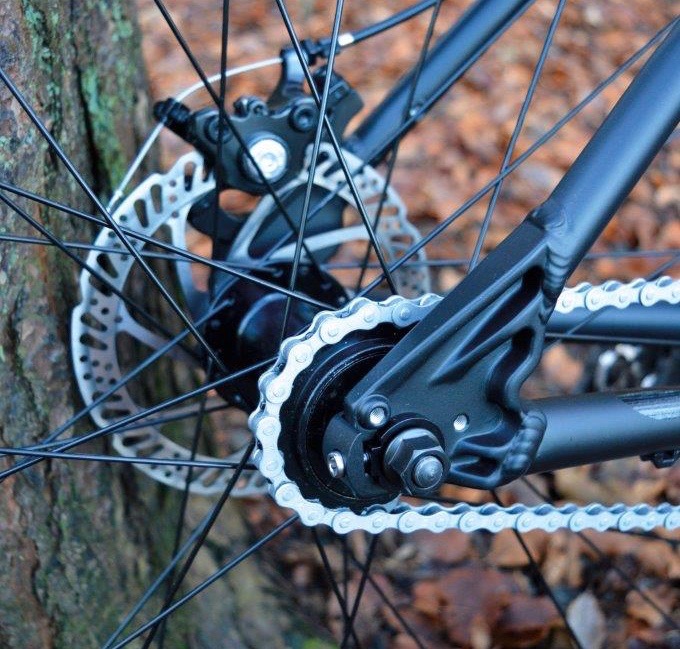 Inexpensive upgrades
If I owned the Dee 29, I'd replace the front tyre with a grippier one with more volume; Chain Reaction were doing a 29×2.4in wire-bead Continental Mountain King for £15.99 at time of writing. I'd also add cheap bar-ends (~£10) as a rigid fork gets jarring with one hand position.
Adding gears is possible – given a new rear wheel and a DMR Chain Tug Mech Hanger – but isn't cost effective.
Vitus might intend the Dee 29 as an urban mountain bike, but it doesn't take much to return this 29er to its roots (sic). It's a proper mountain bike, albeit a basic one, and it's properly fun to ride.
First published in Cycle magazine, February/March 2017 issue. All information correct at time of publishing.