Edinburgh ABC helps Michael get cycling again
A common myth we hear all the time is that large swathes of the UK population can't cycle. We hear from local and national politicians that elderly people and people with disabilities can't cycle. We see this argument raised again and again as an excuse for not investing in cycling infrastructure and it's an often-touted protest by anti-cycle campaigners when it comes to saying no to cycling investment in their local communities.
But this common and damaging myth is simply not true. As the Edinburgh ABC project demonstrates, almost anyone can cycle with a little extra support and the right infrastructure. The Edinburgh All-ability Bike Centre, a project run by Cycling UK and supported by City of Edinburgh Council and RS MacDonald, has been on the go for over a year now. It has introduced more than 300 people to cycling, whatever their age or ability, by using Edinburgh's traffic-free cycle network and a range of adapted bikes.
Michael can't walk now due to his condition, so the ABC is great as it gives him exercise. It's great to get out, he looks forward to it, it's something different for him to do.

Edna, Michael's mum
The Edinburgh ABC is based at the Bangholm Outdoor Centre in the north of the city, ideally located for the North Edinburgh Path Network, which connects local communities together with good quality walking and cycling links. Without this network, participants at the ABC would be limited in their cycling ambitions but with separation from traffic, everyone can experience the amazing benefits of cycling without cycling endlessly around an athletics track or car park.
One such participant who has been able to get out and about by bike is Michael, a 37-year-old man from Stenhouse in Edinburgh. He's only been visiting the ABC since early October but is already hooked on cycling. We catch up with him, his mum Edna and support worker Silvia over a cup of tea to learn more about how the ABC has made an impact in such a short space of time.
When we meet Michael, he's tired from his bike ride and is shy of meeting new people, so Edna and Silvia chat about his experiences while he rests. "Michael used to go horse riding for 25 years, but he had to give it up due to balance issues," says Edna.
"He used to have a bike many moons ago – a three wheeler. But he outgrew his old bikes and was limited to our garden because he couldn't ride on the roads. So we had to give up on cycling for a long time."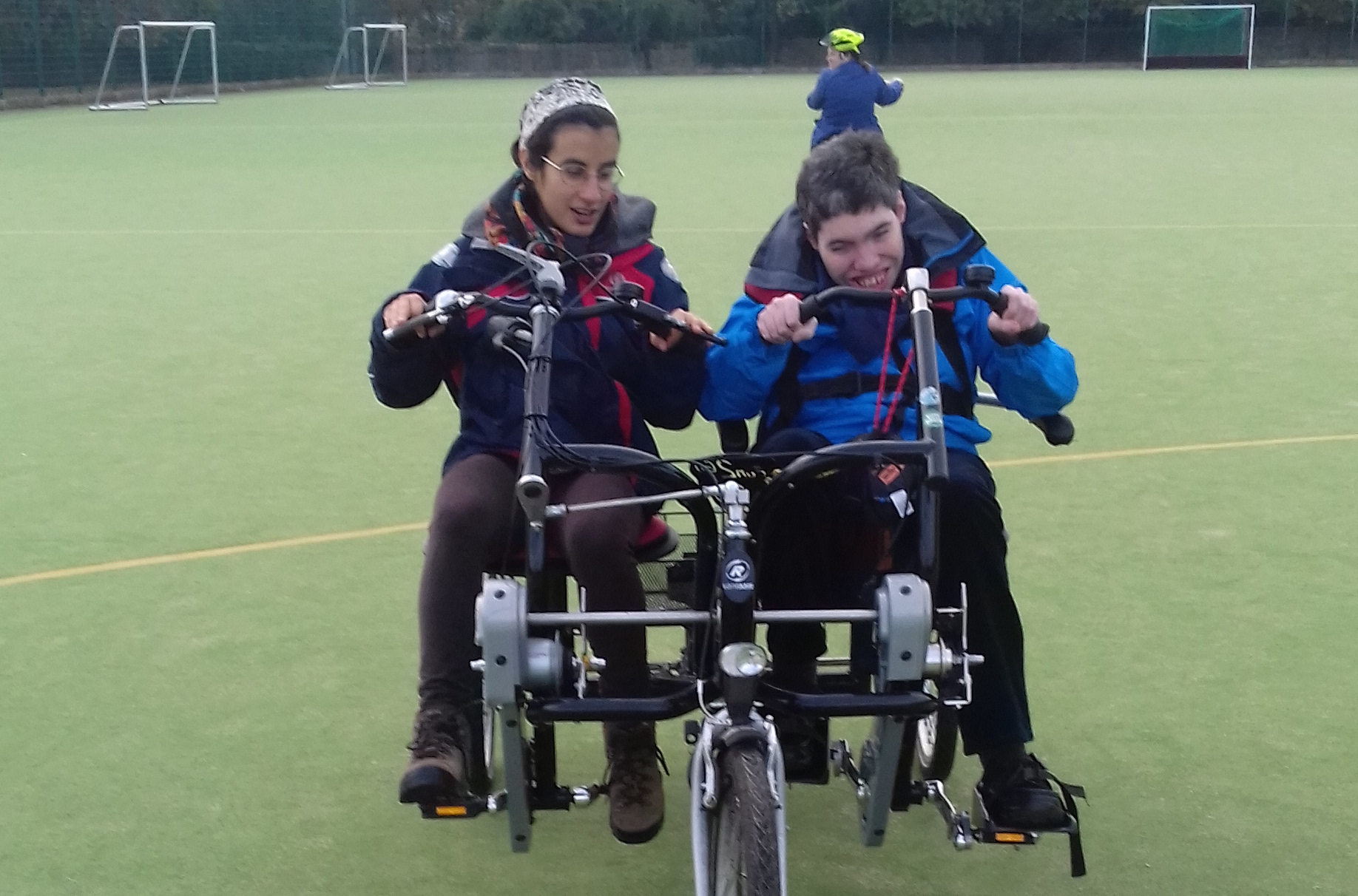 Instead of a trike, Michael now cycles a side-by-side bike with his Epilepsy Scotland support worker Silvia, who incidentally also cycles herself. They usually go for half hour rides exploring the path network, an activity that Michael enjoys inmmensely. "There is this look on his face, especially if we go fast", Silvia says. "It's like an adrenaline rush. He really loves it." 
The side-by-side bike suits Michael and Silva perfectly, as Michael can pedal along while Silvia steers and brakes, and they can talk to each other while they ride. When he first started at the ABC, Michael's right leg had a habit of veering over, making it difficult for him to pedal. But the volunteers at the project rigged a sleeping bag to keep his leg straight and the rest is history. The side-by-side bike has given him freedom and mobility that he's not experienced for a long time.
"Michael can't walk now due to his condition, so the ABC is great as it gives him exercise. We come on a Friday afternoon. Every week on a Friday it's bikes. It's great to get out, he looks forward to it, it's something different for him to do," says Edna.
But the Edinburgh ABC is more than just a place to ride a bike – it's also about progression and development. "Michael started on the astroturf field to get his bearings and then moved onto the paths around the centre. Next year we'd like to do evening rides, too, so it's twice a week", Edna adds.
"Night rides start in March. Michael hasn't been keen to go out at night and so we hope that the night rides will help build his confidence to go out in the evenings. There will be more time to venture further and enjoy coffee stops because I hear there's a nice place to stop for coffee nearby."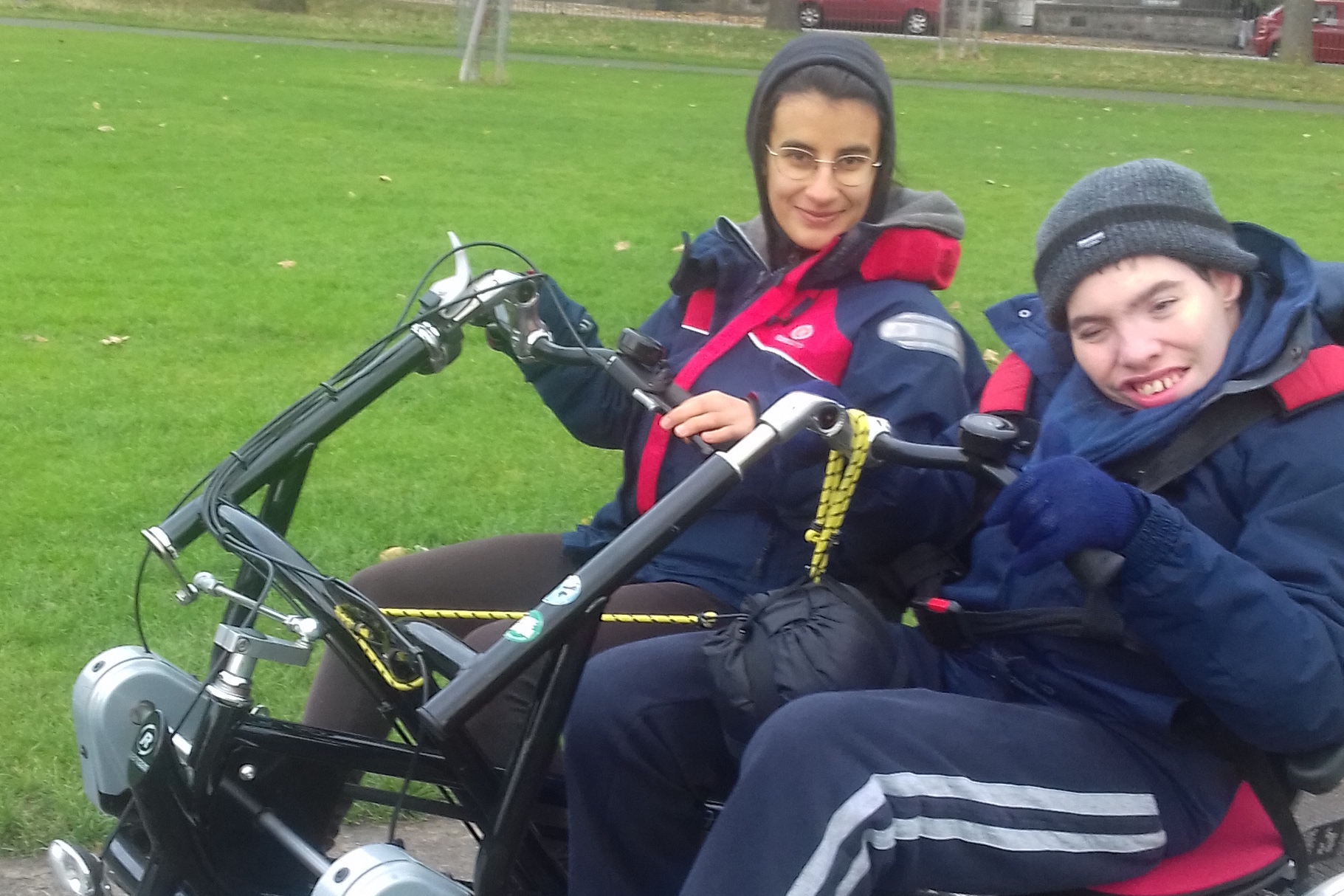 When we ask if there's anything else the family want to share with us, both Michael and Edna say they want the Edinburgh ABC to keep going. "I think it's absolutely fabulous," Edna smiles.
"It's been a really positive experience and is absolutely great. We've been coming here since October, a short time. I'm just hoping the project continues. The volunteers and David, the development officer are very good and helpful. We heard about the ABC through word of mouth, so I need to tell more people about it because it's been so positive for Michael."
As we wrap up our chat, we ask Michael if he enjoys the freedom that cycling brings. He nods shyly and smiles. "I've got photos of Michael cycling," Edna leans over to share her phone snaps of her son on the side-by-side bicycle. His face is lit up by an enormous grin. "The photos just say it all, really."