What's your council doing to create place for people?
It's two months since Cycling UK wrote to all of the Council Leaders in Scotland, urging them to follow the lead taken in Glasgow and Edinburgh by installing measures to enable more people to cycle and walk safely.
Since then, over 1,100 people have also used Cycling UK's online action to write to their council, calling for pop-up cycle lanes and more space on pavements. In recent weeks, they've also been able to show their council what temporary infrastructure is needed and where, using the Widen My Path map embedded on our website. If you haven't contacted your council yet, or have but there's further suggestions you'd like to make on a map, it's easy to have your say.
Who's doing what?
Councils have been receiving requests for active travel interventions, with some consulting or using other interactive maps or engagement tools on their websites such as Commonplace - but have they been listening? More importantly, which are taking action?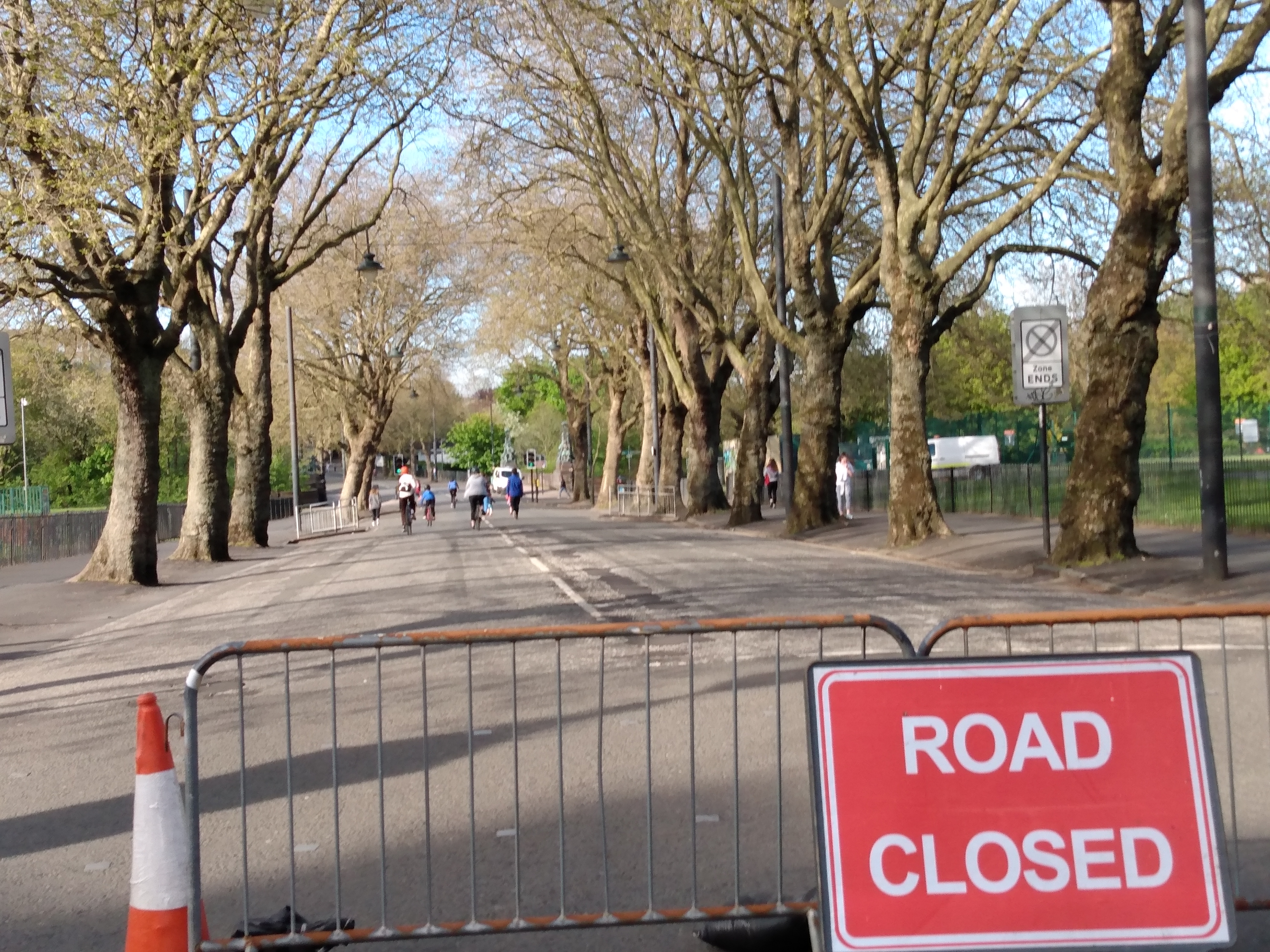 We've been endeavouring to capture this on our active travel intervention map. However, we're reliant on councils announcing their plans and that we then spot them, so we won't have captured everything, just changes we know about. If you're aware of positive action by your local authority that's not recorded on our map, please let us know.
Places for People
You can get some sense of each council's ambitions for enabling active travel and creating space for social distancing by looking at whether they've applied for funding, and if so for what, from the Scottish Governments Places for People programme, though as I'll explain later, it may be that your council is thinking about doing something but needs to be nudged, or just hasn't communicated their plans!
It is now essential that all local authorities urgently put in place temporary infrastructure wherever it's needed in their areas

Jim Densham, campaigns manager - Scotland
An initial £10m funding stream was announced in April, with transport secretary Michael Matheson writing to all councils across Scotland asking them to bid for funding with 'bold and ambitious plans'. Responding to the announcement, Cycling UK's campaigns and policy manager for Scotland, Jim Densham said: "It is now essential that all local authorities bid for this money and urgently put in place temporary infrastructure wherever it's needed in their areas." It soon became apparent, however, that £10 million wasn't enough.
Fortunately, by the end of May the Scottish Government had increased the Places for People fund to £30 million. Sustrans, who administer the scheme, have a list of all the local authorities that have successfully applied for funding (21 so far) and for how much, which they update each Monday, though the list doesn't include details of proposed schemes. Of course, how the money's spent is crucially important, so it's helpful to look at what it's supposed to be used for.
What can be funded?
Councils can apply for 100% funding for temporary infrastructure projects to support physical distancing, making it safer for people who choose to walk, cycle or wheel. There's no requirement for any 'match funding' or contribution by the council. The guidance makes it clear that all applications should be assessed against the following criteria:
1.    Protecting public health – will it provide temporary walking and cycling infrastructure that helps to protect public health, enabling safe physical distancing for essential journeys and exercise for everyone, particularly where there are space constraints or user safety concerns.
2.    Essential journeys – projects should focus on essential journeys including: to and from hospitals and health services; to shops, pharmacies and schools for key workers; for recommended exercise, for example, neighbourhoods and local parks.
3.    Immediate delivery –  projects should be delivered quickly and provide a visible improvement that has an immediate benefit.
4.    Disability Access and health equalities impact – the fund is designed to improve health and wellbeing so that everyone can move around their local area safely. Any temporary measures should make an area better, with care taken to ensure that people with disabilities and other groups in need of additional support are considered appropriately.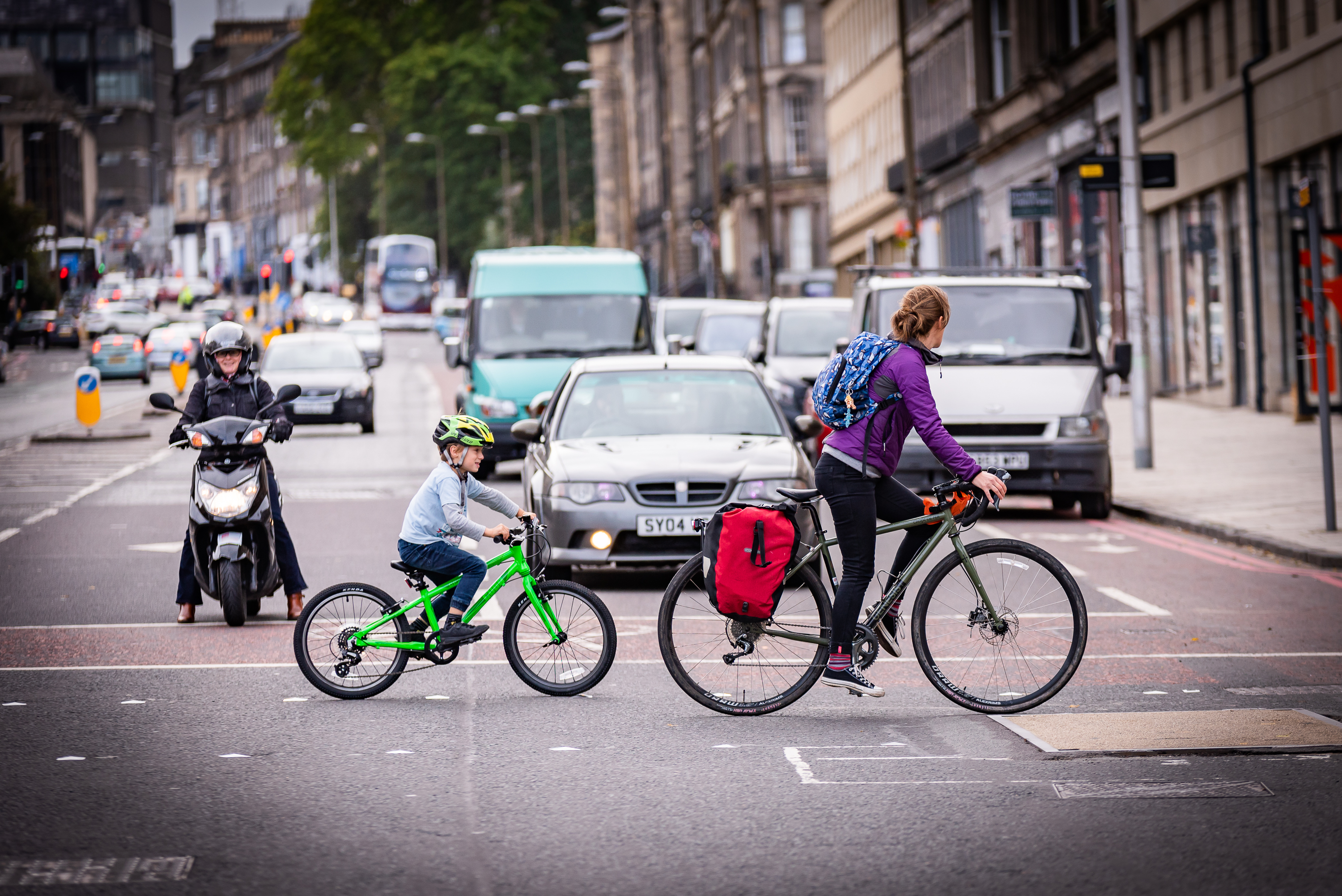 Each councils' plans
You can't ascertain from Sustrans' list what councils are proposing, and how that fulfils the criteria. Our active travel intervention map has links to some councils' proposals where they've published them, and we've then spotted them, but fortunately Sally Hinchcliffe and Pedal on Parliament have laboriously ploughed through councils' websites, producing a fantastic blog summarising what they've been able to find out about each councils' plans, including where they've been awarded funding but not announced plans, announced plans, launched a consultation, or done nothing.
With current social distancing and movement restrictions, active travel may be the only opportunity some people have to be physically active to remain healthy

Dan Jenkins, NHS Highland's health improvement specialist
I'll not repeat what Sally has so diligently set out, but please have a look at what's known about your council's plans, if anything. Do bear in mind however that it's already a few days since that article was published, and that new plans will inevitably be announced, which may appear on your council's website. We'll try to capture these on our intervention map.
It's worth highlighting the successful bid made by the Highlands Council, for just over £750,000, which was supported by NHS Highland. Although many of the proposals involve Inverness, there are also plans for rural areas which are being consulted on. But it's the support of NHS Highlands that's most interesting, because it shows why space for social distancing is not just about cycling, it's a public health, social and environmental issue, as succinctly summed up by Dan Jenkins of NHS Highland's health improvement team, who said that: 
"Those who cannot afford or cannot access a car are additionally disadvantaged at this time. With current social distancing and movement restrictions, active travel may be the only opportunity some people have to be physically active to remain healthy. This application is an excellent example of how a range of immediate benefits for mitigation of COVID-19 will be achieved through improved infrastructure."
Engaging with your council
If your council hasn't applied for funding, or rather it's not clear whether it has and if so for what, you can of course check on your council's website to see if it has an ongoing consultation and respond to that, or use our online action and Widen My Path to make suggestions and then let your council know you've done so.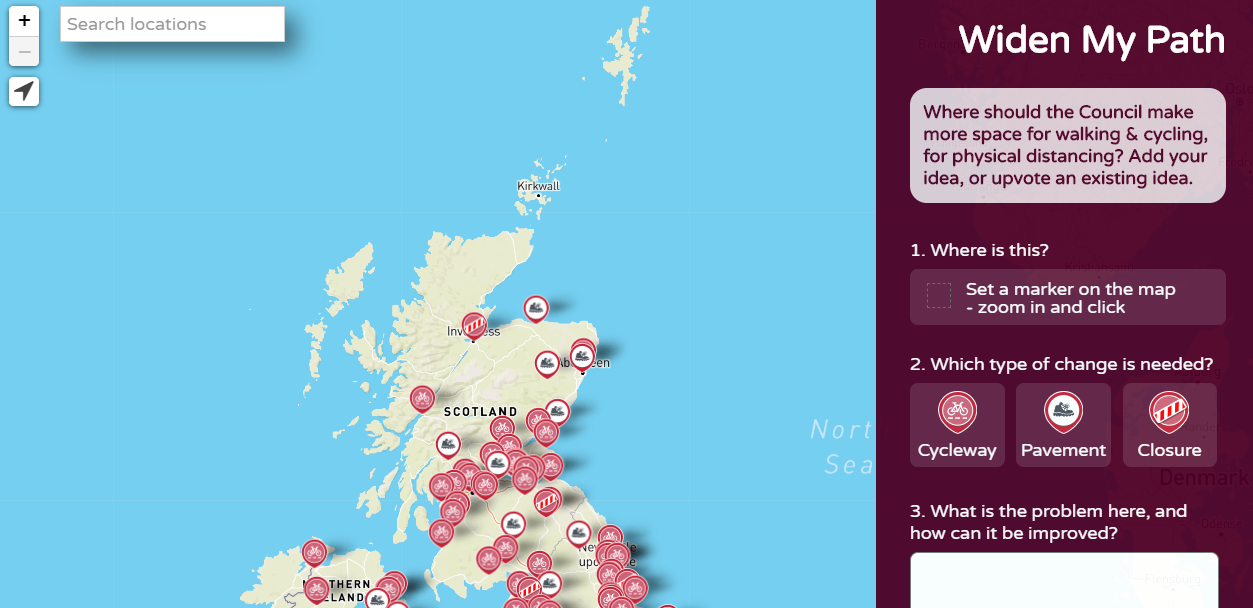 If you do, it always helps to be constructive. The last three months haven't been easy for councils. Creating space for social distancing is crucially important, but it's not the only issue councils have to deal with. Councils and councillors need to realise that there's wider public support for safe spaces to walk, scoot and cycle. Suggestions, ideas, and a demonstration of support for the type of bold and ambitious plans that Michael Matheson said he wanted when he launched the Places for People fund are far more likely to influence decision makers, particularly given that if it looks like some of those councils who haven't said much publicly - or perhaps haven't yet applied for funding - are at least considering doing so.
In response to a question on 11 June, Michael Matheson confirmed that 30 of the 32 local authorities in Scotland had enquired about or made claims to the fund, with 26 awards, worth more than £16 million, having been made to 17 local authorities
Getting other people to ask for space for social distancing
It's clear that some further awards have been made since 11 June, but importantly almost every council has enquired, which is why it's so important for people to nudge their local authority and ask about their plans, make suggestions and share our online action with others who haven't yet let their council know what changes they'd like to see. Space for social distancing isn't just important for people who cycle, it benefits everyone, which is why councils need to hear from a wide range of people, so they know that there's public support for giving more space for people to travel actively whilst socially distancing.
So, please share the link to Widen My Path with friends, neighbours, community groups or work colleagues, tweet or post the link on facebook to let people know you've contacted your council with suggestions for #SpaceForDistancing, and help us get more people to engage with your council.