Trails for Wales: time to reignite the campaign
A sunny day in Cardiff Bay during Bike Week might not be where you'd expect a gathering of riders who prefer bridleways and forest tracks to roads but we've been here before.
We last met in Roald Dahl Plaza in 2015 to launch the Trails for Wales campaign with Open MTB. Over the next few years we had thousands of people support the call for better access to the outdoors for people on bikes.
Welsh Government committed to change in 2019, but despite this promise, and lots of work by many experts, I still live in a country where people on bikes (and horses) only have access to 22% of our rights-of-way network.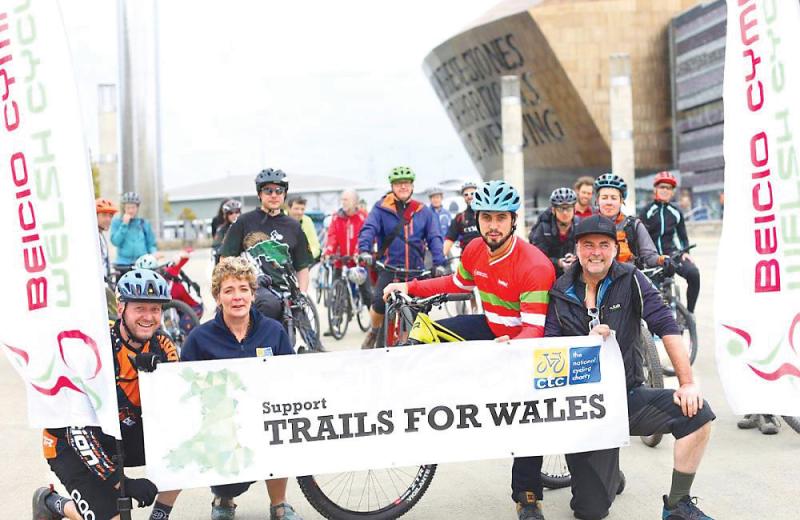 It was time to reignite the campaign and let Welsh Government know that the delays are costing us all dearly. Over the past few months we've gathered the evidence: listened to people's stories, recorded the missing links, gained a better understanding of the impact our existing rights-of-way network has on those unfamiliar with the complicated rules.
On Wednesday 7 June we launched the culmination of these finding in our report Trails for Wales – We can't afford to wait (available to download in Welsh and English, as well as to view at the end of this article). We hope this will serve as a necessary reminder to our politicians as to why there was a commitment to reform in the first place.
The benefits of being outdoors in nature are many and varied. Two of Welsh Government's key motivations for access reform are the heath and wellbeing of the people of Wales and the economic benefits to a sustainable tourism economy – both of which remain important today.
Health and wellbeing
Improving access to the outdoors has undoubted benefits to our physical health. In the report we hear from two people with health problems for whom riding away from roads has had a significant benefit to their physical health.
I know that my mental health and sense of wellbeing benefit tremendously from being outdoors in nature and I'm not alone. We were joined in Roald Dahl Plaza by Jess Notzing, who took time out from her busy schedule as an ICU doctor to support our call for action.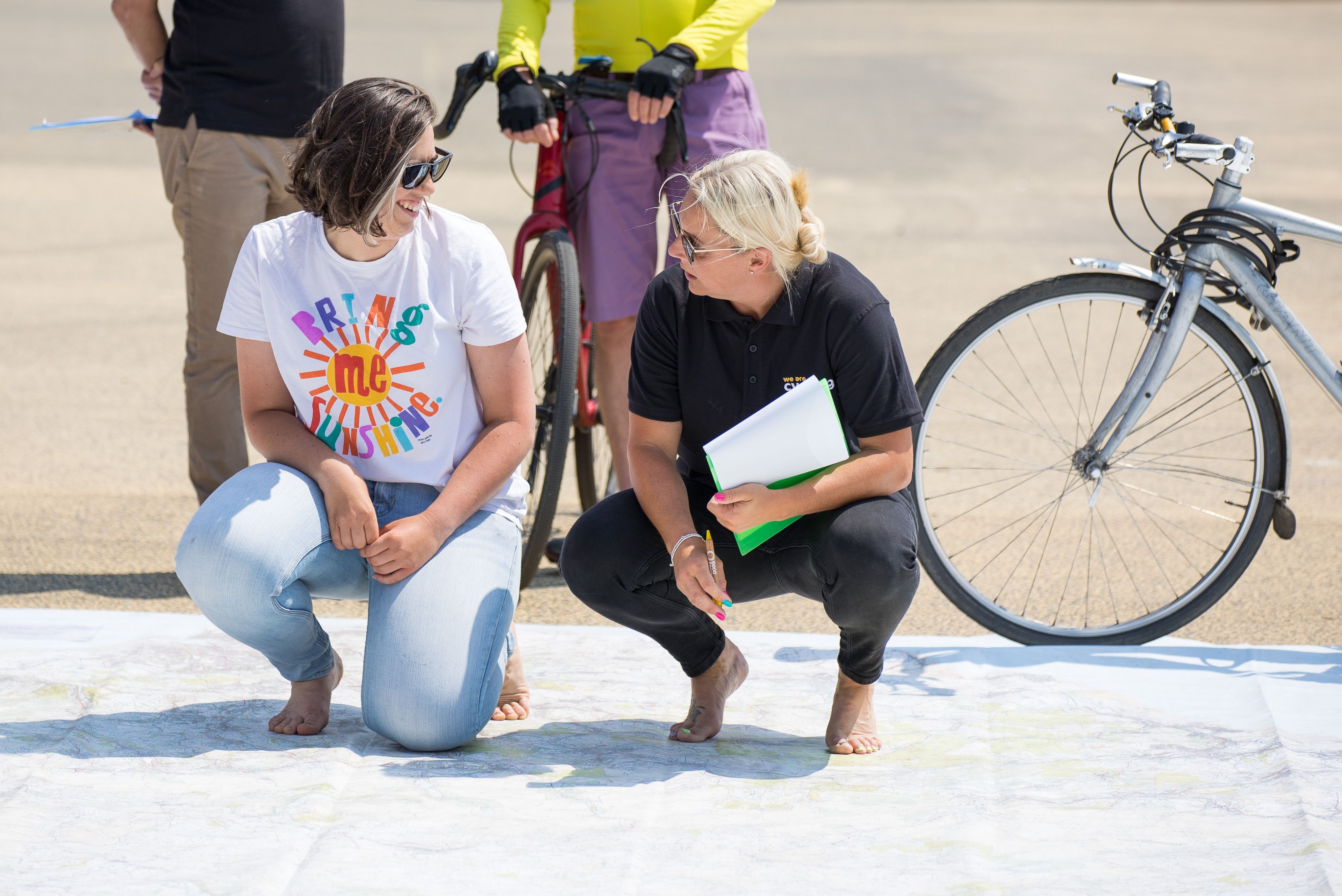 Jess is one of our 100 Women in Cycling in recognition of the work she has done establishing Ysgol Creigiau Gaerdydd (Cardiff School of Rocks) which gives women a community in which to grow their confidence to ride off road. Jess told me about how she has also benefitted form this greater access to the outdoors. "Being outdoors helps me rebalance and de-stress, I would be totally lost without cycling," she said.
"I've gained a community and friends from being able to ride off road with a group of women who provide support, encouragement and a sense of belonging."
In the years since Jess set up the school, she has had plenty of practice in route planning but even she admitted to finding our existing rights-of-way network confusing and limiting. She would love to take groups to her home territory more often but has found the lack of bridleways on Gower a real barrier. Her experiences are backed up by our Rides of Way survey in which 80% of respondents told us that planning where they can ride is no easy task.
Economic benefits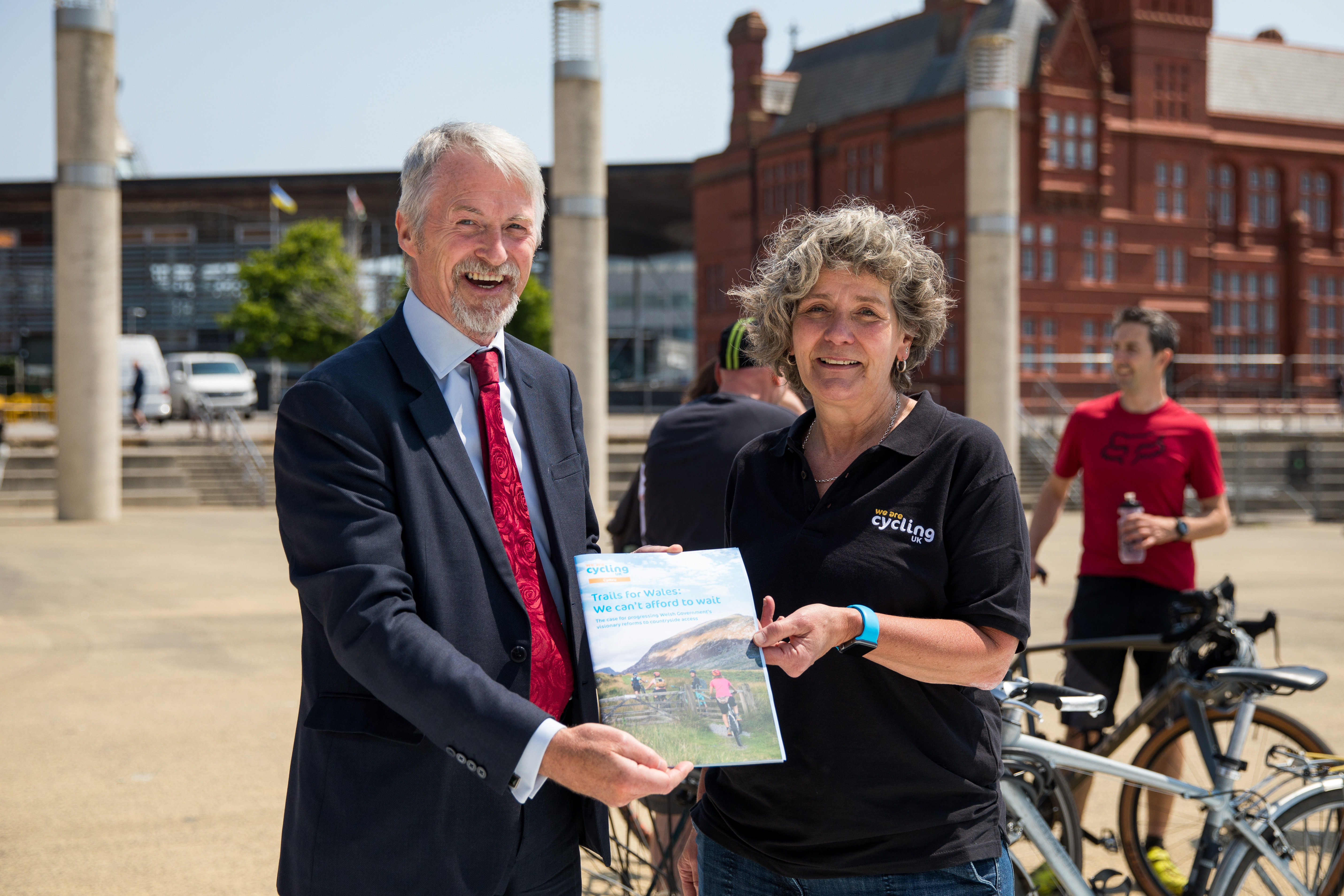 Eleven years ago the Wales Coast Path was launched. It was a world first: a path that circumnavigates a country. Last year, as part of the path's10th anniversary, Huw Irranca-Davies MS headed up a review group which reflected on the fact that the "Wales Coast Path established Wales as a pioneer in opening up access to the natural environment, and in providing an iconic tourist destination with an international reputation".
Looking to the future there is the hope that the path "will be internationally recognised and accessible to all in inspiring and enabling a connection to nature that supports the health and wellbeing of the people of Wales and the natural world".
These sentiments are also true of our wider rights of network and access land, and so it was a pleasure for me to be able to share a copy of our report with Huw and get his resounding support for progressing access reform.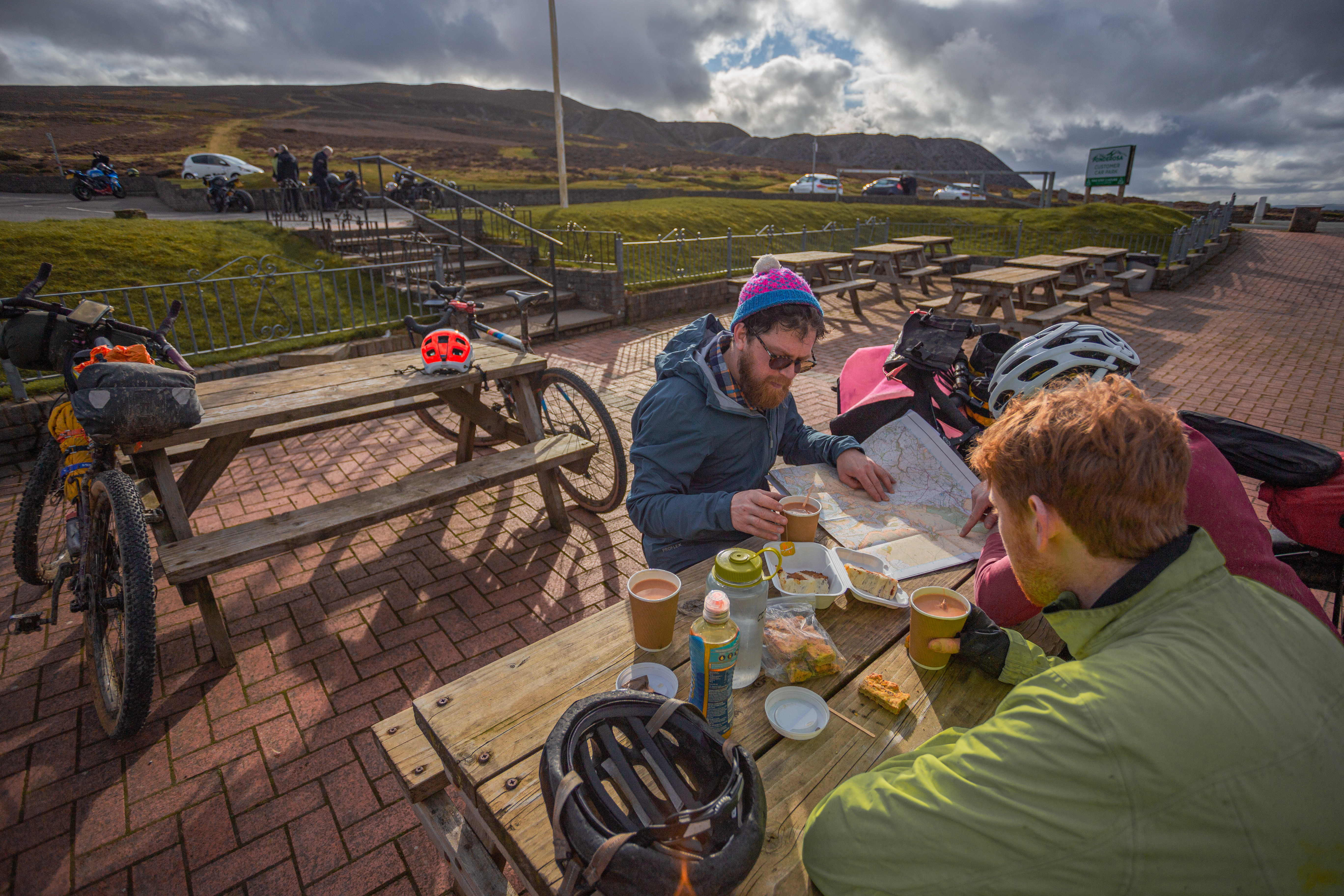 Over the last few years, here at Cycling UK we've been developing a variety of off-road routes. They maybe slightly less ambitious than the Wales Coast Path, but the success of these routes provides us with some pretty clear evidence of the economic benefits of cycle tourism.
These projects have also highlighted some of the challenges that our existing laws create, with gaps in the existing rights-of-way network forcing cyclists onto busy roads and missing opportunities for the best possible off-road experience.
Working together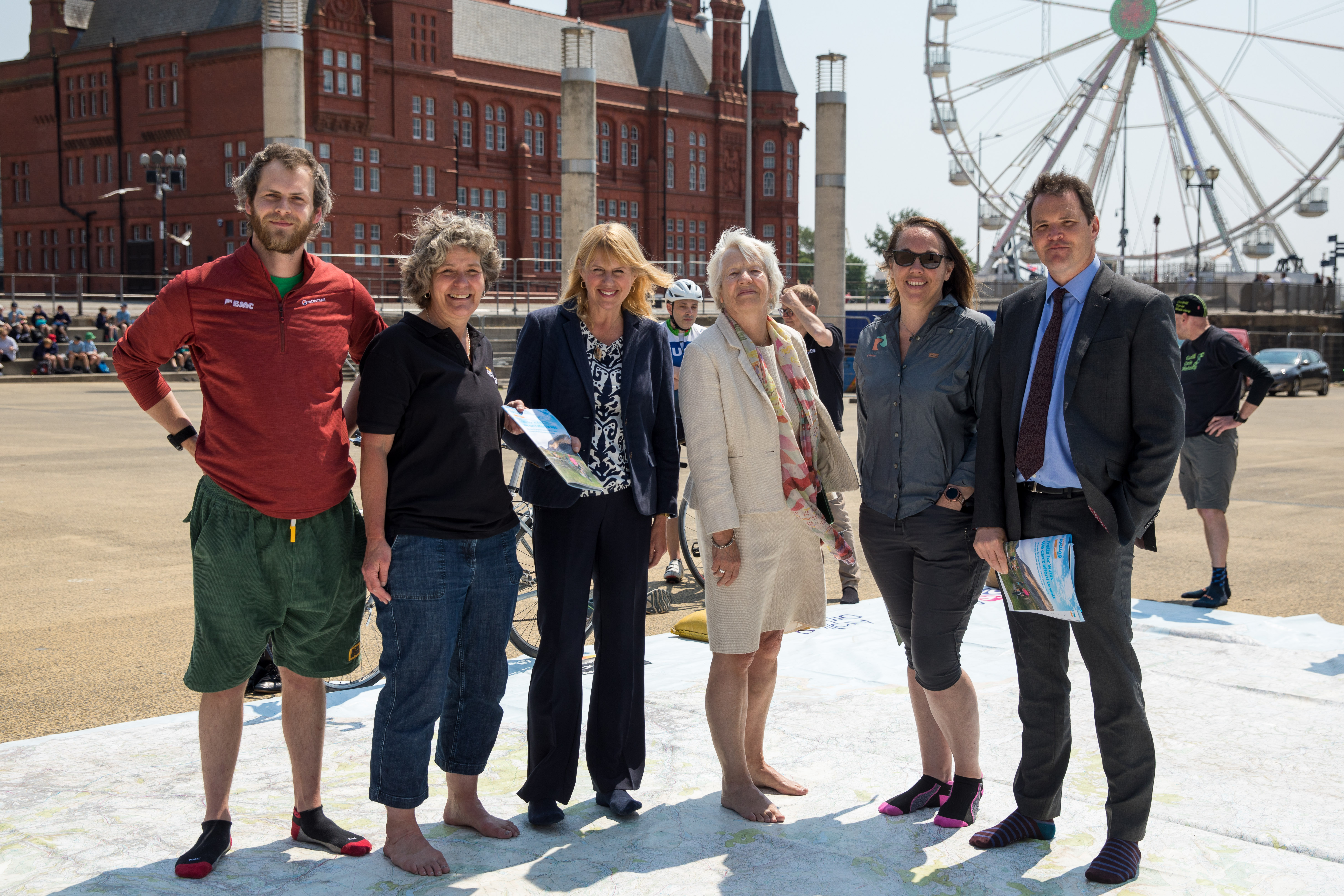 Access reform is not just about cycling, and progress will only be made if we work constructively with all stakeholders who have an interest in increased access to the countryside. Over the last few years we've been woking with the Outdoor Alliance and members of the Outdoor Activity Sector Cross Party Group on pragmatic solutions to some of the barriers we face.
It was great to have Ramblers Cymru amd BMC Cymru join us on our giant map of Wales to demonstrate our commitment to working together despite the different approaches we might sometimes prefer. While there are inevitably differences of opinion in the best way to implement change, these are not insurmountable.
Even in some the most challenging of circumstamces there is a willingnness to work together to ensure that access can be enjoyed in a responsible way. It's been very informative to have been involved in a project that Natural Resources Wales has been running around access tosensitive woodlands in north Cardifff.
It was great that the chair of Cardiff North Trails, which formed as a result of that work, was able to join us in Cardiff Bay. I think there is much that can be learnt from that organisation's way of working.
What next
We've made the case, shared the report and will be taking up the deputy minister's invitation for a meeting during which we will expand on the proposal for trials on Welsh Government-owned land so that we can evidence the best way of implementing the promised changes.
What you can do