Opinion: Will Norman on making cycling safer in the capital
Thursday, 09 February 2023
We start 2023 with the great news that the boom in cycling we saw in London during the pandemic is here to stay.
Levels of cycling remain 40% higher than those seen before the pandemic, and our Santander Cycle Hire scheme recorded another record year as more Londoners continue to enjoy using active and sustainable ways to get around the capital.
These figures are heartening, but we need to increase the number of people cycling even further. Investing in and encouraging the use of sustainable transport options is a key part of addressing the triple threats of air pollution, the climate emergency and congestion facing our city.
 To deliver this growth in cycling we have to continue to make active travel around the city safe and accessible. That means delivering high-quality cycle routes and investing in work that makes dangerous junctions safer – we have a strong track record, having delivered 260km of high-quality, safer cycle routes since 2016.
We need to make our streets welcoming, ensuring they are attractive and aren't dominated by traffic, and promote cycling for all Londoners by removing barriers and changing perceptions about cycling.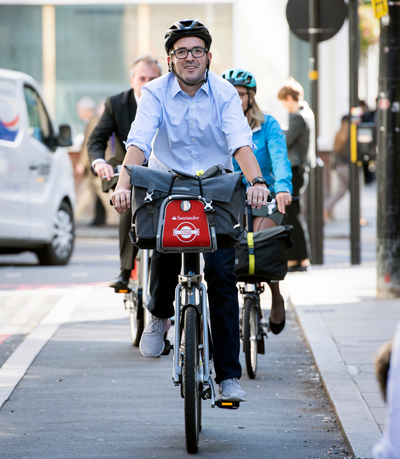 Ambitious goals
The goals that Mayor of London Sadiq Khan and I have set for London include seeing 80% of journeys being made by walking, cycling and public transport by 2041, and to ensure 70% of Londoners live within 400m of the London-wide cycle network.
Not only will this help ensure a cleaner and greener city, but it also bolsters our economic success as people walking, cycling and using public transport spend 40% more on the high street compared to drivers.
These are all goals which should be replicated around the country – the bottom line being that making walking and cycling better and more inclusive can reap social, economic and health benefits in communities nationwide.
 The constraint we face is not ambition nor energy, but funding. The pandemic had a devastating impact on Transport for London's (TfL) finances and it has required a series of emergency funding deals from the Government to continue safe and efficient operation of the transport network.
Following tough negotiations, TfL has funding certainty into 2024. But the deal with the Government is far from perfect, and the urgent need to tackle pollution, congestion and to make our streets safer underline why walking and cycling is at the heart of the mayor's Transport Strategy for London. We are going to have to find ways of doing more, with less.
 However, I'm optimistic as we've risen to the challenge before. The past two years have been some of the most difficult in our history, but we've made the most of the existing network of safe cycling routes across our city.
Since the start of the pandemic, we've delivered more than 100km of new or upgraded cycle lanes, there are now over 500 School Streets across London, and more than 100 Low Traffic Neighbourhood schemes, making it safer and easier for residents and families to get around their local area on foot and by bike.
We'll also continue to be innovative. During the pandemic we showed how you can put in place new infrastructure quickly and effectively through the use of temporary traffic orders, light segregation and semi-permanent materials. This approach introduced a new protected cycle corridor on Mansell Street in east London, and transformed the roads around Hammersmith gyratory, one of London's most intimidating junctions, for a fraction of the cost.
But we also must put significant investment behind the large-scale changes we know are needed at some of the most dangerous junctions and on London's major roads. These schemes will make the capital's roads safer and more attractive, and TfL is investing £150m per year to deliver strategic cycle routes and safer junctions.
Let's work together
We can't do this alone. Introducing the improvements we need to see across London requires collaboration. In the year ahead I will continue to work with councils, communities and politicians across the political spectrum to put in place schemes that encourage walking and cycling in local areas.
The data we have on the sustained increases in walking and cycling show that if you build it, people will come. This progress has been delivered in partnership with London's great boroughs, communities and campaigning groups.
Expansion of the Ultra-Low Emission Zone (ULEZ) London-wide in August 2023 will mean five million more Londoners can breathe cleaner air. Alongside measures like the ULEZ which mean car journeys taking place are cleaner, we also need to reduce the number of car journeys happening in the first place by putting in place the infrastructure and support to help more people switch to active travel options.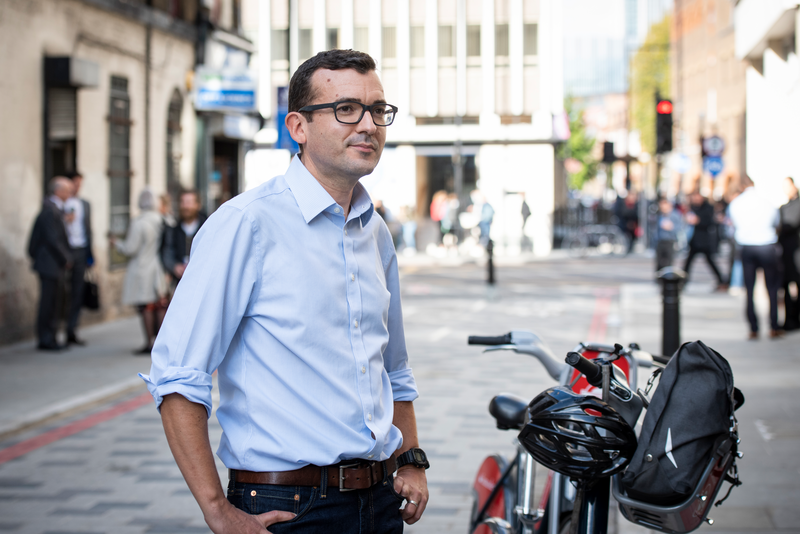 This is why the mayor's £110m scrappage scheme will support people to use the funds for purchasing bikes and e-cycles, and why we are continuing to invest in new routes to increase the cycling network alongside more cycle parking.
While TfL data shows that long-term trends in who cycles have changed and participation is now much more representative of Londoners, we still need to continue to widen participation in cycling to ensure Londoners of all backgrounds are fully represented.
TfL has awarded funding to a record number of community and not-for-profit initiatives to help to increase participation in walking and cycling among traditionally underrepresented groups. It also offers free in-person cycle training for both adults and children, and more than 100,000 adults have taken part.
I'm ambitious about what the future of active travel looks like in London. The mayor and I are determined to continue building a safer, cleaner, greener and more prosperous London, and enabling more Londoners to cycle is more important than ever.
The climate crisis highlights that increasing sustainable and active travel is an urgent and pressing priority for all of us. In 2023 and the years ahead, walking and cycling will be a core part of London and the rest of the country's success.