Great Rides: Rapha Pennine Rally
Slumped over my handlebars, I leaned my weight against my bike to stop it rolling backwards while I paused to catch my breath. At least I had the distraction of gazing back at the winding river deep below us in the valley, and hazy layers of rounded hills receding into the distance.
The view in front was less pleasing. The ridiculously steep rocky track continued its relentless march up the hillside, with no end in sight.
I took a deep breath. Heave the bike forwards as my feet scrabble on the loose stones, count to 20, pause. Repeat. Not for the first time that day, I wondered whether this was a stupid thing to have signed up for.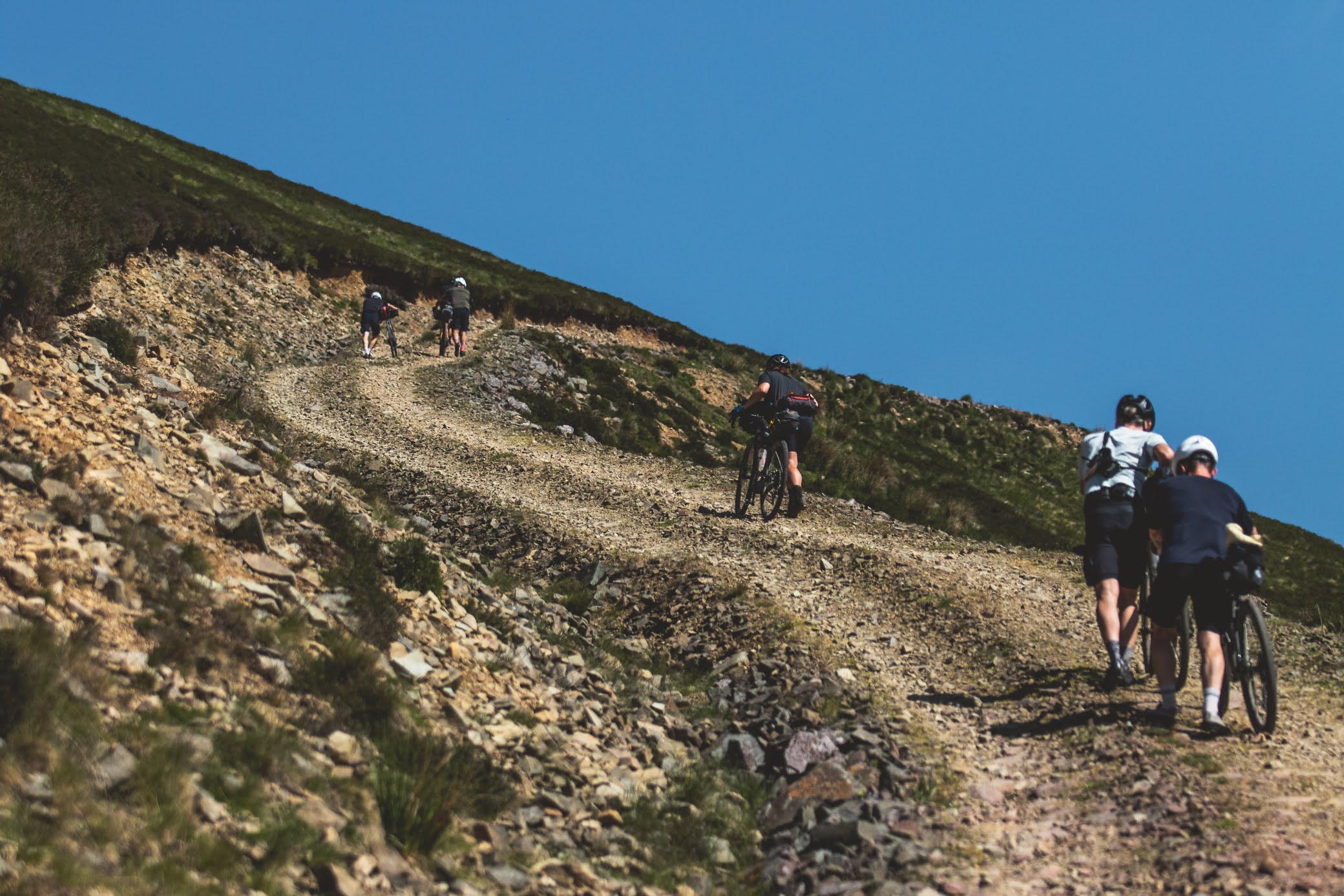 A rally, not a race
I was 'riding' (or walking, often) the Pennine Rally, a self-supported bikepacking challenge run by cycle clothing company Rapha. It's designed for those who want to dip their toe into endurance events – the emphasis being that it's a rally, not a race. There are no prizes for speed or skipping sleep – a philosophy I very much agree with.
The route is based on the Second City Divide designed by Outdoor Provisions. It runs for 317 miles along the spine of the Pennines from Edinburgh to Manchester, with a lot of off-road trails through remote upland areas. Unsurprisingly, it's a tad lumpy.
When I mentioned the event to people beforehand, they would ask the same questions:
Do they carry your bags for you? – No. Do they organise the transport and accommodation? – No.
Then came the inevitable follow-up: So why enter an event when you could just do it yourself? Good question.
That's what I was curious to find out. What motivates people to enter an event like this, when they could in theory just ride the route themselves?
I knew it would be significantly harder than my previous trips. There's a thrilling uncertainty to starting something that you're not entirely sure you can finish. How would I fare riding 60-70 miles a day for five days on very hilly, predominantly off-road terrain?
There's a thrilling uncertainty to starting something that you're not entirely sure you can finish
Pre-ride nerves
On the train to Edinburgh, I spied another bike loaded up with bags. Its owner was Lucy, another Pennine Rally first-timer.
"I'm really nervous," she confessed. She was a regular rider with New Forest off-road club, but this was her first bikepacking trip. To avoid adding to her nerves, I tried to hide my surprise that someone would choose this – in my mind fairly hardcore – route for a first trip.
Getting off the train we were joined by Sarah, another bikepacking newbie who had opted to travel light and sleep indoors. Lucy and I jealously eyed her minimalist luggage, comparing it to our own bikes loaded with camping gear.
The bike and gear comparison inevitably continued as we went to register and pick up our GPS trackers. My heavily loaded mountain bike definitely looked the least sleek out of the variety of specimens available.
I consoled myself with the thought that if anyone else was feeling like they didn't have the right calibre of kit, a glance at the huge dry bag strapped precariously to my handlebars would probably make them feel much more prepared.
I wasn't the only one feeling a slight sense of trepidation.
"I'm scared. I don't know what I've got myself in for," laughed Yorkshire lass Julie. "I feel like the craziest grandma!" She felt the urge to enter this event to prove she could do it. I felt sure she would.
What would you rather be doing?
The following morning, 100 riders assembled and after a quick briefing, we were set off in small groups. I set off near the end and was soon left behind, my legs already tired after a running race a couple of days ago. All these people cycled a lot faster than me. Was I going to be at the back the whole time?
As I reached the edge of Edinburgh and started climbing into the Pentlands, the feeling of freedom and excitement that bubbles up at the start of any cycle trip took over. I decided to just accept that I was going to be cycling for 10 or 12 hours. The days were long and the scenery was wonderful – what would I rather be doing with my time?
I caught up with Emily, who had probably travelled the furthest to take part – from Virginia, USA. To make it worth the trip, she had entered a trio of events: she'd done Ride London the previous weekend, and had Chase the Sun lined up a few weeks after the rally.
Her enthusiasm was almost as impressive as her stamina. I enjoyed her delight at spotting some Highland cows (which had somehow made their way down to the Borders).
We joined up with a few other riders to form a 'sweeper crew', keeping each other going along lumpy grassy paths lined with vibrant yellow gorse. Ryan and Carrie had both done the rally before, and loved the camaraderie of it.
After spending a while finding a GPS tracker that someone had dropped, we finally rolled into our halfway point of Peebles for a late lunch. The biggest challenge of the day was yet to come: the aforementioned hike-a-bike climb. I was grateful for Ryan's speaker and motivational playlist.
When we finally crested the pass, it was already 7pm and we still had 25 miles left to go, including another big off-road climb. Luckily Carrie knew the area and suggested a road alternative – as it's not a race, there are no rules about strictly following the route.
I was in awe the following morning to discover that Rosalie, who we were riding with earlier, had struggled her way up both of those hike-a-bike climbs alone late that evening after being slowed by a series of infuriating mystery punctures. I couldn't even imagine doing that.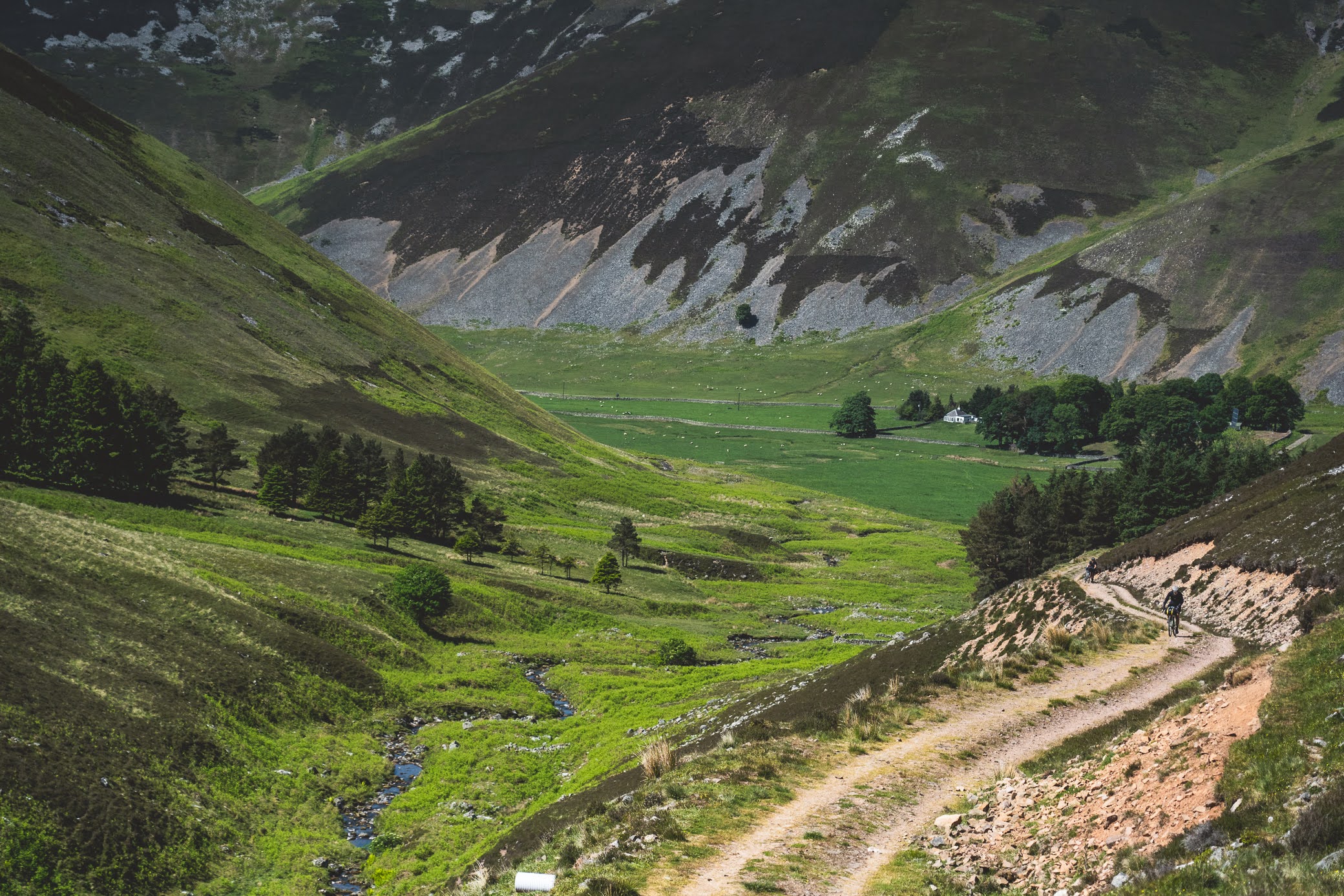 100km of nothing
The second day was the infamous '100km of nothing' through Kielder Forest. I knew Kielder was big, but I only really appreciated how vast it is once I'd spent most of a day riding through it.
Cycling on my own for several hours at a time was a new experience, which I quite enjoyed. I felt like I was the only person in the world – until I reached the oasis of the visitor centre shop at Kielder Water, where the grass outside was strewn with dusty cyclists gulping down ice lollies. Where had they all appeared from?
After the long drag on the forest tracks, there was one final challenge for tired legs to overcome: a steep road climb to storm Hadrian's Wall, before dropping down to Once Brewed for some much-needed pub grub.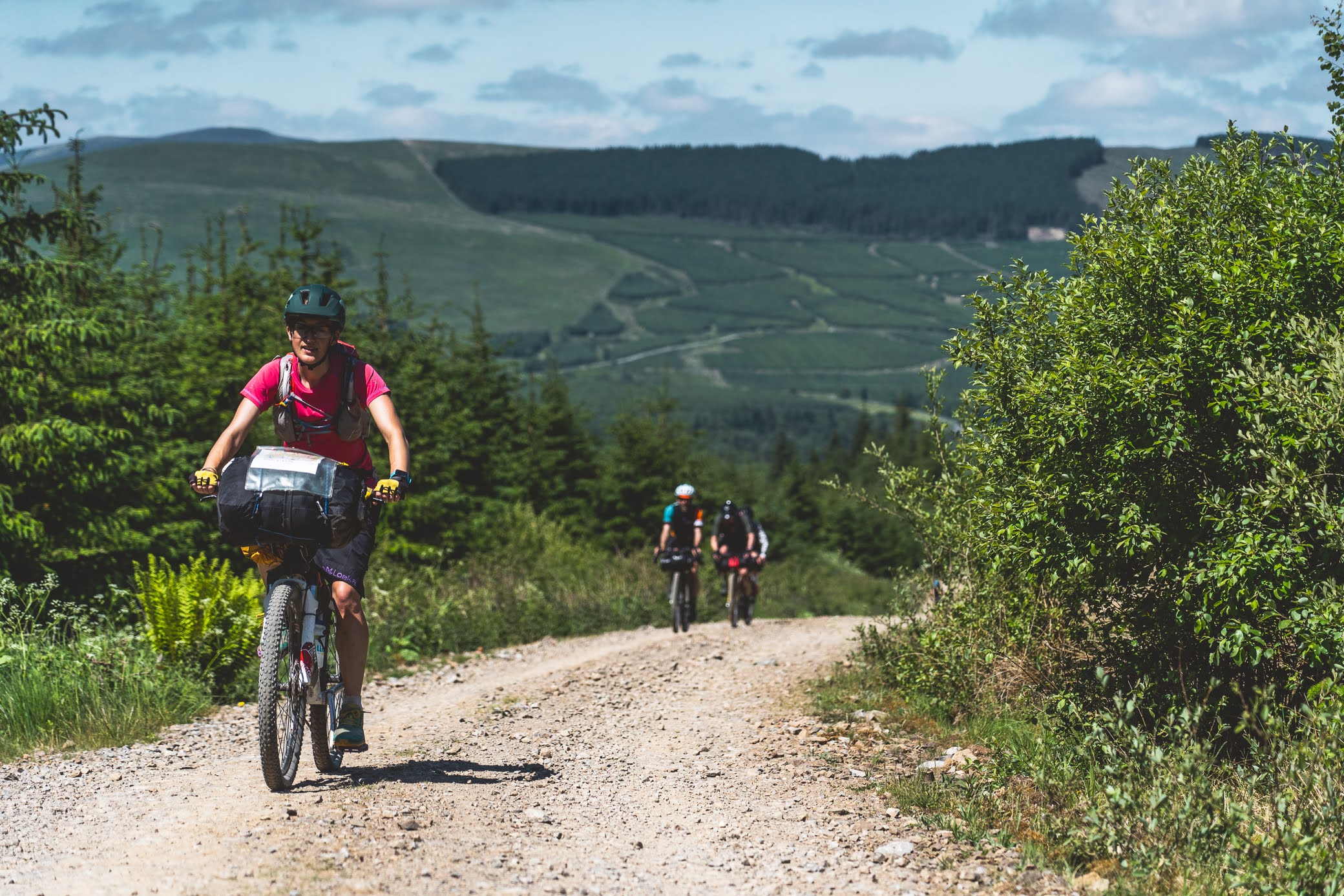 The highest pub in Britain
The following morning, we cruised along the very pleasant River Tyne Trail before settling in for the climb up to Tynehead Fell. It turned out to be one of my favourite road climbs I've done, with a gentle gradient and fabulous views whenever I turned to look back. I enjoyed that stretch of road so much I almost missed the turn onto a little track plummeting down to the right.
The Tees Railway Path was nice for a while, until the gates began to grate. The only person who wasn't annoyed by them was Vanessa, who had experienced navigating heaps more gates on the Dales Divide Race around the Yorkshire Dales. As a transport planner new to the UK from Canada, she recognised and appreciated the hard work and opportunity that converting rails to trails has on access and opportunity for active travel. She thanked groups like Cycling UK for the advocacy work to create these routes in our rural and urban settings.
Fortunately, I had a gate buddy for that section, in the form of Ernesto. His warm-up for the event had been riding the Badger Divide route from Inverness to Edinburgh. He loved that week riding on his own, and relished the contrast of having other people around him on the rally.
Turns out he's quite a name on the bikepacking scene, having created his own route called Montañas Vacías in the highlands of central Spain. Another challenge to add to the list…
The light turned golden and hazy around us as we finished the long gravel climb up to the Tan Hill Inn, the highest pub in Britain at 528m above sea level. They kindly allow camping in the field outside, but unsurprisingly, the highest pub is also pretty exposed to the wind. Most people decided to drop down to a campsite in the valley.
All hail the Dales
Pushing up the steep climb out of the campsite the next morning, I came across a beautiful little waterfall and plunge pool. I wished I'd known about it yesterday – it was the kind of spot that if I had finished earlier, I might have found for an evening swim. Lovely as it would have been to have a morning dip instead, I knew I had a long day ahead of me.
And what a fabulous day it was. I've always loved the Yorkshire Dales, and this was hands down my favourite day of the ride. It was also one of the toughest.
We started with the gorgeous Swale Trail, undulating along the side of the dale. Then things really kicked in with a 25% gradient to pant or push our way up on the road over Askrigg Common. Fortunately, there was a wonderfully welcoming café in Askrigg which filled us up with cake for the next section: the infamous Cam High Road.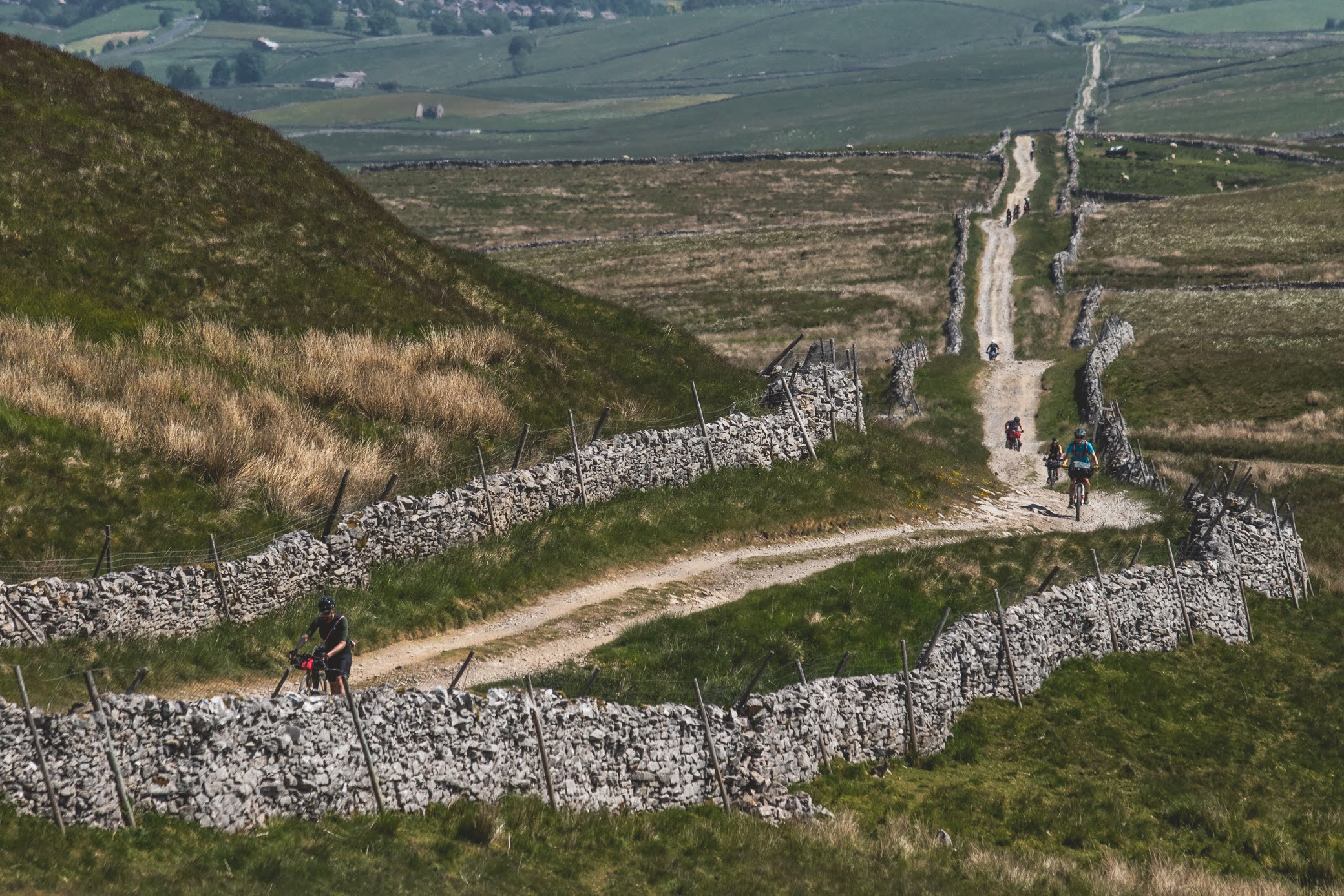 This arrow-straight gravel Roman road teases you for the hour or so you spend climbing it, an illusion where you can never quite see the end. Here the mountain bike came into its own. Having lumbered behind everyone with narrower tyres on the road sections, now I could really enjoy tackling a rocky climb.
I encountered a fellow happy MTB rider, who turned out to be Cycling UK trustee Chris Marsh. Small world! He'd filled in a spare place and only found out he was doing the event a couple of weeks beforehand.
At the top of the hill we converged on that day's checkpoint to top up on coffee and calories. Everyone was fizzing with elation – firstly for conquering the climb, and secondly, for enjoying it more than they expected. To top things off, it was followed by a cracking long gravel descent which passed straight underneath to the incredible Ribblehead Viaduct.
It pleased me even more to discover later that the route GPX file actually took a 'fun' little detour up some stone slab steps to the side and back down again. I had inadvertently taken the easy option as I sailed merrily through, gazing up at this marvel of engineering.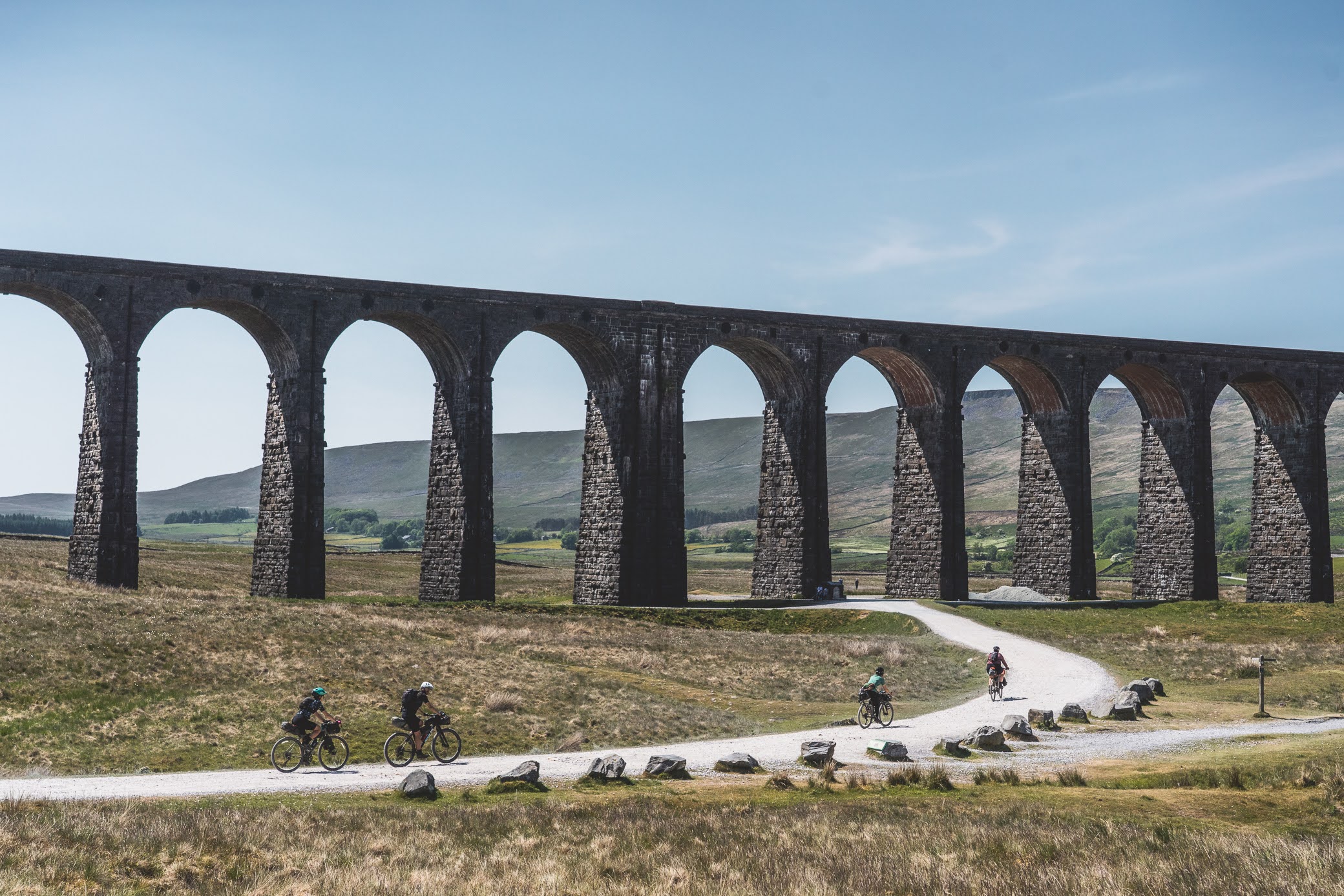 Salter Fell
The day wasn't done with us yet. There was one more big climb to come over Salter Fell. Cresting the steepest part, I couldn't help smiling at the sight of the long gravel track contouring enticingly around the hillside ahead of me, with the valley falling away to my right.
Others had passed me on the climb and disappeared into the distance, and now it was just me and the hills. I wanted to cycle along this beautiful track forever.
An hour later, I worried that my wish had come true and the track would never end. A headwind picked up, and my enthusiasm began to wane as I struggled over chunky rocks. Thank goodness the weather was good, I told myself. It would be utterly bleak up here in a storm.
To my relief, a mirage appeared of other humans. I caught up with James and Abbie, a couple from Surrey picking their way gingerly down the rocks. "How are you still smiling?", they asked incredulously. It was a good question. How could things be awful, but simultaneously brilliant? That dichotomy summed up a lot of the Pennine Rally.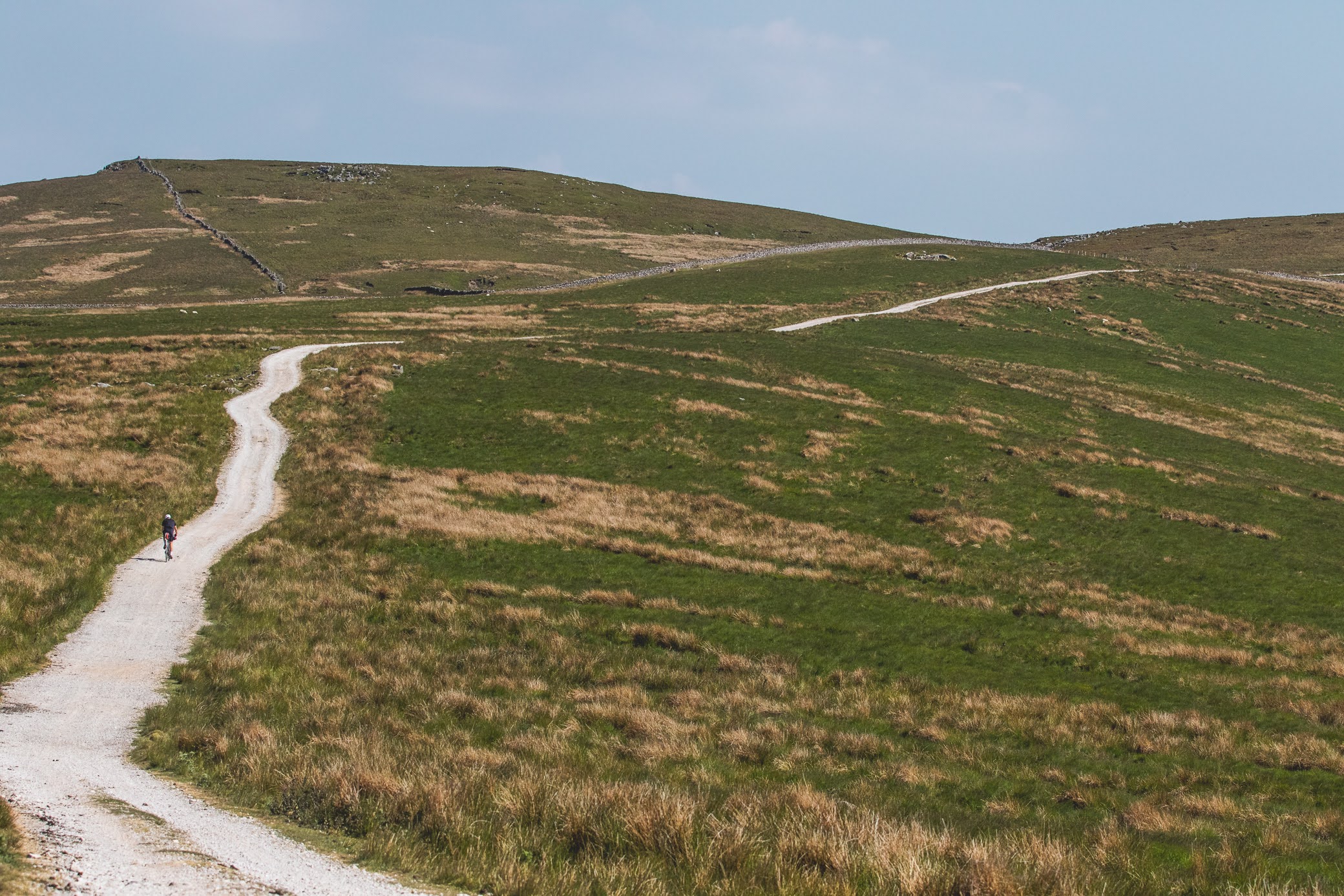 Come on legs
When I crawled out of my tent at 06:15 on the final day, half of my fellow riders had already gone, eager to reach the end. My legs were less eager, aching from four long days of riding. I cursed as I pushed up rocky zig-zags on the Pennine Bridleway and manoeuvred through countless gates.
Fortunately, I found Julie, the 'crazy grandma' I'd met before we started. We both needed company to keep us going that day. After treating ourselves to a café lunch, there was a final rough climb up to a moor topped with wind turbines. It was eerie passing beneath their enormous bulk and hearing the whoosh of the blades overhead.
I had feared that the final stretch into Manchester would be a drag through urban streets, but it was surprisingly pleasant through parks and along disused railway trails. Speaking afterwards to Louis from Rapha who was one of the route creators, I could appreciate the effort that had gone into testing various alternatives to try and link together a nice route into the centre of Manchester – as well as the route as a whole, which is fantastic.
We rolled victoriously to the finish outside the Rapha store, and elicited baffled looks from shoppers by sitting on the paving stones eating pizza.
While the faster riders had left hours ago, it was lovely to catch up with some of the folk I had ridden with over the past few days. I was astounded to hear that Jo, who I had camped with on the first night, had managed to ride the entire last day in singlespeed mode after her gears had seized up.
The joy, satisfaction and disbelief that we had all finished this ride was wonderful. I had come to understand that's why people do things like this: for the realisation that you can test your own boundaries and push yourself beyond what you think is possible, safe in the knowledge that you're never really out there on your own.