Can cycling help during a cost-of-living crisis?
Inflation and the cost-of-living crisis have hit the UK hard in the last few years. At Cycling UK, we know the impact through the stories we hear from participants across our behaviour change projects.
We also know that our projects make a huge difference in supporting people to get active, meet people, feel connected and build their confidence.
All these are important for maintaining physical and mental wellbeing, which can help people better cope with the pressures caused by the cost-of-living crisis.
[The] majority of service users have several intersectional barriers [such as race, gender, poverty] that have been exacerbated by the cost-of-living crisis, which cycling cannot solve. However, mental wellness has improved which has helped service users cope better with the cost-of-living crisis. The CCC programme has provided a lifeline to service users

Community Cycle Club leader, The Angelou Centre (supporting black and minoritised women and girls), Newcastle
As well as the impact of the cost-of-living crisis on individuals, it is important to know more about how it is affecting our local partners and organisations – the networks and fabrics of our local communities – so that national organisations and funders can support them effectively.
Cycling UK asked our Community Cycle Club (CCC) network how the cost-of-living crisis was affecting their ability to run activities.
CCCs help thousands of people across England to get active and sociable. These are groups that are supported by Sport England and the Department of Transport to benefit one or more of the following groups: ethnically diverse communities, people with long-term health conditions, lower socioeconomic groups, women and girls, older people and disabled people.
More than 100 groups provide sociable led rides, learn-to-ride sessions or bike maintenance activities designed to give underrepresented groups a chance to get involved in cycling.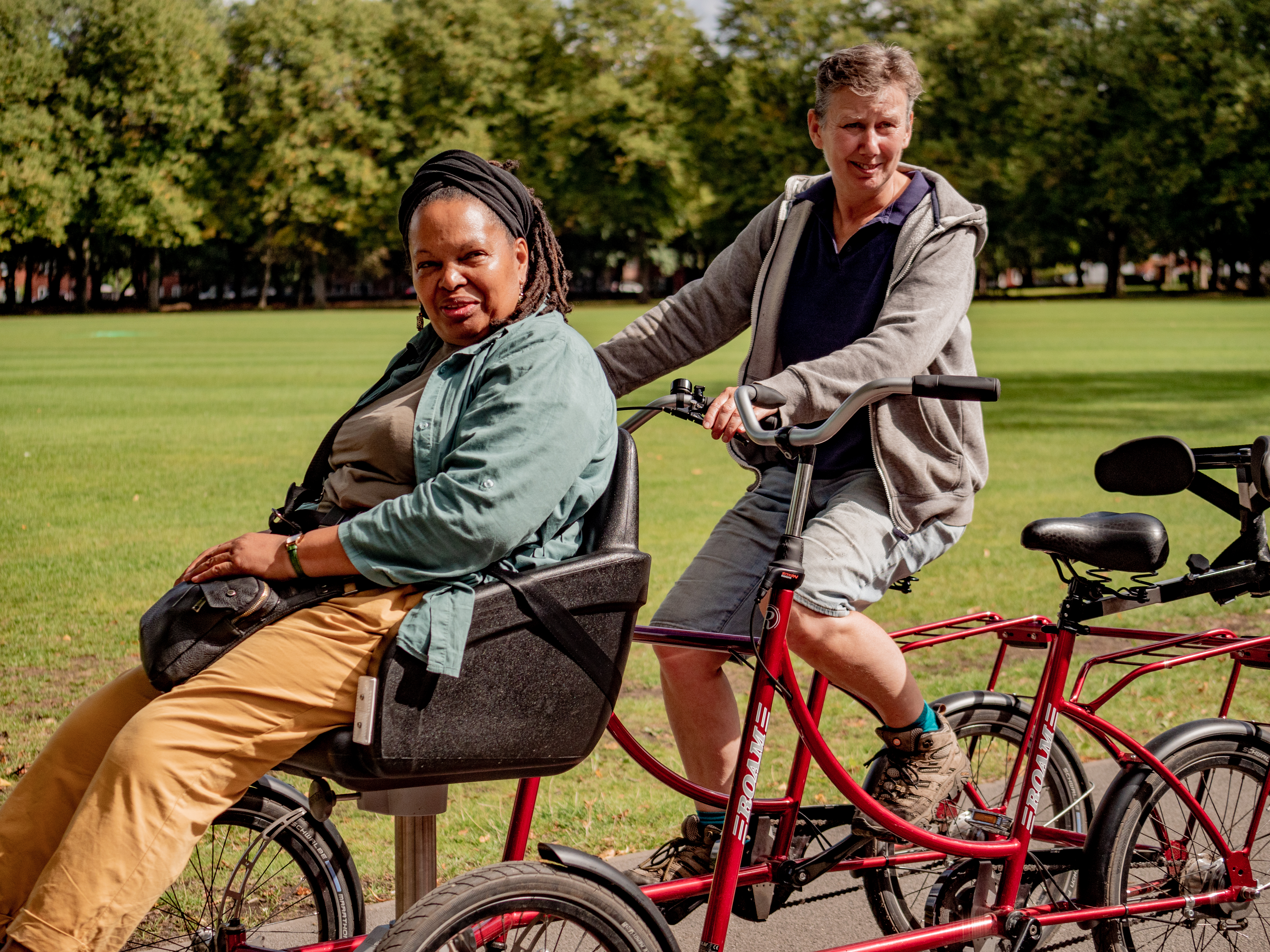 80% of Community Cycle Clubs are affected by the cost-of-living crisis
In our survey of groups in 2022, we saw a high number of groups affected by increases in the cost of living: 80% said the cost-of-living crisis was affecting their delivery. The biggest issue they faced was the impact on volunteer time and numbers, with seven in 10 groups struggling with volunteering.
People are having to work more to pay bills etc and therefore have less time to give

Community Cycle Club leader
Organisations said the cost-of-living crisis had made it more difficult to attract volunteers, existing volunteers having less time and that their volunteers lack support (financial or otherwise) to remain engaged.
The other most common impact was that "equipment has become more expensive to purchase or replace". CCC responses suggested that the effects of the crisis across clubs were not uniform as none of the suggested impacts had been cited by more than half of respondents.
While the benefits of cycling for the communities we are helping is consistent, it is clear the impact of cost of living depends on local factors. Our report delves into greater detail on this and outlines how Cycling UK is helping communities respond.
How Cycling UK can help during the cost-of-living crisis
We know that the cost-of-living crisis is hitting across our communities, but we also know that access to cycling can be a huge help to people who are struggling financially.
At Cycling UK we will continue to work with funders, government, campaigning organisations and community organisations to improve access to cycling for everyone, whether that is through provision of safer routes for people to cycle on, or providing targeted programmes to give communities the support they need.
With Community Cycle Clubs specifically, since the survey we have focused our attention on providing what the clubs need. This means funding volunteer expenses, participant refreshments, contents insurance and storage-related costs, as well as reminding clubs and providing guidance how they can include utility bill contributions and winter clothing costs if needed.
Cycling UK has also improved our non-financial support offer, for example creating template volunteer role profiles to help CCCs attract new ride leaders and administrators, giving advice on promoting clubs and extra guidance on recruiting and engaging volunteers.
CCCs are providing a vital lifeline to many areas across England during an incredibly tough time, and Cycling UK's mission is to help these clubs not just survive but to thrive.
If you are interested in becoming a volunteer for a Community Cycle Club, or any of our other behaviour change projects across England and Scotland, check out our projects and see how you can help in your local area.