Show us your bicycle face
Between 17 July and 1 August 2021 Cycling UK are holding the Women's Festival of Cycling, encouraging and inspiring women to give cycling a try. The festival aims to raise the profile of women's cycling, encourages groups and clubs to put on events to empower more women to cycle, and features women in cycling who inspire others. 
The concept is to celebrate the fun, friendship and freedom that cycling provides, while highlighting the inequalities in participation numbers and working to overcome the barriers that women face to participate in cycling. Will you help us to get more women cycling by sharing your bicycle face and encourage others to do the same? You could win a fantastic £2000 bike from Raleigh and more.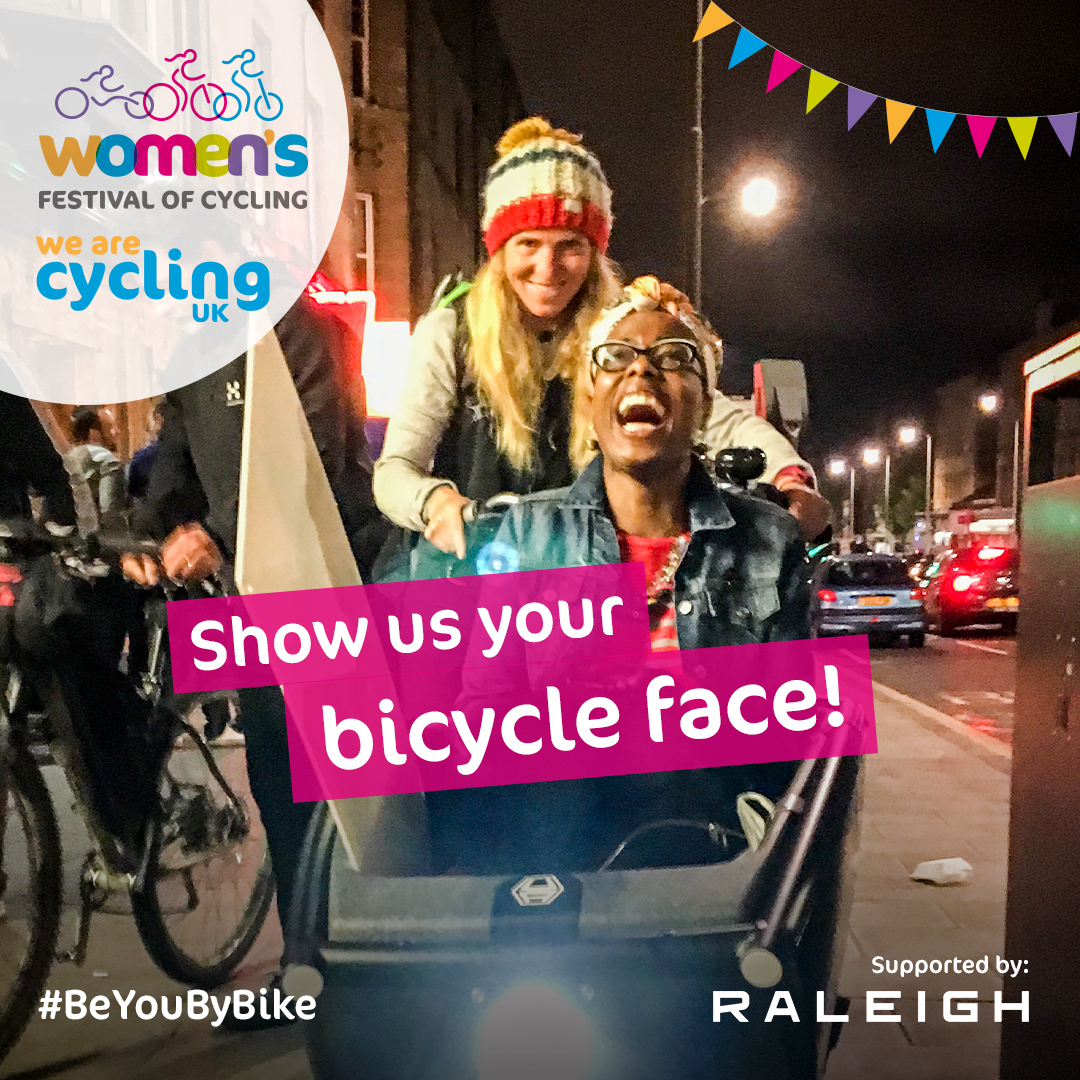 What is 'Bicycle Face'?
During the Victorian era 'Bicycle Face' and other scare tactics were deployed to detract women from using bikes, especially as it gave women the freedom to travel and supported their campaigning for the right to vote.
Luckily, the benefits of the bicycle were recognised and the myth of bicycle face and other health scares were exposed. However, the struggle for equality continues - three times as many men make trips by bike compared to women. Men also cycle four times as many miles, and males are much more likely to cycle to work than females.
As part of the festival this year, we're asking women to share photographs of their 'real' bicycle face, to demonstrate the fun and freedom it really brings. So wherever and however you ride as part of the festival, we want to see your bicycle face photos and videos.
Help us in our aim to get more women cycling across the UK and share their positive stories online about how thrilling riding a bike can be.
How can you take part?
1. Share your bicycle face photograph online using the hashtag #BeYouByBike
2. Tag two friends asking them to share their bicycle face
3. Log your ride between 17 July and 1 August to win prizes and you could win a £2,000 e-bike from Raleigh and more
Feeling inspired? Check out some of the bicycle faces we've recieved so far: