Reasons to ride an electric bike
Commuting and everyday use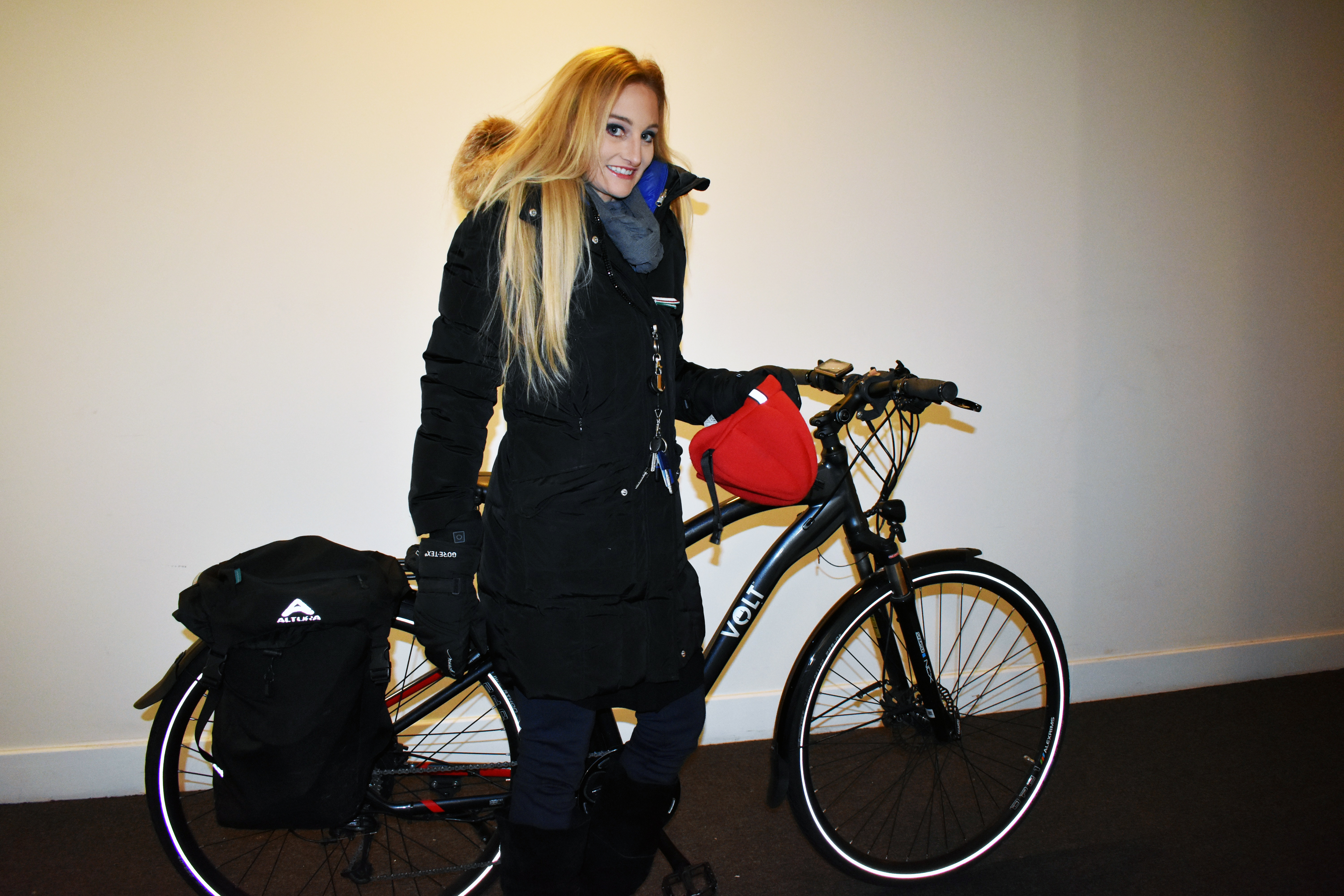 Fabrizia Corsi is a female DJ and producer and has been based in London for 10 years, though originally from Italy. She describes how an e-bike makes London life so much easier.
"I decided to buy an e-bike because I'm convinced it is the fastest and most affordable way to get around London, both for business and leisure. I was already a cyclist so I was not afraid of the traffic as many people possibly are."
Fabrizia rides a Volt Pulse hybrid l "which I chose because their store wasn't far from where I live so any maintenance work can be done quickly and the Pulse model seemed to offer the most power in relation to price. I also like the fact that it comes in a big frame as I have always liked traditional bicycles with large wheels."
 "I hate the thought of having to get public transport, even a short taxi ride makes me car sick. I would say the e-bike replaces a car 80% of the time I have to go to work and 90% of the time I go out for leisure. Being a DJ, I have to bring my own PA system, but it is much more efficient to get a cab when I need it than own a car. I have added a clip-on basket on the front handlebar and I have two bags that I attach at the back.
"I needed to adjust my lifestyle a bit, but for me it has been for the better. I had to buy some self-heating gloves, a big jacket and a rain cape to fight the bad weather. I hate wasting time looking for parking space or waiting for public transport, so it is a small adjustment I had to do with my outfit in comparison to the freedom I have gained."
"I use it mainly for my work commute, I'm a professional DJ and my line of work has many different locations around London, it is unthinkable for me to rely on public transport to arrive on time. It's also important for my free time as I use it to go to the gym, to catch up with friends and go out. I do my grocery shopping, and run my errands on it. It's also used for general exercise as it is not heavy to pedal once it gets up to speed. In fact, I use it nearly every time I get out of the house."
Switching from a van to an electric assist cargo bike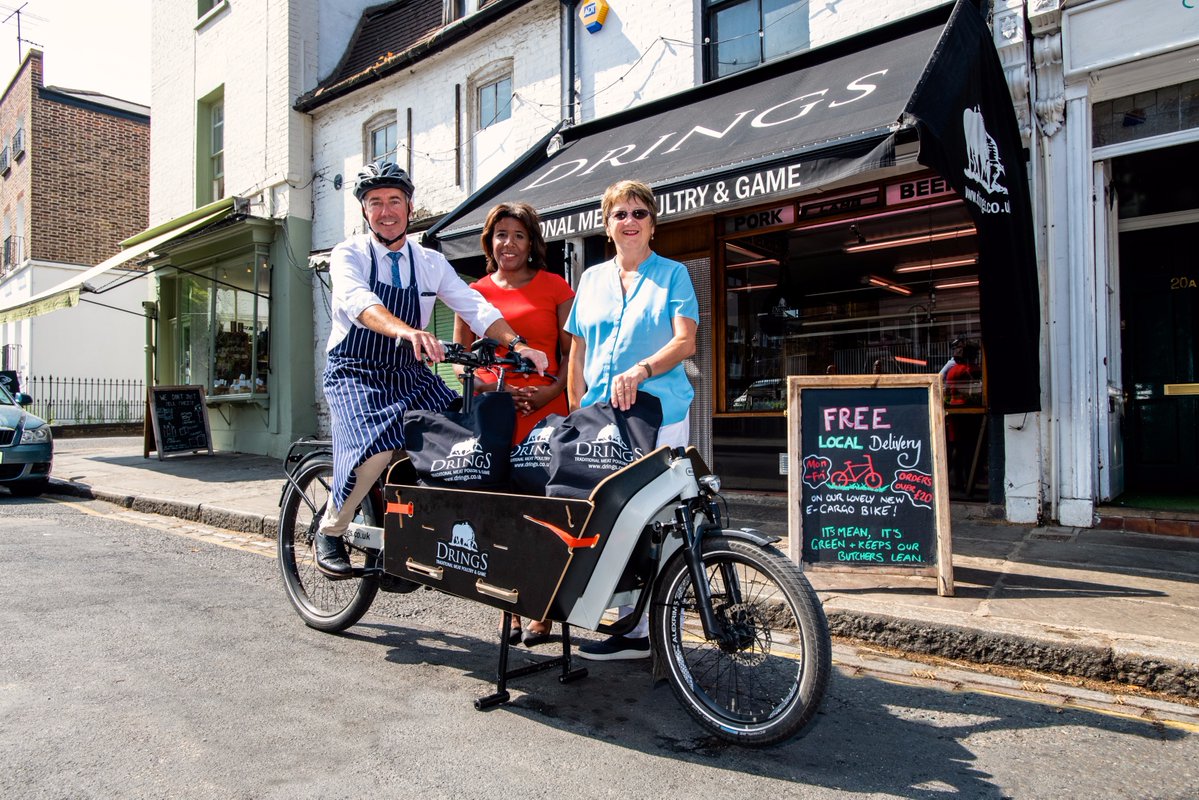 Drings are a butcher shop in Greenwich in London that use a Riese and Muller e-cargo bike alongside their van deliveries to deliver meat and poultry to customers. Drings' owner Michael Jones outlined how it came about "We have been working with Sustrans to help us confidently switch from van to cargo bike, from sourcing the bike to training staff on the bike and the best route choices. Sustrans are also in partnership with Imperial College who will be able to give us data about the environmental and economic performance of the bike compared to van deliveries."
Delivering food to more customers 
Jimmy Thake is a Deliveroo and Ubereats Rider in the East Midlands. Jimmy had a knock off his bike a year ago and has been riding a BESV TRB1 Urban which he got from local dealers 50 Cycles, since the accident left him with some back and knee pain. In fact it turns out it has revolutionised the way he has been able to do his job, meaning more deliveries and more money.
"On a normal bike I'd get fifteen or sixteen deliveries into my six hour day but with the e-bike I can get twenty five or twenty six and I can stop when I want for a rest! I've got a lot more energy."
Keeping up on the the club run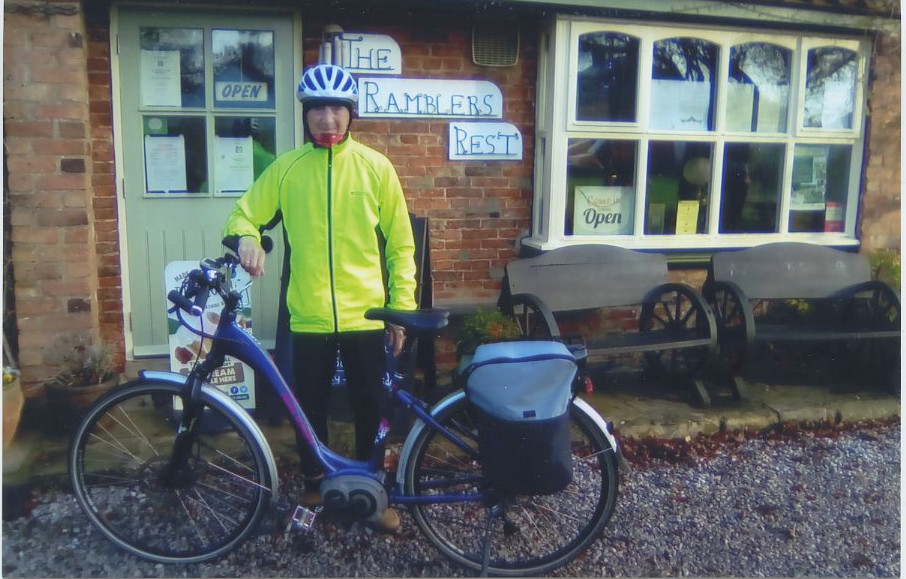 85 year old Peter has been cycling for 72 years, and has been cycling with wife Eileen since 1950 and in his younger days toured extensively all over Europe.
After developing a heart condition Peter plumped for a Raleigh Captus whilst his wife rides a Smarta which he describes as "heavier but more powerful up the hills".
"We can load the e-bikes onto our car and get off into the Dales, the Wolds or the North Yorks Moors from our home near York. I also use the e-bike with the Wednesday Wheelers, a 50-strong group and around five of them also ride e-bikes."
He's also a Rough Stuff member and says "I can do moderate off-road stuff with the Captus and I also like the step-through frame and the smooth and powerful crank drive pedelec motor on it. E-bikes have given me a new cycling lease of life". 
His advice to those wanting to dip their toes in the e-bike is to get good advice! Peter went to two shops for e-bikes after not being entirely satisfied with the first.   
Mountain bike rider who is an amputee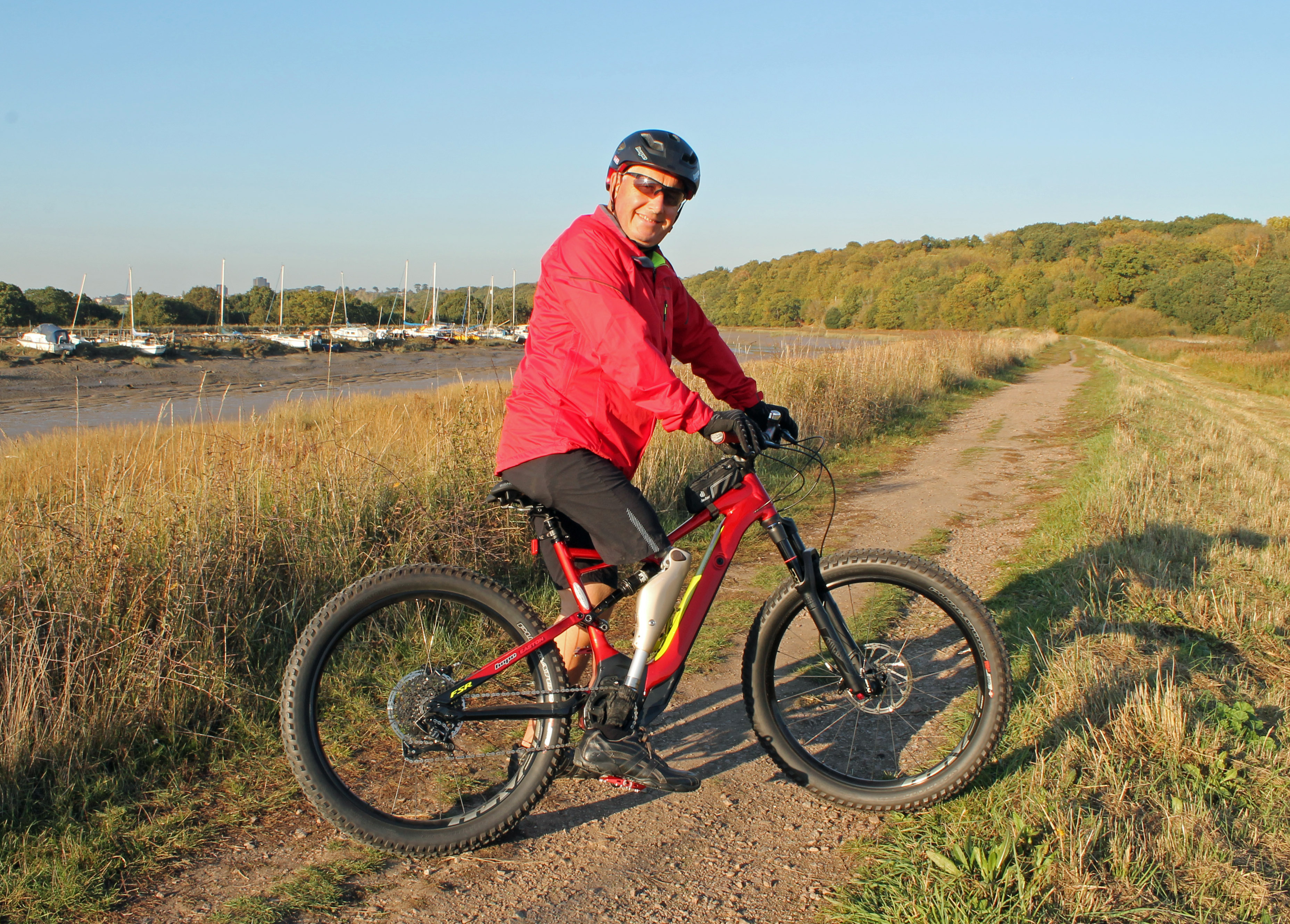 David Rose is Vice-President of the Limbless Association and has been a keen bicycle rider for the past 30 years. He details how he came to e-bikes, "Having struggled to complete the 2016 London to Brighton Bike Ride, I spoke to the staff at my local bike shop and they recommended that I test an e-bike. As a long term rider of Specialized mountain all-terrain bikes, I tested the Specialized Turbo Levo and it was a revelation!
"I subsequently purchased a Turbo Levo in October 2016 and it has transformed the way I ride, which is mostly off-road trails and tracks. I don't particularly enjoy road riding anymore due to the poor state of road surfacing in Essex and lack of consideration shown by other road users.
"In terms of the pros and cons of e-bike ownership and use and as a disabled person who is 60 years young, the e-bike technology helps me to ride more effectively on almost every conceivable level. The only cons that I can identify are the initial purchase price, which can be expensive and the weight of the bike itself. My current ride tips the scales at about 23 kilos, whereas my previous Specialized Carbon Camber Comp MTB weighed in at roughly 12 kilos. However, once you are riding an e-bike, the heavier weight is forgotten and the benefits of this technology take over."
For more information about cycling as an amputee take a look at the website Stumps and Cranks.  
Mountain bike enthusiast with knee pain
John Campbell runs the York Electric Bike Shop. He used to do a lot of mountain biking but had to cut back on it due to the pain in his knees.
"Four years ago I tried my first e-mtb and found by spinning I could do the runs I used to do with little to no pain afterwards. I'm extremely lucky in that I can use the shop's demo models. We stock Bosch and Yamaha and whilst the Yamaha system is my favourite. My brother Jamie prefers the Bosch as all the major mid-drive motors have subtle but definite differences.
"I take customers and friends out on them too. I've also found that due to the extra power some runs that were long boring slogs turn into fantastic trails now."
Pro rider Sam Pilgrim
Sam Pilgrim is a professional Freeride Mountain biker (think downhill mountain biking with dirt jumps and aerial tricks mixed in) and was FMB world champion in 2013. These days he also runs a massively popular Youtube channel website filming his exploits.   
How did he come to get involved with e-bikes? "I actually approached Haibike because from the start of the e-bike craze I could see the awesome potential for the extra fun these bikes could bring. So once I had met with Haibike at Eurobike I set up a day to do a test ride and after that short ride, I realised it would be a great idea to switch to e-bikes. 
"They don't change what I can do they just allow me to ride way more. No bike parks in England have chairlifts so why not ride a bike that has a chairlift built in? I now ride in places I never would have before because for me walking back up the hill after a rad DH track is the worst thing ever. Now I have only pure fun all day because even pedalling up is fun! E-Bikes are not a replacement for the a normal mountain bike but just an additional bit of awesome kit that you'll probably end up riding more."