Meet our members: David Hugh Lockett
David Hugh Lockett is a professional landscape artist based in Warwickshire and London. A former teacher, he taught art at various schools and colleges in England and abroad. His career included a stint teaching in Mozambique in 1987-88 – his artwork still adorns the walls of the Mozambique High Commission in London.
He was also head of art at John Roan School in Greenwich and at Christ the King Sixth Form College in Lewisham, both in south-east London. However, in 2011 he retired from teaching to concentrate on painting full time.
David says of his work: "I am a landscape artist. The work is about the country and the city, the spirit of place." The art doesn't feature cycles, yet cycling is still very much a part of it. The paintings are taken from life, using drawings made outside as the basis. When painting back in the studio, though, David says "memory and the process itself take over".
He continues: "For me, landscape painting and drawing is about space with no fixed perspective. When cycling you are moving through space and seeing constant change; on a good day you are part of the motion of the world. The weather, seasons, light on surface, birds, fast, slow, contour and gradient: all these things can be part of both cycling and painting."
Cycling has long been part of David's life, both for leisure and transport; he even uses his bike to carry his art supplies. "I have always cycled since my teenage years, both as a means of transport and as a way of exploring the countryside," he says.
The weather, seasons, light on surface, birds, fast, slow, contour and gradient: all these things can be part of both cycling and painting

David Hugh Lockett, Cycling UK member and professional artist
Variety of life
Being based in both London and Warwickshire means David gets to do a variety of cycling on different routes. "I cycle along the Thames and cycle routes to my studio in Deptford, and on minor roads in the Warwickshire landscape."
However, he says: "I avoid the Fosse Way, but often have to cross it." This narrow, straight road in Warwickshire is known for its fast-travelling traffic and close passes. It has provided inspiration for one of David's paintings, though, which can be seen in the gallery below.
Cycling is essential to David's work – both as a way of carrying his drawing kit and to get to know the landscapes he paints. These days, David says he is a big fan of his e-cycle, which allows him to ride further and faster. He explains: "Eleven years ago, I was extremely ill and became exhausted after 10-15 miles; buying an electric bike means I can cycle like I did when I was 20 years old."
David's artworks aren't what he calls "topographical"; that is, they aren't accurate representations of the physical features of an area. He says of his painting Warwickshire Landscape: "It is a cycling painting, about moving around in the landscape. Although not topographical, it is related to the experience of the countryside around Kineton, Edgehill, Shipston on Stour and Ilmington in Warwickshire."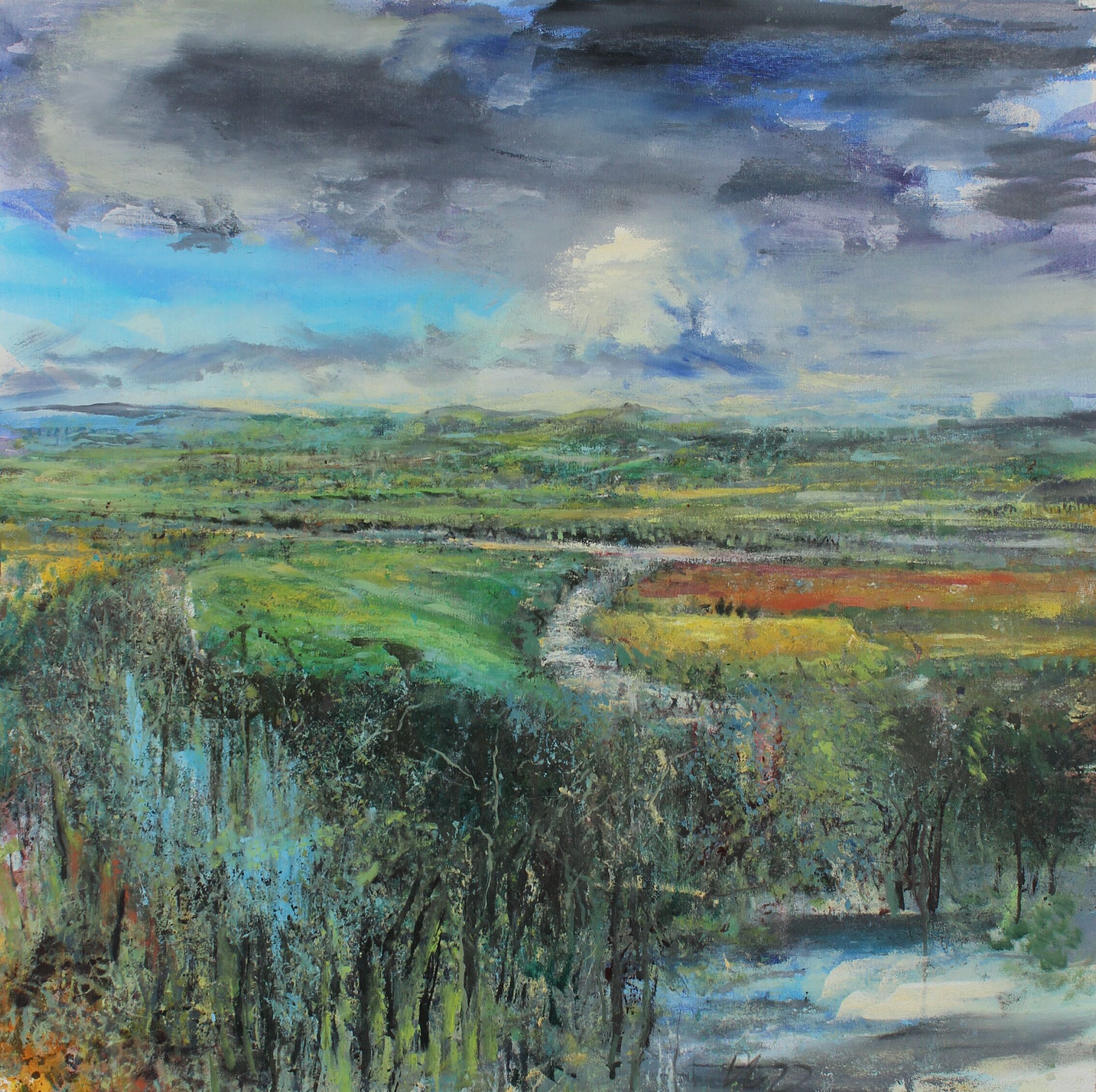 When we talk about other cycling artists, David says for him: "The supreme cycling artist is Fernand Léger who wrote: 'I tell myself that I am in harmony with nature when I am on my bike, which rolls sweetly along, capriciously rocked by the curves in the road.'"
Léger was a French cubist and modernist painter, sculptor, and filmmaker. Born in February 1881, he died in August 1955.
David continues: "He goes on to talk about roundness and where the straight line cannot be drawn. After all, the bike is basically four rotating circles. I think for Léger, the bike was a symbol of the good life, and also of a positive relationship with technology."
Proving that cycles can be used for all kinds of trips, David isn't the only painter who uses his to transport his art, there's also an 81-year-old Scottish artist: "The contemporary artist George Rowlett loads heavy boards and paint onto the back of his bike and works in all weathers."
Favourite routes
I ask David about some of his favourite rides, and he mentions the changes he has seen along the Thames Path. "I have cycled along the Thames for more than 30 years and seen the urban landscape change from industrial to post-industrial. I like low tide best, especially if I see a heron."
But it's not all about urban cycling. "My favourite rural ride starts at Moreton Morrell, goes to Tysoe and then up the Edgehill ridge to Ditch-hedge Lane, an ancient trackway, 3,000-4,000 years old, all the way to Chipping Norton. Earlier this year I had an exhibition of paintings about it at the Chipping Norton Theatre Art Gallery."
That series of paintings was inspired by two years of exploring and drawing the lane, David explains. "They are mental images of place which I wanted to show in the actual locality, so the theatre gallery was an ideal venue."
When I ask David if he has any cycling achievements he'd like to share, he laughs: "I recently spent a month painting in Orkney and Shetland and hired a bike on the island of Sanday. I was cycling against the wind into what felt like a gale – at one stage I didn't know if I was going forward or backwards! My achievement was cycling the five miles to my destination."
Given how central cycling is to David, it's no wonder he's a member of Cycling UK, an organisation which has, according to him, "been at the forefront of improving the lot of cyclists in this country".
Ending on a high note, he concludes: "Given the environmental crisis we are in, I am confident we can win the battles ahead: for more safe cycling, more access to the countryside!"