How to thank your volunteers in a meaningful way this Volunteers' Week

A Time to Say Thanks
Whether they are ride and walk leaders, event organisers, social media volunteers or campaigners, Cycling UK's volunteers are all focused on one aim: to support our mission to get millions more people cycling.
All over the UK, from Shetland to Belfast, from Cardiff to Cornwall, our community of over six-thousand assorted helpers are putting their time, energy and skills to good use motivating and creating opportunities for individuals and groups to take part in cycling events and activities.
After the pandemic, these volunteers are more important than ever when it comes to bringing people together and providing them with the chance to improve their mental and physical health, and to meet other like-minded souls. Many will have had to suspend their usual volunteering or have chosen to volunteer in ways outside of their usual experiences, by, for example, helping the NHS.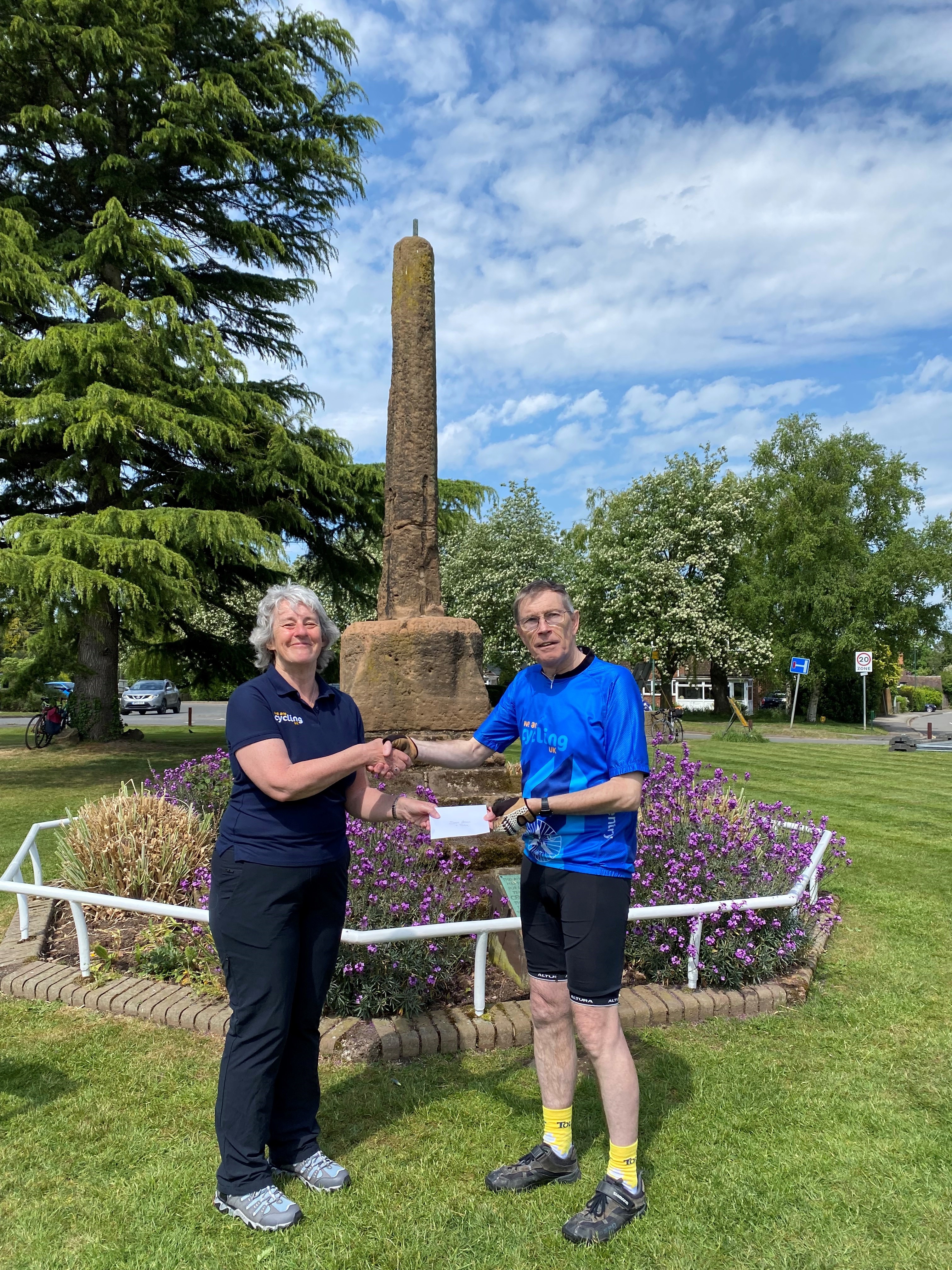 Why is it important to say thanks?
It may seem like saying 'thank you' is a very personal gesture, one that is meaningful just for the 'thanker' and 'thankee' but it also serves a wider purpose amongst the cycling community.
Firstly, it's motivating for the volunteers, and for others who may be thinking about becoming volunteers themselves. 
Secondly, it's a chance to showcase our events, campaigners, groups, clubs and projects if we have photos of the volunteers in question and can present these in articles for our communications channels.
Finally, everyone enjoys a good news story and what can be more encouraging than seeing someone really appreciated for their efforts in helping us in our mission to get millions more people cycling? People doing good makes all of us feel good!
So, how can you thank them in a meaningful way?
It was a very pleasant surprise. I must add, however, that the event would not work without the support and co-operation of all the parties concerned."

Dave Hearn, organiser of the Meriden Cyclists' Memorial Service
Small gestures
Just remembering to say a simple 'thanks' after a ride or activity to the organiser is something that's easy to forget, especially when the hard-working volunteer leading it is someone who you take for granted will turn up regularly, week in, week out.
Many, if not all volunteers do not seek recognition or acknowledgement for the roles they play, but why not treat them to a coffee or tea occasionally? It's amazing how motivating it is to be recognised in this way. 
Dave Hearn, who has been the tireless organiser for several years of the annual Cyclists' Memorial Service in Meriden, was given a Going the Extra Mile thank you card and badge for his service by the chair of Cycling UK trustees Janet Atherton OBE, in recognition of his efforts.
Dave says: "At Meriden, I was presented with another badge, for which I am very grateful. It is a Going the Extra Mile one, which will complement the Gold Lifetime Achievement Award for being a committee member with Coventry CTC for more than 40 years nicely; it was a very pleasant surprise. I must add, however, that the event would not work without the support and co-operation of all the parties concerned."
You could also put together a virtual Kudoboard and get everyone to sign it. Don't forget to add information about why the volunteer is appreciated and what the impact of their contribution has been - it's nice to actually be told you are making a difference, even if you may not realise it, or even if you do.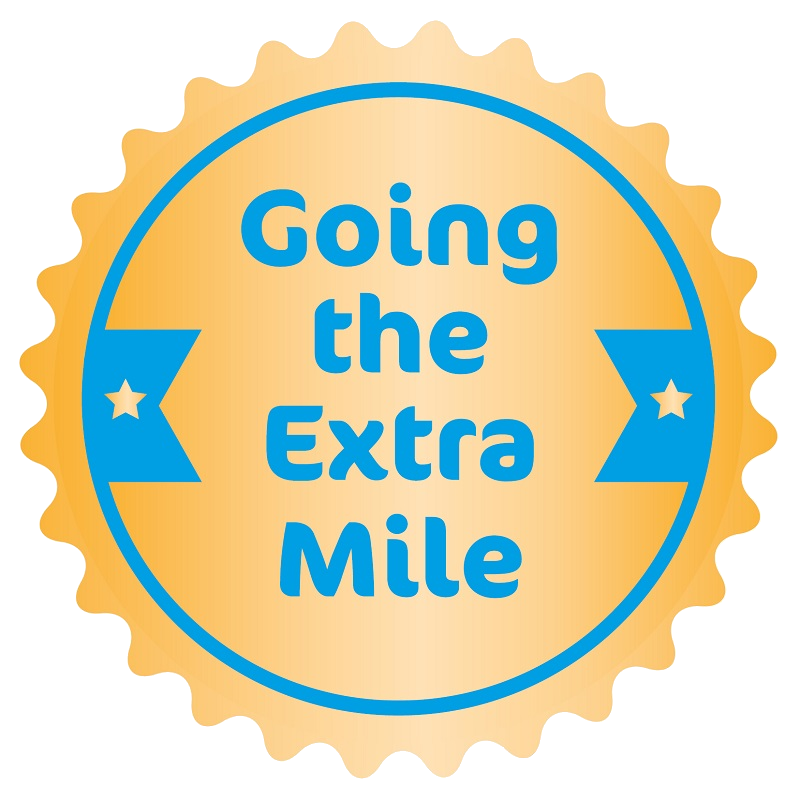 Certificate of Thanks
Cycling UK's 'Going the Extra Mile' award scheme is one of the best ways of showing your appreciation. We have thank you cards that you can download and personalise with your own messages, and for really outstanding volunteers, why not present them with a Certificate of Thanks? This can be customised, too, with the relevant details.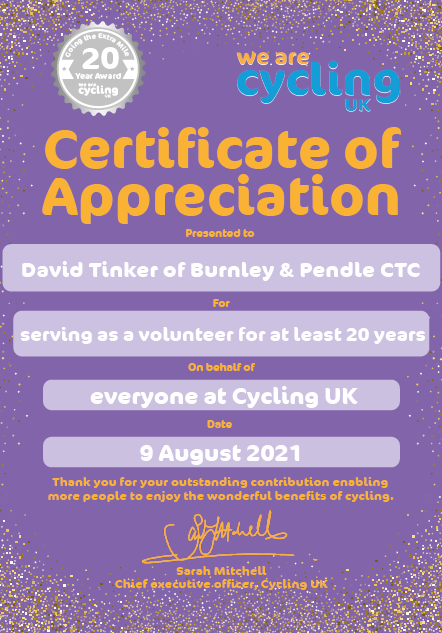 Certificate of Appreciation
For volunteers who have really gone above and beyond, you can request a Certificate of Appreciation from Cycling UK: these certificates can be given for organising, for example, a one-off special event or activity, or a long-standing committee member or ride leader.
Lifetime Achievement
For anybody who has been volunteering for ten years or more, we have a Lifetime Achievement award.
All volunteers who are nominated for an award will appear on our Roll of Honour.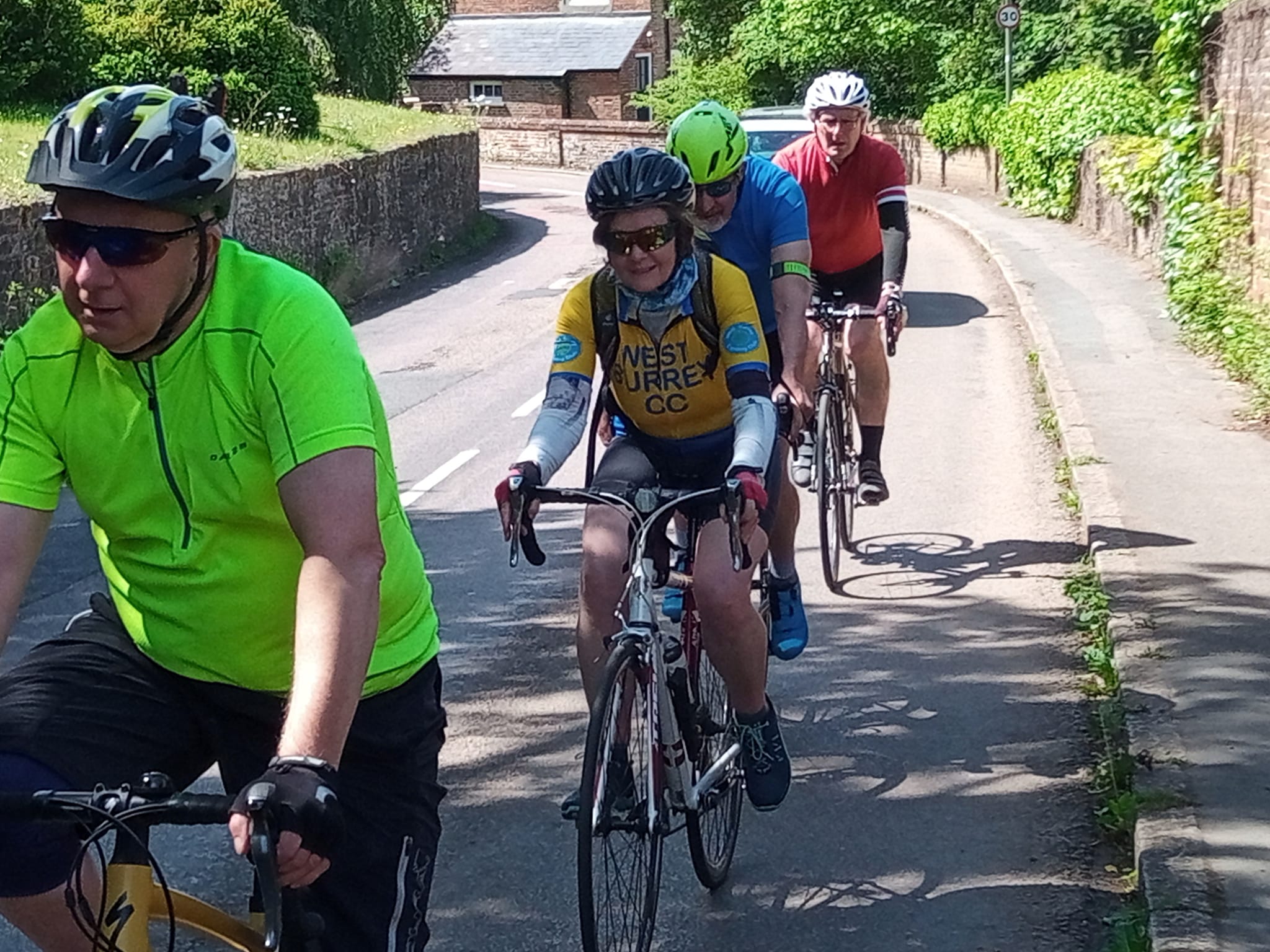 External awards
There are plenty of local and national award schemes for volunteers, such as the BBC Unsung Hero awards, so keep an eye out for opportunities to recognise volunteers in cycling through those.
Get involved
If you'd like to nominate someone for a Going the Extra Mile award, or you have a story about volunteering in cycling, please get in touch with the volunteering team.