Often e-bikes are perceived as an unattainable expensive luxury; however, with buying options such as the Cycle to Work scheme and many suppliers offering 0% finance options, the overall cost is far more manageable than running a car.
Cycle to work scheme
One of the most affordable ways to purchase an e-cycle is through the Cycle to Work scheme. You could save 25-39% on the price of a brand new e-cycle and equipment and pay in instalments through this government initiative.
Some providers, such as Cyclescheme, provide an online savings calculator so you can work out exactly how much the overall cost of an e-cycle will be based on your salary after savings.
Contact your employer directly to find out if they are registered with one of the various scheme providers.
0% bike finance
Many suppliers offer 0% finance meaning you can spread the overall cost of an e-cycle over 12 months or longer, making it a much more manageable prospect.
At Evans Cycles, finance is available for both reduced and full price cycles, so you can bag yourself a bargain and pay in smaller chunks.
Most suppliers require a small deposit alongside the first payment, so it's worth checking how much this is before committing.
E-cycle subscription service
If you're new to e-cycling and not quite ready to commit to buying one, an e-cycle subscription could be the perfect option.
Subscription services such as Hurrecane eBikes and Zoomo allow you to pay as you go with no long-term contract.
Most of these services allow you to cancel at any time, and cover theft, servicing and general maintenance, meaning you can have a no-strings-attached e-cycling experience.
Cycling UK member benefits
Cycling UK members have access to a range of benefits from some of our favourite brands. For example, members can take advantage of an 8% discount off the in-store price of selected cycles and 10% off bike servicing at Halfords or save £10 per month with a Hurrecane e-Bikes' pay-as-you-go subscription.
As well as taking advantage of the amazing benefits, Cycling UK members help support cycling and our work as a charity. Find out more about membership and how to join here.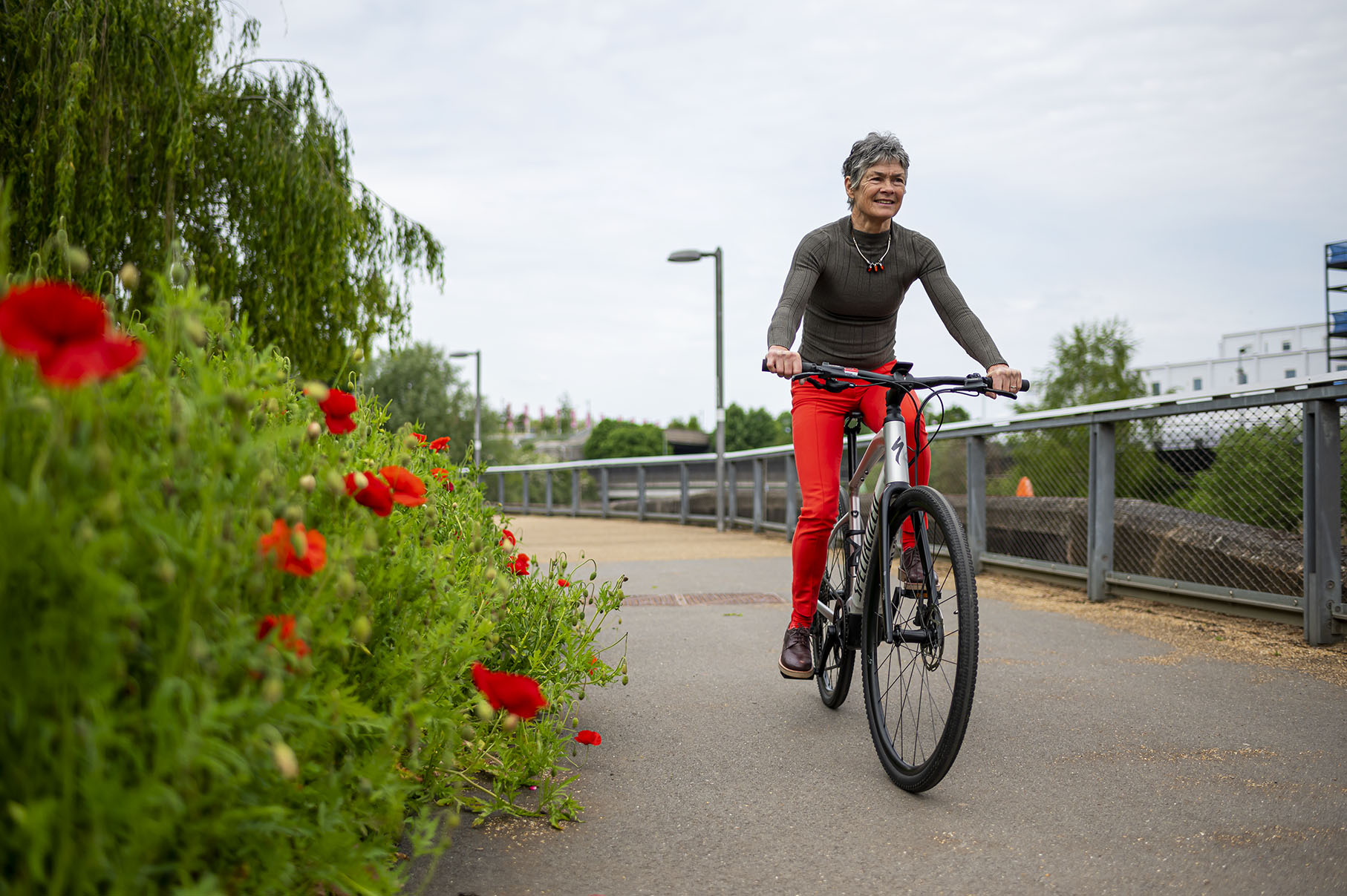 Refurbished e-cycles
Purchasing a secondhand electric cycle is a great way to start your e-cycling journey without the hefty price tag.
The battery on an electric cycle usually accounts for much of the additional cost in comparison to a traditional bike. Batteries don't last forever and their overall quality declines with age so be sure to check the diagnostic report of the e-cycle if possible.
Bear in mind, a used e-cycle is also unlikely to have a warranty which means you might not be covered for maintenance and damage and could have to fork out for this yourself.
We recommend always purchasing an e-cycle from a reputable manufacturer such as Halfords to ensure that your e-cycle is high quality and durable.
It's not uncommon to find great deals on e-cycles through popular sites such as eBay, Gumtree and Facebook Marketplace. Be aware that often low prices are too good to be true as cycle thieves use these sites to sell stolen goods. Find out how to cover yourself and avoid buying a stolen e-cycle in our handy guide.
Try before you buy
Cycling UK's free e-cycle scheme, Making cycling e-asier offers communities across England the chance to try e-cycling for short everyday journeys for free through skills and confidence sessions and one-month e-cycle loans.
Since launching last year, we have heard from people who have gone on to purchase their own e-cycle following the support and guidance they received through the programme.
If you're based in Manchester, Sheffield, Leicester or Luton and Dunstable, find more information and sign up here.
Pay-as-you-ride e-cycle schemes
If you only e-cycle sporadically and aren't looking to purchase your own, many cities and towns across the UK have cycle hire schemes which are easily accessible via smartphone apps, such as Cycle Hire in Manchester.
You can avoid traffic congestion and save money on transport by hopping on an e-cycle in one location and dropping it off close to your destination.
These schemes are usually easy to spot in highly populated areas, so keep your eyes peeled or contact your local council to find out if you have an hourly e-cycle scheme near you.
Rural Connections
If you're based in a rural area in Scotland, Cycling UK's Rural Connections could offer you support to walk, wheel and cycle on a regular basis. Free e-cycle loans and try-outs are available to adults of all backgrounds and abilities in Orkney, Highland, Eileanan Siar, Moray and Scottish Borders.
For more information, contact your local Rural Connections development officer.
Energy Saving Trust
The Energy Saving Trust gives local authorities, public sector agencies, higher education institutions, active travel hubs and community groups in Scotland the opportunity to apply for the eBike Grant Fund. Funded by Transport Scotland, projects can apply for up to £75,000 in funding which can be used for e-bikes, e-trikes, e-cargo bikes, cargo bikes and trailers, tandems, adapted cycles and trikes to be used for trials.
Dig for details
If you choose to purchase a new or used electric cycle, it's important to exercise due diligence before making a payment.
Reputable manufacturers carry out stringent tests on e-cycle batteries and components before they become available to the public to ensure that they are safe and reliable. The person or company you're buying from should be able to confirm the brand of each component, and what level of functionality it has.