Great Rides: The Caledonia Way
There is something about having not left the city for a while, that gives you an almost stubborn disbelief that beauty outside of buildings, on a grand and magnificent scale, exists in the world.
But exist it does, and the Caledonia Way confronts you with it, almost continually. I had barely set off when I dismounted to wander down to the shore of this peaceful inlet of the Atlantic Ocean to gaze at the gently lapping water, and the hills beyond. The sun was warm, unseasonably so for mid-April, and I stood, jacketless, and recalibrated my London eyes.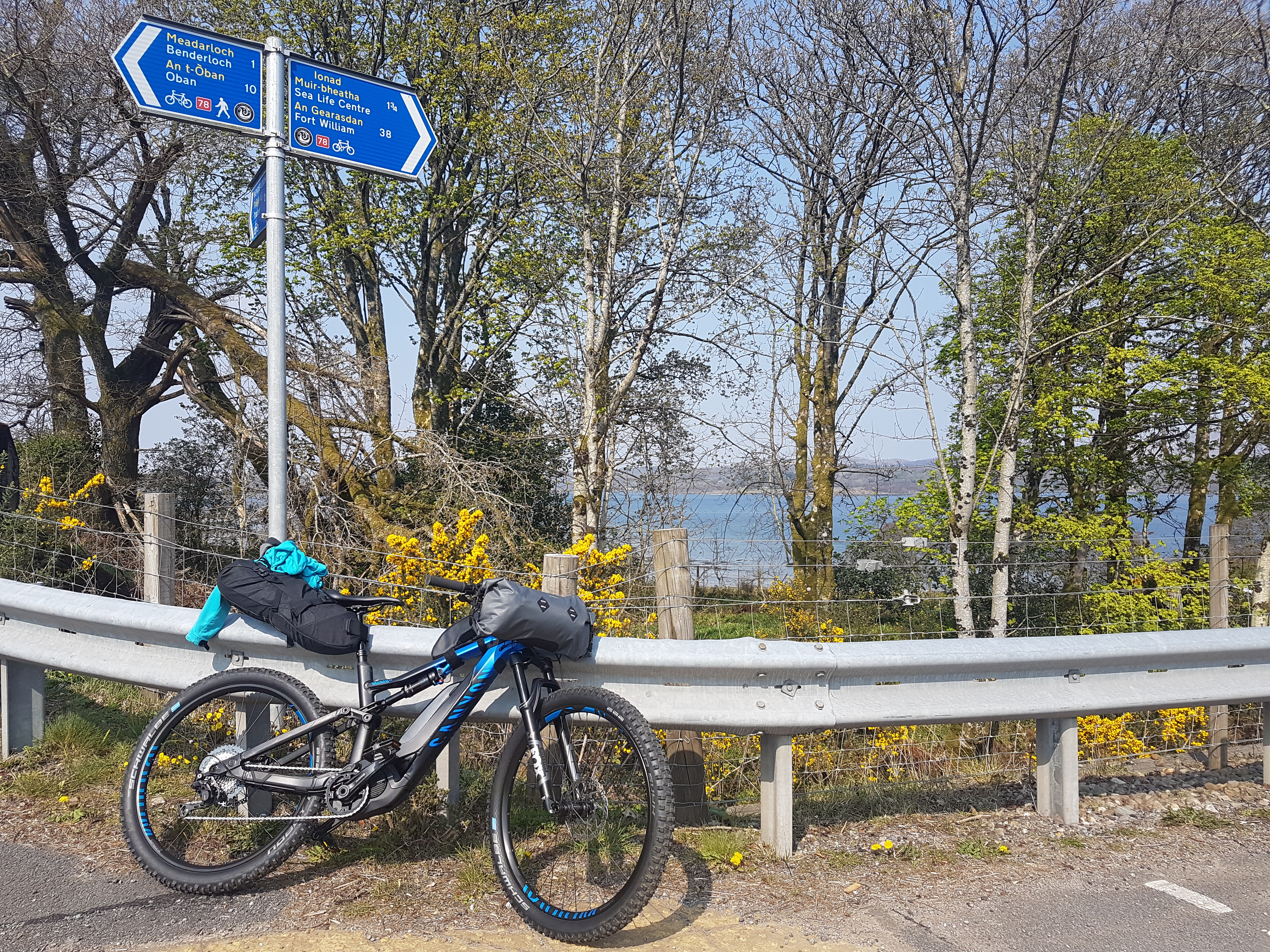 The entire route, running from Campbeltown to Inverness, is 237 miles, but I was starting north of Oban, at Ledaig, where a newly tarmacked shoreside path has replaced one of the last remaining sections of A-road on the coast to coast route. Linking the villages of Benderloch and North Connel, this small but significant piece of tarmac, ten years in the negotiating, means local kids will be now able to ride to school in safety.
I'd attached bike packing bags to a borrowed Canyon Neuron, a full sus e-mountain bike with fat tyres, and a rucksack, and I set off on my solo adventure.
The 29 miles to Corran follows a dedicated walking and cycling path that switches between waterside, woodland and fields, crossing but largely staying off the main road. North of Benderloch a thumb of rock stands between path and road that was, impressively, blasted out just to widen the cycle route.
The water sparkles through trees, the path occasionally bisects mossy cut outs in rock faces, crosses a car bridge and wends through twisted oaks and silver birch, thick with hairy lichen. Castle Stalker crowns a tiny island that housed a castle since 1370, when easy land routes were hard to come by and Vikings ruled the waves. After a couple of livestock gates, a short stretch of A-road, and gravel paths I climb briefly but steeply, to Kentallen viewpoint, in its picture postcard perfection overlooking a stunning expanse of water and hills.
I greet a few other cyclists, though most look like day trippers. I keep the e-assist on 'eco' mode for all but a few ascents, to save the battery, and it is glorious riding.
I'm headed for the first of two ferries taking riders to the opposite shore of Loch Eil and back, and the quiet road that parallels a much busier route between Corran and Fort William. While the first ferry is a regular, continuous service, the second runs just four times a day, the last sailing at 16.15 so, having set off late, I'll wild camp near the second ferry, catching an early crossing into Fort William tomorrow.
At South Ballachulish, I cross a car bridge, and descend along a pavement cycle path, littered with road debris, with traffic hurtling by. Settlements here are few and far between, so I pull in at a fuel station, for a cheap pasty, milkshake, salami, an apple and crisps. I pedal on to wait for the ferry by the vast stretch of blue water in the late afternoon sun. It's probably the most beautiful wait for public transport I've ever had, and the water spreads out, seemingly to infinity, as the lopsided-looking ferry putters across.
I needn't have worried about dinner: the Inn at Garside, where the ferry docks, serves delicious neeps and tatties, and the innkeeper even finds me a socket in a shed for the e-bike.
I eventually head off on quiet single track road under pinking sky, in awe at the tremendous beauty of the brown hills, reflected across the smooth palette of the water.
Twenty minutes later I follow a gravel path leading off the road, past Highland cows, to find a riverside spot, just big enough for my tent, bike and I. A novice wild camper, I wonder if the river will rise up in the night and drown me, if murderers will find me, or I'll be woken by an angry landowner. I eventually snuggle into the tent, having drank all my water and, when I subsequently wake twice in the fast cooling nigh, it is to a stark, monochrome landscape lit by a full moon.
Day two
I wake the next morning – which is a relief – with a prodigious thirst. I stretch, drink the milkshake, and pack down the tent, before realising I've left my helmet back at the Inn.
I'd just about make the ferry with the diversion, but it would be tight.
Just then a guardian angel appears in the form of Cameron McCloud, a retired gent in his 70s, who leans out the window of his 4x4, says hello and, when he hears of my plight, offers me a return trip to the Inn.
I stash the bike behind a large hay trough and hop in. He tells me of his family, the local sea eagles, osprey, and seals. We laugh whimsically at a sheep crossing a stream, and when we part, helmet rescued, he squeezes my arm kindly, and wishes me well.
With my battery playing up (turns out I'd started it while moving, and just needed to turn it off and on again while stationary), and still without water, I race to the Camusnagaul ferry, arriving with just ten minutes to spare. Although it's rumoured the ferry contract is under review and may be cut, today there are perhaps ten people disembarking, three with bikes, and three of us headed for Fort William, one of whom relies on the service for his weekly grocery shop. The ferry driver has a black puppy named Oreo, which bites everything in sight.
I can't seem to stop meeting people in Fort William; even bumping into the women's editor of Bikeradar. One retired couple recommend a campsite beyond Fort Augustus, where I decide to head the next morning, after stocking up on food at the supermarket, as the next leg is even more remote than the last. I charge the bike, shower and sleep in a B&B up an impossibly steep hill.
Ben Nevis makes its spectacular appearance as I leave Fort William, looming majestically in a blue haze. It is still visible as I pass Neptune's staircase, a series of lochs on the broad Caledonian Canal, whose towpath I'll follow on and off for the next 30-odd miles.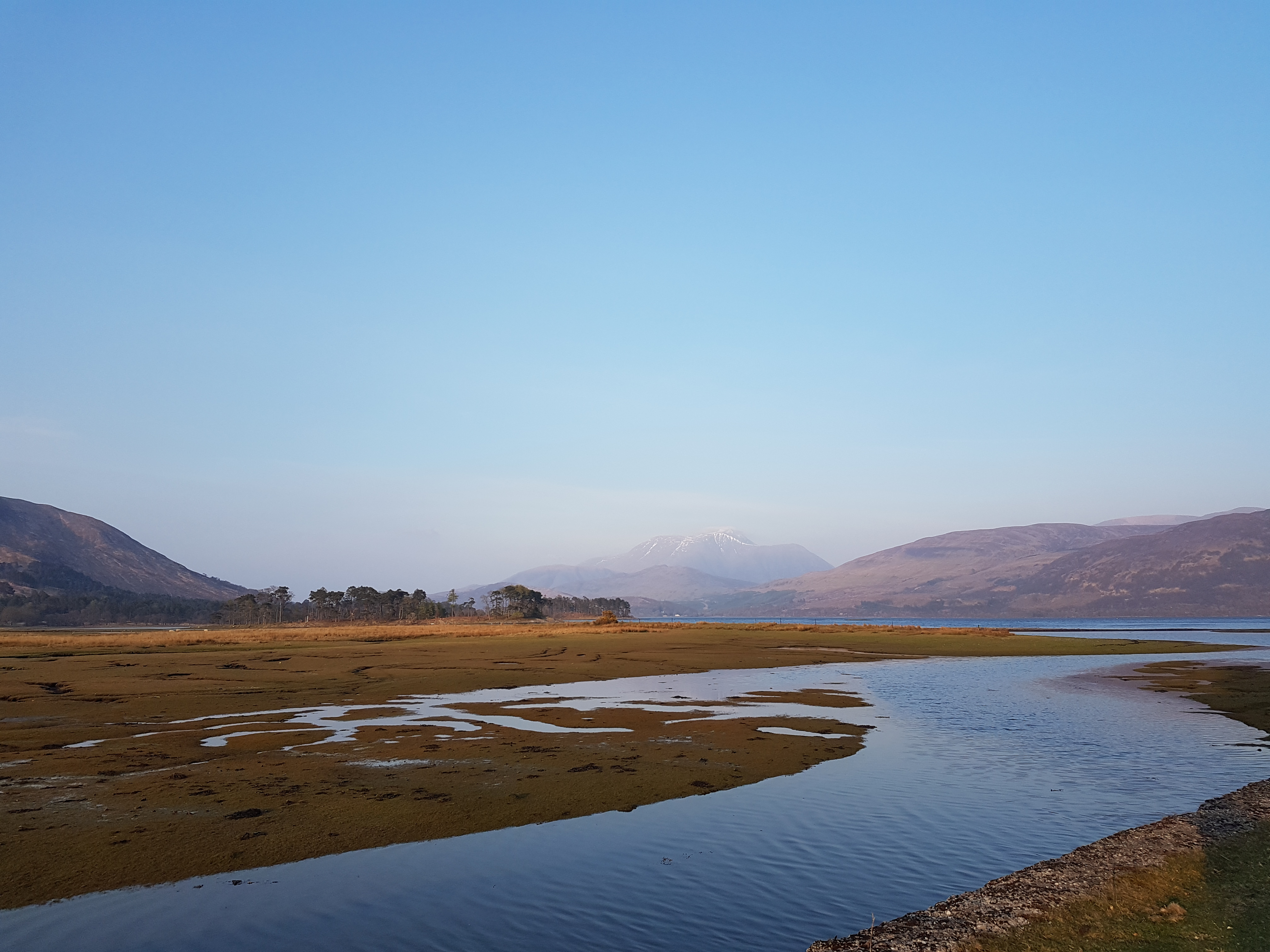 At Gairlochy the route leave the canal for a narrow but fairly quiet road skirting Loch Lochy, the view of which I've run out of superlatives for. The air is infused with a magical blue haze and rows of hills, which fade as they retreat, frame the glassy water. The path becomes a rough wide gravel track climbing above the water, bordered with pine trees, and the stumps of those recently felled. Walkers following the Great Glen Way and the West Highland Way regularly pass by.
The Eagle Barge is a rare eatery here, where Loch Lochy becomes the Caledonian Canal once more, at Laggan Locks. The Barge serves sandwiches, soups and real ale. I eat, chatting with a woman who's running the Great Glen Way, 100 miles over four days, training for an ultra-marathon.
The canal leads, via Loch Oich, to Fort Augustus. Thus far mainly off-road and flat, the route now makes a dramatic uptick, on roads with up to a 14% gradient. Loch Ness appears for the first time and then it's up, up, down and then and up some more – and I'm glad of the e-bike's turbo mode.
At the windswept summit a small crowd peers at the vast brown hills stretching far below, and I'm giddy with the wind and the height. The descent is long and undulating, and leads to sharply undulating country lanes near Foyers. At the campsite I watch Ben Nevis disappear into the evening haze on the shore of Loch Ness (and watch the tiny waves for a sign of Nessie), and bump into my camper van friends, Chris and Jerry. They give me wine before bed and insist I return for breakfast.
In the morning, after a chat over coffee, bacon, sausages and egg cooked on the camper van's outdoor stove, I set off on undulating roads beside Loch Ness. The NCN meets quiet country lanes through fields before finishing at Inverness Castle. With a few hours, and plenty of energy, I use my e-bike power to visit the historic battlefield at Culloden – a stark reminder of Scotland's at times bloody history. It has been an incredible three days, and fairly easy on the e-bike. I would certainly recommend the route to anyone – I couldn't fault it for signage, variety and beauty. And I would love to ride the whole thing one day, with or without the e-assist.