Get on board: go further by bike and bus
This Scottish Bus Week, it's time to get on board with the bus companies and services which accept bikes. 
Although bikes on buses are still not common in Scotland, an increasing number of services allow bikes to be carried, offering the chance to extend a cycling trip without a car or in places with no rail services.
Cycling UK would like more action to better integrate bike and bus journeys, so more people can benefit, especially in rural areas.
On the buses
Buses are a lifeline service for many people, especially those who don't own a car, or who live in rural or island communities where other public transport is unavailable.
Bus services are proving to be just the ticket for cyclists who want to go further or who want to avoid a busy stretch of road. And demand is growing, as unpublished polling done by YouGov for Cycling UK in 2021 showed, with 44% of adults supporting an increase in spaces for bikes on rural and island bus services – and only 13% opposing it. 
Borders Buses is leading the way in Scotland and has three bike-friendly routes which include space for bikes - the X62, X95 and the 253.
Cycling UK supporter Robert Motyka has used these services frequently as part of cycling trips into the Borders.
Robert explained: "Last year my friend Kasia and I took our bikes on the X62 from Edinburgh to Penicuik as part of a day out cycling.
"Getting the bikes on the bus was very easy and the journey took only 40 minutes, following which we had lunch and a fab three-hour traffic free cycling back to Edinburgh."
The three cycle-friendly routes are served by double-deckers with four spaces and single deck buses with two spaces and there's no need to book.
Not all the buses on these routes have space for cycles but an online app shows which buses are equipped.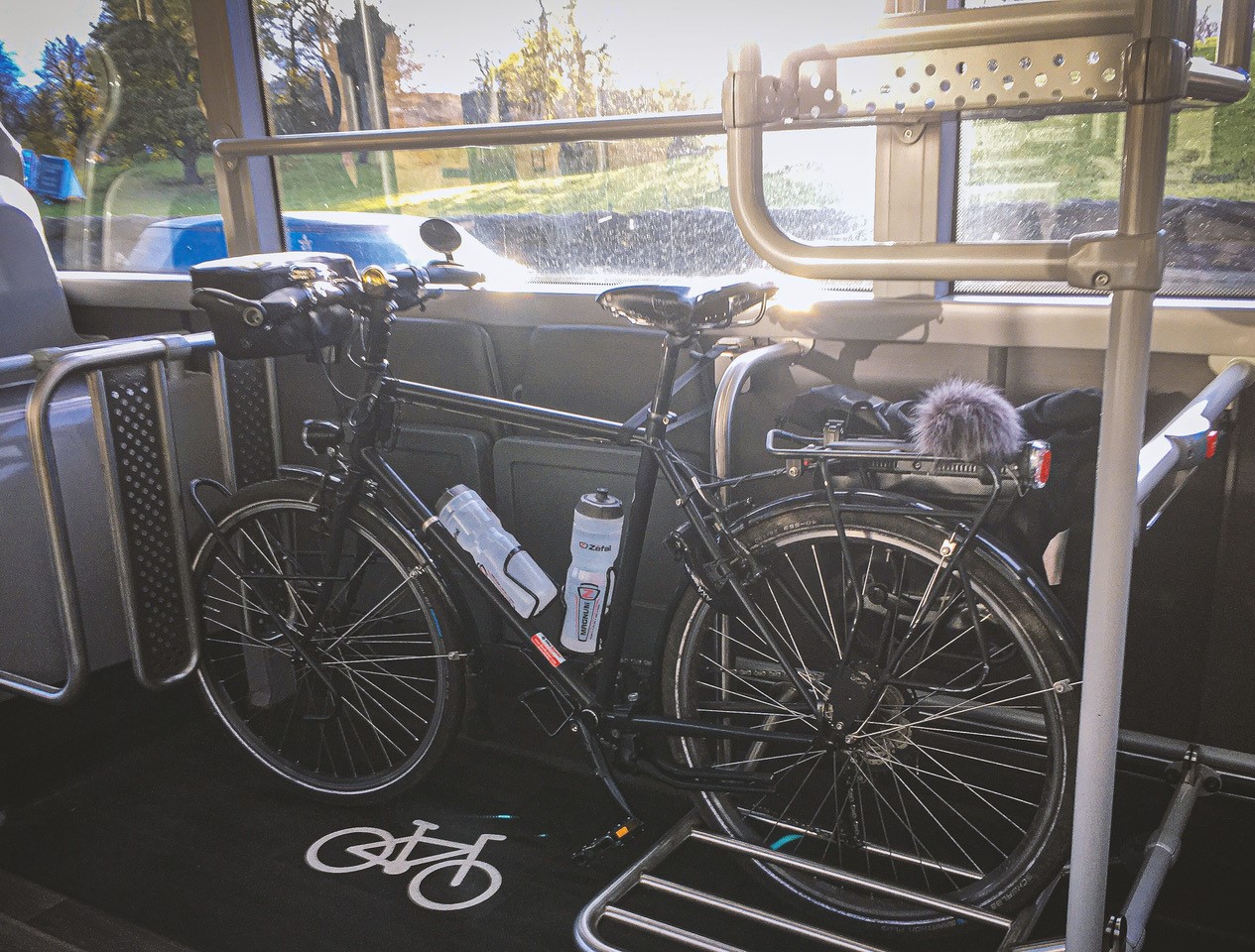 Ember is a company which operates a service from Dundee to Edinburgh using electric buses fitted with two bike spaces which can be booked for free.  
Cycling UK member and Cycle Advocacy Network rep Roger Humphry recently took his bike on the Ember bus to join Pedal on Parliament (PoP) in Edinburgh.
"When I went to Edinburgh for PoP I disembarked in the west of Edinburgh to do some other business before cycling into town to join the PoP ride – it made my day seamless.
Roger added "Ember bus is particularly attractive to my family because it stops just four miles from our rural village - cycling there is much easier then riding to the nearest railway station."
Adventurer, author and director of a Cycling UK Associate Group, Markus Stitz used the Ember bus frequently last year for travel to a work project.
Markus explained: "Both directors of Ember are keen cyclists, and see bikes as an opportunity rather than a nuisance, which is reflected in the attitude of their drivers.
"I had nothing but positive experiences - the journey to Edinburgh is as fast as the train, half the price, and really handy for getting to Kinross, not serviced by trains at all."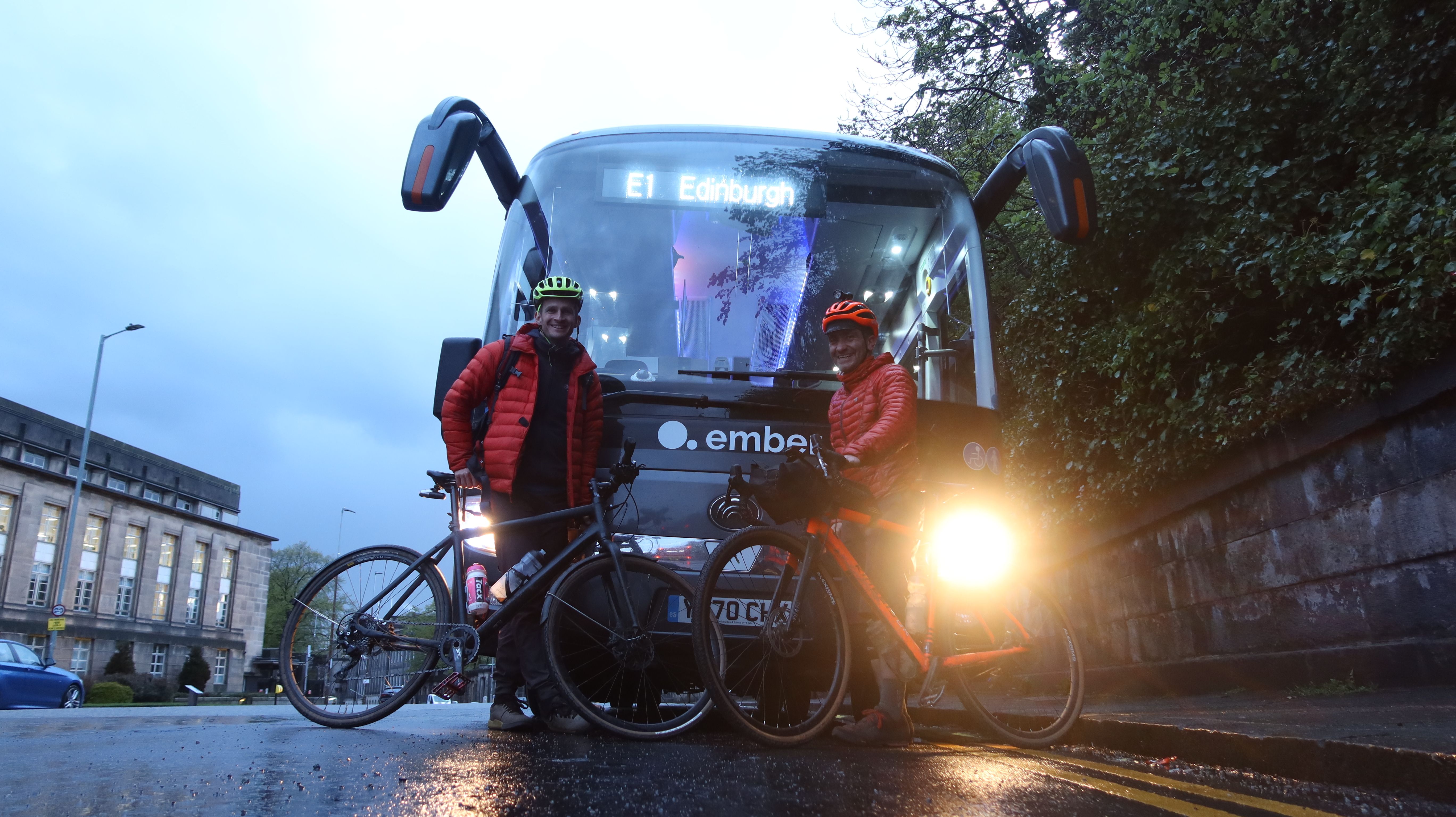 There are other buses in Scotland which accept bikes:
West Coast Motors (which owns Borders Buses) is planning to introduce bike buses in Campbeltown, Mull and Ardrishaig over the summer months. They allow bikes on other services depending on space and the driver's discretion.
Citylink and Stagecoach in the Highlands  – services from Inverness allow passengers to travel with a bike and provide a 'bike sock' for the journey – Citylink 917 to Portree, 919 to Fort William, 961 to Ullapool and Stagecoach X99 to Thurso and Scrabster, with plans to expand to other services.
Stagecoach - X74 Dumfries to Glasgow and the 500 Dumfries to Stranraer both carry bikes.
Bikes can usually be carried on coach services in the luggage area, although Citylink buses usually require that the bike is boxed or in a proper bike bag.
Always check with the bus company before you travel.
If you know of any other bus services in Scotland that will carry a bike please let us know at campaigns@cyclinguk.org  
The other way to take a bike on the bus is to use a Brompton or other folding bike.
Bike to the bus
The Cycling UK Scotland 2021 election manifesto called for politicians to "Make space for cycles on more rural and island bus services…to make cycling a part of everyday journeys and days out, and to reduce car dependency."
The importance of encouraging more people to ride a bike and combine it with the bus as a whole journey was outlined in a blog ahead of the 2021 election.
Enabling people to cycle for local journeys and for leisure rather than using the car is also a key objective of Cycling UK's Shift, Rural Connections and Bothy projects.
Jim Densham, Cycling UK's campaigns and policy manager in Scotland said: "Fuel price hikes and the cost of living crisis are making cycling a more attractive way to travel but for people who live in rural areas, even a local journey to shops and services can be quite a distance.
"Combining cycling with the bus in a whole journey can make going by bike possible, as well as being a way to cut carbon emissions."
Not all bus services will be able to carry a bike, especially busy and urban services, but Transport Scotland is looking at ways to integrate journeys public transport and active travel journeys.
This includes making cycling to the bus easier and safer, and the provision of secure cycle parking at bus stops and bus stations.
Getting better bus services
The industry body representing bus and coach operators is the CPT. Scotland Director Paul White said that CPT "fully supports efforts to better integrate cycling and public transport".
"This [integration] can take many forms including improving cycle access to bus stops, safe cycle storage at transport interchanges, proper consideration of both modes when introducing priority measures such as cycle or bus lanes, ticketing options that include the cost of bike hire, or even investigating whether there is scope for bike carriage on certain bus services."
Paul pointed out that now is a good time to seek better bus services in your area.
"If you wish to start a discussion locally about what can be done to better integrate bike and bus then please do reach out to local operators and your local authority.
"As the new influx of councillors begins to consider their local transport plans, now is an opportune time to make sure walking, wheeling, biking and bus are at the top of their agenda."
Paul White's recommendation of writing to your local councillors and bus operators chimes with Cycling UK's advice to contact your new councillors now that the local election is over.
Jim Densham explained: "Your new councillors want to make their mark so why not ask them to step in and use their power to push for more bike spaces on local bus services, and for the council to install secure bike parking at bus stops and bus stations?
"Post-Covid, bus companies want to encourage people back onto the bus and many rural services could carry bikes – ask your local operator if they will work to create dedicated bike racks or allow bikes onboard if there's enough space."
Search your council's website or use this webpage to find out who your councillors are.
See if there is a councillor near you who has pledged to support cycling and who may be more open to getting bikes on buses.