Electric bikes at the Cycle Show
At trade day at the Cycle Show, I made a selection of models that appear to show the way that e-bike design and technology is going and, most importantly, they look great, are fun to ride and are practical. I've also added in what looks to be a groundbreaking model from Lapierre after attending Raleigh's 2019 e-bike launch, which took place at their Nottingham HQ a few days prior to the Cycle Show.
Lapierre eZesty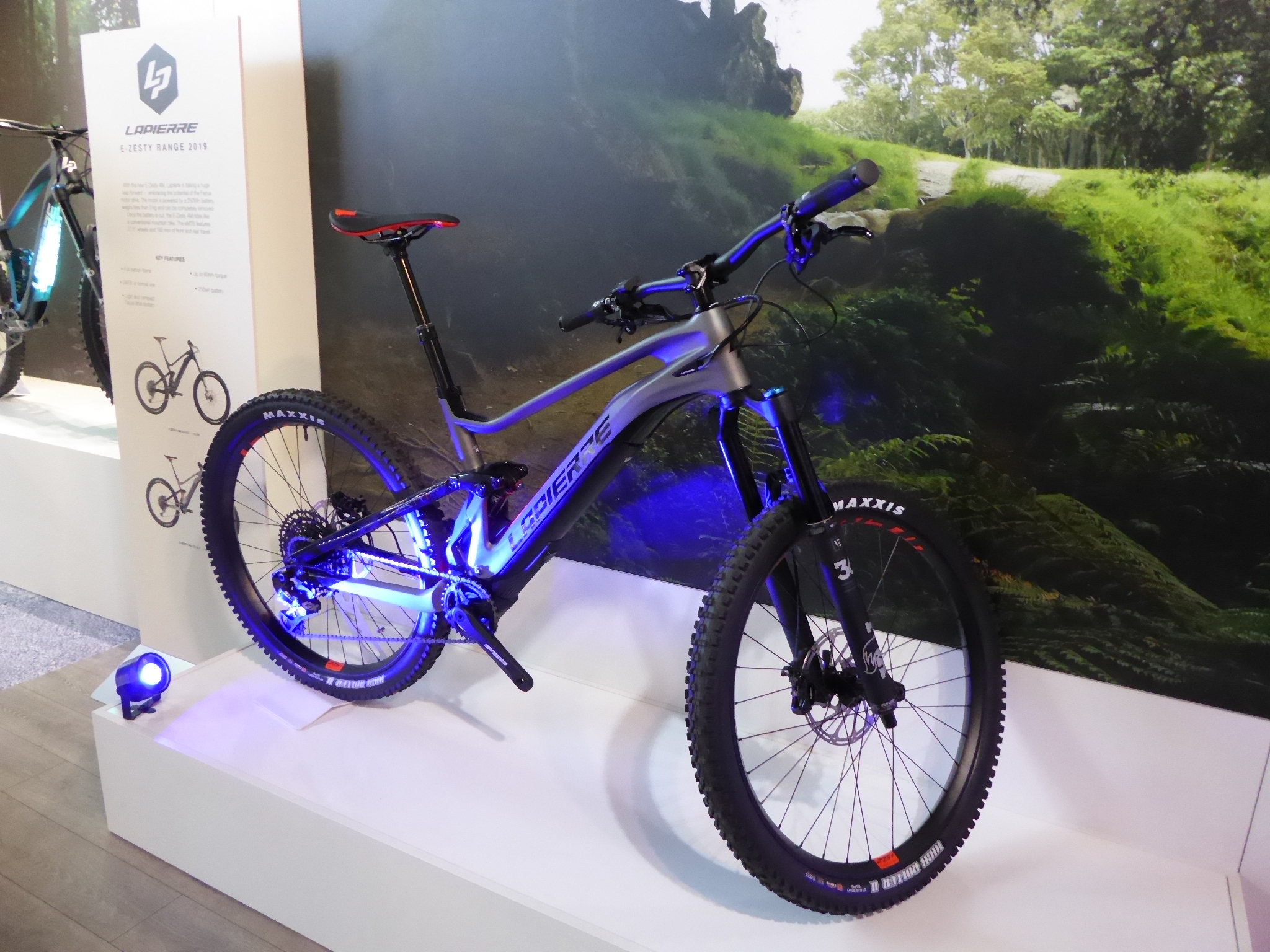 One criticism sometimes leveled at e-bikes is that they are not bike-like enough to ride. Inevitably the addition of a motor and battery adds weight, so over the legal assistance limit of 15.5mph (or if you simply want to switch the power off for whatever reason) the extra weight alone can make for heavy going (before even factoring in if there is any appreciable drag from the motor itself).
The aim of these two carbon-framed, sub 20kg e-mtb models by Lapierre is to blur the line between e-bike and non e-bike. The innovative, lightweight Fazua mid-drive and battery downtube combo is meant to be easy to pedal over the legal assistance limit, as the low weight and motor design are both aimed at making this a very bike-like e-bike and moreover a very bike-like e-mtb. Even better is the fact that the motor and battery can be quickly and easily removed and the bike pedalled as a regular bike.
The Fazua more normally appears on e-road bikes but there are far fewer e-mtb examples of it and the eZasty is one of the first Fazua driven e-mtbs to appear in the UK. Lapierre are expert mtb designers so this bike promises to take electric mountain biking to a whole new level and customers' feedback on the eZesty will be eagerly anticipated when it does arrive on shop floors in 2019.
RRP:  £5299 - £6999 
Cytronex C1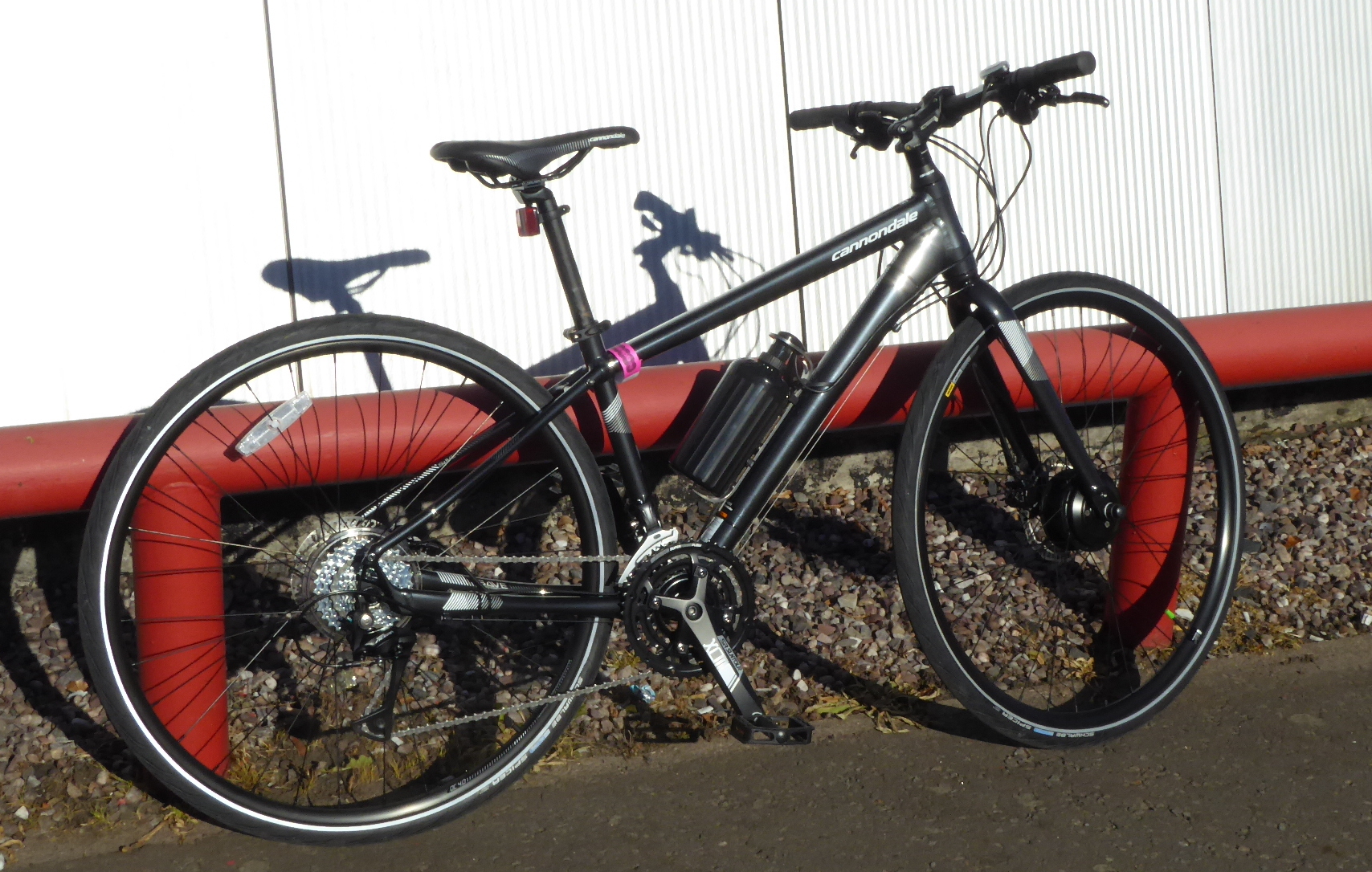 Unlike the eZesty the British-designed and made Cytronex C1 is a front hub based system aimed at leisure and road riding rather than full on off-road use. It is full of unique technology, from the innovative 'bottle' battery to the handlebar control and a very clever rear sprocket motion sensor that helps deliver smooth yet powerful assistance once you start pedalling.
There is a small delay before the power kicks in which, Cytronex say, is a safety feature so the rider can gain proper control of the bike before the electric assistance arrives. Once underway on the test track I was impressed by my smooth fast progress up to and over the legal assistance limit. The bike's characteristics should mean that battery power will generally sipped by the bike rather than gulped (as Cytronex bikes are sporty and just asked to be ridden at a decent lick) and so a good range should be achievable even from it's relatively small battery.
It can be purchased as a retro-fit kit and will fit the majority of bikes and Cytronex also offer an attractive range of (in the main) sporty, road-going, off-the-peg models from the likes of Cannondale but there are also a good range of leisure and trail models on offer. 
RRP:  £999 for the system plus the cost of the bike if required.
Ampler Curt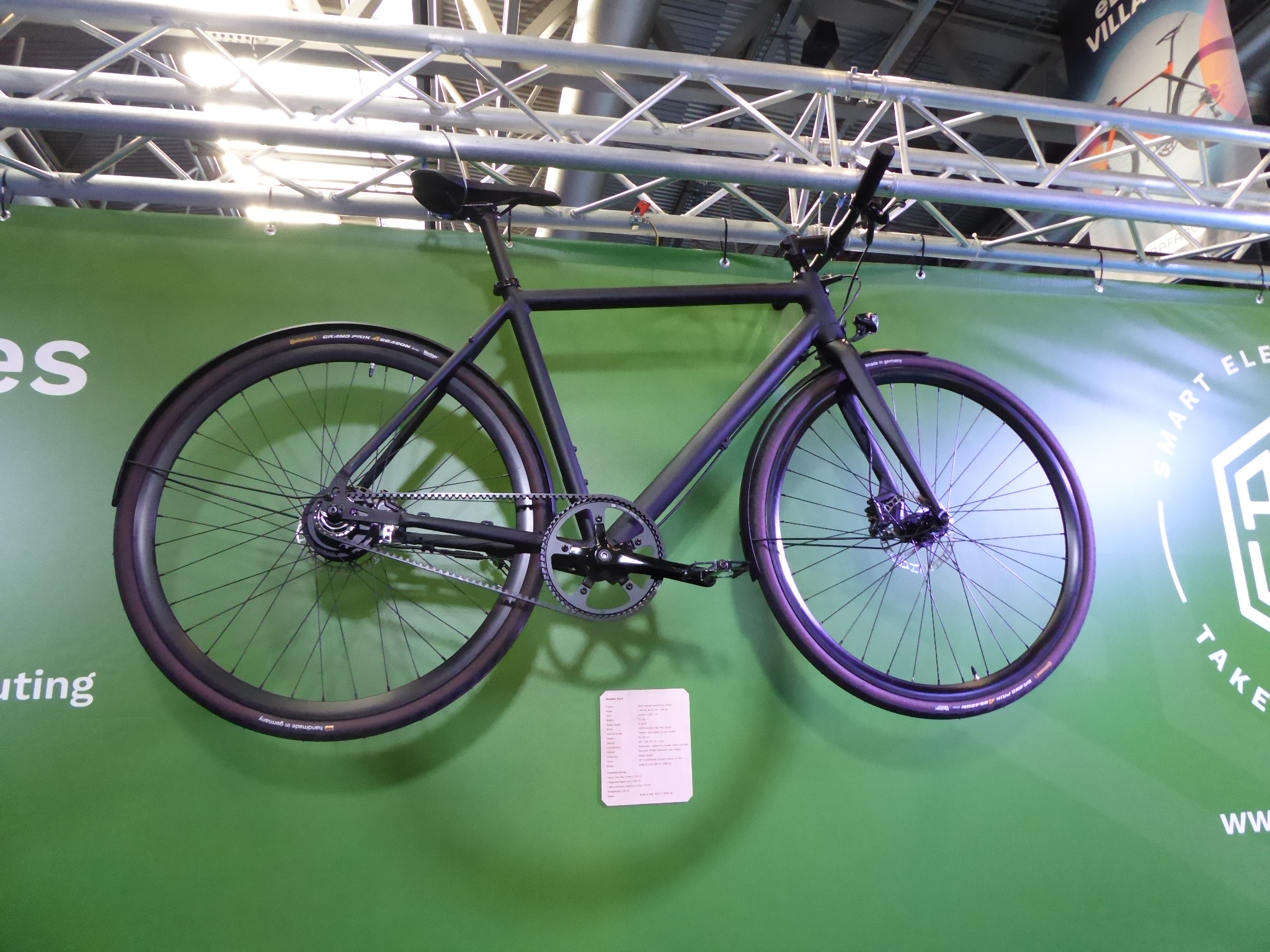 Taking simplicity a step even further are Ampler e-bikes. I took Ampler's Curt model for a spin around the test track and this single-speed model with a belt drive seemed to embody what Ampler are about. Its stated weight is a shade over 14kg and with just two brake levers on the handlebars it's cinch to ride – just hop aboard and pedal. You can alter the power level using the button on the side of the frame or the Ampler app but once you've done that these are bikes meant to just ridden as a normal bike rather than 'operated'.
On the test track I found the rear hub motor not as powerful as a meaty mid-drive bike (although for its intended purpose it doesn't need to be) and its power was certainly much in evidence – this is a superbly stylish and lightweight city e-bike.
RRP:  The Curt starts at 2490 euros (or sterling equivalent) with plenty of additional options available on top that price (eg belt drive or ten-speed gearing, integrated lights, mudguards). There are also other slightly less costly models, the Stout and the Stellar in a similar refreshingly simple vein.
Riese & Muller Load 75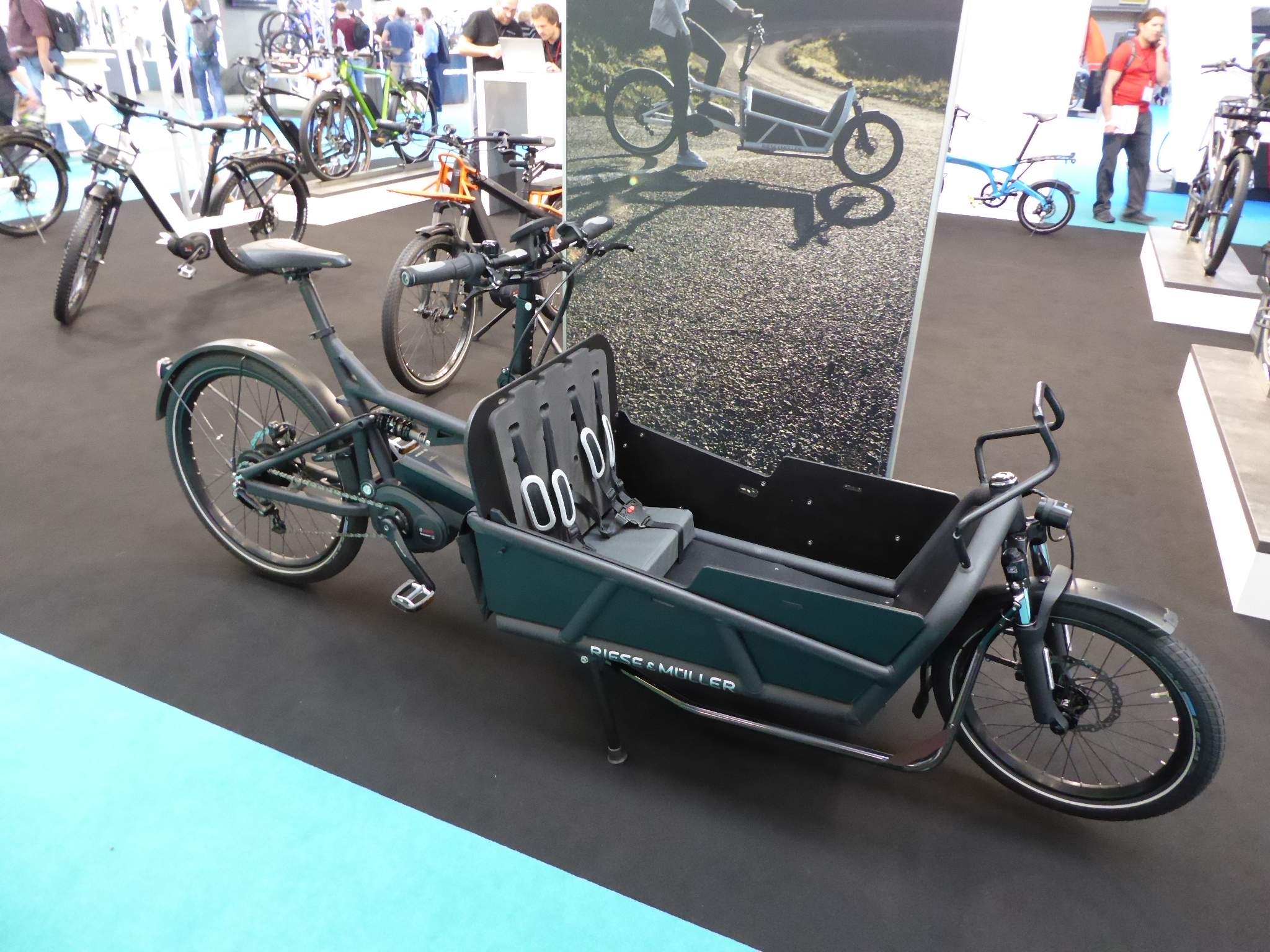 I love Riese & Muller's approach to e-bikes. Their impressive range of e-bikes really shows to full effect just what e-bikes are capable of. They have a range of road and trail bikes all powered by the highly-regarded Bosch mid-drive systems but I picked out a large capacity, full suspension e-cargo bike capable of taking up to three kiddies or a very big load (R&M say the gross vehicle weight capacity is some 200kg). The full-sus option is particularly unusual and if Riese and Muller's excellent engineering capabilities are anything to go by it should work to iron out any handling difficulties that very large loads can pose, especially on uneven surfaces.
Child carrying options include two rear seats for smaller children and a single front seat for a slightly older child. The 1000Wh dual battery option would be great for loading up all your camping gear and heading off on a long distance heavy duty e-bike tour and you can even add the option of a rear pannier rack for the ultimate in carrying capability. 
RRP: rom £5039
Babboe Carve Mountain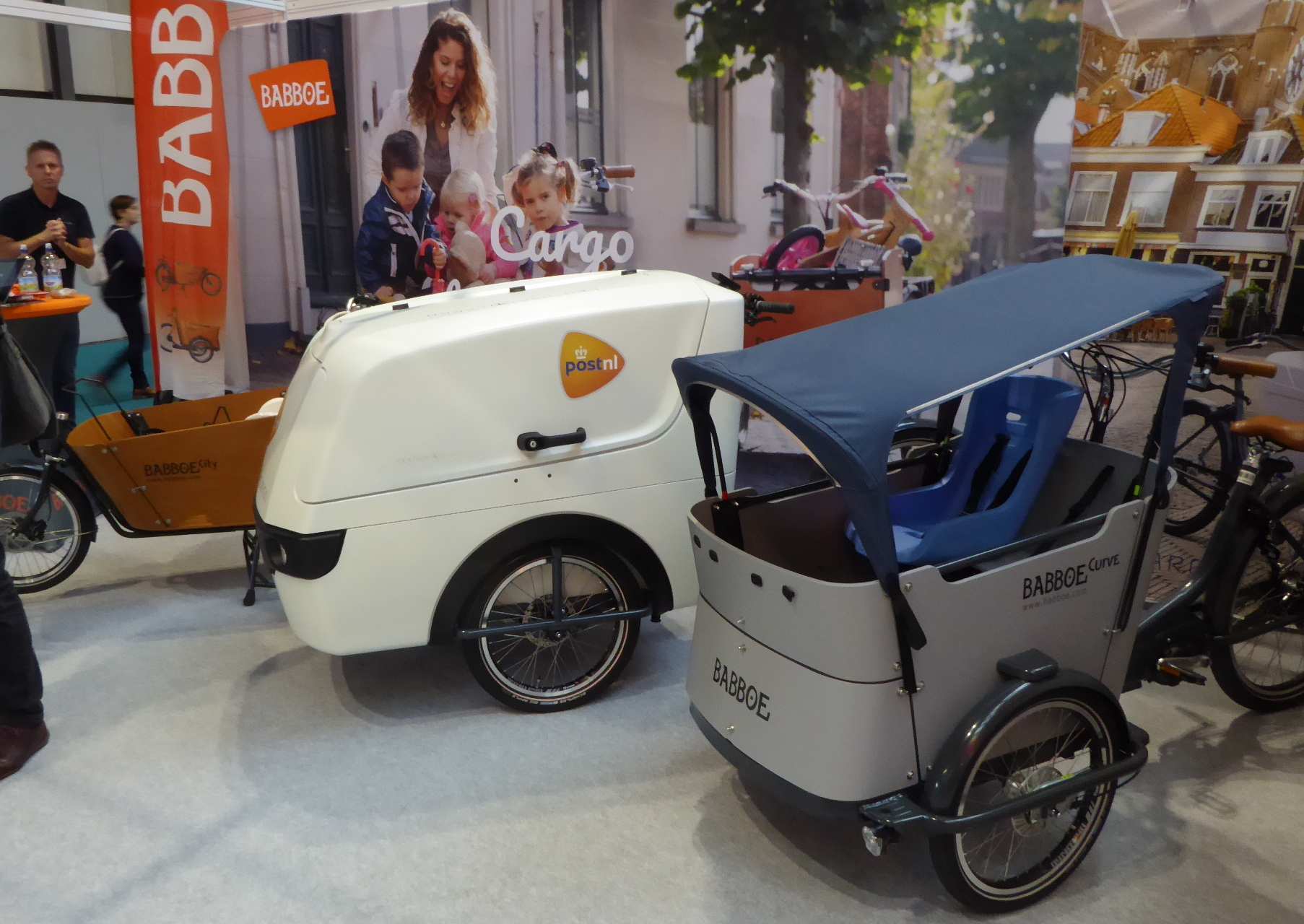 Don't fancy a two-wheeled e-cargo bike but don't fancy learning the new skills required for riding a trike? (You don't turn by adjusting balance as on a regular bike you just ride them – sounds obvious and easy but not an immediately acquired skill if you get on a trike after a lifetime of riding on two wheels).
Babboe's Carve Mountain has tilting front wheels which Babboe claim gives the feeling of riding a regular bike, but the fact of three wheels means more stability in handling heavier loads. It also uses the high torque Yamaha mid-drive motor (i.e. plenty of power on tap when starting off or climbing hills with a big load). Add a Nuvinci continuously variable transmission and this looks an intriguing package that could be a great alternative to the car-based school run as the bike has such child-friendly features as a step inside the box and a tilting lock for keeping the bike stable when children get in and out (and a whole host of other child accessories are available). Babboe also do tilting trikes aimed specifically at cargo shifting.
RRP: from £4299
Are you going to the Cycle Show?
Don't forget Cycling UK members can get discounted tickets.