Do you need a bespoke bike?
Why buy a bespoke bicycle?
Why indeed, when it would appear there are more bicycles on the market than ever before? Let's face it, you could go bike shopping this weekend and easily choose something off the peg from a respectable selection of retailers all eager to swap goods for gold coin.
Why then eschew such choice and instant gratification for something you can't yet see, let alone test ride, and could take more than six months to build?
The decision to buy a bespoke bicycle often follows a pattern. I'll explore the tell-tale signs. If any resonate, this adventure may be just around the corner for you …
How it begins
When you learnt to ride, did you enjoy that newfound independence? Did it ignite your sense of what you could do and where you could go? Did your bike feel like a new companion? Did you go places and do things you'd never done before? This is the start of a lifelong bond with this unique form of transport. If those early adventures can still be recalled today, then a molecule of bicycle will have entered your DNA.
Fast forward to your next machine. What's needed is another layer of experience. If you used your bicycle as a student and it got you to school or college, you'll have felt its loyal support. It held your books, shopping, clothes, it got you home and it got you to work, and then along comes the next extraordinary event.
Whether it be a puncture, a broken basket, a lost brake block or the untimely unshipping of your chain – your bicycle will connect you with someone new and a strange and unusual insight will be transferred to you. It could be the discovery of the horseshoe clip or the internal of a Woods valve. It could be that someone informs you that your saddle is too low or sells you a pair of panniers or you buy your first cotton duck saddlebag.
Several months or even years later you'll meet someone who will tell you that their bicycle was 'made to measure' or someone passionate about 'tubs' or who will inform you that you don't wear pants under lycra shorts. It will be the passion that you pick up on. Your eyebrows will be raised, you'll observe and listen more than speak. But you will experience a sense of wonderment as the door into this intriguing world of people who are super-enthusiastic about the bicycle is pushed ajar.
When I worked in a busy cycle shop, we had an extraordinarily broad customer base – from hospital consultants to kids calling to look through the sticker box. And how could I forget the man who wanted some toe clips? When I asked "what size?" he gave no answer and simply flung his right leg onto the counter – after all, how would he know?
As we use our bikes more, we discover more. At the age of 20, I quickly found out that riding a 22" ;frame with a 110mm stem gave me neck ache, so I spoke to an 'empassioned' one who advised I fit a 50mm stem. In essence, this stage is about learning the difference between what works for you and what doesn't.
Still haven't found what you are looking for?
A 60-year-old retired teacher friend who'd played hockey, walked and cycled all her life asked me for some advice. She wanted to swap her crossbar bike for a step-through. She'd lost the ability to fling her leg over and had almost fallen off in the process several times.
The frame design needed to be low and open enough to step through comfortably. Most step-through frames are designed for people from 5' to 5'8" approximately. This friend was 5'11".
I also noted that the majority of step-through frames were 'low quality', as was the componentry. Added to that, the gearing was generally too high. This blinding flash of the obvious is why I decided to become a framebuilder: the sudden realisation that not everyone who becomes less flexible with age wants to abandon the power of their own steam and go off in search of an e-bike.
The aforementioned friend trawled all nearby bicycle shops but without success. It was me who suggested a hand-built custom step-through frame. Not being able to find what you're looking for is a very good reason to go bespoke.
Not wanting to generalise, but more men than women choose a custom frame build. Is this changing with four new women framebuilders now working in UK framebuilding? Why don't more women buy bespoke bikes? It's going to take a while for things to change as there is a rather large elephant in the room and it's sitting on the cheque book. The fact that we are still discussing the gender pay gap may be a clue.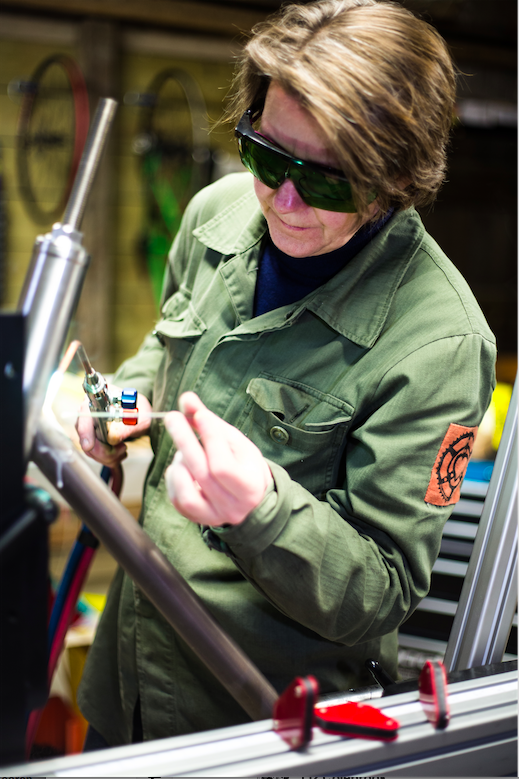 Making choices
The decision to choose a custom build is one that some people can make very quickly, while for others it can take a great deal of reflection. Customers ask themselves different questions. Some ask 'is it worth it?' Others, 'am I worth it?' And some simply say 'I want it; here's my deposit'.
Going back to connecting with the bicycle and the subliminal bonding that can occur, the tiny matter of how it looks and how it's constructed plays its own part. I say 'tiny' ironically because it is the awe and wonder of what we can create and what has been created in the past that inspires and brings us such immense joy when we look at a beautiful hand-built bike.
What is the benefit of owning a custom-made bicycle?
Basic marketing theory tells us the customer buys the benefits of owning a hand-built bicycle. So, what are those benefits? I will do my best to put this into words: it's about the history of our steel industry, it's about toil, it's about what we have in common.;
It's about the brilliance and lifelong skills of the people who work with their hands to design and make things. It's about choosing a tubeset with history and heritage. It's about the feel of steel, the spring and planing action of the frame as you power it forwards, and how it augments your efforts in return.
It's about steel's longevity and its willingness to show its provenance. It's about the centuries of detail and the dedication that go into creating the finished article. A bicycle is composed of so many parts and each component contributes both in form and function as it reflects its era.
Personal touches
As a framebuilder, it's my job to orchestrate this specifically for one person. I am both the composer and conductor – I have to know what the customer would like to experience in every sense. How it looks, how it sounds, how it feels, even how it smells. I carry the responsibility of ensuring the build is perfectly executed and fit for purpose.
A bespoke bicycle is the culmination of a great deal of reflection and a great deal of trust. It has the potential to deliver a great deal of pleasure, too, which is why customers spend time looking for the right framebuilder to entrust this task.
Someone who will take the time to look at their current bicycle(s); someone who will hear a customer's story so far and help write the next chapter; someone who will take note of the things that matter such as position and riding style.
A good framebuilder also considers the customer's physical and social environment, as well as personal fitness and any practical features such as lighting and load carrying.
Is a bespoke bicycle for you?
If you have a strong passion for cycling and a love of the bicycle, you are getting closer to the door marked 'bespoke'. If you appreciate the time it takes to measure up, discuss, design and build a well-proportioned frame that fits, and if you appreciate all the thought given to choosing the most appropriate components, you are another step closer.
If you're looking for expert advice from someone who listens and understands your needs and wishes, you're another step closer. If you've spent time fitting different parts and upgrading and you still feel you're 'making do', then you're practically through the door.
If it's time to create something very personal that's uniquely yours and you know you're worth it and will value your custom-built bicycle in ways that cannot be put into words, it's time to ring the bell, pick up the phone, send an email and celebrate all the years of cycling off the peg that have brought you to this point.
And when collection day arrives, prepare to become that passionate person who will in turn inspire someone else to raise their eyebrows as they learn something new.