Dare to achieve: 4X champion Hannah Escott marks four years of the Big Bike Revival
This summer has been another fantastic one for Hannah and the Big Bike Revival. Her 'Dare to Achieve?' presentations to schools are just as popular as they have ever been; Hannah explains how she was once a schoolgirl in Kidderminster who dreaded PE, yet went to become a GB Cycling Team Racer in 2015, and in 2016 became Women's World 4X Mountain Bike Series Champion.
Hannah's message to children is to push beyond expectations. Her summer of events with local schools combine her inspirational talks with regular Big Bike Revival activities, such as coaching and getting bikes fixed. It makes for a fantastic day or even full week of activities encouraging children to get cycling.
Hannah says, "At the end of it all, they know what to do, and they've got the inspiration and they just go off and do it.
"You see the results that September when there are so many more pupils cycling to school for the new term.
"It's grown massively over the past four years. We're doing events all across Worcestershire and the West Midlands, we have more coaches and a wider range of activities.
"It's non-stop, it becomes a full-time job and I want to keep it going."
In just a few days, Hannah and her team can completely change the mindset of the young people she is tasked with motivating.
 Six young women learned to ride a bike for the first time! All of them really got behind it.

Hannah Escott
She explains, "A great moment this year was when I went to Sandwell Academy and ran sessions with loads of girls. Many of them were around the age of 14, a time when cycling isn't something they are interested in for many reasons. But to see them all so engaged, supporting each other and even being competitive with each other, was amazing.
"Some were very nervous having not ridden a bike since they were five years old, some had never ridden a bike before. All of them took on the challenge and completed the obstacle courses and picked up new skills with bravery and determination. Six young women learned to ride a bike for the first time! All of them really got behind it."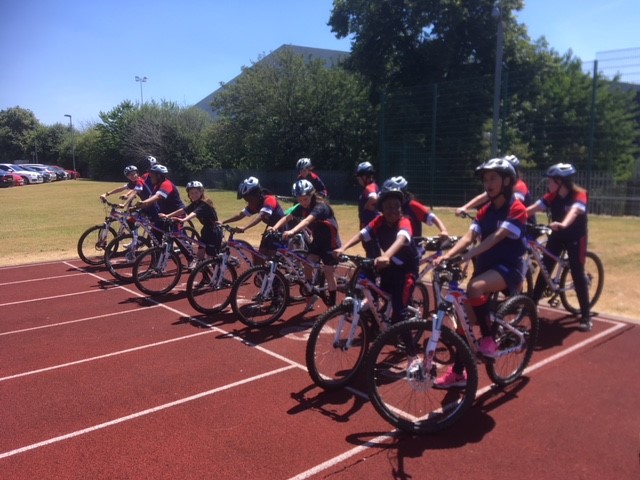 Hannah's message is one of inclusivity: all ages and abilities can be reached with her teaching.
She continues, "Another one was when we went to Comberton Primary and we got to do a whole week of activities based around the Tour de France. Every single child, from nursery up to the 11-year-olds, got to have a go on a bike. Within the upper ages, 8 to 11 years, there were about a dozen children who couldn't ride at all, but we got all of them riding by the end of the week.
"We ran a 'Turbo Training Challenge' over the week, where we tallied up the distance each class had cycled over the week. Each class managed around 300 kilometres on the stationary bike, which is really impressive, and there was only about 3km difference between the first and last places. It was so tight!"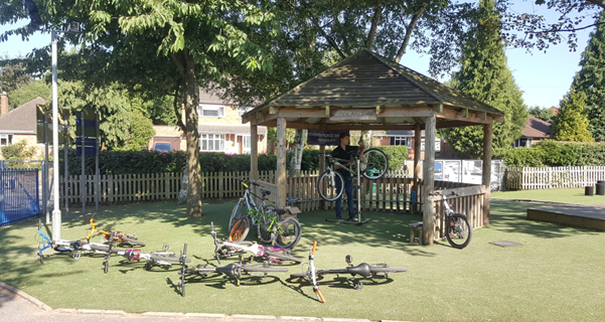 This week was particularly special for Hannah as a former pupil of Comberton.
She adds, "These events just create a massive buzz around the whole school. Even one of the caretakers came in one day dressed in retro mountain biking gear. It was brilliant!"