Cycling UK reaches heart of motoring community at British Grand Prix
The aim is to engage with an audience of motoring fans to promote the work our campaigns team has been doing on close passing and car dooring dangers to make cycling safer.
They've teamed up with Highways England, who along with the police, have been running educational demonstrations to show safe passing distances when overtaking a cyclist, using one of our close pass mats.
We've also been giving racing fans the chance to watch our virtual reality Dutch Reach and Too Close for Comfort films on special VR headsets, so they can understand the importance of looking over their shoulder before opening a car door, and why it's vital to give cyclists space when overtaking.
Duncan Dollimore, Head of Campaigns at Cycling UK, was at Silverstone talking to race-goers.
This was a fantastic opportunity to reach out to an audience of more than 300,000 people attending the grand prix, most of whom are drivers.

Duncan Dollimore, Head of Campaigns
"We're not here to preach to them, but to educate them on a couple of simple things they can do to make our roads safer for everyone," Mr Dollimore added.
"If everyone at the grand prix adopted the Dutch Reach, using the hand furthest from the door to open the door so you can see over your shoulder if there is anything coming, and left Silverstone understanding the dangers of close overtaking, the impact could potentially be enormous."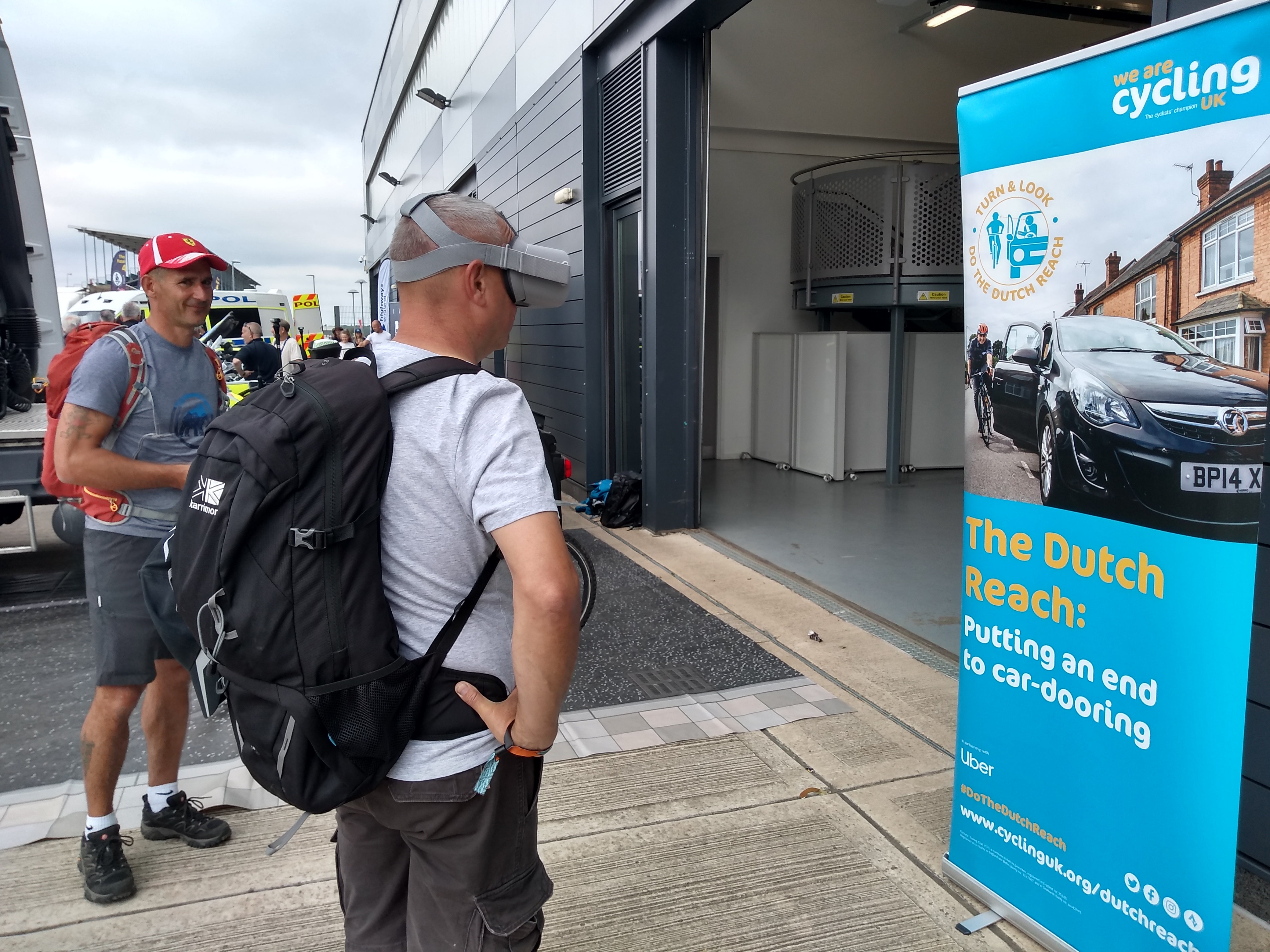 The Dutch Reach campaign was launched at the end of June and has seen our film viewed more than 100,000 times.
The British Grand Prix is an ideal event to showcase our work and connect with a wider audience who may be unaware of the dangers cyclists face on our roads every day.
It further develops our award-winning education road safety work which has built partnerships with police, learner driver resources and ride sharing app Uber to lead the way on driver education about cyclists.