Cycling: the easy way to save fuel
It started with the news that a small number of garages were running out of petrol because of delivery problems – but within hours the panic buying set in and Britain was in the grip of a crisis. Despite government ministers' assurances that there was no shortage of fuel, the reality was lengthy queues, drivers being turned away from empty pumps, and even brawls breaking out as tempers frayed.
The past week has once again shown how reliant we are on the internal combustion engine, but it doesn't have to be that way. Official statistics show that in 2020, 71% of all journeys made in the UK were shorter than five miles – a distance ideally suited to cycling. That proportion was slightly higher than usual due to the lockdown effect, but even pre-coronavirus those short trips accounted for more than two-thirds of journeys.
In 2019, before lockdown, the average person made 217 trips of five miles or less while driving a car or van, but only 13 by bike.
As the data show that the majority of those short car trips were between two and five miles, let's assume the average length was three miles: a distance most people can comfortably cycle in about a quarter of an hour. That makes 651 miles a year driven on trips that could be replaced by cycling.
The average fuel consumption of new cars in Britain, according to official figures, is 49mpg for petrol cars and 55mpg for diesel, but many cars on the road are older and less efficient. More importantly, cars use more fuel on short journeys, as the engine takes time to warm up – and short trips are more likely to be in towns, with stop-start traffic. Taking all that into account, real-world fuel consumption for these journeys is likely to be closer to 30mpg.
So 516 miles will require 21.7 gallons, or 99 litres, of fuel.
According to the AA, the average price of a litre of petrol is currently £1.35, so those short journeys cost £133, and require an additional two visits to the petrol station. Travel by bike and the only fuel you'll need is an extra piece of toast or two.
If we multiply the amount of fuel used on those short trips by all the drivers in the UK that makes 4.9 billion litres of fuel – enough to fill 132,000 delivery tankers

Rob Kingston, communications and media officer, Cycling UK
There are currently 49.7 million driving licence holders in the UK. If we multiply the amount of fuel used on those short trips by all those drivers that makes 4.9 billion litres of fuel – enough to fill 132,000 44-tonne delivery tankers. That represents more than 10% of the UK's total petrol and diesel consumption, which stood at 46.9 billion litres in 2019.
Then there's the environmental cost. Each litre of petrol produces 2.3kg of carbon dioxide, so those short journeys could potentially add more than 11 million tonnes of CO2 to the atmosphere.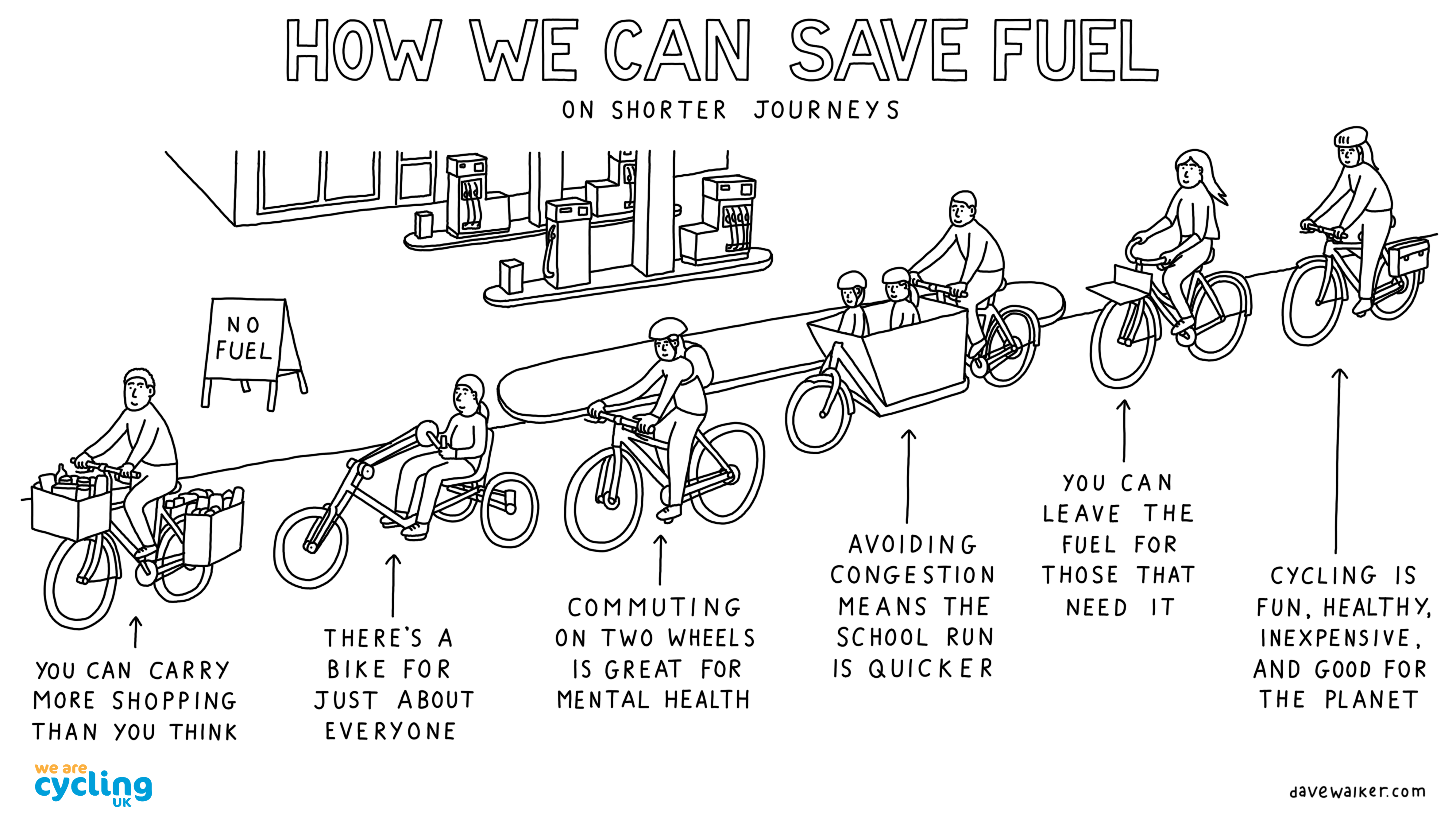 Clearly, not all local journeys can be cycled, but a significant number could be. Encouraging more people to swap their car for a cycle on local trips would not only save them a fortune and cut pollution, it would also help to ease the pressure on the pumps and reduce Britain's reliance on fossil fuel. But in order to do so, people need to feel safe while cycling. That's why Cycling UK is campaigning for better infrastructure, better driver education and more investment in active travel to help make the world better by bike.
If you're thinking of making a switch from the car to the bike for some of your shorter journeys, make sure to read our advice pages. Whether you're a beginner, need help planning a route, or are looking for tips on commuting, Cycling UK can support you.