Bike test: Islabikes Cnoc 16 vs Frog 48
The design of bikes for children has come a long way in the last dozen years. There are still plenty of heavy 'bicycle shaped objects', but there's now a choice of well-designed junior bikes that are lightweight, correctly proportioned and, as a consequence, much easier to learn to ride on. Islabikes and Frog Bikes, both UK companies, are two of the best-known brands.
Islabikes: Isla Rowntree
Islabikes was founded in 2006 by triple British cyclocross champion Isla Rowntree, who couldn't find decent children's bikes for the children of her friends and family. She left a senior role at Halfords and began designing her own, and Islabikes quickly became the brand that enthusiasts bought for their children and grandchildren. The industry was forced to raise its game.
Isla and her team in Shropshire are constantly upgrading the design of their children's bikes. Isla said: "Can we afford to improve this bike? And if we've got the money we make the bike better.
"I am just passionate about making the bikes better – that is what motivates me. Obviously, we have to be commercially viable but we are passionate about cycling and children's bikes and our motivations are slightly different to your typical investor owned and incentivised business."
Islabikes are only available direct; they're not sold in shops. To try out a bike, you can visit the fitting studio and test track in Ludlow or attend events all over the UK. Alternatively, you can order a bike after measuring your child at home. If it's not quite right you can send it back, even if it's been ridden outdoors.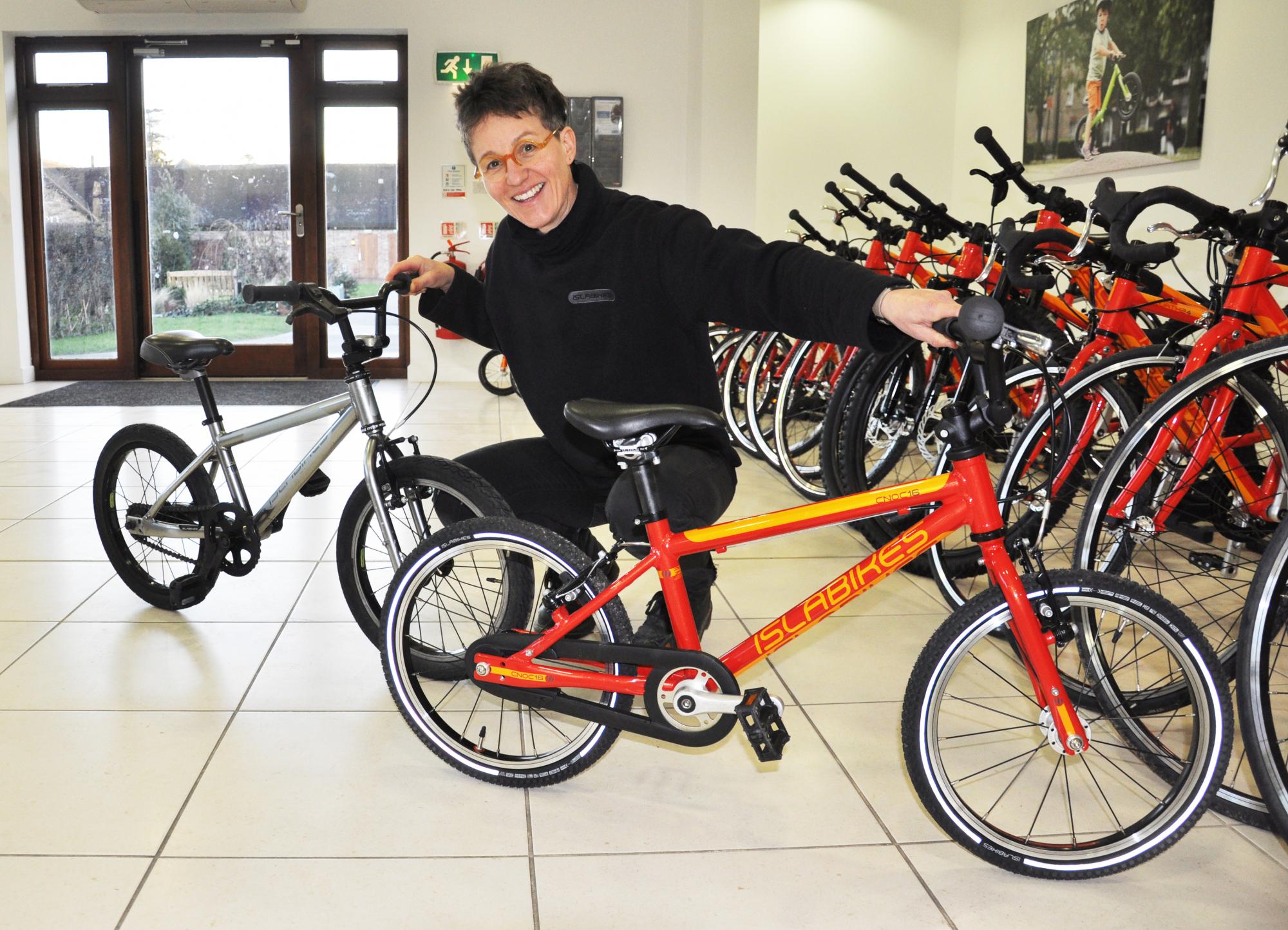 Frog Bikes: Jerry and Shelley Lawson
Frog Bikes was started in 2013 when Jerry and Shelley Lawson wanted to buy quality bikes from a bike shop for their young children Oscar and Emily and found it difficult. Shelley explained: "The bikes we saw were all heavy and were not child specific and had a strange riding position.
Jerry, a keen triathlete, was turning 40 and wanted to do something he was really passionate about – so between us we had an idea and Frog Bikes was born. We started work at our kitchen table, then as things grew, we worked out of a shed in the garden."
Shelley and Jerry both quit the corporate world and launched their own company, aiming to sell lightweight children's bikes through independent dealers. They have offices in Berkshire and a factory where the bikes are assembled in south Wales. There are now 900 UK bike shops selling Frog Bikes and they also sell the bikes in 35 countries.
You can get your child measured and try out the bikes in store. Shelley said: "As a family business ourselves we support independent bike shops many of whom are also family businesses."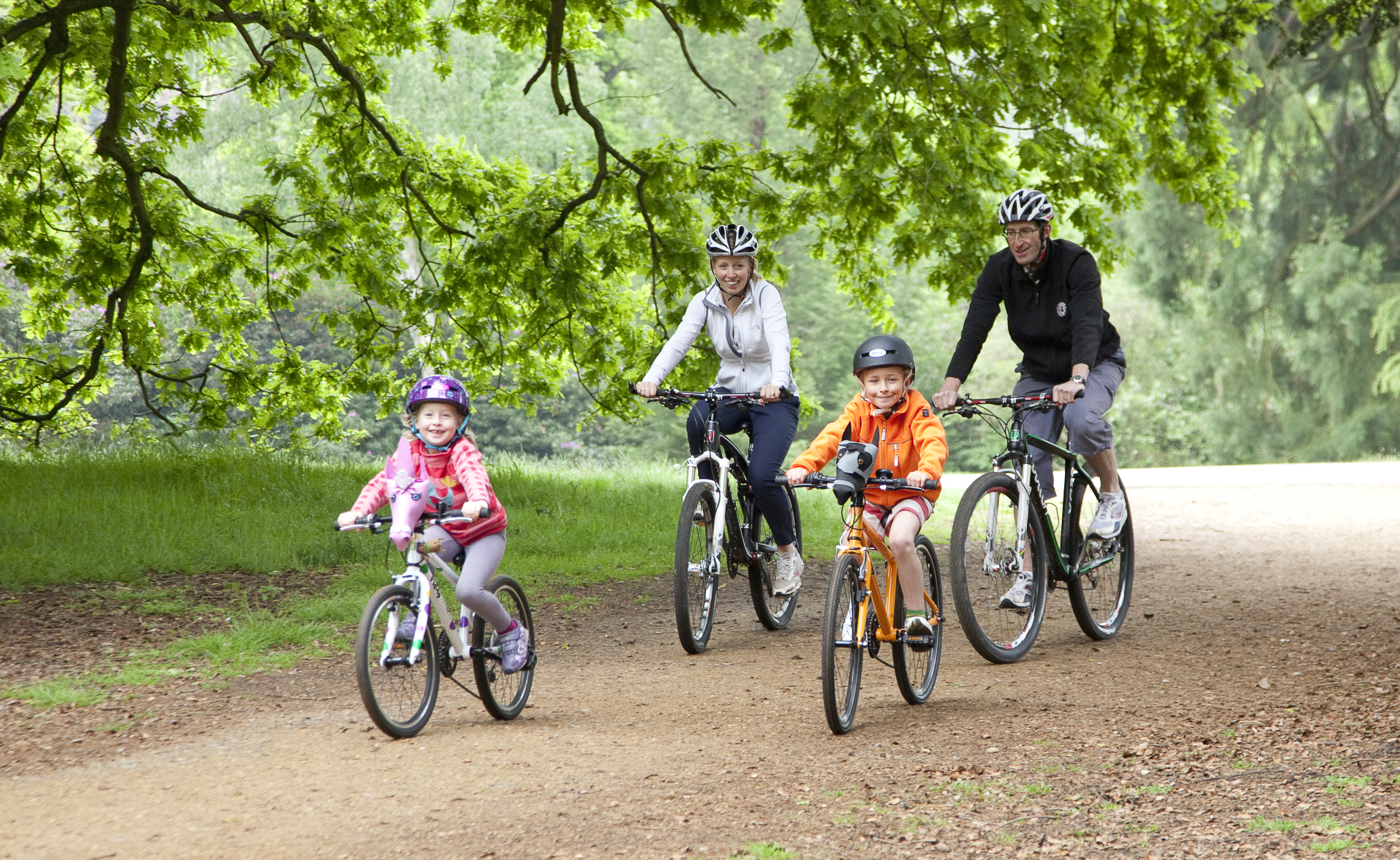 Shelley explained who buys their brand: "At first we thought our customers would be people who are keen on sport and maybe own a couple of quality bikes of their own, but because people want their kids to ride a bike that is well-designed we've found our customers are also people who don't cycle regularly."
The bike test: frame & fork
Both bikes are robust but light enough for a four-year-old rider to pick up. The frames are aluminium, as is the fork of the Frog 48; the Cnoc 16's fork is steel. While the bikes are visually different, the frame geometry is remarkably similar.
The Cnoc's frame and fork come with a five-year guarantee (two years for components). Frog Bikes offers a standard warranty of two years, which you can extend to five to cover the frame and fork. Both aren't valid if you sell the bike or pass it on. Frog Bikes provide a small bottle of touch-up paint, which was useful as ours picked up scratches.
You can fit mudguards to both bikes. They're essential if your child will be cycling to school and you don't want a muddy wet uniform. The Cnoc 16 has standard mudguard fittings, with chromoplastic guards available from Islabikes for £24.99.
Mudguards are standard on the Frog 48, although missing from our test bike. The Frog's shorter guards bolt to the fork crown and seat-stay brace; there are no eyelets at the dropouts.
Components
Each bike is a singlespeed with a 27in gear. Pedalling either bike should be even easier for little legs than the small gear size suggests, because both Islabikes and Frog Bikes provide sensibly short (102mm) cranks with a narrow pedal tread (or Q-factor).
A smaller distance between the pedals makes it more practical for a child to pedal, and it reduces the wobble from left to right. Frog Bikes has worked hard to reduce the Q-factor on its bikes. The company paid for research at Brunel University, and in 2015 redesigned the cranks. Nevertheless, the Cnoc 16 has a marginally smaller Q-factor (130mm versus 132mm). For comparison, the Hoy Bonaly has a Q-factor of 140mm.
Both bikes have small pedals with narrow sides, so that if your child tries to pedal on the sides by accident, the pedal rotates so the foot lands on one of the flats.
A chainguard is a useful addition for a small child's bike. It doesn't just keep oil and grease off clothes, it stops a dress, skirt or coat being torn. It also protects inquisitive fingers.
The Cnoc 16 has a tiny Hebie Chainglider, which is lightweight and comes off easily if you need to fix a puncture. The Frog 48 has only a chainwheel guard, but a full chainguard is available from Frog Bikes on request.
The Frog 48 comes with a choice of hybrid or off-road tyres, which offers flexibility. In practice, our family rides take in all kinds of surfaces, so changing tyres regularly would be a faff. I suspect most families will stick to the hybrid tyres, which are great on most surfaces but offer limited grip if your little one likes flying down hills in the mud.
With the Cnoc 16, you don't get a choice of tyres as standard, but you do get specially made ones from Islabikes with lighter weight casings. I asked Isla why she bothered to design her own, when most children's bikes have Kenda tyres. She said: "I wanted a tyre that would perform well on all the surfaces children mostly ride on, a tyre with some knobbles so that they grip on the grass and paths.
"But you want those knobbles not to be too big as you don't want them too draggy, and you want them fairly closely spaced so they are not too much hard work on tarmac. There is an optimum blend of those, and an optimal tyre width for the wheel diameter."
The new Islabikes tyres have a puncture resistance strip in the casing and, like the Frog, reflective sidewalls. The Cnoc 16's wheels are lighter, with fewer spokes.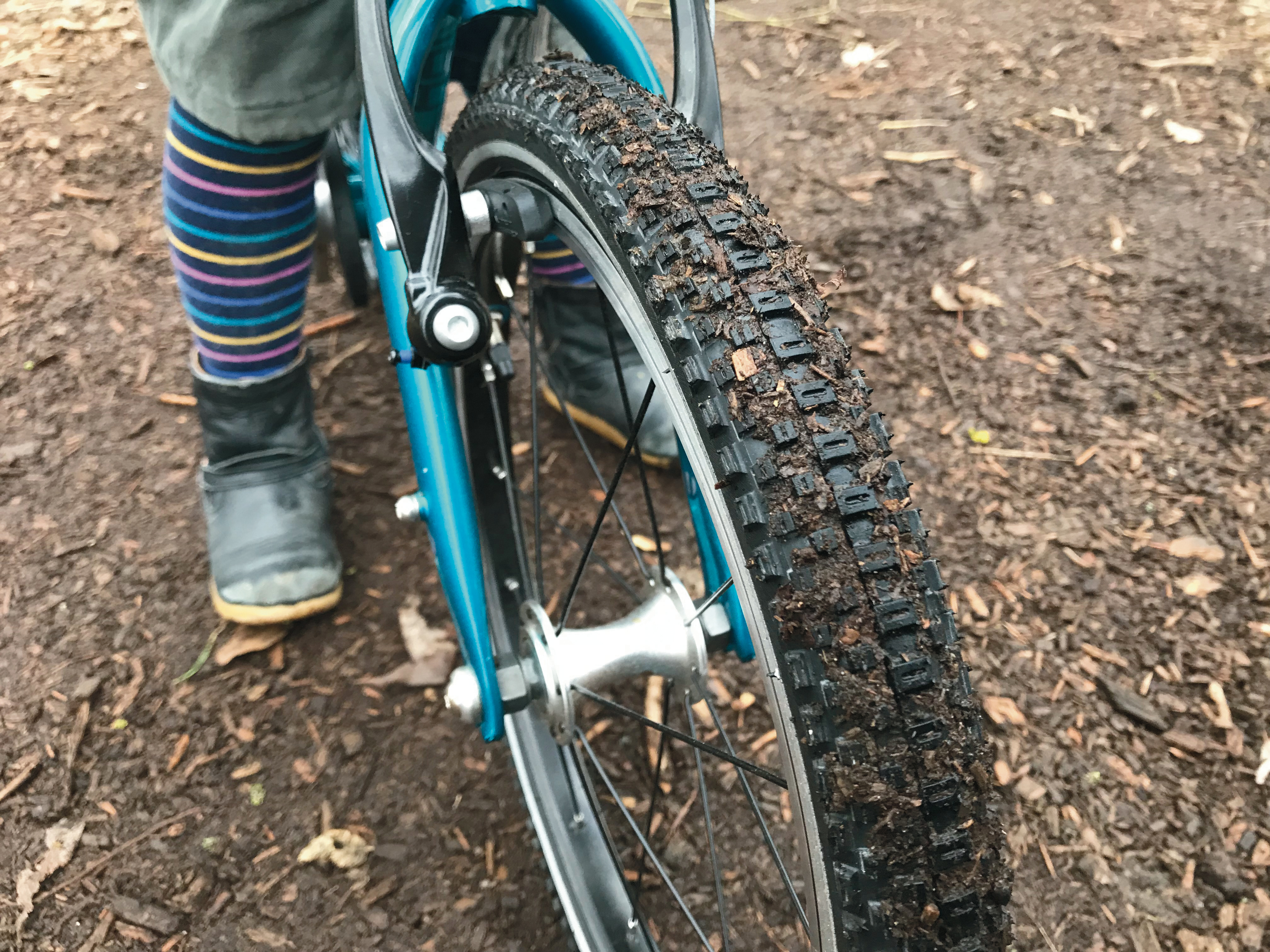 The Frog 48 does have one thing the Cnoc lacks: an anti-jacknife headset, so the steering won't turn beyond a certain point, which prevents your child trying to ride the bike with the handlebar facing backwards. (This was an issue for my son when we tested balance bikes.)
I'd like to see both bikes with a more obvious, coloured 'minimum insert' line on the seatpost, so inexperienced parents don't raise the saddle beyond its safe limit.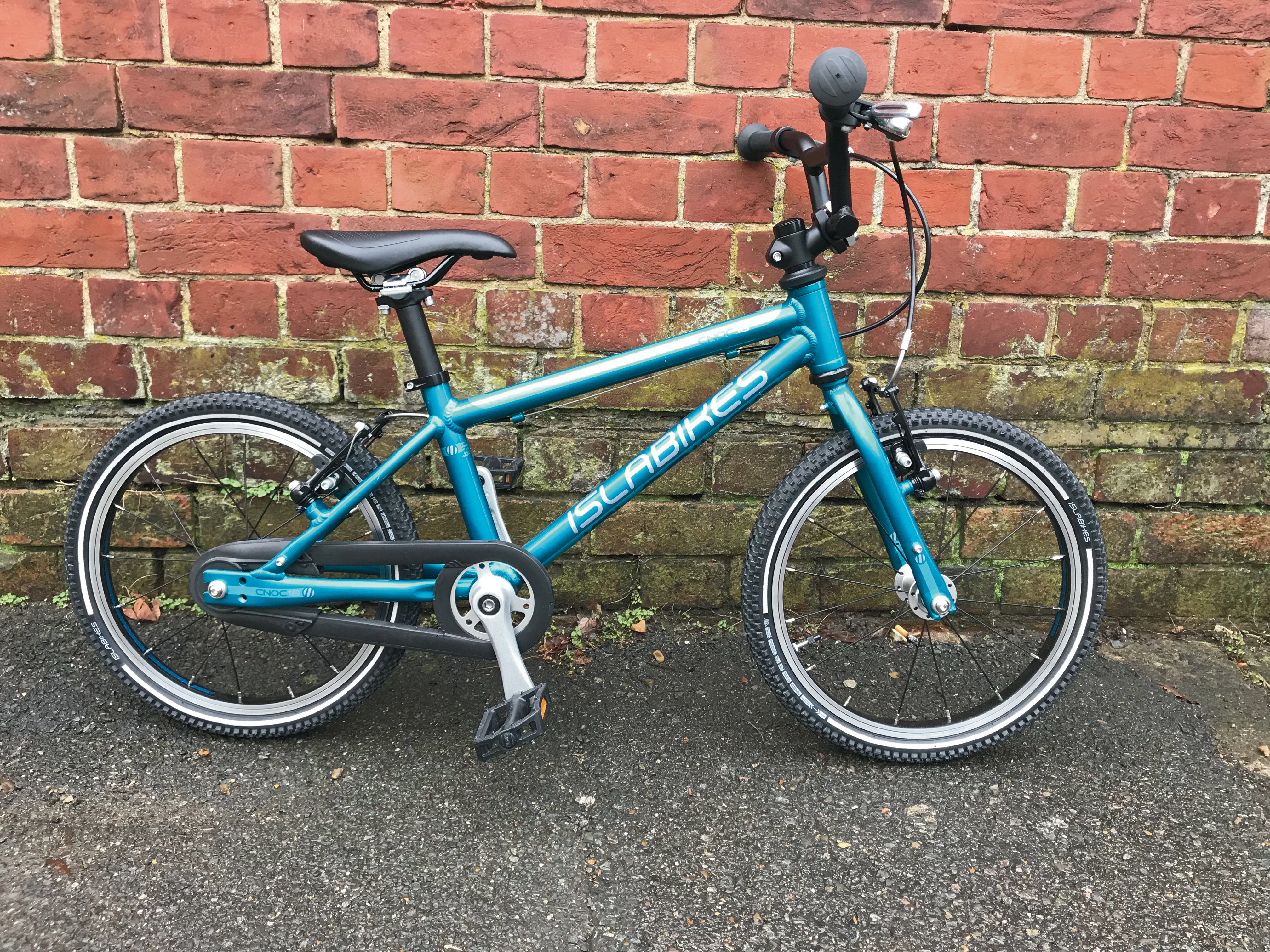 Ride
The heavier a child's bike is, the harder it will be to ride. Weight is more important for a junior bike than an adult's; the average four-year-old weighs only 17kg – perhaps a quarter or a fifth of your weight. It follows that half a kilo difference for a four-year-old is like 2-2.5kg for you.
So the fact that the Cnoc 16 is lighter by 600g is significant. Yet both bikes were light enough for Martha to pick up and carry over obstacles like kerbs and tree roots. (Note that some manufacturers list weights without pedals!)
Martha and I tested the bikes on grass, woodland paths, disused railway lines, tarmac and through mud. On one of our tests, I got Martha to weave in and out of small cones.
The Islabikes Cnoc 16 seemed slightly more manoeuvrable than the Frog 48; it has less trail and thus slightly lighter steering. The Cnoc's more upright riding position, due to the higher handlebar, may have been a factor too – Martha seemed to look ahead more rather than at the ground.
Isla Rowntree said she designed the higher-rise handlebar as "regardless of what types of cycling they do, three and four-year-olds don't bend over well – the organs in their tummy are quite big relative to their size, so they tend to have bigger tummies and it's more comfortable for them to sit in an upright position."
Frog Bikes offers a stem riser adapter (£20) to change the height of the handlebar. I'd add this. Frog Bikes Head of Research and Development Dr Tom Korff said: "The research we do with Brunel University showed that some children want to be more upright and others don't mind. Our bikes are child focused and designed around the child, so with the spacers you can choose what suits your child."
The Cnoc's slightly lower bottom bracket meant Martha's feet could quickly reach the ground, but its slimmer pedals also meant she didn't clip them when cornering.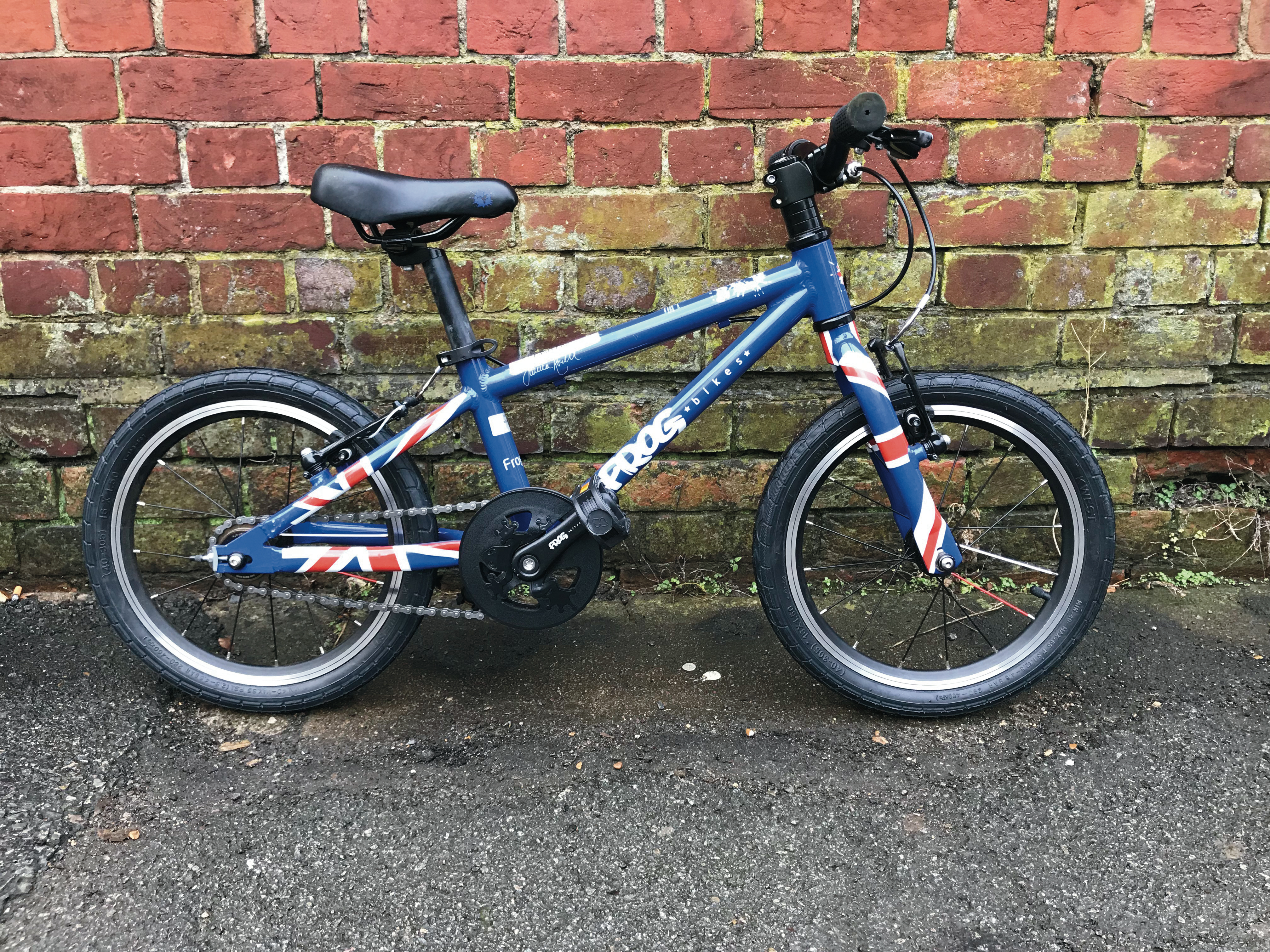 Why the design of children's bikes matters
As a parent and someone who cycles a lot, I really want my children and their friends to embrace cycling at an early age, because it is a skill that they will be able to use throughout their lives and it is one that has brought me happiness, freedom, friends and a myriad of other benefits. Learning to cycle early means you will always be able to pick up a bike whatever your age and should become a confident cyclist.
It is also important to me that every child's first experience of cycling is a good one and that they are not put off cycling because it is too hard or they fall off and end up crying. We all know people who say they couldn't ride a bike as a kid and now won't try again.
I've helped many families whose child is struggling to get the hang of riding a bike and 90% of the time they are learning on a bike that is the wrong size, is badly designed or the child has been given confusing instructions from an adult who never cycles.
There's no denying it, you can buy starter bikes that are cheaper. However, if your budget is limited it is much better to get a secondhand bike that is well designed rather than a brand new one which isn't

Victoria Hazael
There's no denying it, you can buy starter bikes that are cheaper. However, if your budget is limited it is much better to get a secondhand bike that is well designed rather than a brand new one which isn't. It is much easier to sell an Islabike or Frog secondhand or you can trade them in and get a discount on the next size up.
Choosing a well-designed starter bike like either the Islabikes Cnoc 16 or the Frog 48 can make the difference to a child being able to learn to pedal quickly and gaining confidence or giving up cycling forever. A strong physically robust child, who will excel at any sport s/he tries, could manage to ride well on a heavy bike, but a slight or physically cautious child may try and give up and think riding a bike isn't for them.
That is why the design, weight and quality of a child's first bike matters.
Is your child ready to pedal?
The growing popularity of balance bikes has meant starter bikes are now available in smaller sizes to help those who are confident balancing and therefore ready to pedal earlier. If given the opportunity and the right tuition, the typical window of opportunity to get a child pedalling (without using stabilisers) is when the child is between 3.5 to 4.5 years, as this is when they have developed sufficient coordination to both balance and pedal at the same time.
Some children can pedal as early as 2.5, others get the hang of it at age 5. Each child is different so go at their pace, they will pedal when they are ready. For more information, tips and advice watch Cycling UK's How to teach a child to ride a bike video (and you can see the Cnoc in action).
Verdict
It's a close call between the Cnoc 16 and Frog 48. They are extremely well-designed children's starter bikes, and you wouldn't go wrong with either. There is no difference in gear ratio, many of the dimensions are similar, and both have brake levers that are easy for a small child to use.
If both bikes seem out of your price range, please note that the brands sell at a high price secondhand and are of a good enough quality to be passed on to younger siblings.
I thought Martha might be biased towards the Frog, as that's the brand she learned to ride on a year ago. Yet the Islabikes Cnoc 16 edged ahead as her favourite – and mine.
I particularly liked the Cnoc's handlebar setup and its really thin but safe and sturdy grips, which don't break when the bike is dropped on the ground. (We have replaced a set of Frog grips.) There are other, easy-to-overlook details where the design of the Cnoc 16 is a little more refined (Islabikes have been improving and fine-tuning it for 12 years).
Taken together, things like the bottom bracket height, the lower weight, the tyres, the provision for full-length mudguards, and the chainguard help make the Cnoc 16 a particularly confidence-inspiring and practical starter bike.
First published in Cycle magazine, February/March 2018 issue. All information correct at time of publishing.