Bike trailers for cycling with children can be one of the most useful cycling accessories available. They offer a huge amount of extra carrying capacity, both as a comfortable place to put children while you pedal them around, and as a way to transport impressive amounts of less precious cargo, too
The benefits
To understand the benefits of bike trailers for kids, first we have to recognise the limitations of other options, such as child bike seats. The issue of child numbers is an obvious stumbling block. As the father to twin boys, take it from me, without a cargo bike, a trailer is by far the easiest way to transport two youngsters at the same time.
Then there is the question of comfort. Babies can only use child bike seats once their neck is strong enough to hold their heads upright, but they can be placed in many infant bike trailers essentially from birth (do check your particular model, though, because some trailers have minimum age restrictions).
Most child-carrying trailers can be used for babies 12-18 months upwards. However, do recognise that at the other end of the scale, there are weight restrictions on all trailers. So, once your child or children become too heavy, it's time for a tag-a-long or bike of their own.
Once children are old enough to use a child bike seat, there's another strange phenomenon that invariably happens: they doze off and although there are child bike seats that recline at an angle which are more comfortable, in a trailer children can snooze happily to their heart's delight.
Many trailers fit two children side by side so they can chat to each other. However, be aware your children are inside the trailer behind you, so you won't be able to hear them as clearly or check on them as often as if they were sitting in a seat right next to you. Looking over your shoulder lots and a bike mirror may help you see if they are asleep, happy or fighting!
Trailers offer benefits for the rider, too. There are no balance or control issues that having the weight of child and seat attached to your bike can cause. Because the child or children are underneath a canopy they are dry, and the rider also doesn't have to worry about whether they're sticking they arms out to the side or any other clowning around that can happen in a child bike seat.
Trailers also have a greater weight-carrying capacity than child bike seats, so you can keep using them even when your family has outgrown other options. And even when children have started cycling themselves, you can convert your trailer into a useful cargo carrier.
Finally, here's a nifty thing. Quite a few modern child trailers easily convert to a buggy or pushchair. So, once you have arrived at your destination, you don't even need to disturb sleepers as you would do if they were in either a front or rear child bike seat. Simply attach the necessary accessories and push on.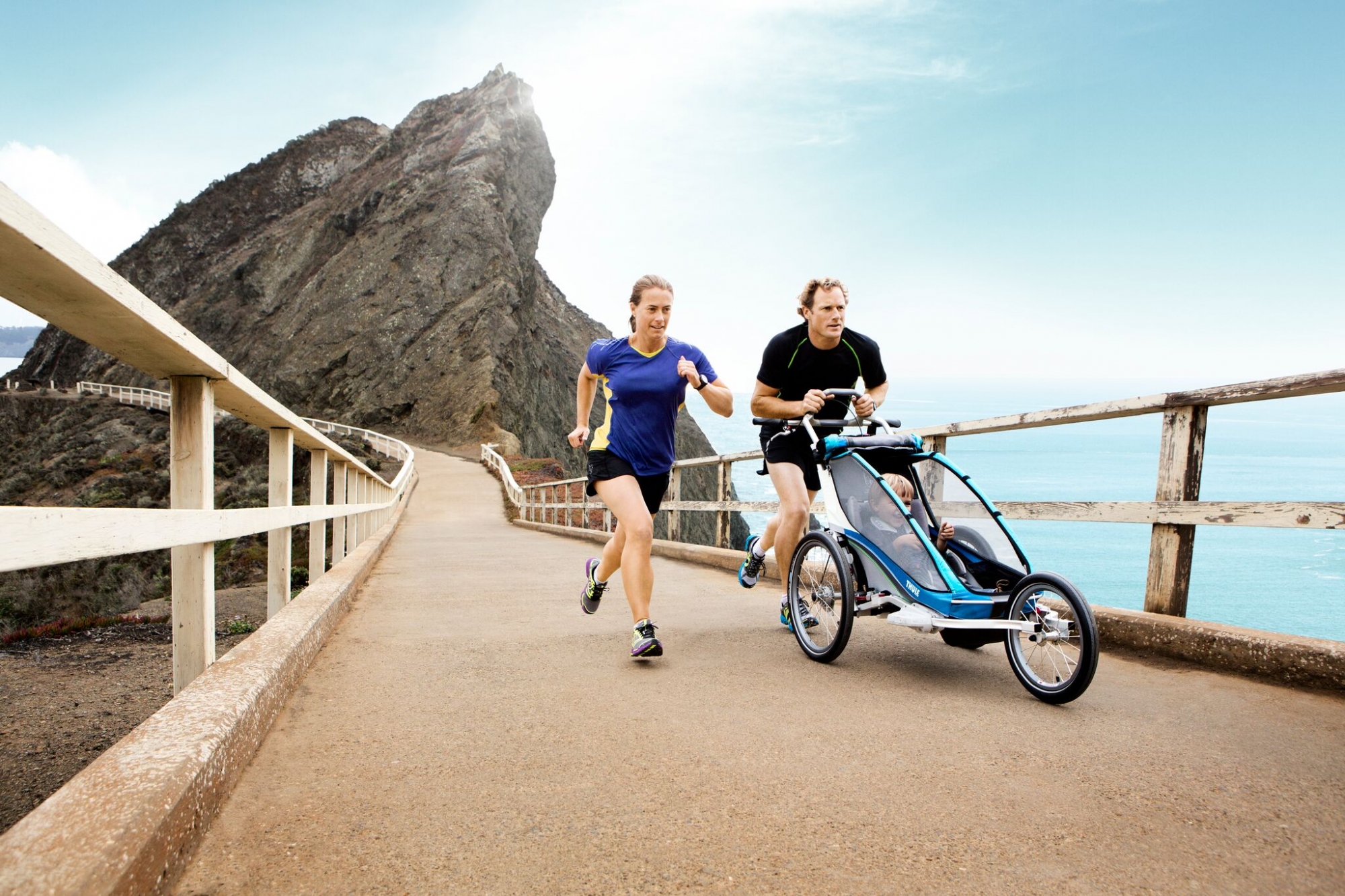 Fitness
One downside is you need to be strong and fit enough to tow a trailer, but if you start when your child is lighter you will gradually build strength as they grow. Don't overdo it and listen to your body, especially if you are recovering from pregnancy and childbirth.
You might want to try out riding with a child bike trailer on a traffic-free route first to get used to towing a heavier load. You do need to be reasonably fit to tow a trailer with two children a longer distance or up a hill.
And do get off and push up hills if you find it a struggle (even Josie Dew pushes her bike with a trailer up hills sometimes!). Having a bike with particularly low gearing for trailer duties is a good idea.
Practical considerations
There is one initial concern that prospective child trailers users always ask: aren't trailers low, out of a driver's eyesight and therefore potentially dangerous?
There are three elements to answer this question. The first is that most trailers come with a large warning flag marking their presence. So what? you might ask, which leads us to point two: trailers are already large, reflective and brightly coloured bits of kits themselves — they're also attached to your bike, making for a total vehicle presence about the same as a small car.
The third point is: it's you, the rider, who is in charge of which routes you take.
Road positioning
You will need to think more about your road position and how to help drivers see you when you are towing a trailer. Cycling UK cycling instructor Julie Rand advises: "You'll need to ride even further out from the kerb as you are a wider load. Ride at least a metre away from car doors, too."
If you'd like more help, check out our partners Bikeability's website to find course to help you get used to cycling with a trailer.
When cycling with a cycle trailer you'll need to ride even further out from the kerb as you are a wider load. Ride at least a metre away from car doors, too

Julie Rand, Cycling UK cycle instructor and mum of two
Attachment
Different trailer brands have slightly different attachment technology, but the vast majority work on the principle that you fit a coupling to your bike's rear axle quick-release and the trailer is attached to this via a long articulated arm. There will almost certainly be an extra retaining strap connecting trailer arm to bike frame for added security.
If you have more than one bike, or a trailer that will be towed by different people, choose a trailer type where you can buy additional hitches.
Weight and tipping point
Although we've said trailers remove the balance problems that come with having the weight of a child seat and child fitted to your bike, they do come with their own control quirks. For example, that trailer arm is articulated, meaning it doesn't follow in a straight line behind you when you go round corners. A little bit of practice seeing how the bike and trailer behave together is necessary before you first use it for its intended job.
You also need to be aware of the maximum weight your trailer will carry and remember that bags and anything you stuff in the trailer's pockets and boot counts, too. Every trailer has a tipping point if it is overloaded, so don't take bends too fast and tight, and watch out for kerbs, even those that you might be able to easily mount on your bike.
In all other respects, though, bike handling with a trailer is surprisingly normal.
Dr Matt Brooks, who writes for Cycle magazine, recently answered a question about vibrations and babies' brains in trailers.
What bike do I need?
So if all that weight of child and seat isn't on your bike, where is it? It's being pulled along behind you, which rather dictates what kind of bike you need to use with the trailer.
A skinny-tyred road bike might leave you going nowhere, spinning your rear wheel a cloud of rubber smoke (metaphorically speaking). You're going to need something with a decent amount of traction and relatively easy gearing to effectively transfer the torque needed to get the trailer rolling. A hybrid or mountain bike with fairly grippy tyres would be the obvious choice.
With the extra vehicle weight, make sure your brakes work well and check your bike regularly.
How to buy
Even the most ardent trailer evangelist can't ignore one downside: price. While the typical child seat costs anything from £50 to £100, the market for child trailers ranges from around £100 to £1,000.
Budget
For a cheaper and sustainable option why not hire a bike trailer instead of purchasing for your next adventure? If you are a member you receive 10% off Bike Trailer Hire, making this an even more affordable option.
If you do want to purchase one at the low-cost end are own-brand products from firms such as Halfords. They are decent options and comply with all necessary safety standards, but they might also be a little heavier and devoid of comforts, all-weather waterproofing or functions. 
Cycling UK members can also save 8% off cycling products at Halfords. If you haven't already, become a member today for more great retail discounts like these. 
Mid-range
From about £200 to £350 you will find the Adventure Outdoor range of child trailers, which feature a lot more capabilities such as the possibility of being converting into a stroller. Likewise, Burley and Croozer do a great range of trailers from around £300 up to £600.
Luxury
Then we start heading into luxury trailer territory, with Hamax doing a fantastic Outback trailer at around £700. However, arguably the leader of the child trailer market is Thule (formerly Chariot), with a range that spans from £450 to £1,000 and includes the option of not just converting your trailer into a running buggy and stroller, but even fitting it with snow skis (should the necessity arise!).
Before spending your cash, hire a trailer first to see if you and your little one like it.
Beyond child transport
Finally, let's also just give a quick word for trailers that aren't used for ferrying children around. Whether it's grocery shopping or even as part of your working life, trailers open up a huge range of cargo-carrying opportunities for those who don't want to be tied to the internal combustion engine or invest in a cargo bike.
For some cyclists, they offer specific possibilities. Touring tandem riders, for example, can only fit four pannier bags to their bike – half the number that could be carried by two solo riders – but trailers can help with increasing their luggage allowance.
Trailers are already a particularly good shape for carrying tent bags. Similarly, the current enthusiasm for bikepacking or rough stuff touring, means that off-road explorers can carry kit using products such as the BOB or Adventure CT1 trailer even if their chosen bikes aren't suitable for panniers.
For extreme sports fanatics, the Carry Freedom trailer can be converted to accept a surfboard. And of course, instead of children you might have an entirely different kind of loved one you want to transport in safety: dog-specific trailers are available, too
So buying a trailer might be a significant investment, but in a number of ways it might also open up a huge new range of possibilities in terms of what you can do with your bike.
Do you use a trailer? Let us know what trailer you use and any tips and thoughts by using the comments box below (you need to be logged in).