My journey from Cycling UK volunteer to staff member
Why I decided to volunteer my skills at the Bothy
In early 2018, I moved from Edinburgh to Inverclyde and had left my job due to the move. I decided to take a year or so out to get myself and my children settled in our new home, and to use that time to explore my future career options. I knew I wouldn't be able to relax if I wasn't doing something and I had previously volunteered - and managed student volunteers - so I knew it would be a way to help me feel like I was still 'working' and would also help me to meet new people and get to know my new home and so on. 
I also knew that I was ready for a bit of a career change after 15 years working within higher education and felt that volunteering would be a good way to get a 'foot in the door' of the type of organisations I was interested in working with. I was keen to explore various roles related to community-based work. 
By taking on a few volunteering roles for different organisations such as:
walk leader for the Inverclyde Bothy; 
a gentle movement instructor for MacMillan's Move More project;
an info and connect volunteer for Your Voice Inverclyde; and as a
fundraising volunteer for Barnardo's,
I was kept very busy!      
Transferring my skills
I was probably doing about four hours a week as an Inverclyde Bothy volunteer as I helped deliver two walks and the social sessions afterwards, and quite a few more hours for the other volunteer roles too!  
I was in the lucky position that I could afford not to work for a year while we got settled as a family. I treated volunteering a bit like going back to college or uni and doing a course; I was confident my experience and skills would transfer from my previous role in higher education so I used volunteering as a way to gain valuable work experience to prove to future employers that my skills would transfer.    
As well as getting that important experience that employers look for, I also networked and got to know the third sector in my new area.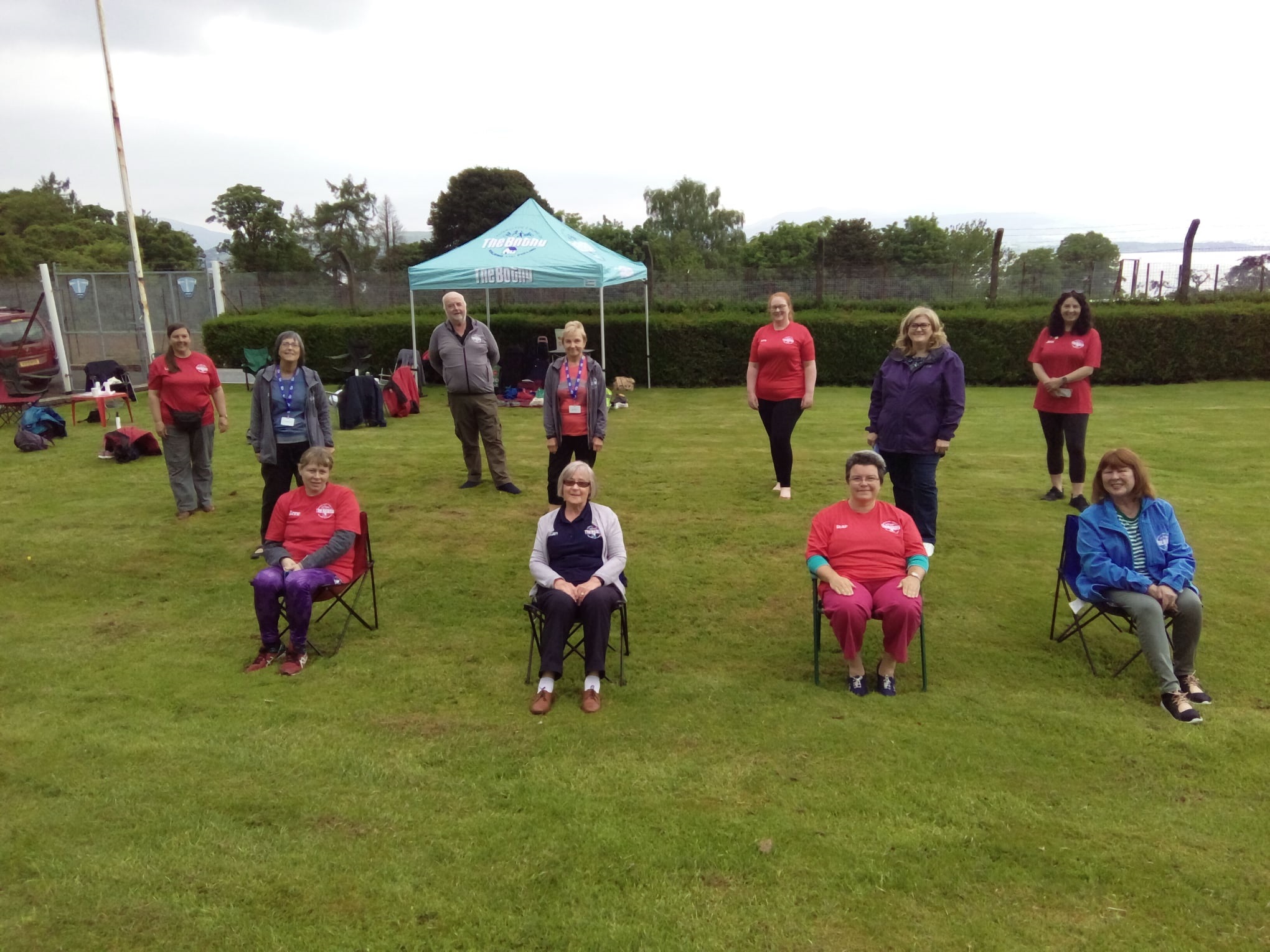 The difference volunteers can make
I believe that my volunteering has had a big impact on both my own life and of the others' I was working with. As walk leader, I was supporting people who were either quite inactive to get active, or who were already active but felt too isolated to join a group and do something positive for their wellbeing.  
I was helping to build a supportive community group that helped other people, while also gaining so much from it myself. I could see very quickly the difference that volunteers can make to the people they support and how small organisations often couldn't offer the services that they provide without committed and enthusiastic volunteers. Taking on a few different volunteer roles at the one time was really interesting – it helped me to gain insight into a range of organisations, and I also got a chance to compare different approaches to volunteer recruitment and management.
 It makes the impact of what you do seem even more important when you know that the people you are working with may be experiencing disadvantage and exclusion

Jenni Murray, Cycling UK Bothy health walk co-ordinator
The people I have helped
Most of the volunteer roles I undertook during that period of relocation were with organisations who support people experiencing various types of disadvantage – either due to low income, poor physical or mental health, or living in areas classed as those with 'multiple deprivation'. It makes the impact of what you do seem even more important when you know that the people you are working with may be experiencing disadvantage and exclusion.   
We have lots of evidence of how much more active people become after joining a health walk, and how both their physical and mental wellbeing can improve. Health walks are very much aimed at the inactive or those living with various long-term conditions. When you see people becoming regulars, and the smiles and confidence growing, it's very rewarding: you feel proud of their achievements, no matter how small they may seem, and proud of the fact you have played a role in that process.
The challenges
Just like with a paid job, the challenge can be knowing when to say 'no' - or 'not now' - and trying to get the balance between work/volunteering/family and personal time right. 
I also think it's important to get the right volunteer role for you. Having performed a few different roles with a range of organisations, I'd say that if a role doesn't feel right for you, and you are not sure the impact you are having, then maybe it's just not the right one. 
Part of the benefit of volunteering is that you usually do have the flexibility to walk away if the role or level of support is not right for you.
What I am most proud of
I loved helping the Inverclyde Bothy set up its initial health walk. We started with one weekly walk then a contact I had made in another community group asked me if I thought we could set up a walk at her community garden project. It was great to realise that other organisations valued what we were doing and wanted to work with us. On a personal level, this also gave me the confidence that I was able to transfer my networking and community engagement experience from my previous work roles to this new community based setting. 
After we had two walks set up, the Bothy was then able to apply for further funding to create the paid post that I ended up securing. I'm also proud of my delivery of Gentle Movement classes for cancer patients. This volunteering role probably took me the furthest out of my comfort zone in that I had never delivered exercises classes before and so not only was I seeing the positive impact on my class participants, but I also personally felt I had used this volunteering opportunity to learn completely new skills.  
Although I now have a paid role with the Bothy and Cycling UK, I still volunteer as a Gentle Movement class instructor.   
How volunteering has enhanced my life
Volunteering has enhanced my life both in terms of my career but as importantly, in terms of my confidence, range of interests and sense of purpose. Volunteering also helps me keep perspective on the important things in life: health, wellbeing, community and so on. It helped me secure a job I love and I now have a much better work/life balance and have found something I am passionate about.
To anyone considering volunteering, I say please do give it a go!  Do some research and don't jump at the first thing available. Find the right role for you and have some ideas in your head about why you want to do it and what you hope to gain from it – but be open to try something new and to push yourself to use it as an opportunity to gain new skills and experiences.
Find out more
To get involved in the Bothy Health Walks or Cycling sessions, please email the Bothy.
Find volunteering roles in your area by looking at the latest opportunities.