Meet our groups: CTC Coventry
CTC Coventry's centenary year
This year, 2021, is CTC Coventry's centenary and the club has had a very busy year, especially in view of the pandemic and the world in which we live nowadays.
In July, a centenary BBQ took place at Fillongley – the village that was in fact the destination of the very first ride by the then new Coventry CTC Section 100 years ago. While in September, more than 40 riders enjoyed a 100km challenge ride which ventured into the neighbouring county of Northamptonshire before returning to Coventry.
Also, between those two events the 100th Cyclists' Memorial Service was held in nearby Meriden and was attended by around 400 people, including Cycling UK's CEO Sarah Mitchell and Christina Bengston, Cycling UK's internal communications and media officer.
Friday 1 October saw our final centenary event, a celebratory dinner at Hearsall Golf Club in Coventry attended by more than 60 members, which was brilliantly organised by Mike Thomas and a team of helpers. The guests included Sarah Mitchell and Cycling UK's volunteer communications officer Julie Rand.
Also there were Gordon Mead, CTC Coventry's President, and Garth Murphy of the Warwickshire Air Ambulance, the charity being a very popular choice for donations from our centenary year, as any of us potentially may need it one day.
The total swelled on the evening to well over £2,000 as an auction of cycling items was held, and Andy Gilbert proved to be an excellent auctioneer in persuading people to dig deep. Also, member Martin Lee, who is a talented artist, brought along a print of the café next to the canal at Hatton Locks to be auctioned. This café is a particular group favourite, and the print now hangs in Mike Thomas's living room.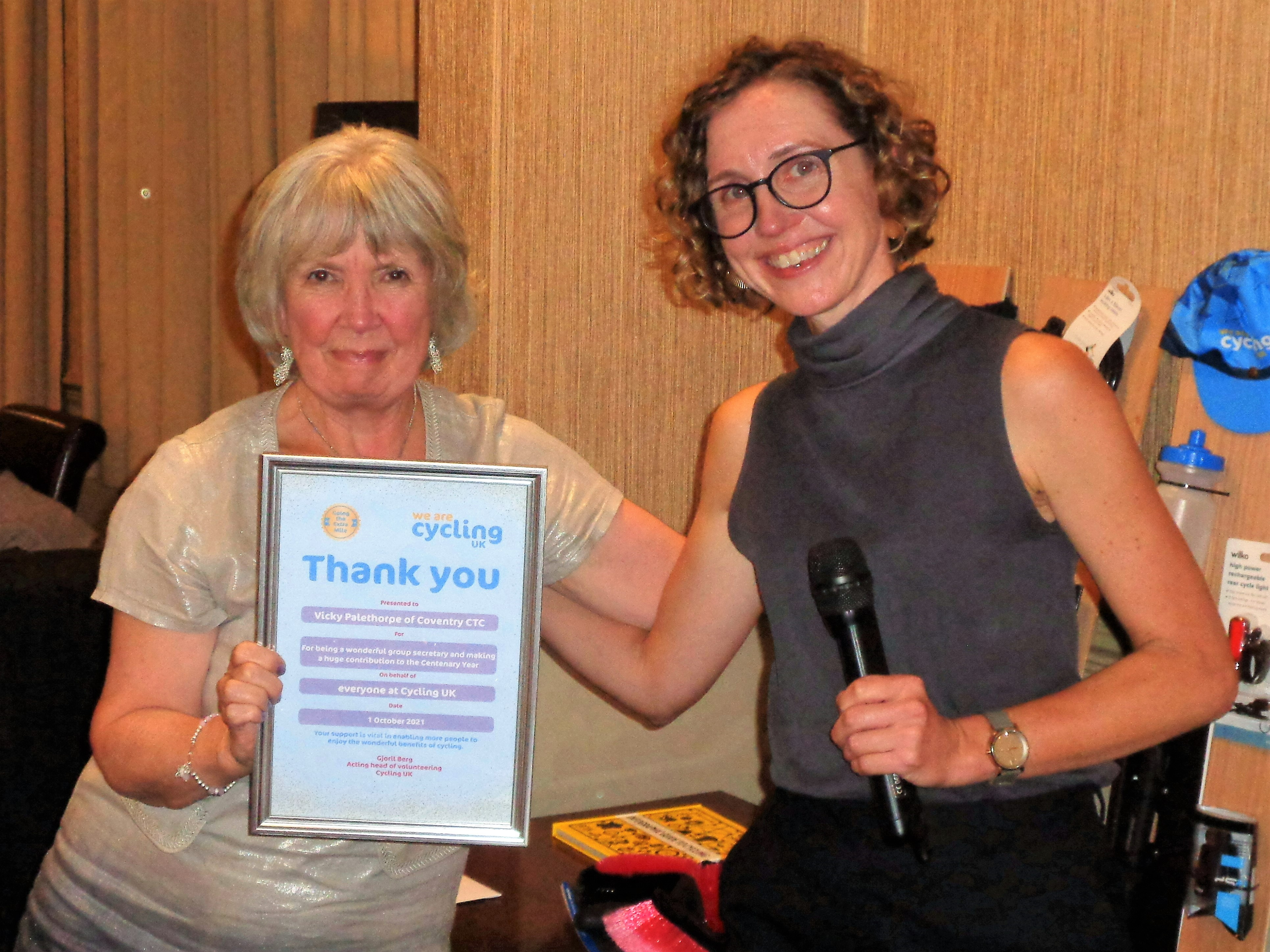 Sarah's speech
Following the delicious starters and main meal, Sarah Mitchell spoke first, beginning with congratulations to CTC Coventry.
This was followed by some very moving and impassioned words about cycling in general and how our club nationally has moved with the times regarding campaigning for more traffic free routes, greater safety on roads, the high profile that all forms of cycling now enjoy, and not forgetting the club's cycle touring routes.
Sarah also presented a Certificate of Thanks award to Vicky Palethorpe, the club's secretary, who has been instrumental in getting so many women out on their bikes. In fact, of the 42 riders on our 100km ride, exactly half (21) were females.
Sarah also presented a Certificate of Appreciation to Bob Tinley, CTC Coventry chair, in recognition of his many years' service to the club with various different 'hats' on. Flowers were also presented to Vicky and Marina Friend, who, like Vicky, has done a huge amount to promote and encourage women to come out on rides. President Gordon Mead then spoke with a vote of thanks for Sarah.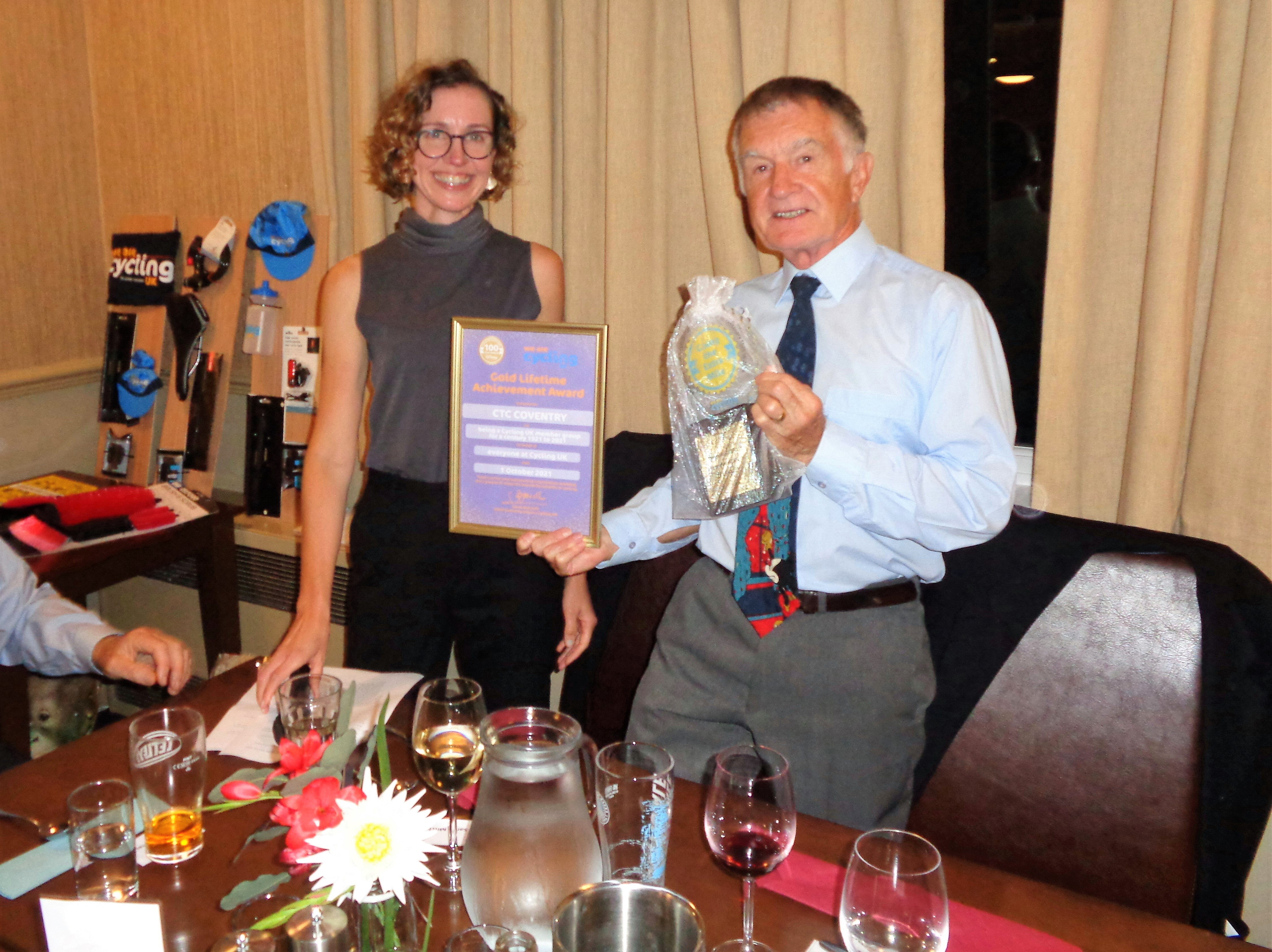 A year of memories
After an excellent dessert was enjoyed, president Bob Tinley took his turn to speak about what the club and being one of its members means to him. Alan Jelley responded to Bob with some very kind words, which we all endorsed.
Tea and coffee was served to finish the formal proceedings before everyone moved into the lounge and bar area to chat in groups. Later, as a grand finale, Gordon Mead made a presentation to Garth Murphy from the Warwickshire Air Ambulance.
Garth thanked all present for inviting him to the event and for the generosity of the donation. That concluded the evening and we made our way home to reflect on a year of all sorts of memories, mixed emotions, but the knowledge of a job well done in the company of cycling friends and the Cycling UK family.
Get involved
Find your local cycling group or nominate someone for a Going the Extra Mile award. See your group featured in Meet our groups by contacting the volunteering team at Cycling UK.