Meet our groups: CTC Edinburgh, Lothians and Borders
Our history
The group was formed before 1914, mainly for recreational purposes, although time trialling was also popular in the early days. It was known as the Lothians District Association of the CTC (also known as the Cyclists' Touring Club, prior to the name change to Cycling UK in 2016) so we are well over a hundred years old now.
You can find out lots more about our history, if you are interested, including some fascinating sound archives of members reminiscing about their cycling history.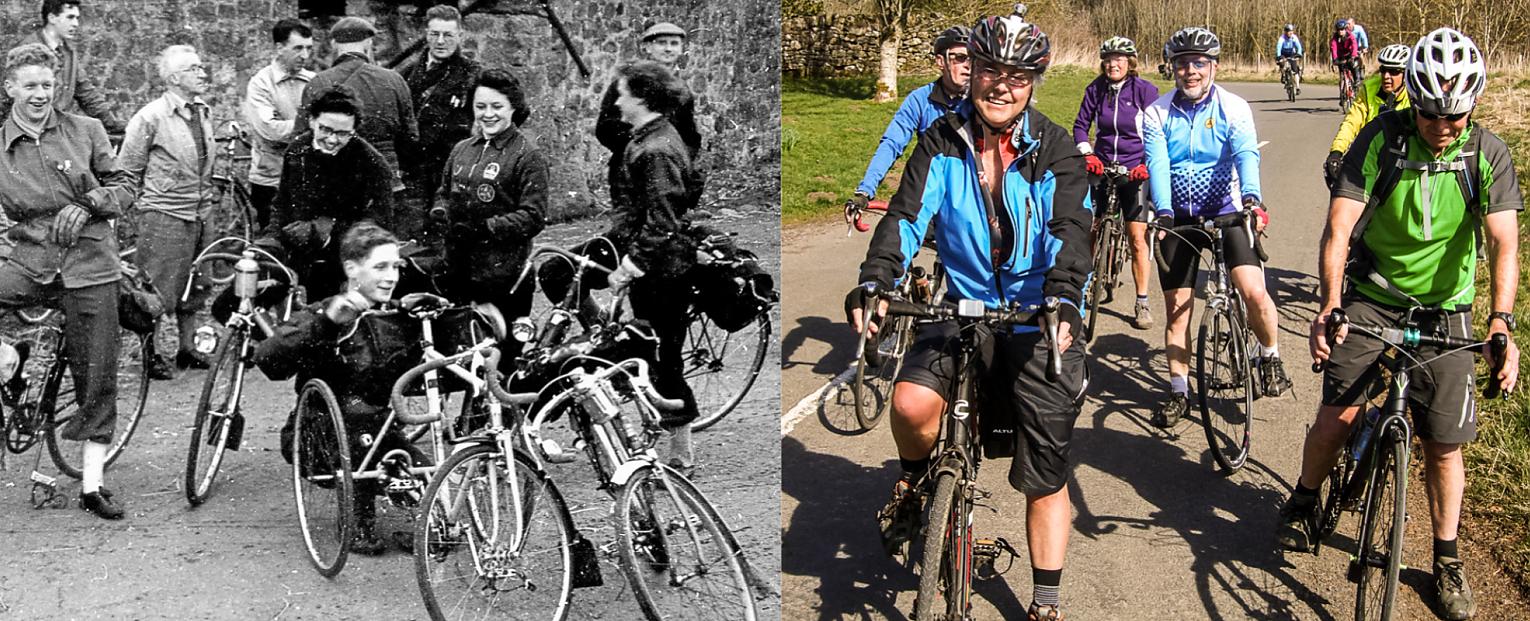 How we've survived so long
The dedication and enthusiasm for cycling of long-standing members has enabled the group to survive the period in the 1970s and 1980s when cycling was not as popular as it had been.
Since then, with the rise in popularity of cycling, especially in Edinburgh, there have always been folk who have come forward to play important roles on the committee, organising rides, training new ride leaders and other necessary tasks.
Although there are a number of other cycle clubs in Edinburgh, for example Edinburgh Road Club, which is very active, we feel we offer something different.
Building a community
For many years, the group has used email to communicate with the membership, and more recently, WhatsApp has played a part, especially in the depths of the pandemic. A specific group website was also developed some years ago, but this has now been superseded by the Cycling UK website, where CTC Edinburgh, Lothians and Borders has a significant presence.
Having weekly rides at set times has helped the cohesion of the group, as does the ongoing welcoming, supportive style of both leaders and riders when new members come along to try us out. We welcome all levels of cyclists and, more recently, e-cyclists.
In total, we have 120 folk on the Wednesday/Sunday list, so we probably have 80 regular riders and we also have 241 folk on the group's email list who take an interest in the club's activities. There tends to be a different client base, with some overlaps, for each of the three regular rides.
There is a club jersey in long and short sleeve format manufactured to our design by Endura.
Where our rides take place
We usually have three rides a week:
Wednesday starting at 10am and cycling 50 to 80 miles depending on the time of year;
Sundays starting at 10am and cycling around 40 miles;
Tuesday starting at 6.30pm in the summer – shorter – about 20 miles.
These rides start in Edinburgh and, although there are rides put on by the Borders subgroup, Borders Brake-away, the area is so large geographically that it is impossible to cater satisfactorily for those living more than a few miles from Edinburgh.
In addition, we organise ad hoc, car-assisted, day rides in the summer months which may start in the Borders, Perthshire or Fife.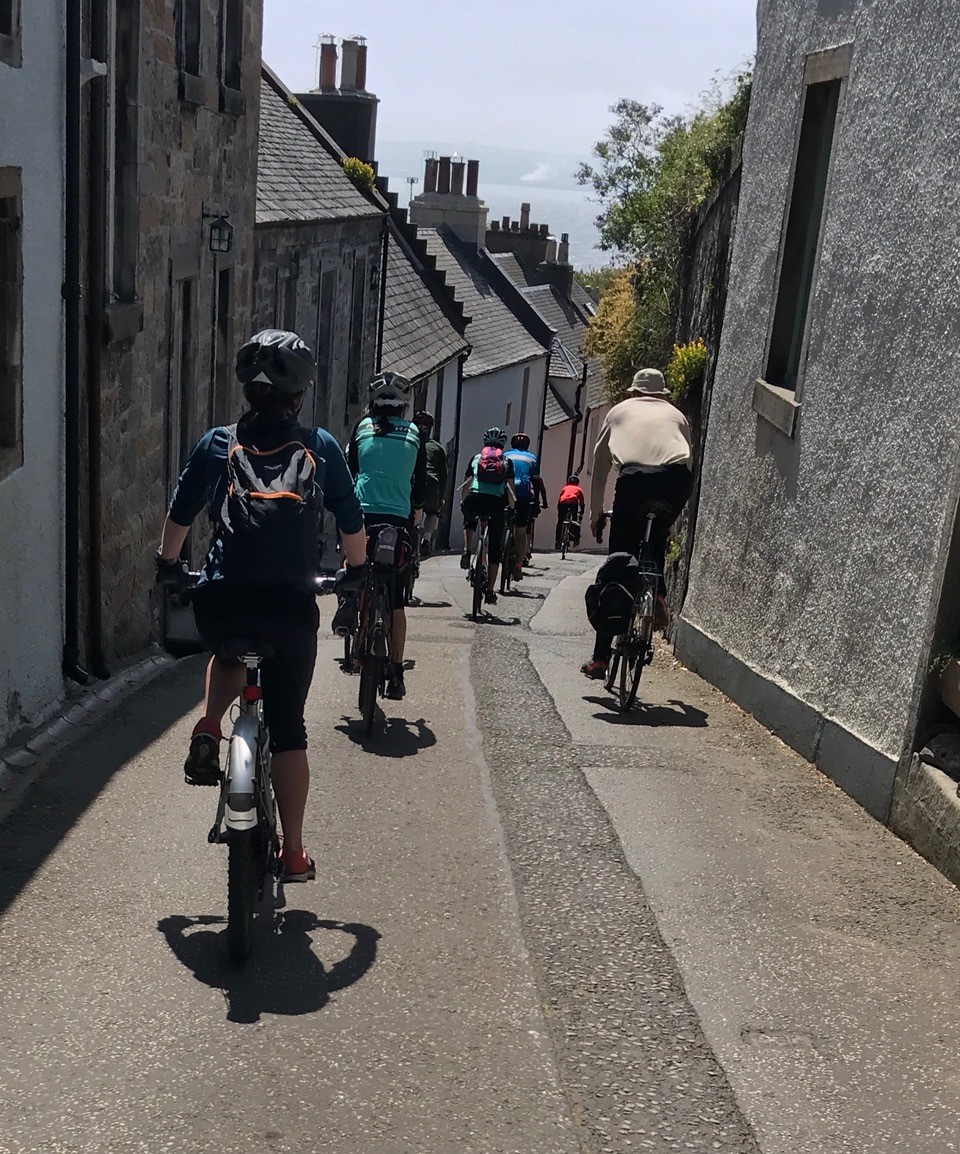 What our rides are like
We offer mainly recreational road rides, starting in Edinburgh, with small off-road deviations from time to time. We head east and pick some of the scenic coastal views; north takes us over the Forth Road Bridge and into Fife, while going south or west allows us to pick up country roads through hills and farming areas surrounding Edinburgh.
Our other activities and events
Covid permitting, the group is very sociable. For example, we have a formal pre-Christmas lunch at a local golf club at which the annual awards are presented.
On the Wednesday before Christmas, the ride stops at Dirleton village hall for a potluck lunch. Many of the older members drive or bus to the location for a meet-up with old friends. There is also a short ride on a pre-Christmas Sunday followed by soup, cheese and mince pies at a member's house.
We also generally have a dinner/curry night at least once a year, and last summer, in 2021, we gathered en masse at an outdoor location to wish 'happy birthday' to our oldest active member, Jimmy Noon, who was 90 years old.
There is also a tradition of having a mid-week trip away to another part of the country for a few days' cycling and socialising – 2019 was based in Seahouses, 2022 will be Aberlour in the Highlands.
Prior to that, we have enjoyed the delights of Deeside, Pitlochry, Galloway and the like.
Our volunteers
There is an active committee of eight, plus three ride organisers and 20 registered and active ride leaders for Sunday/Wednesday rides, plus seven active Tuesday evening leaders.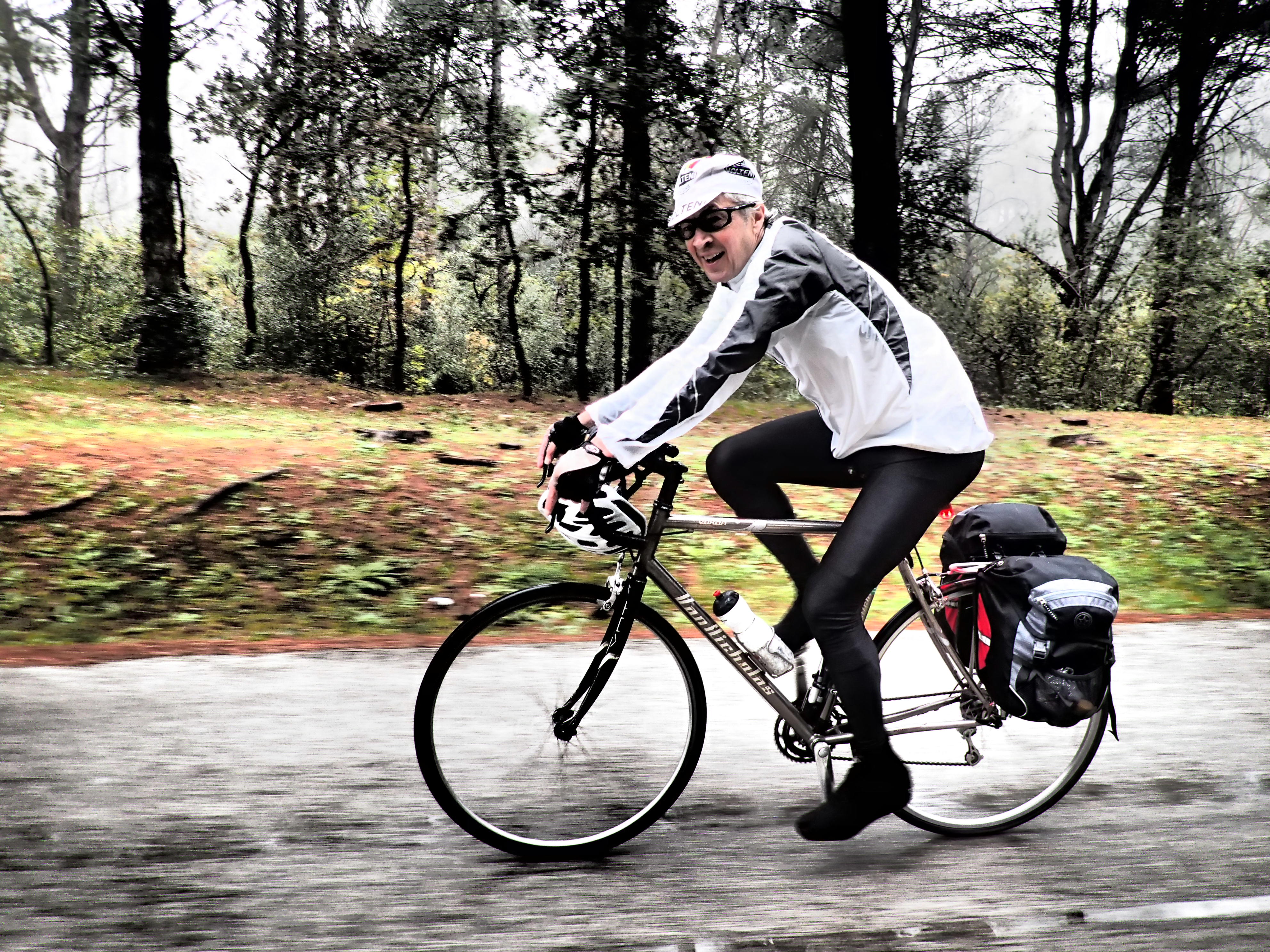 How we attract diverse new members to the group
The group registration officer makes use of Cycling UK's email to new members facility, which picks up a continuous trickle of new riders. Our cycle rides are advertised via the Cycling UK events listing and also appear on Cycling Edinburgh.
People visiting the city who want a group to cycle with do get in touch, often via the above website – the most recent was in February 2022, a man called Dick from The Netherlands who was over to visit his son and grandson who live in the Edinburgh. He joined us for two rides and was very complimentary about the experience. We are also on Instagram.
What we are most proud of
As well as its long history, we are very proud of the resilience of the group continuing to offer rides when legally possible in the last two years. We have also, for many years, had a series of regular weekly rides.
When other groups sometimes struggle to recruit and retain new members, we are continuing to thrive. We are very welcoming and supportive towards newer members and we have made good use of technology to keep members informed of developments; for example, we have a very informative website.
In recent months, we have run various training/information sessions for members, including bike maintenance, navigation and the use of satnavs, crime prevention, ride leading and most recently first aid training.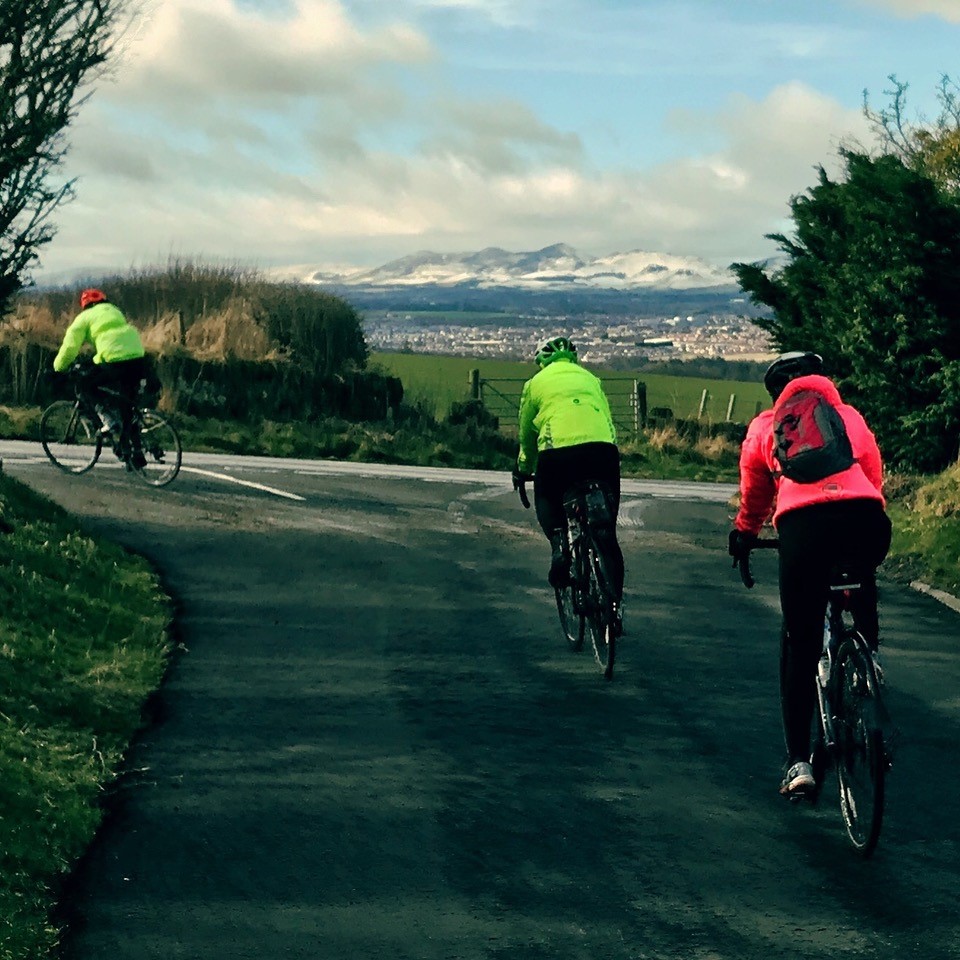 The strangest thing that's ever happened on a group ride
A year or so before the pandemic, the group's regular Wednesday ride was in Fife across the Forth Road Bridge. By the time we returned, the wind was so strong that the bridge was closed to cyclists, meaning we would be stuck in Fife for the night or would need to divert to a train station.
However, the bridge authorities were able to provide a lorry to drive the bikes over and a van to take the group across the Forth. We always check the weather forecast carefully before venturing to Fife now!
Our favourite tea/coffee/pub stop
We frequent a range of tea/coffee stops in villages, garden centres, art venues and community centres. This was particularly important during the pandemic, as businesses in this sector were being hit hardest, hence we were keen to support them while enjoying their amenities.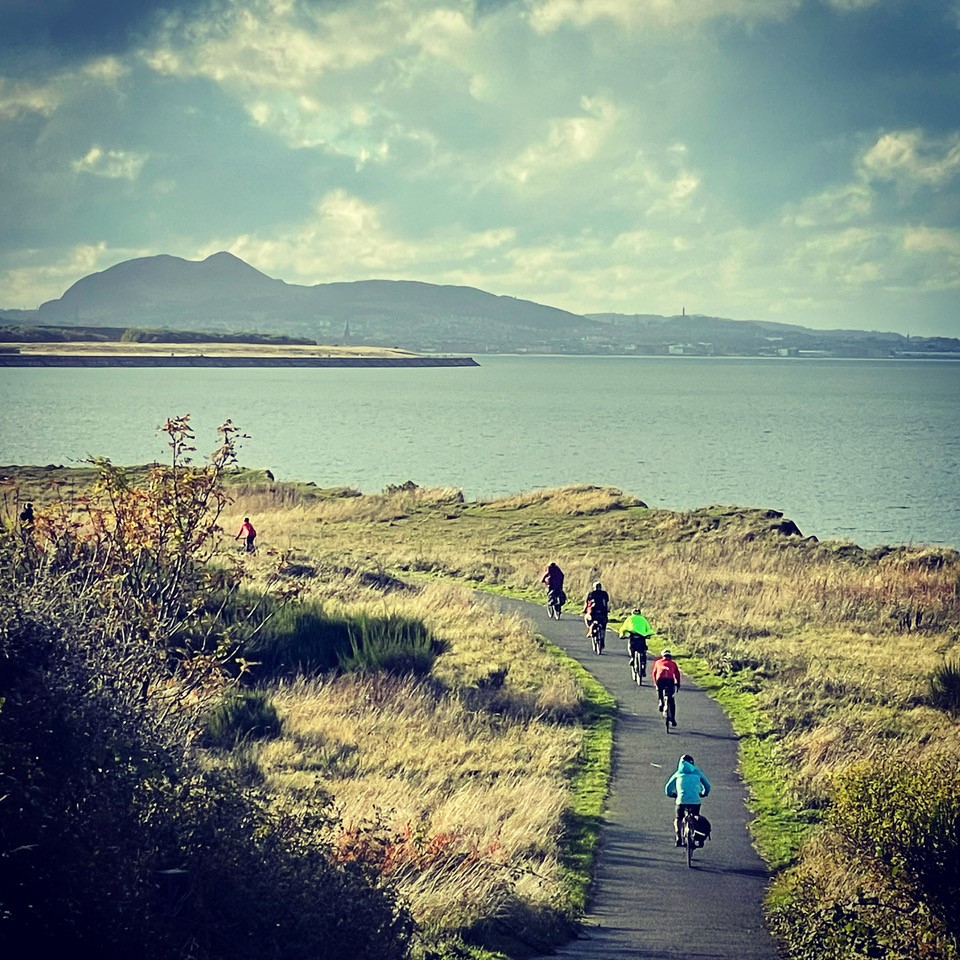 Our favourite routes
We have many favourite routes but a popular one which we cycle every summer is a circuit to Peebles and back – around 100km and 1,000m of climbing. The route is from the meeting point at the Robin's Nest public house, south by a rail path under the bypass to Roslin, down to the River Esk and along a cycle path to the south end of Penicuik.
From this point on, Edinburgh and its satellites are behind us and the open country beckons. After a short hill out of Penicuik, it is along the quiet road over the Auchencorth Moss, with fine views of the Pentland Hills to West Linton. From there, we go eastward towards Peebles, alongside the Lyne Water and a picnic lunch on the banks of the Tweed.
From Peebles, another cycle path to Innerleithen and then the long gentle climb to the high point of the Granites at 410m above sea level. This road was used in 2021 by the Tour of Britain and parts of it were resurfaced for the event.
Fine views are to be had looking north at the summit of the Granites with the Lothians, Fife and the Firth of Forth in plain view. From there, we swoop down to the River Esk and a climb up the other side to a coffee and cake stop in Dolly's café in Roslin.
Three words that describe us
Enthusiastic, experienced, welcoming
Get involved
Tell Cycling UK about your group to feature in Meet our groups next.