Inspiring cyclists: Alana from Saudi's newfound love of cycling
After moving to the UK from Saudi Arabia, 25-year-old Alana Sawan decided to learn to ride a bike for the first time in her life, having never learned to ride as a child.
"I was passionate about learning because I think riding a bike is a basic skill for life. In my old culture it was very different – there are no specific roads for bikes. In Saudi, we depend on cars for transport because the weather is very hot – temperatures exceed 50 degrees sometimes so it would be insane to bike in such hot weather."
Armed with a bike, some YouTube videos, and the help of a friend, Alana set about trying to teach herself to ride, but at first she had no luck: "When I tried on my own I was scared to fall down and wasn't brave enough to start pedalling."
It feels really great – I feel like I'm independent – I don't need to wait for the bus and I don't need to do anything. Whenever I want to set off I can go. I think I am confident now on the roads with the traffic

Alana Sawan
Then Alana found The Bike Hive, a Cycling UK Community Cycle Club (CCC), made up of volunteers and cycling instructors within the community, based in a local park. The Bike Hive works with Cycling UK to teach adults to cycle through social cycling sessions and group rides. She joined The Bike Hive in November 2019, and after just six sessions was cycling independently.
"At the beginning I was scared. But for me, my passion to learn took me forward. And also the support that I got from The Bike Hive made me feel I'm not going to be hurt because someone is walking by my side and going to catch me, that gave me more courage and confidence.
"Now I can go on my bike to explore different areas. I got a phone holder for my bike so I can use GPS. I can go to groceries to get my food, I can go to the city centre. I take the bike round and have fun. Sometimes I go on my own, other times I join The Bike Hive rides.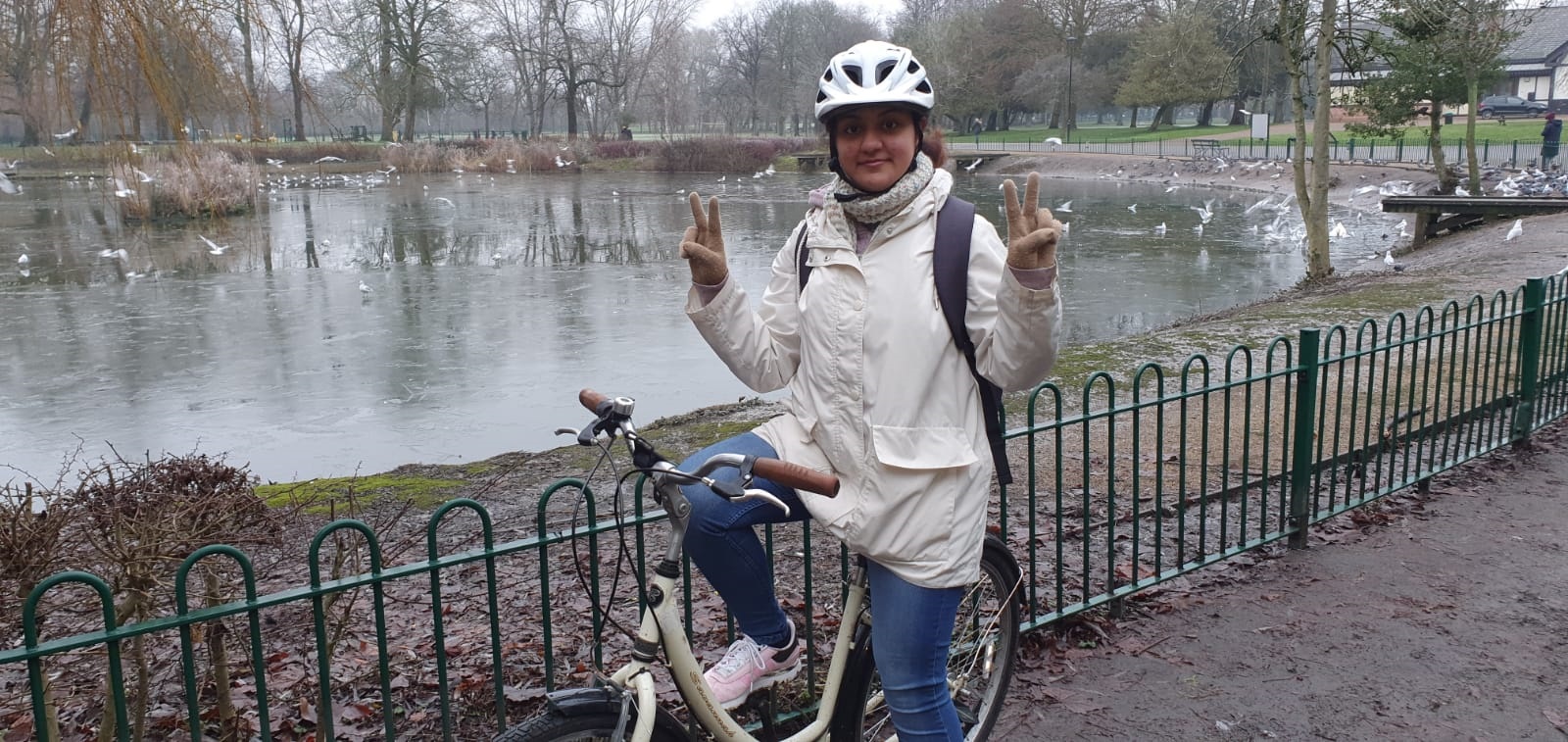 "It feels really great – I feel like I'm independent – I don't need to wait for the bus and I don't need to do anything. Whenever I want to set off I can go. I think I am confident now on the roads with the traffic."
Since learning to ride in 2019, life has thrown a lot of hurdles in the way of Alana and her cycling journey, from national lockdowns and coronavirus restrictions to having to relocate to a new property and not being able to take her bike with her. But despite all this, Alana is still passionate about cycling and has found ways to get out and ride no matter what.
"At the beginning of the lockdown, I continued to cycle on my own for exercise and for shopping. Actually I found it really helpful in lockdown period as it helps me to social distance and avoid the need to take a public transport.
"However, recently I moved to a place with no space to store my bike, so I am storing it in The Bike Hive's garage. I also join The Bike Hive members for a ride one-to-one, which helps – following the guidelines of social distance."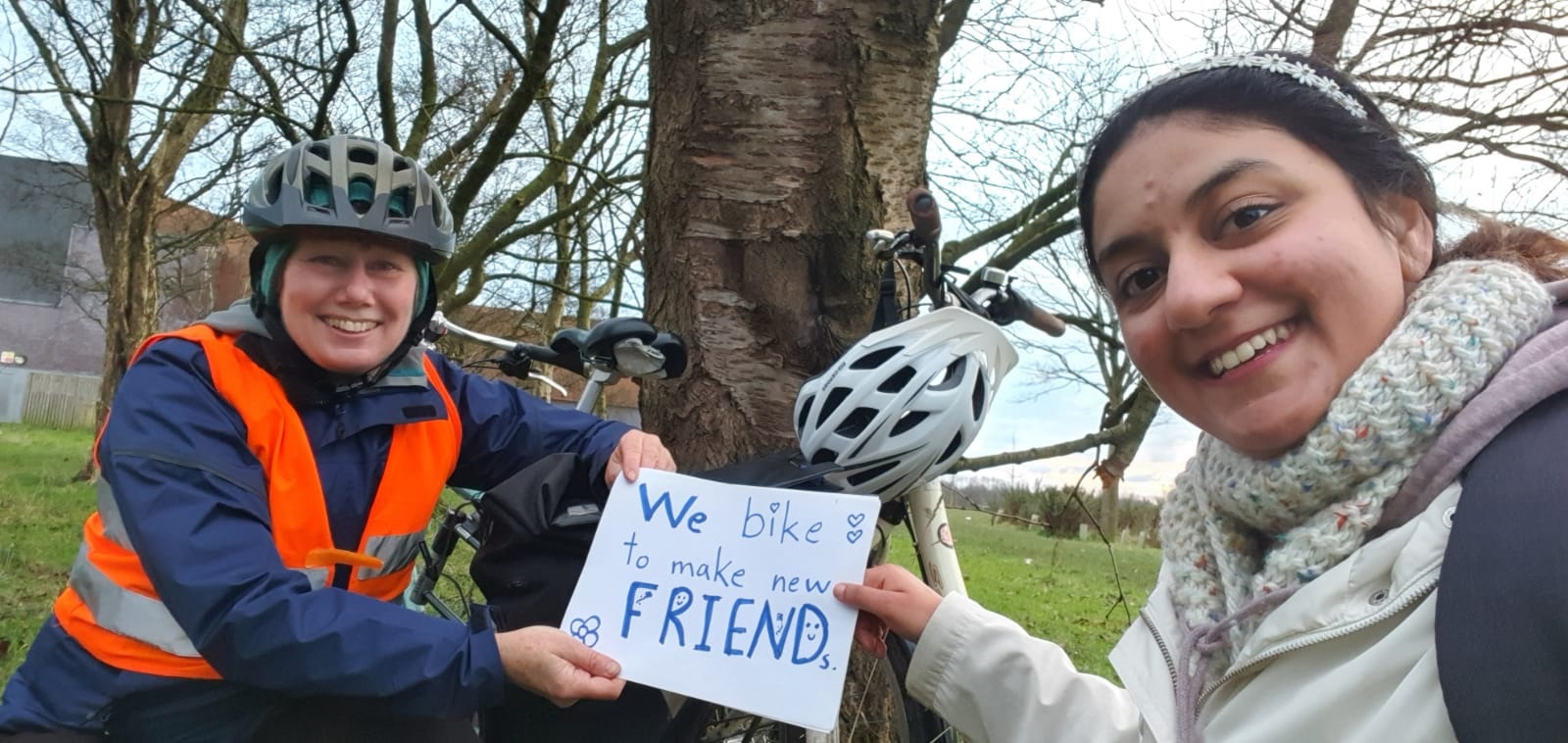 As well as using her bike to travel independently during lockdown, Alana's joy of cycling has taken her on some pretty big adventures around the local area. A recent one-to-one ride with The Bike Hive volunteer Ursula Harries took an eventful turn due to damage caused by storms in the area.
"We rode from Alex Park to Wythenshawe Park. When we got to Wythenshawe our path was flooded and we had to make a long detour across flooded fields. Then it got so flooded in the field it was impossible to get through.
"Just before we turned back, we noticed a gap in a hedge so we could get out of the flooded field. Then we found our path blocked by a fallen tree so we scrambled underneath it with our bikes. Eventually we got to the café – what a relief to find the toilet was open!"
Despite all these set backs, Alana is still as passionate as ever about cycling and is keen to share her story to encourage others to get out and discover the joys of cycling.
"If someone wants to learn to ride, I would give them advice to try to believe in yourself, you can do it. There is no limit for age, it's never too late to learn a new skill. If you are, for example, like me and too scared to learn on your own, there are groups who can train you, or you can ask a friend to help you.
"Biking is really joyful and health-making; I would like everyone in the world to have this skill."