15% off BikeRegister security marking kits
Can't see the member benefit?
You must be a member of Cycling UK to take advantage of this benefit.
If you are a member then please login.
Not a member? Then join Cycling UK today.
Bike security is a serious concern for cyclists and anyone who's thinking of taking up cycling. Thousands of bikes are stolen every year as thieves believe that bicycle theft is a low-risk, high reward crime. Registering on BikeRegister is a good first step in the fight against bike theft, and means you could be reunited with your bike in the event of it being stolen.
However, it doesn't help make your bike a hard target to thieves.To reduce the chances of becoming a victim of cycle theft, we recommend marking your bike, like with a BikeRegister security marking kit. BikeRegister is used by every UK Police Force and is the preferred bike marking system of the Metropolitan Police Service and British Transport Police.
BikeRegister offers a range of three different marking kits, and as a Cycling UK member you can receive 15% off all BikeRegister products.
How to claim this benefit
You must be a Cycling UK member to claim your 15% discount on all BikeRegister security marking kits. Log in to view the discount code at the bottom of this page*, then head to the BikeRegister website.
All the kits can be purchased either: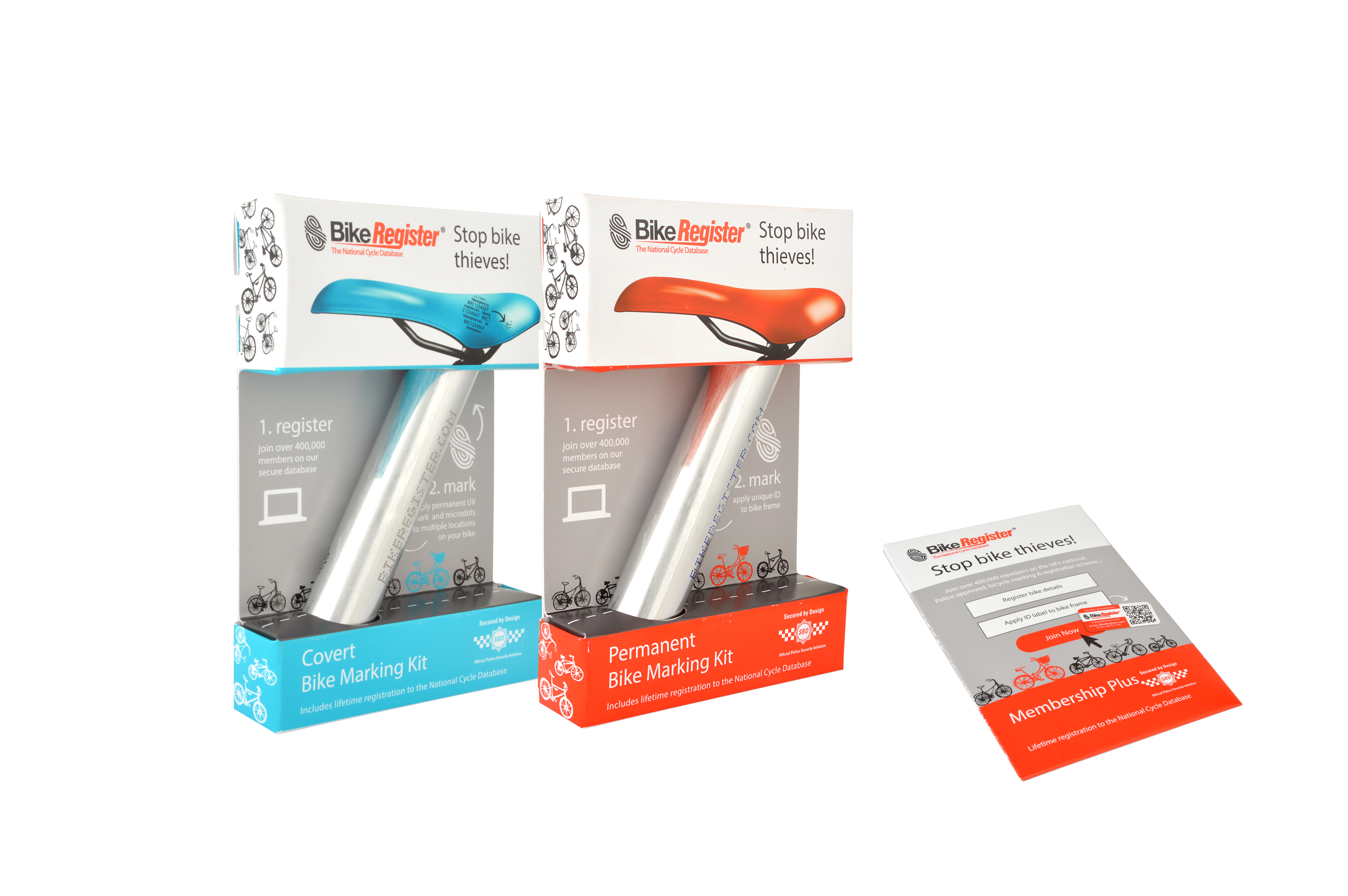 Membership Plus Kit (RRP £12.99)
Contains two highly durable Tamper Resistant QR Barcode labels featuring the unique BikeRegister ID. If a bike is found, the labels can be scanned with a smartphone and identified on the BikeRegister website.
Permanent Marking Kit (RRP £19.99)
Permanently marks the bike frame with a unique BikeRegister ID. The kit chemically etches the frame of the bike with a visible and permanent blue mark, leaving a neat, unique ID which does not affect the frame's integrity. Included with the kit is a durable, tamper-resistant warning label.
Covert Marking Kit (RRP £29.99)
Marks the bike frame and components with hundreds of microscopic dots printed with a unique BikeRegister ID. Included with the kit is a colourless ultra violet (UV) marking kit which chemically etches the coating of the bike frame with the unique BikeRegister ID, the marking is invisible unless seen under UV light.
Check a bike
Members of the public are able to use the free BikeChecker facility to screen bikes being sold on online auction websites to check that they are not stolen. Searches can be made using the BikeRegister code or the frame number.