Guide to taking your bike on an aeroplane
First let's deal with the elephant in the room: carbon emissions. Flying is the most polluting way to travel. While other lifestyle choices also matter, even one flight will significantly increase your carbon footprint. For some journeys, flying is the only practical option. Yet it would be remiss not to look at…
Alternatives to flying with a bike
Mainland Europe, in particular, is accessible without flying.
Eurostar has resumed a limited bike service but spaces must still be booked (see our updates). Walk-on luggage is restricted to an 85cm maximum dimension, which means bagged folding or separable bikes only. By contrast, you can take a 120x90cm bike bag without a reservation on TGV and Thalys services. Seat61.com has useful advice for taking your bike into and across Europe.
Eurotunnel takes assembled bikes between Folkestone and Calais. Tandems and trailers are permitted but cost extra.
Bike Express is a coach-and-trailer service that takes fully-assembled cycles of all kinds to destinations in France and Spain using the Dover-Calais ferry crossing.
Ferry. Unless you're driving and the bikes are on the car, you'll travel as a foot passenger, usually paying a supplement for the bike. Cycling UK's ferry guide gives a good outline of what services are available. 
Courier. You can send a boxed/bagged bike ahead of you using a courier service such as SendBike or First Luggage. Beware of hiring a van yourself to transport multiple bikes into Europe. This has caused some problems with import duty since Brexit.
Hire a bike at your destination.
Flying with a bike: rules and regulations
Book your bike – usually under 'sporting equipment' – when buying your ticket. All airlines require your bike to be partially disassembled and bagged or boxed. As well as the weight limit, which varies between airlines, there's a size limit: the packed bike must fit through the oversized luggage x-ray machine when laid on its side. So it must be less than a metre across; 90cm is better still.
A folding or separable bike in a suitcase-sized bag or case can go as ordinary luggage, without incurring bike charges. Weight and size limits vary by carrier but most will accept an S&S Machine hard case or Brompton bike bag. Some airlines will even accept a disassembled conventional bike in a very small bike bag if you're coy about the contents.
All airlines require that a bike's tyres be deflated. This ought not to be necessary. While the lower air pressure at altitude will mean an increase in the pressure inside a bike's tyres, the pressure can't rise by more than one atmosphere (14.7psi) – even if the plane reached orbit! But it's an argument you won't win at check in. Make sure the tyres are deflated to at least 1bar below the maximum shown on the sidewall and say yes when asked if they're deflated. Don't over deflate tubeless tyres as a loose bead will leak sealant. (Sealant in tyres is fine; liquids are allowed in hold luggage.)
Most e-bike batteries are banned from aeroplanes, even in hand luggage. The standard limit is 100Wh (a big laptop battery), while batteries up to 160Wh may be carried with approval from the airline. Swytch sells a 90Wh 'AIR' battery and ARCC uses batteries as small as 144Wh, but most others are too high capacity. Note that you can take multiple smaller batteries.
Don't pack CO2 canisters (for rapid tyre inflation) before checking your airline's regulations. They may be confiscated from your bike bag. It's simpler to buy them at your destination.
How to pack your bike
Here's how to pack a bike into cardboard bike box. (Some of this advice will be useful when using a bike bag or case.) You'll need toe straps or reusable cable ties to fasten disassembled bike parts in place. Foam pipe lagging and bubble wrap (from DIY stores) is useful to protect paintwork and components.
Remove the pedals.
Drop-bar bike: loosen the stem bolts, turn the handlebar 90 degrees, then rotate the bar to hook it under the top tube. Flat-bar bike: remove the bar from the stem and fasten it vertically to the stem and fork.
Unscrew the rear derailleur from its hanger and attach it to the chainstay.
Remove the front wheel. Fasten it to the frame at three points. Wheel on the left minimises packed width, wheel on the right gives better drivetrain protection.
If your bike has disc brakes, face the front wheel rotor inwards or remove it (easier with Shimano's Center Lock system). Fit a plastic disc brake spacer or piece of folded cardboard in the calliper.
To prevent the fork legs being squashed together, fit a fork spacer – a plastic one from a bike shop or a section of 100mm tube held in place with the axle – or refit a screw-through axle.
Completely lower the saddle. If the bike is still too tall for the box, remove the seatpost (with saddle attached) and fasten it to the bike.
If your bike has mudguards, adjust or undo the fittings so the rear's tip can be held snug against the rear tyre and so the front doesn't prop up the bike. If need be, remove the front mudguard and fasten it over the front wheel.
Remove vulnerable lights, computers etc but leave bottles in place.
It's likely that your boxed bike will be below the airline's weight limit, so you can pack other items like tools and clothes around the bike. 
Bags and boxes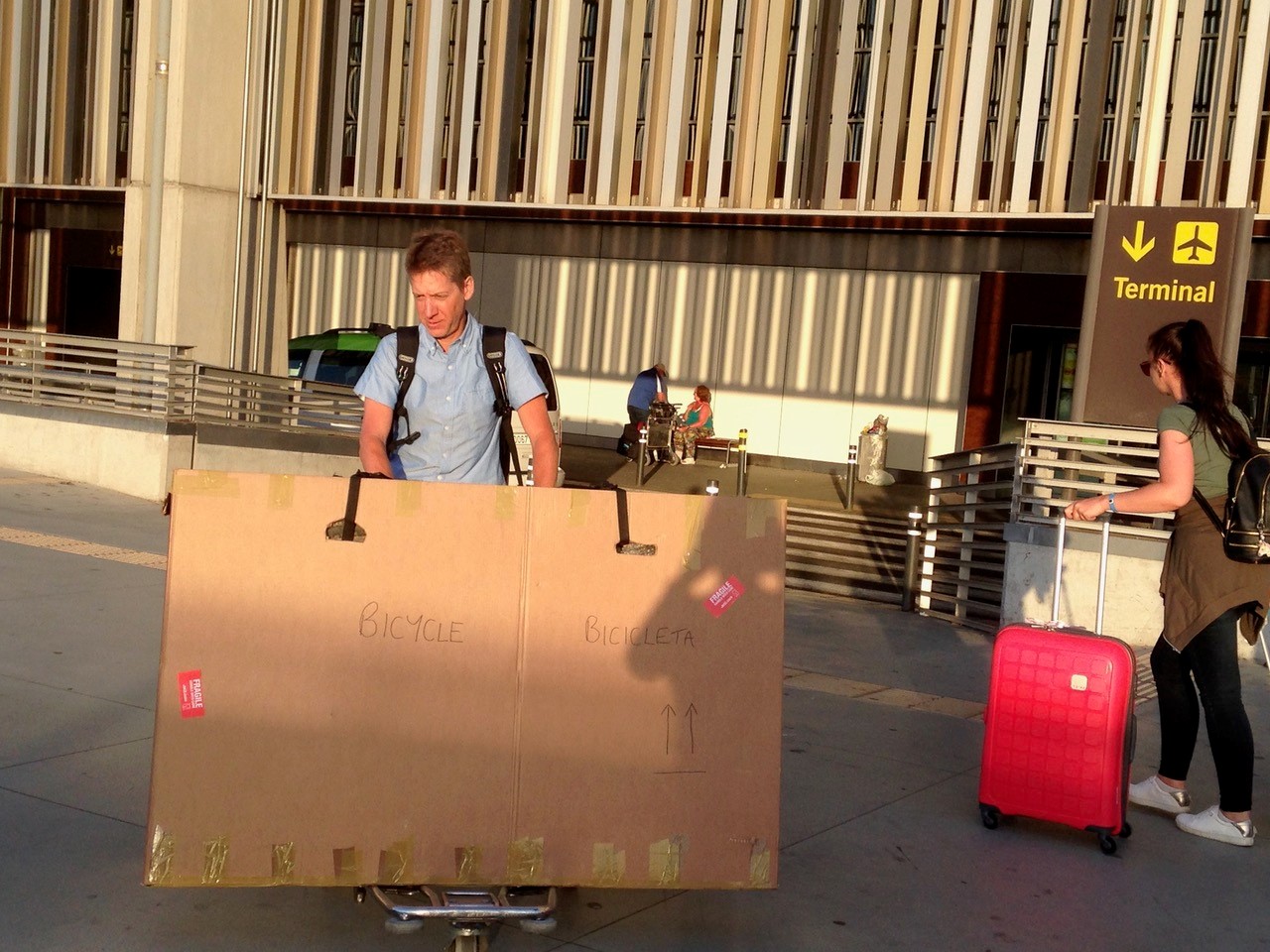 Most bags and cases are not bike portable. If your trip isn't fixed base, check with your airline to see what left luggage facilities are available, if any, at the destination airport. Alternatively, arrange to store the bag at your first night's accommodation – and make this your last night's, too.
There are basically four options for packing your bike. Price, portability, and protection vary hugely.
Heavy-duty plastic bag or unpadded fabric bag (e.g. Scott).
Pros: inexpensive; lightweight; easy to carry by bike.
Cons: minimal protection.
 
Cardboard bike box.
Pros: free from a bike shop if you ask nicely; disposable – get a second box for your return; spacious.
Cons: bulky and awkward – airport luggage trolley essential. Unlikely to be covered by cycle insurance policy - if in doubt, check.
 
Padded fabric bag with solid base and/or crush inserts (e.g. Evoc, Scicon).
Pros: decent protection; luggage wheels; easier to store than a hard case; internal space relatively unconstrained.
Cons: expensive; less protection than a hard case.
 
Hard case (e.g. Bike Box Alan, Thule).
Pros: best bike protection; luggage wheels.
Cons: expensive; heavy; awkward to store.
Damaged or lost in transit?
If your bike is delayed, lost or damaged in transit, you can claim compensation from the airline. Fill in a 'property irregularity report' (PIR form) at the airport if the problem is evident then or contact the airline within seven days if not. Citizens Advice has a good summary.
It's likely that any airline compensation will be less than the value of your bike. You'll need insurance as well. Travel insurance will only cover your bike up to the maximum single item value on the schedule. Travel insurance from a cycle specialist such as Yellow Jersey (Cycling UK members enjoy a 15% discount) will be more comprehensive – for example, providing a payout so that you can hire a bike if yours is damaged or lost, covering you while riding off-road, etc. But it's also worth having annual cycle insurance, either as a separate policy or through your home and contents cover. That way you can ensure your bike is insured for its full value for loss or damage. Note that you can claim against the airline and your own insurance policy.
Bike luggage charges
See below for luggage charges from a select number of airlines operating out of the UK - but do check before planning your flight as these can be subject to change.