Track pumps, floor pumps, workshop pumps – whatever you call them, moving from a hand pump to a stand-up, stay-at-home pump is a fantastic investment. It makes tyre inflation easier and faster whatever pressures or tyre size you run, and if you're regularly topping up tyres for a family fleet you'll soon wonder how on earth you managed without one. Getting to 100psi is a breeze, and you'll know when you've got there too, so you'll get better performance and lifespan out of your tyres.
As ever with modern components, there's an increasing amount of complications and 'bonus' features being added to even the humble track pump. To make sure you don't fall foul of fragile or pointless designs that are more hot air than high-pressure air, here are four usefully different pumps that are worth owning.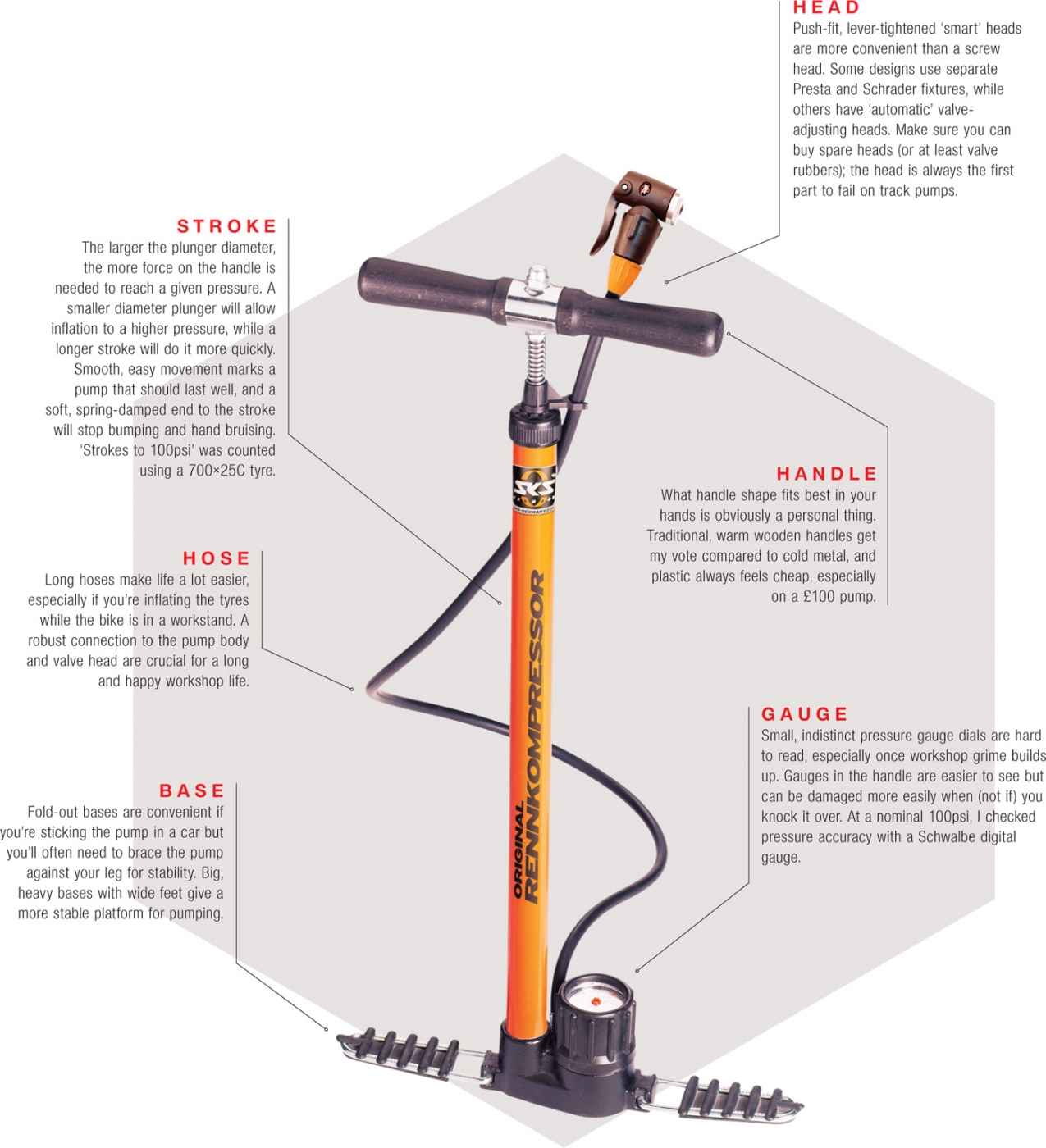 Head
Push-fit, lever-tightened 'smart' heads are more convenient than a screw head. Some designs use separate Presta and Schrader fixtures, while others have 'automatic' valve-adjusting heads. Make sure you can buy spare heads (or at least valve rubbers); the head is always the first part to fail on track pumps.
Stroke
The larger the plunger diameter, the more force on the handle is needed to reach a given pressure. A smaller diameter plunger will allow inflation to a higher pressure, while a longer stroke will do it more quickly. Smooth, easy movement marks a pump that should last well, and a soft, spring-damped end to the stroke will stop bumping and hand bruising. 'Strokes to 100psi' was counted using a 700fi25C tyre.
Hose
Long hoses make life a lot easier, especially if you're inflating the tyres while the bike is in a workstand. A robust connection to the pump body and valve head are crucial for a long and happy workshop life.
Handle
What handle shape fits best in your hands is obviously a personal thing. Traditional, warm wooden handles get my vote compared to cold metal, and plastic always feels cheap, especially on a £100 pump.
Base
Fold-out bases are convenient if you're sticking the pump in a car but you'll often need to brace the pump against your leg for stability. Big, heavy bases with wide feet give a more stable platform for pumping.
Gauge
Small, indistinct pressure gauge dials are hard to read, especially once workshop grime builds up. Gauges in the handle are easier to see but can be damaged more easily when (not if) you knock it over. At a nominal 100psi, I checked pressure accuracy with a Schwalbe digital gauge.
This was first published in the June / July 2015 edition of CTC's Cycle magazine.