Review: Alba DM-X chainset with Praxis BB M30
Available in a choice of five crank lengths from 160mm to 175mm and with the option of bottom bracket assemblies to fit a wide range of frame formats –including regular BSA and T47 threaded, BB30/PF30 and even BB Right – the Praxis Alba chainset can be configured as a 50-34t compact, 48-32t subcompact or 52-36t mid-compact.
The two chainrings are fixed to a detachable spider using 160mm and 104mm BCDs. The spider itself is attached to the righthand crank by two small set screws, with drive torque handled by a lobed interface. Permanently press-fitted to the right-hand crank, the aluminium axle requires a Praxis M30 bottom bracket. This locates the axle in a similar way to the Truvativ EXP design, with the 30mm diameter axle a sliding fit in the right-hand bearing. It's reduced to 28mm in diameter at the non-drive side end, with the left-hand bearing gripped between the axle shoulder and left-hand crank; the latter is tightened to provide secure axial location.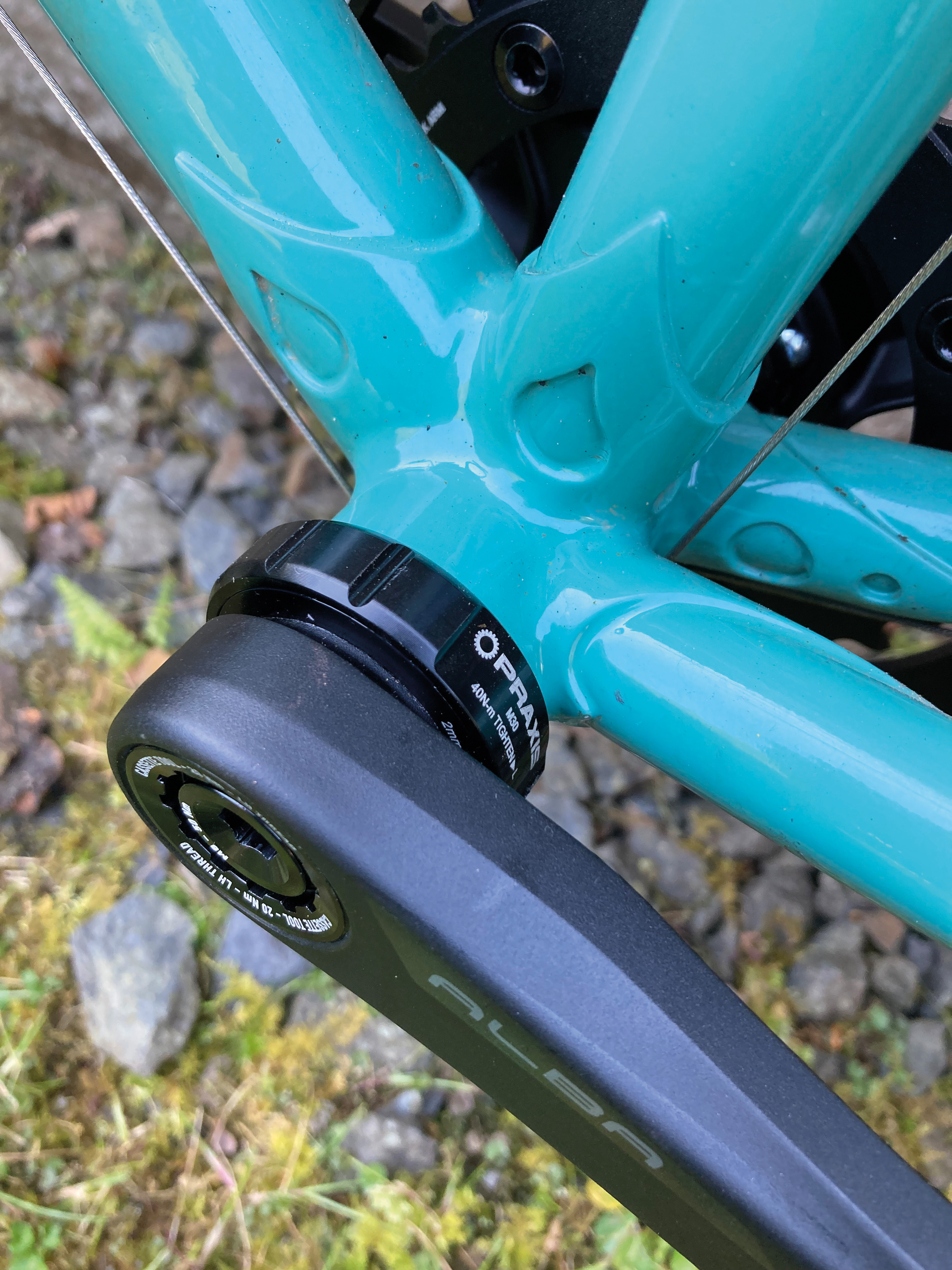 It's important to pay attention when installing the cranks, since the bottom bracket, which requires its own specific spanner, is supplied with a wave washer and five different dust covers.
The forged aluminium cranks have a boxy outer face and cutaway inner that keeps the weight of the chainset to around 800g. The bottom bracket adds around 100g to take the total for the test sample – 175mm cranks, BSA bottom bracket and 48-32 chainrings – to just shy of 900g.
Whether under power or in the workstand, the chainset spins freely, with little drag from the bearing seals and nil chainring runout. The cranks are nice and stiff. With a 148mm tread (or Q factor) they are slightly narrower than the industry 'standard' of 150mm. This, plus the useful 6% gearing reduction the 48-32 chainrings offer over a regular compact, makes the Praxis Alba an attractive choice for road, audax and sportive riders as well as tourists and gravel riders.
Verdict
This is a good-looking, sturdy and nicely-made alternative to the major manufacturers' offerings, with a useful range of chainring sizes, crank lengths and bottom bracket formats.
Other options
Middleburn RO2 £157.92 at the time of writing
Expensive, versatile, UK-made chainset with a 46-30 option. We'll be reviewing this later in the year. 
Gravel-specific chainset with 46-30 rings and four crank lengths. Also available as in 1×11 and 2×11 formats.