Group test: Men's winter softshell jackets
Winter softshells blur the line between jacket and jersey. Like a jacket, they'll keep out the worst of the weather. They're windproof, or at least wind resistant, and either showerproof or rainproof, thanks to water-repellent fabric and/or a microporous membrane.
They have a full front zip, a high neck, and reflective detailing. But like a jersey, they're stretchy and tight fitting rather than loose and crinkly; they also have elasticated pockets in the back.
Unlike hardshell waterproof jackets, which function fine off the bike and can be worn over normal clothing, softshells are cycling specific. You wear one over a base layer, with bike kit. As such, it doesn't matter that they're designed to keep you comfortable rather than completely dry.
Softshells are best for cycling that involves pushing on rather than pottering, and where a hardshell waterproof would be too flappy or too hot. That's primarily road cycling, including club riding, audax events and training, but they're also good for mountain biking.
This is essentially a colder-weather version of the Lusso Aqua Repel. Like that, it's made in Britain from Windtex Storm Shield Fabric, a laminate with a waterproof (to 10,000mm) membrane in the middle. It's the only softshell here that will stand up to proper rain – although, given the stitched seams, it's not impermeable.
It's heavier than the non-Extreme version, having a thermal lining, so it's warmer. Lusso say it's good to minus 2ºC. It's so cosy that I wouldn't expect to get much non-winter use from it.
The size S fitted me (37in chest) perfectly. The orange colour is loud and the long dropped-tail rear highly reflective.
Sizes: men's S-XXL. Weight: 407g (S).
More jersey than jacket, as the name says, it's a thinner and lighter top. Cycling at a decent tempo, I found it warm enough with a base layer for higher single digit temperatures. But I always took, and often wore, a gilet as well.
The thermal fabric is treated for water repellency but it's better at wicking sweat out than stopping rain coming in. There's subtle (in daylight) reflectivity across the chest and upper arms, and more at the rear hem. It's very stretchy and the fit is good, close and accurate, other than the overlong arms.
Sizes: men's S-XXL. Weight 309g (S).
Madison's Roadrace Apex is a good choice for rides that are cold but not especially wet. There are water-resistant panels on the front, sides and shoulders, but they're not enough if it starts tipping down. There's no microporous membrane; it's a mix of polyester and elastane. Warmth and windproofing are good.
Those water-resistant panels are equally good at keeping out windchill, while the jersey-style rear panel allows excess heat to escape better there.
Sizing is tighter than average; I only just fitted the Small. There are reflective accents on the arms and dropped rear tail.
Sizes: men's XS-XXL. Weight: 340g (S).
The Gore C5 Gore Windstopper: so good they named it twice? It is an excellent windproof. As well as having plenty of polyester bulk, there's a Gore Windstopper membrane sandwiched between fleecy inner and brushed outer. Gore rate it for 5-15ºC. I reckon that's 5º too high. It's warm. Only the Lusso, which is more rainproof, did as good a job in the winter chill.
The sizing info on the website – 'Size M, 35-37in' – is off; the M was visibly baggy on me. Gore are the only manufacturer here (!) to offer a women's version.
Sizes: men's S-XXL, women's XS-XL. Weight: 467g (M).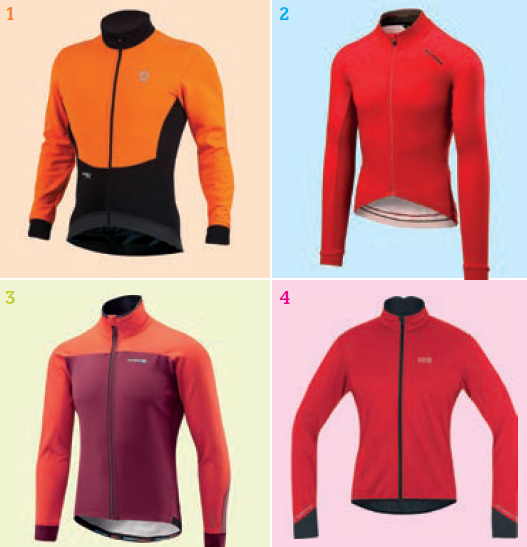 Overall verdict
Lighter and less warm but fairly reflective, the Altura would be a good choice for a winter chaingang or milder rides in spring and autumn.
The Gore is as windproof as the Lusso and seems more breathable. For cyclists who 'run hot', it might be the better buy, assuming you get the sizing right. There's a women's version too.
I preferred the Madison to the Gore. It's £35 cheaper and feels more 'fitted', so it's snug against the body. That makes the most of its warmth and improves aerodynamics.
The Lusso copes best with the worst weather. As someone who feels the cold and damp acutely and seldom overheats, it became my new favourite winter top for road riding and mountain biking. Recommended.
Not so fast
If you want a weatherproof jacket for commuting or touring, Cycling UK's is good: shop.cyclinguk.org
First published in Cycle magazine, February/March 2019 issue. All information correct at time of publishing.