Great Rides: Dunwich Dynamo
There are few cycling events I find worth doing twice, never mind three times. Once you've ticked the box, that's it surely? But the Dunwich Dynamo has drawn me back again and again.
The Dun Run is a 182km ride through the night from East London to the Suffolk coast. Last year was the pearl anniversary of the event, which started with just a handful of riders making the night-time voyage in 1992. Now riders are believed to number in their thousands but no one really counts, which says everything you need to know.
So it was that I found myself with my friend Grace, a group of riding buddies, and a few hundred other cyclists, rolling out of London Fields at 7pm for a very long night indeed.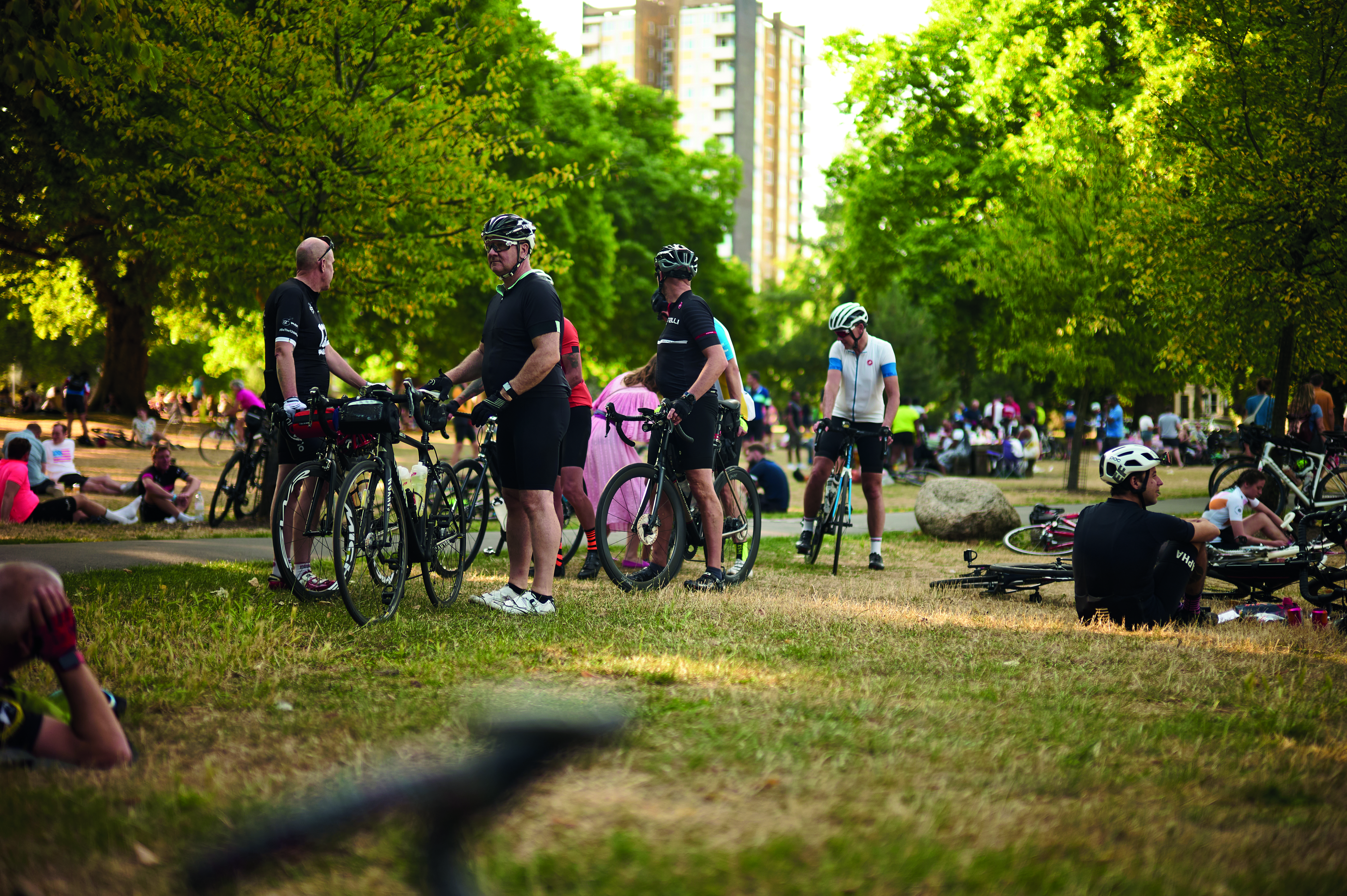 Dynamo drag
Pulling onto the main road out of Epping, it was immediately clear that I had made a mistake: the people we were with were riding much too fast. Within 30 minutes my legs were already beginning to tingle, and on a long drag I was having to push to maintain pace with the group.
As luck would have it, the group pulled alongside another bunch and I spotted a photographer friend, Simon, spinning within. Taking the opportunity for a six-month friendship reunion, and a convenient break as they were chipping along at a more modest pace, I stopped for a chat. After little more than "hellos" and "how are yous", I could already see the Team Time Trial World Championships disappearing into the distance, and I shot off to catch up. Not again, I thought…
This was my third Dunwich Dynamo. I first rode it in 2013 when an audaxing co-worker convinced me it was a great idea. It was billed as a social ride with pub stops but one bloke turned up with a power meter (a big deal back then) and all my doors were blown off in short order. My overriding memory of the event is the temptation I felt to bail out when I saw the soothing glow of a Premier Inn sign at the side of a dual carriageway. The second time was, on reflection, worse.
At the time I was as fit as a broken fiddle. I'd barely been riding and, with a long tour on the horizon, thought it might be a crafty way to shape up a bit. It was not. Through a cruel twist of fate, my friend's frame had broken, a replacement shipped and, with nowhere else to turn, he'd asked me to swap over all the parts at 1am on the day of the Dun Run. I agreed. Later, after zero hours sleep, I got my own bike and set off from London Fields. I was soon in a state of abject ruination. I crawled into Dunwich a broken man.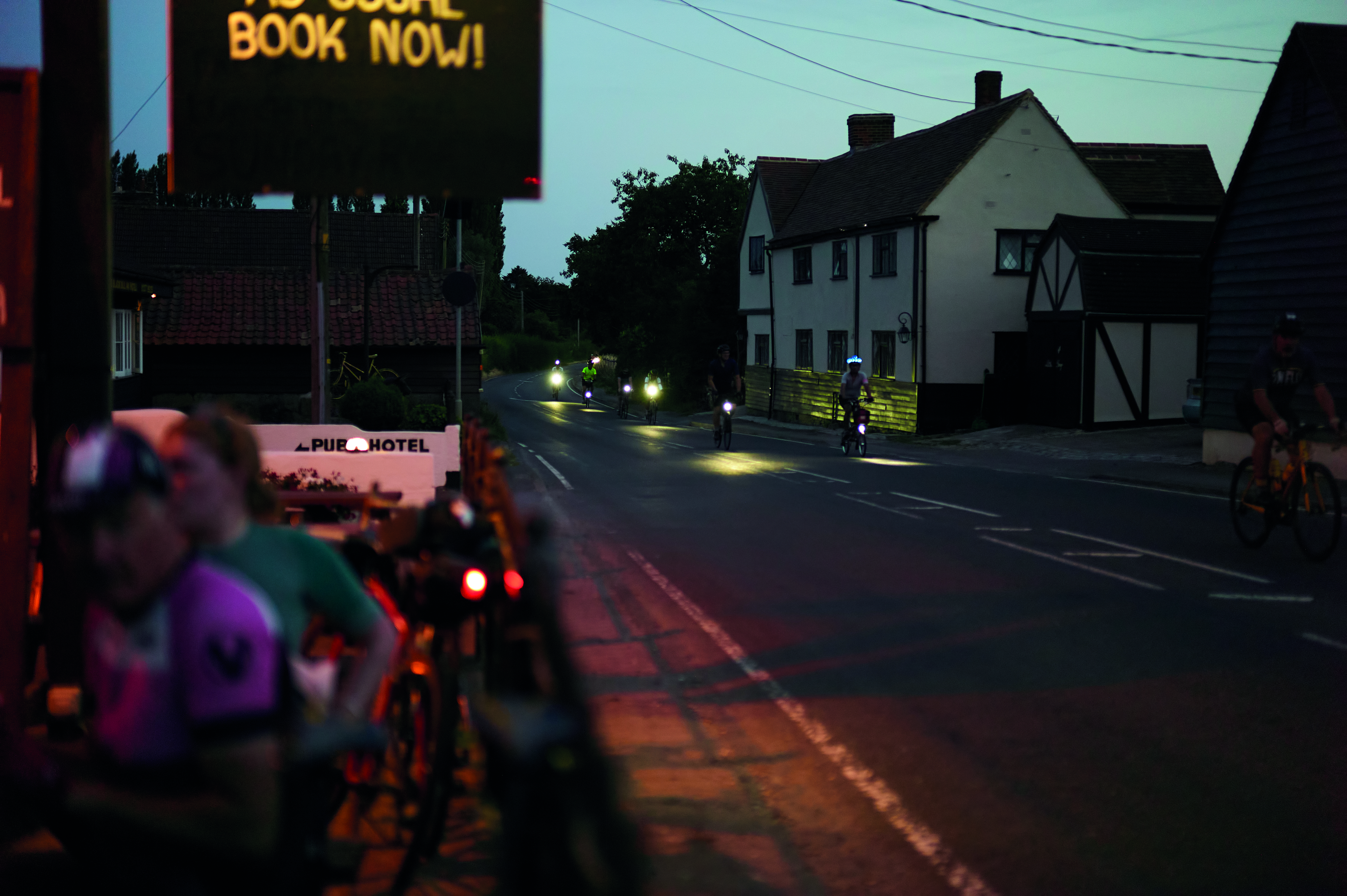 Lightly fried
Last year, just 60-odd kilometres into the route, I could feel a repeat performance in the post. After we blasted past two pubs without even pausing for breath, let alone a swift half, I decided enough was enough. Together with Grace, I channelled my inner Mick Lynch and went on strike. They disappeared off, we slowed down. Relief.
We cruised out through Essex, stopping at the delightful village of Finchingfield for a brief refuel. As the evening gave way to the night, we decided it was an appropriate time to produce the single most important item for a joyous Dynamo: a Bluetooth speaker. I know, I know – some people might think this annoying, but singing badly along to Gimme Gimme Gimme, Love Shack and It's Raining Men gave us vital motivation. For hours we rode, sang, danced and laughed our way through Essex. When the sign for Suffolk appeared we thought it high time I produced the pizza I'd prepared earlier.
We spied the end of an open driveway littered with cyclists, some of whom clearly needed to be locked away as they were riding 182km on Bromptons, and took a few minutes to enjoy our Blue Peter moment. Grace spoke for the first time in nearly an hour: "I'm so damp."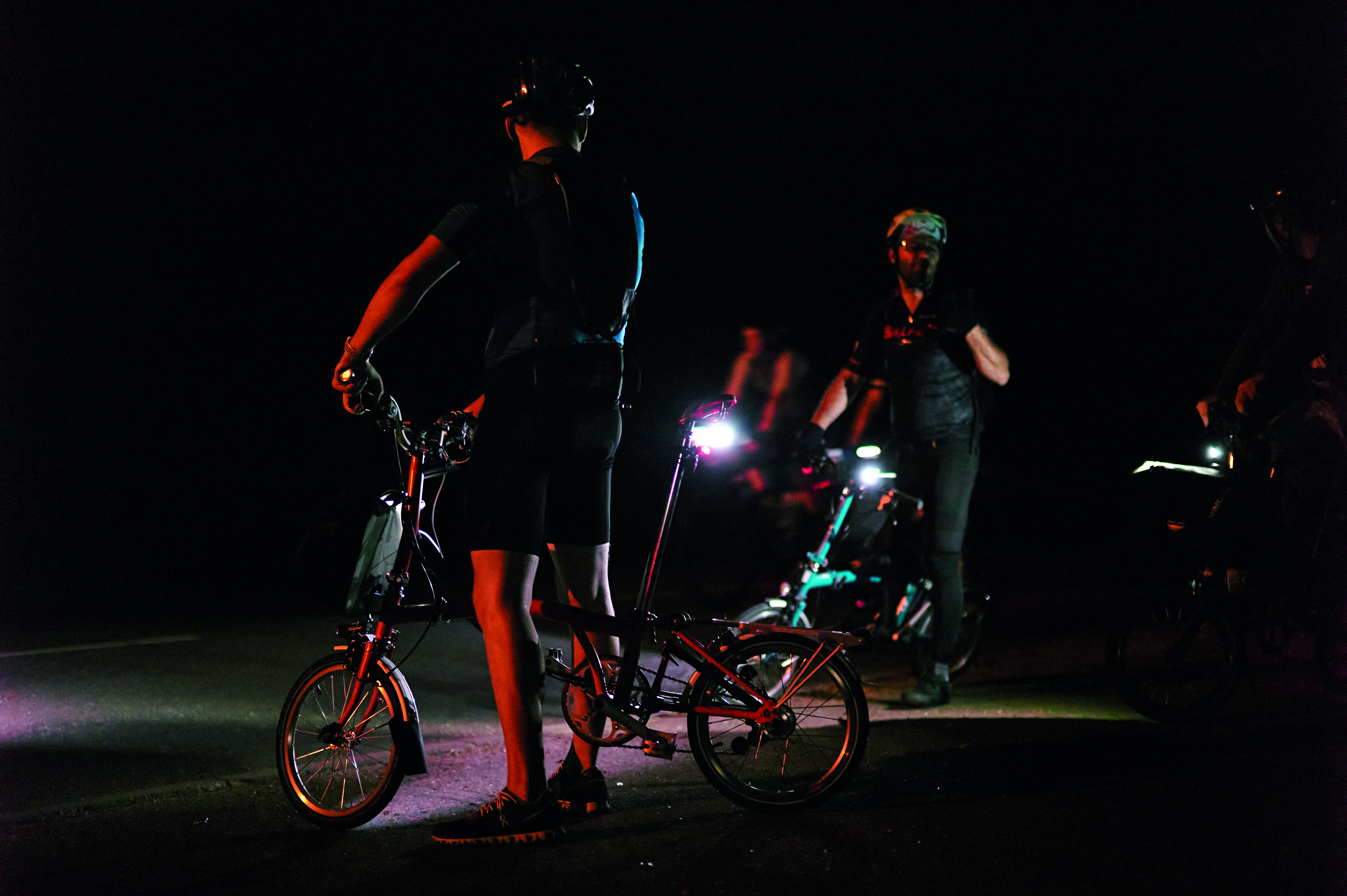 It was the weekend before the crushing 40-degree heatwave, and even in the depth of night we were sweating through our short-sleeved summer kit. Our small-wheeled friends left and we realised we should probably do the same, so we saddled up and rode on. The hours after are a bit of a blur. What I think I remember, I don't wish to repeat. Partly because some of it may not have happened – we were at times undoubtedly delirious – but also because we had agreed a form of omerta in advance: what happens on the Dynamo, stays on the Dynamo.
Arriving at Needham Lake around 2:30am it became apparent my riding partner wasn't in great shape: "I need to just lie down for 15 minutes and not speak."
Sensing a sense of humour failure, I abandoned her in a patch of grass that was sheltered from the nearby activity by a small tree and a couple of bins. A few steps away it was a hive of activity. Throngs of hungry cyclists queued in front of a burger van, drawn by the sound of spitting oil and the smell of burger smoke. Round the corner, an espresso wagon poured shot after shot to the sound of pumping dance music. Faces were illuminated by the glow of the neon lights.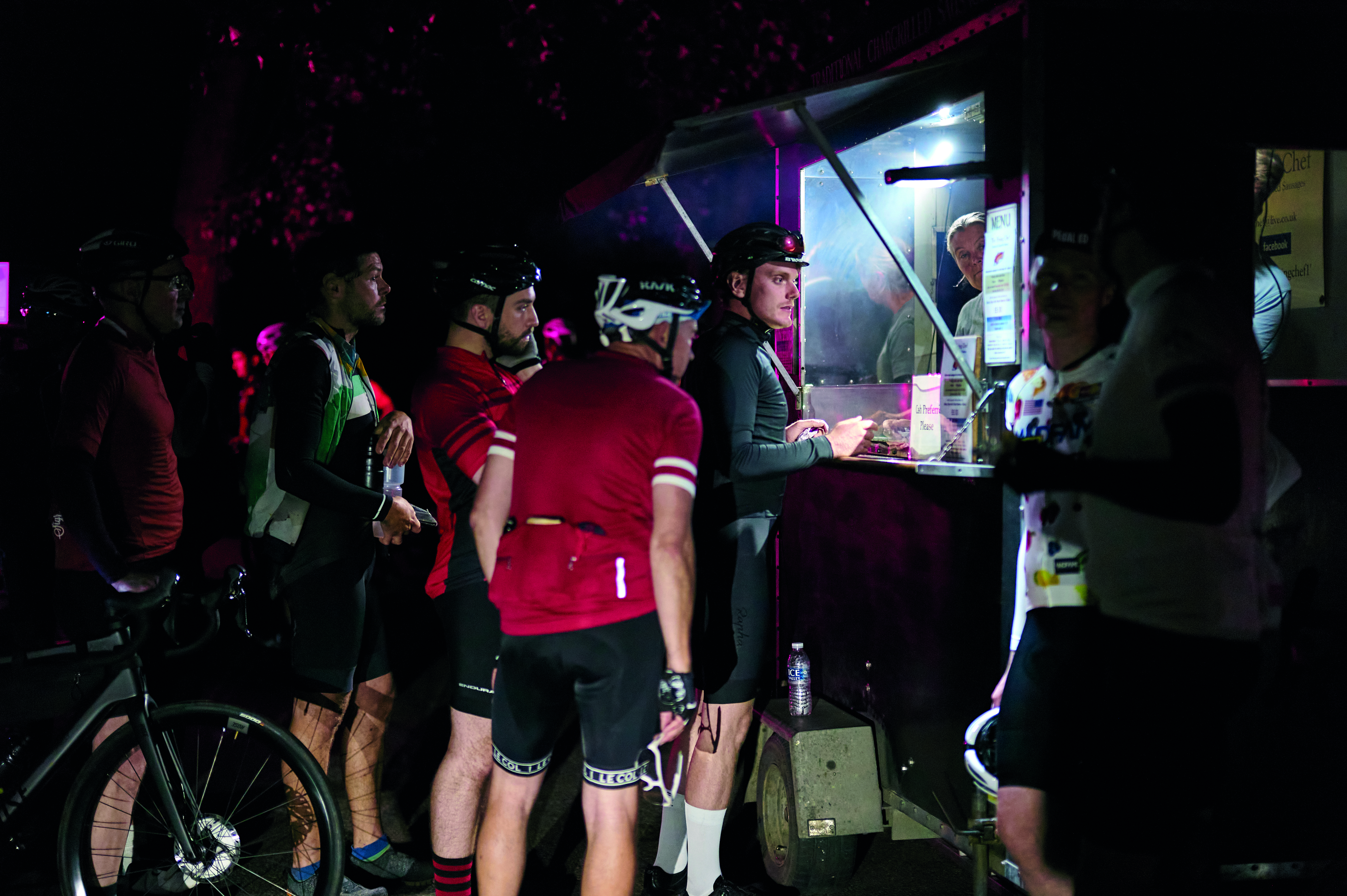 Daybroken
I retrieved Grace from her poor-quality slumber, avoiding her tired gaze lest she turn me to stone, and we slid off into the dark once more. No more than ten minutes passed before click, click, click, click. What's that noise? A tack in my front tyre…
We performed a Formula 1 pit-stop to the sound of Dolly Parton, then trundled on once more. Before long, the early signs of the sunrise began to peak over the horizon. Spurred on by this, and a text from the initial group that they had long since arrived at the beach, eaten, and swum, we clacked through the gears and made a bit more progress. As the sun really began to stretch its legs, we happened across a lone, dishevelled cyclist on a blue Condor. "Toby?" "Jordan!"
This was no ordinary dishevelled cyclist but a friend I hadn't seen for years. And this is the real delight of the Dun Run. It's enjoyed by so many cyclists of all shapes, sizes, ages and backgrounds. There's no one type of person who rides it; it's such a welcoming event that everyone rides it. And because it's so well known, the likelihood of seeing someone you know is far greater than not. We chatted away the miles as the countryside whizzed by until we were stopped in our tracks by the most astonishing scene: the full fire of the sun had crept over the horizon, cutting through the treeline, burning off the morning mist. It was a Constable made real. We stood and stared for what felt like hours until, reluctantly, we realised we needed to ride on.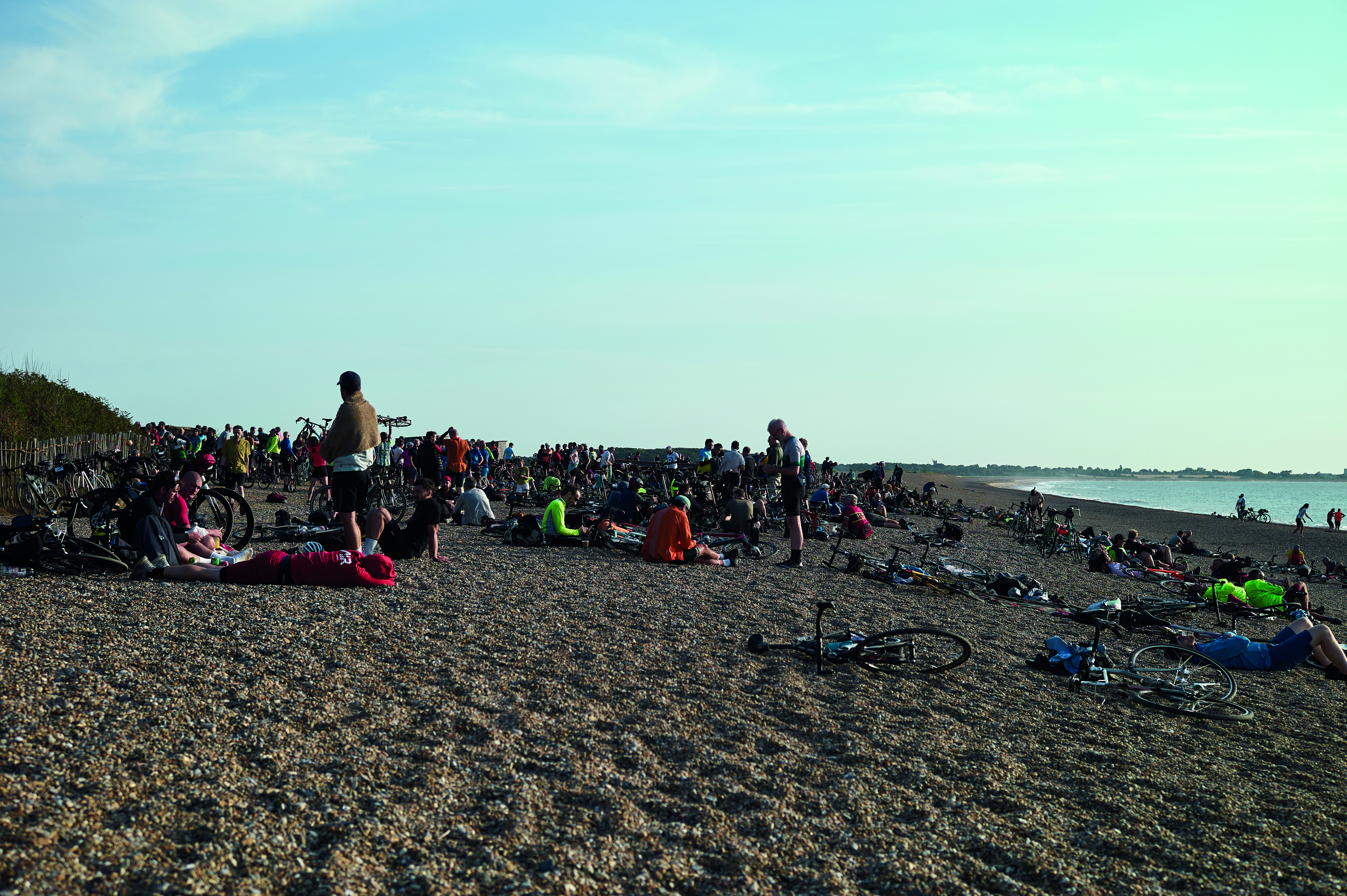 We reached the point where my rose-tinted spectacles were doing us no good. After every hill, I was convinced that it was the last hill of the ride. From here on "it's laser flat all the way" I would exclaim, my memory playing cruel tricks. Then another crest would appear. Grace's mood began to pitch from zenith to nadir and back with each fall and rise of the road. Eventually it did flatten and, before long, the route plunged towards the sea. The café appeared in front of us like a mirage, and we ditched our bikes like we hated them to queue for plates piled high with fried carbs.
With our entries into the 2022 Dunwich Speed Breakfast Eating Competition filed, we staggered to the beach for a refreshing dunk in the sea. I made my way to the lapping waves like a drunken John Wayne, Grace like an unwell crab. The cooling water did nothing for our minds or bodies, so we quickly retreated to the dunes for a snooze. I turned to ask Grace how she'd found her first Dun Run – and stopped. Her posture, crumpled, with her head in her hands, two feet from a bag of dog poo, said it all.
Do it yourself
The Dunwich Dynamo is free to ride but most people buy a route guide at the start for £2 to support the event. It's simply a case of turning up with some friends and going for a ride. The only thing worth booking is the return journey: Southwark Cyclists offer a return coach, with cycle transport, for £46.99.