Bike test: Trekking bikes
Even in these inflationary times there's a way to buy a brand new, fully equipped tourer for under a grand: choose one with a flat handlebar. Euro-style trekking bikes come with all the components you need for touring or commuting, including a rear rack, mudguards and lights, yet cost hundreds of pounds less than a drop-bar equivalent.
Both the Cube Travel and Trek Dual Sport 2 Equipped Gen 5 look to be great-value bikes. They're suitable for long-distance touring straight from the shop. Additionally, their tough wheels and wide tyres make them ideal for commuting on our perpetually potholed roads and for leisure rides over a variety of surfaces, whether that's the light gravel of some Sustrans routes or unsurfaced towpaths. Both bikes are fairly hefty, at around 15kg, so you won't be speeding to your destination, but they're commensurately strong: the Trek has a 136kg limit for the bike, rider and luggage combined, while the Cube's limit is 145kg.
A lower price isn't the only advantage of a flat bar over drops. Gears often go lower and brakes are typically better. Hydraulic discs only feature in manufacturers' higher-end road groupsets, yet even Shimano's lower-level off-road groupsets – as fitted to the two test bikes – include such brakes. Both bikes are available with step-through frames, too. Few drop-bar tourers come in this format.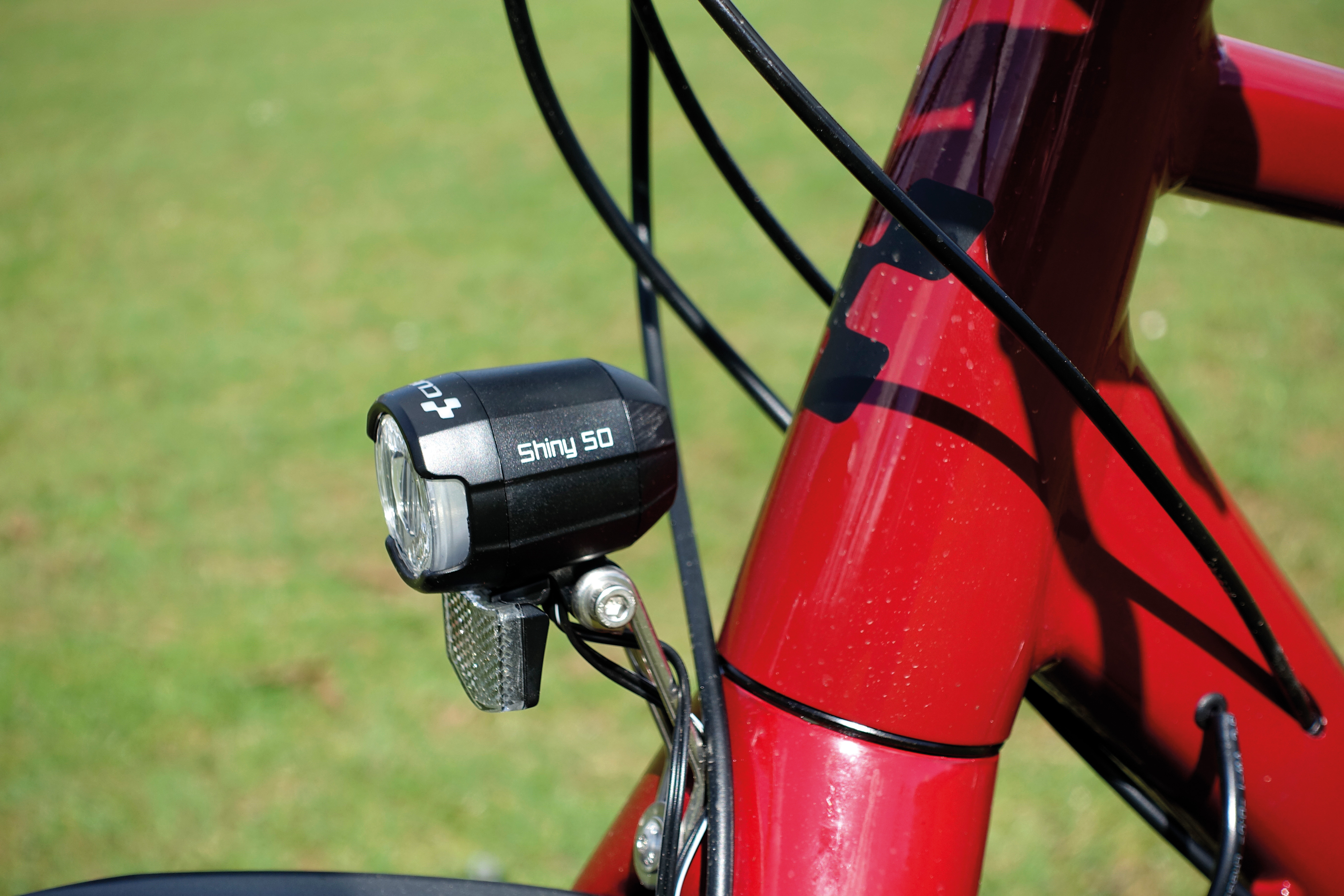 Frame and fork
It's an all-aluminium affair when it comes to both bikes' frames and forks, and both also come with a pleasingly comprehensive range of fixtures and fittings. If you were being hyper-critical, you might want top tube 'bento box' fittings or bottle bosses under the down tube, but those are the only absences. Both forks do have bosses for low-rider racks, however. The Cube Travel has front and rear quick-release axles, with Trek using its own ThruSkew fork axle, a halfway house between a quick release and thru-axle. Even without thru-axles, there was no issue with the quality of braking on either bike.
Both bikes also have similar frame angles, with relaxed head tubes and steeper seat tubes. The angular-looking Cube's geometry is noticeably more stretched out, with a much longer wheelbase, top tube and front centres measurement, which makes for great stability. Tyre clearances are very generous on both bikes. Even with full-length mudguards and big tyres, there's no toe overlap.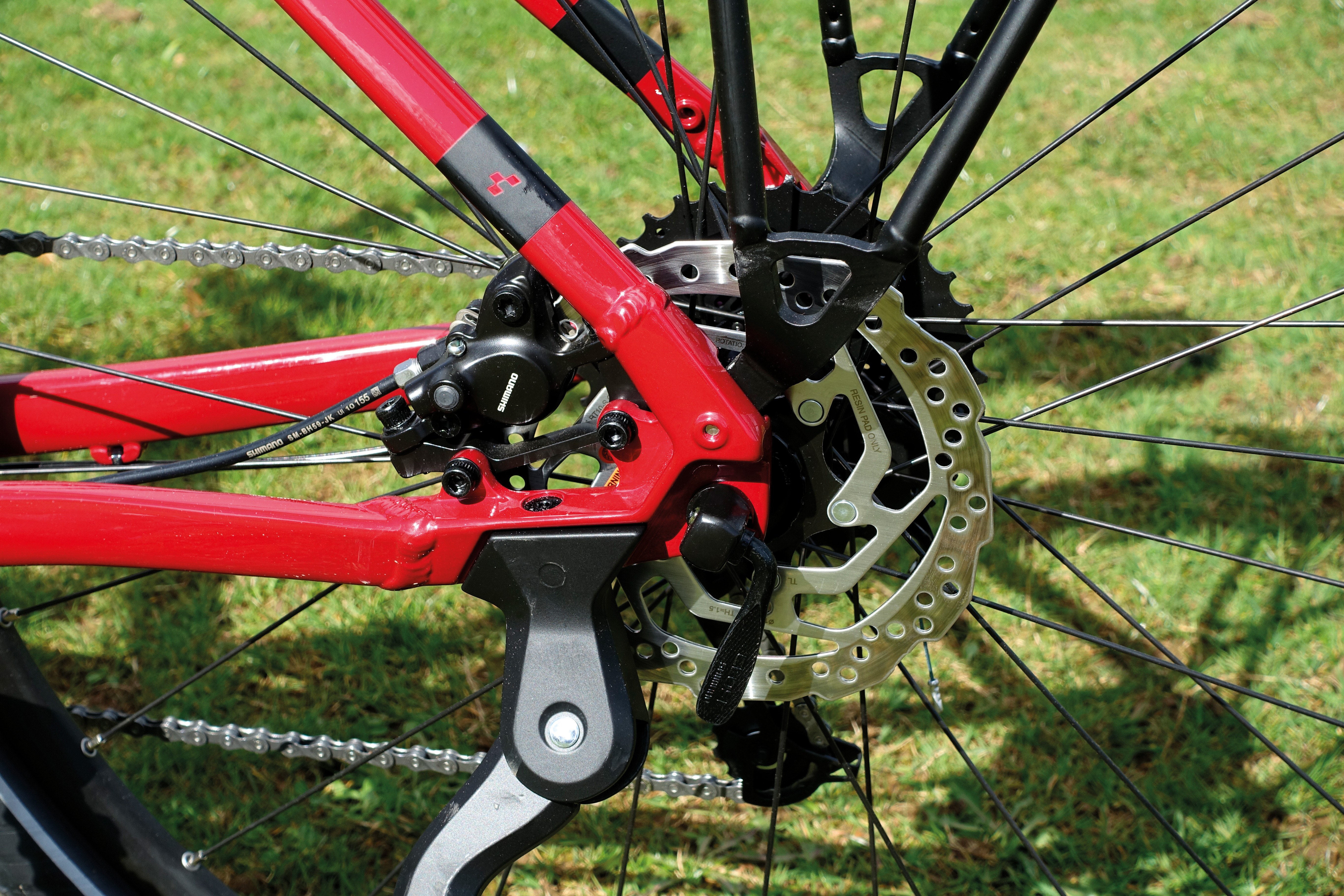 The cabling is routed internally on both bikes, with the exception of the Cube's rear brake hose, which runs under the down tube. Trek's decision to route cables and hoses directly into a dedicated headset top cap isn't going to make the home mechanic's life any easier. I feel that routing like this is best left to road bikes. Do you need an aero advantage and trickier-totinker- with components on a tourer? Not really…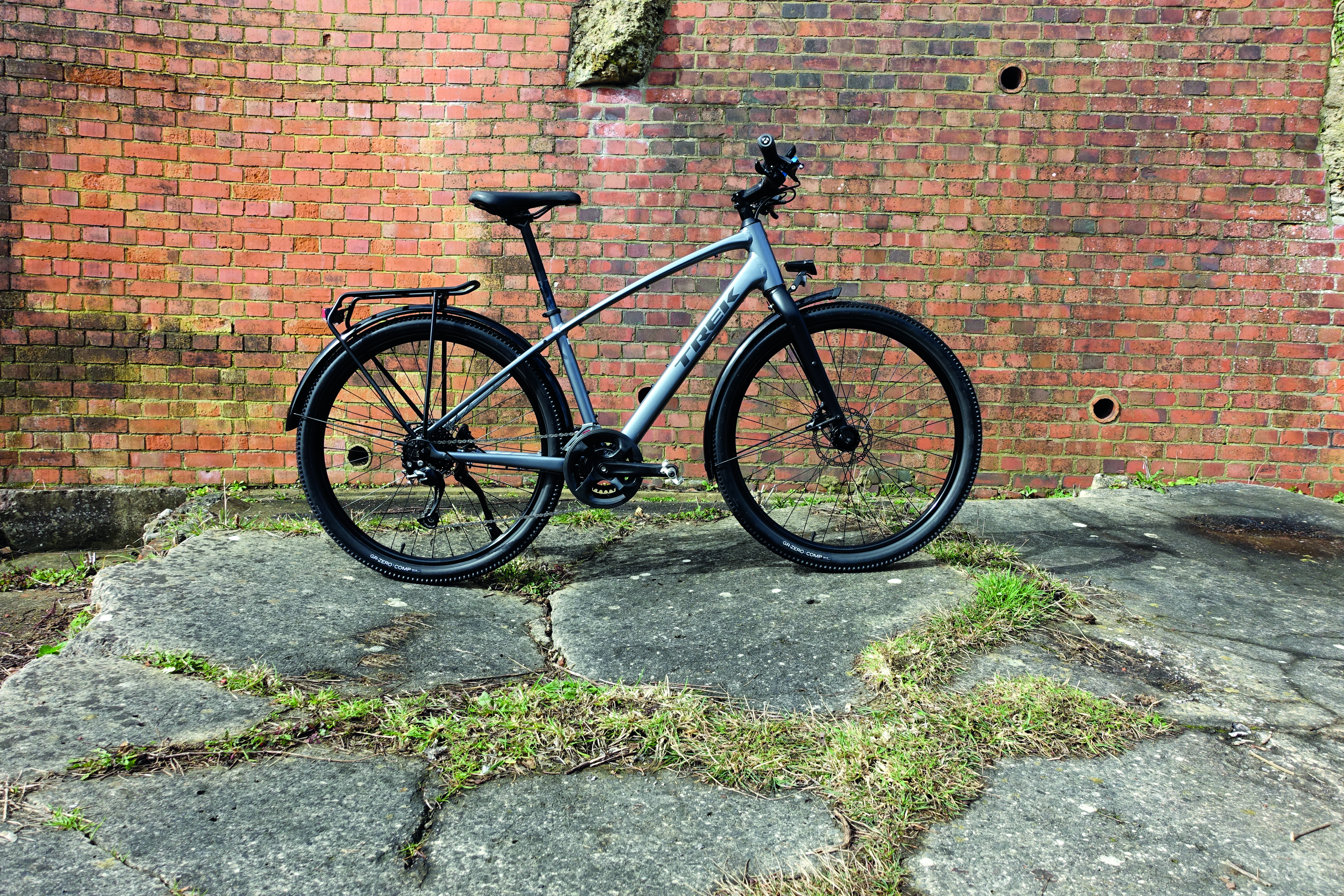 Components
Compared with drop-bar tourers at this sort of price, you get a lot of a bike for your money, with brand-name components throughout, hydraulic brakes, lights, racks and mudguards. The two companies have taken slightly different approaches but there are few kit compromises on either.
Crucially, both bikes have touring-friendly bottom gears. The Trek has an unbranded, super-compact 46-30 double chainset, while the Cube has a 48-36-26 trekking triple that you don't often see these days. Derailleurs and shifters are from quite well down the Shimano mountain bike groupset hierarchy. The Trek mixes Altus and Acera, while the Cube is all Alivio apart from an Altus front mech. But both bikes' shifting was spot on, albeit solid and accurate rather than smooth and light. The Cube's 3× system ensures there are much smaller gaps between gears, allowing you to ride more easily at a consistent cadence, which is what I want when touring. I'm not sure I ever used its 48/11 top gear, however.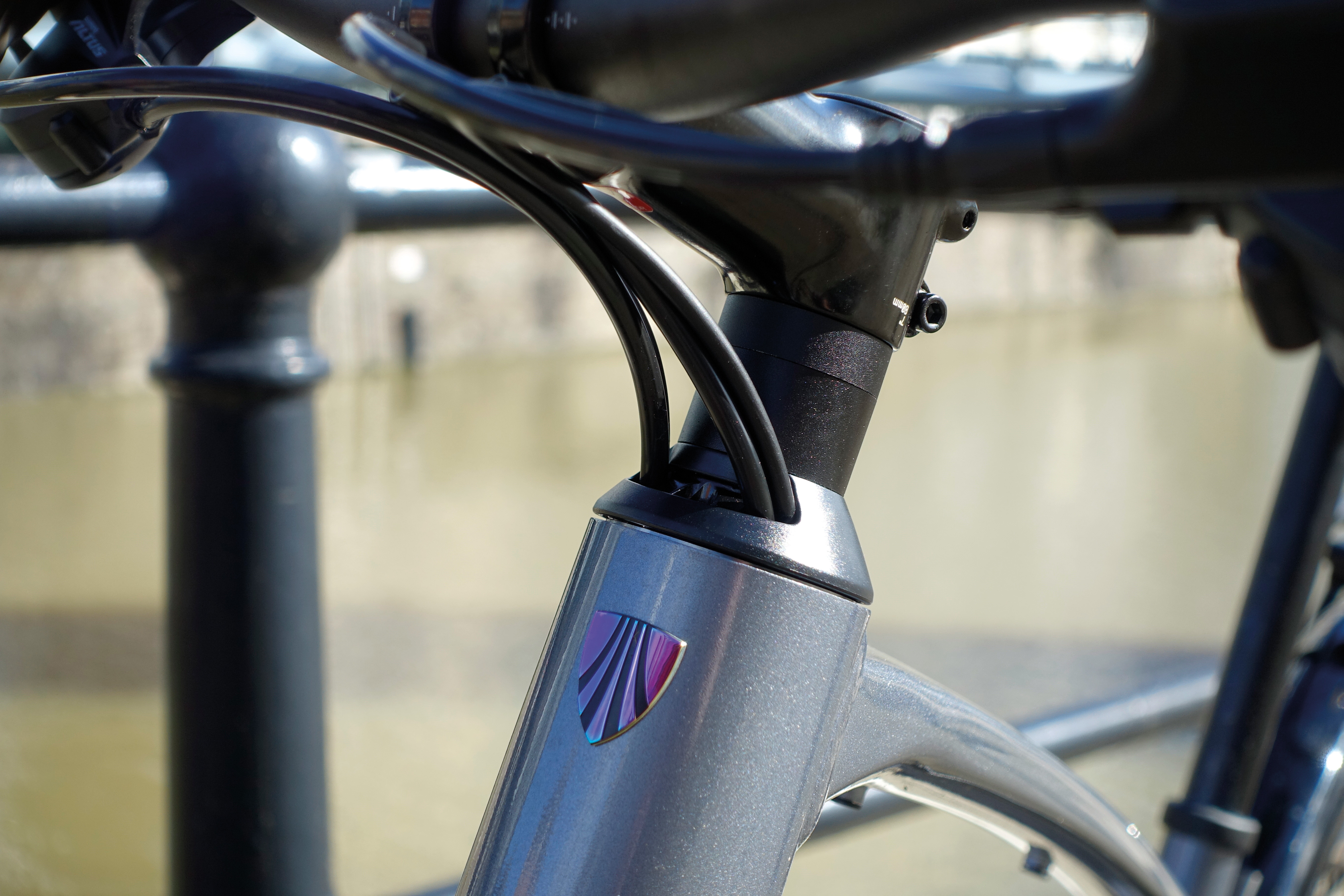 Cube has specified Shimano disc brakes and Trek Tektro, but frankly given their looks and performance they could have come from the same factory. Braking from both setups is light, controlled and very powerful, requiring just a finger or two no matter how much weight you're carrying. The braking performance is fabulous and both systems use noncorrosive mineral oil. Fettling a hydraulic system in the back of beyond might be more complicated than cables but there's no questioning the stopping power.
The racks were initially a little puzzling. Both are attached directly to the frame only at the bottom of the seatstays. The other attachment is via the mudguard, which has metal reinforcing struts to connect the rack to the brake bridge. Whether that will work as well long term as separate upper rack struts remains to be seen, but both were stiff and secure during the test, even when loaded.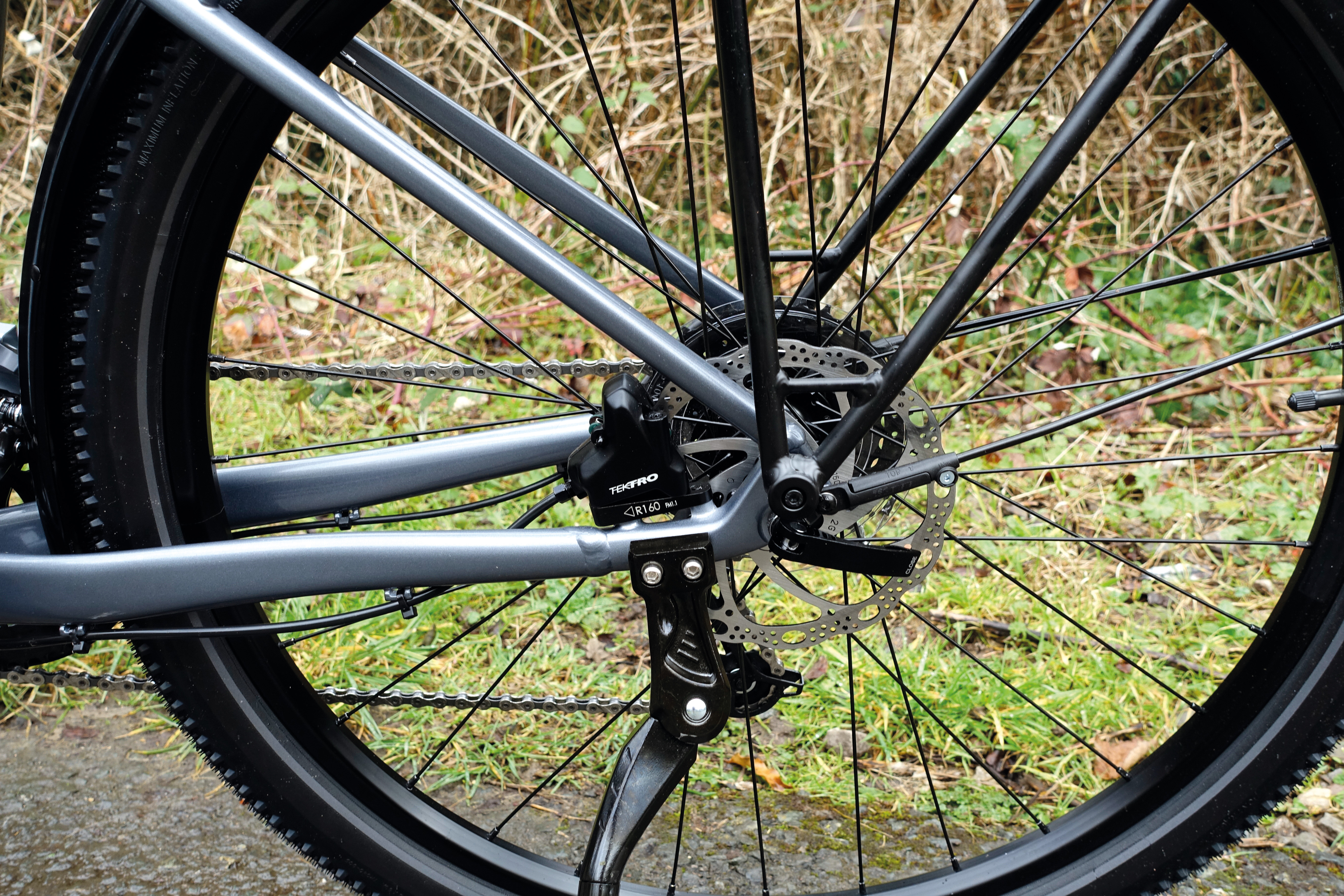 The Trek has a rechargeable front LED light and a double-AA battery-powered rear. The Cube has lights powered by a Shimano front hub dynamo, the rear staying illuminated when you're stationary. Both systems are adequate to be seen by, with nice white front beams, but are better under streetlights than for lighting your way on unlit routes.
Both bikes have handy kickstands (very European) and fittings for a nurse's lock (likewise!) to round out fine all-round packages.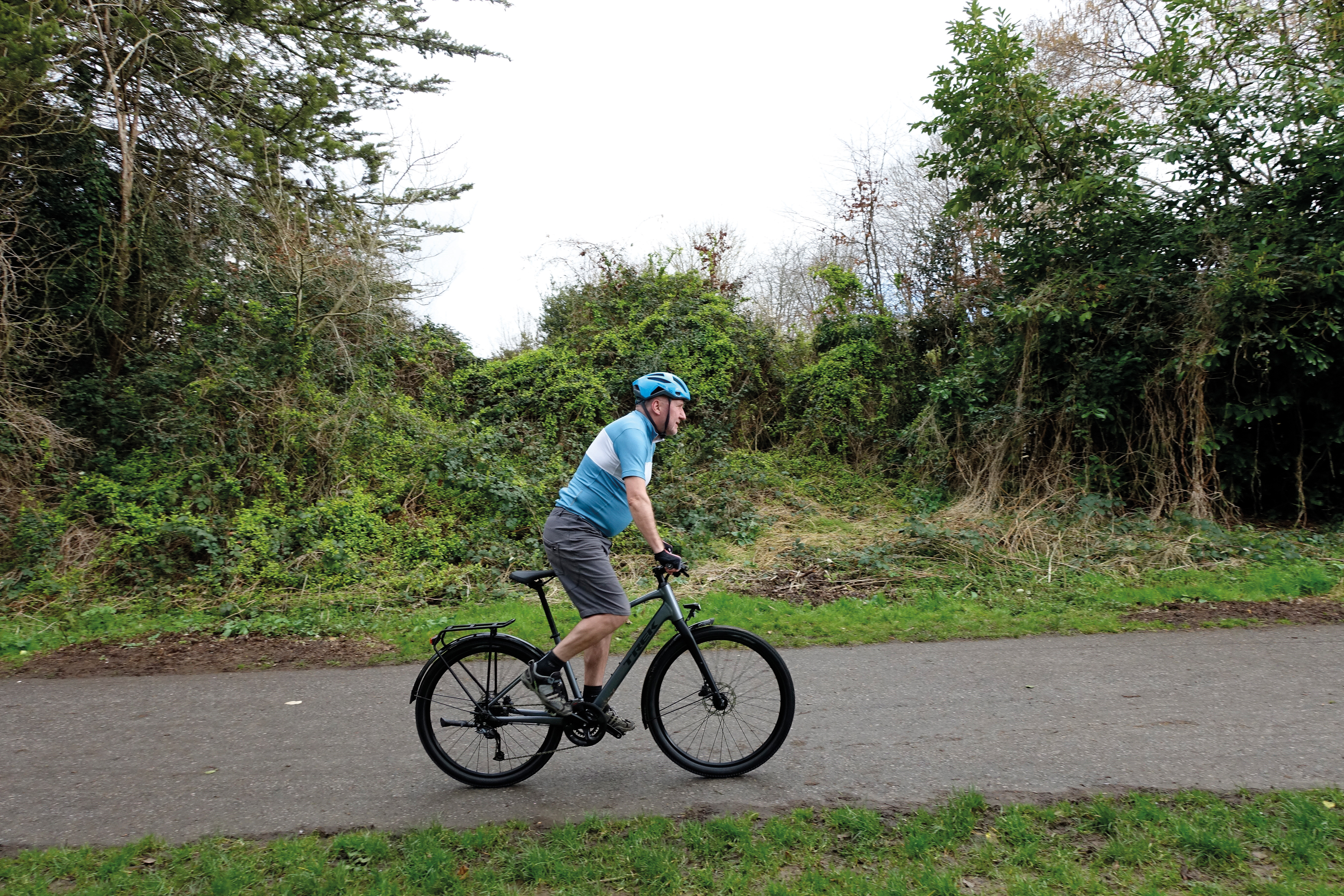 Ride
With a lot of rubber between you and the road or trail, you'd expect comfort – and that's what you get. In addition to plushness, the tyres also provide decent grip when you leave the tarmac. The Cube's super-wide tyres coped with a muddy canal towpath with aplomb.
The main disadvantage of a flat-bar setup compared with a drop handlebar is the reduced number of handhold options. For extended touring I'd always fit grips with forward-facing bar ends, such as one of Ergon's GP range, or perhaps a pair of 'inner bar ends' such as SQ's. As it is, I preferred the Cube's flattened grips to the Trek's simple round ones. The flip side is that the more supportive Trek saddle was very much more to my liking, with the Cube's saddle overly soft. Saddles are, of course, subjective and can be easily switched.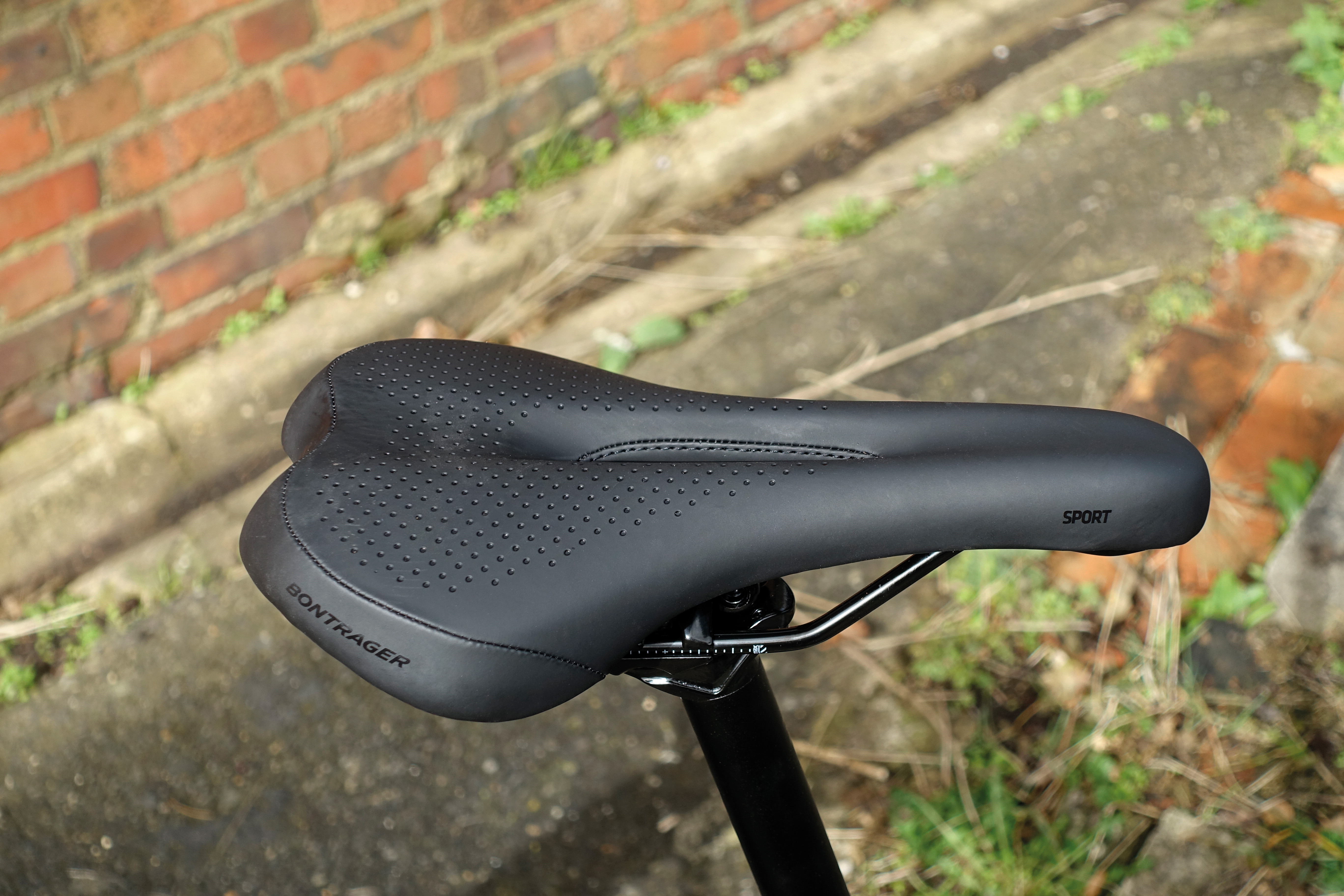 A bike weighing around 15kg even before it's laden with kit and a not-quite-as-slim-as-before rider is never going to fly up hills. Fortunately, both bikes have low enough bottom gears that I was able to stay seated and spin comfortably even on my local double-digit inclines. On flatter terrain they suit a more leisurely pace but carry loads without complaint. Thanks to their long wheelbases, both are very stable even on fast descents, where their stiff frames and hydraulic brakes mean you can hit high speeds secure in the knowledge you can stop quickly and safely.
The Cube, with its 700C wheels and 55mm tyres, offers a regal ride: upright, comfortable and with great visibility. The Trek, with only marginally smaller wheels and slightly narrower tyres, is similar. Both bikes' tyres feature smooth central treads for lower rolling resistance on tarmac, with grippier shoulders for off-road duties. In typical European style, they both have reflective strips, which I always like to see. The Cube's Schwalbes are more expensive than the Trek's Bontragers and they're also tubeless ready, as are the Cube's rims, which may be a selling point for some. The Trek's tubes have Schrader valves and rims drilled for their larger diameter stems, though you could always convert the rims to Presta valves with grommets if you wanted to.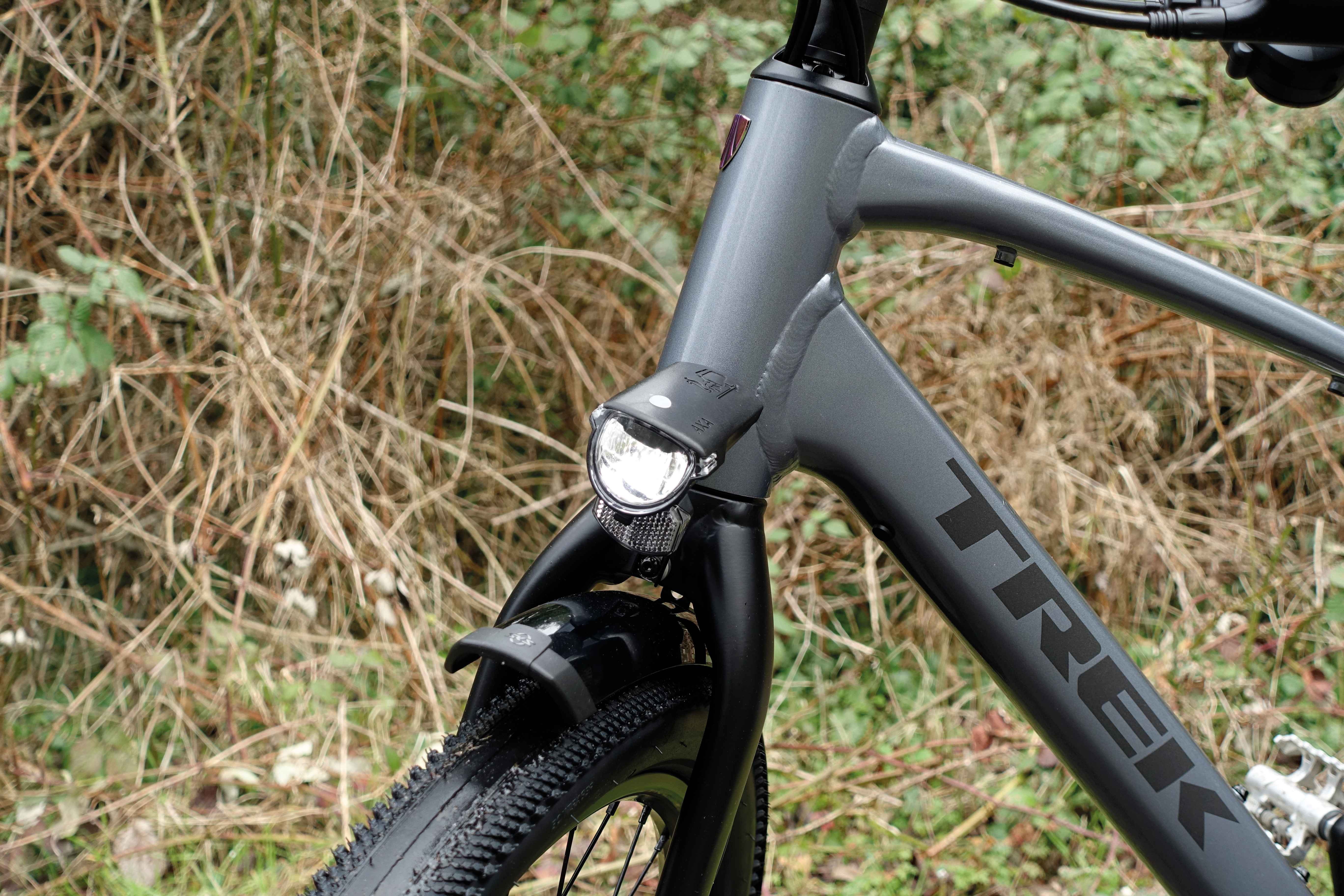 Verdict
The Cube Travel and Trek Dual Sport 2 are two very well-equipped and evenly matched bikes. Both have first-class braking, good wide-range gearing and ample long-distance comfort. I preferred the smaller steps between gears provided by the Cube's old-school triple but other differences – the Trek's firmer saddle, the Cube's comfier grips – are minor. Both bikes would be fine for touring, commuting and leisure riding over the very worst British roads as well as on unsurfaced routes. They're good value already at less than £1,000, but could be obtained
Other options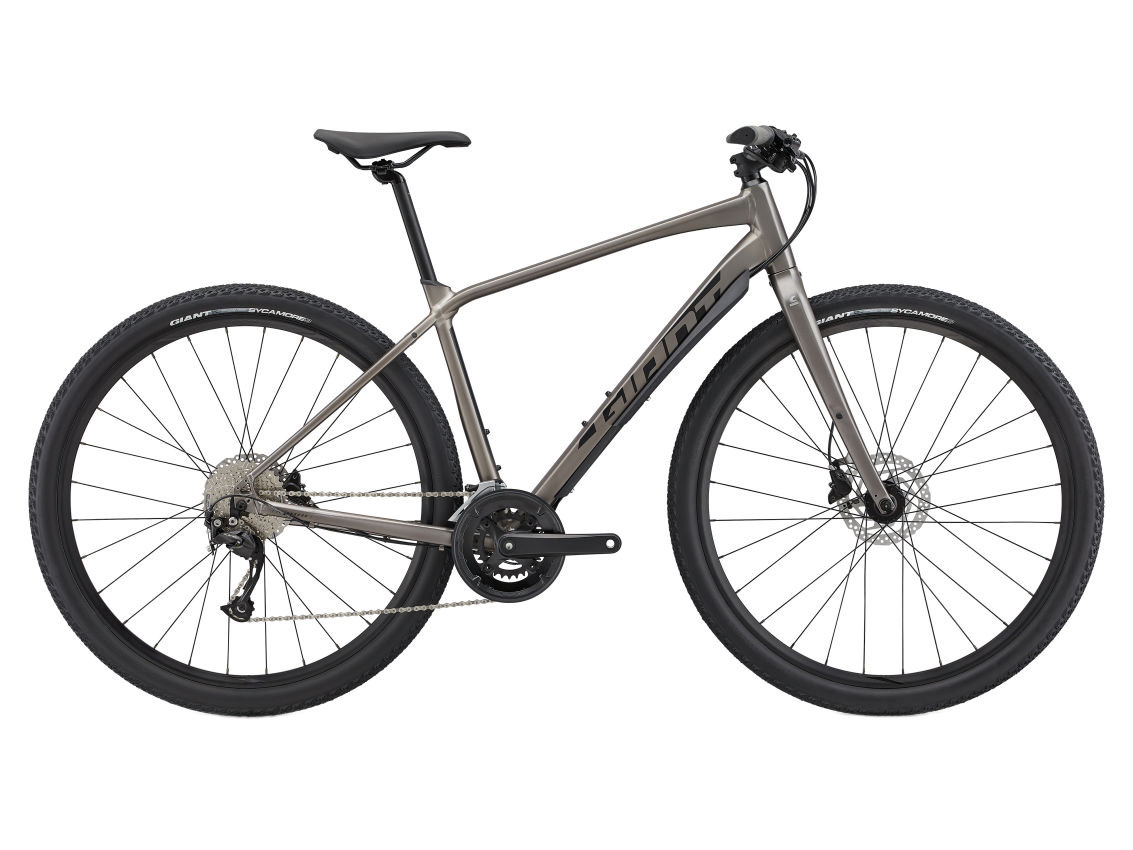 A little dearer but you get an aluminium frame, wide-range gears, hydraulic disc brakes, wide tyres and the capability to fit racks and mudguards.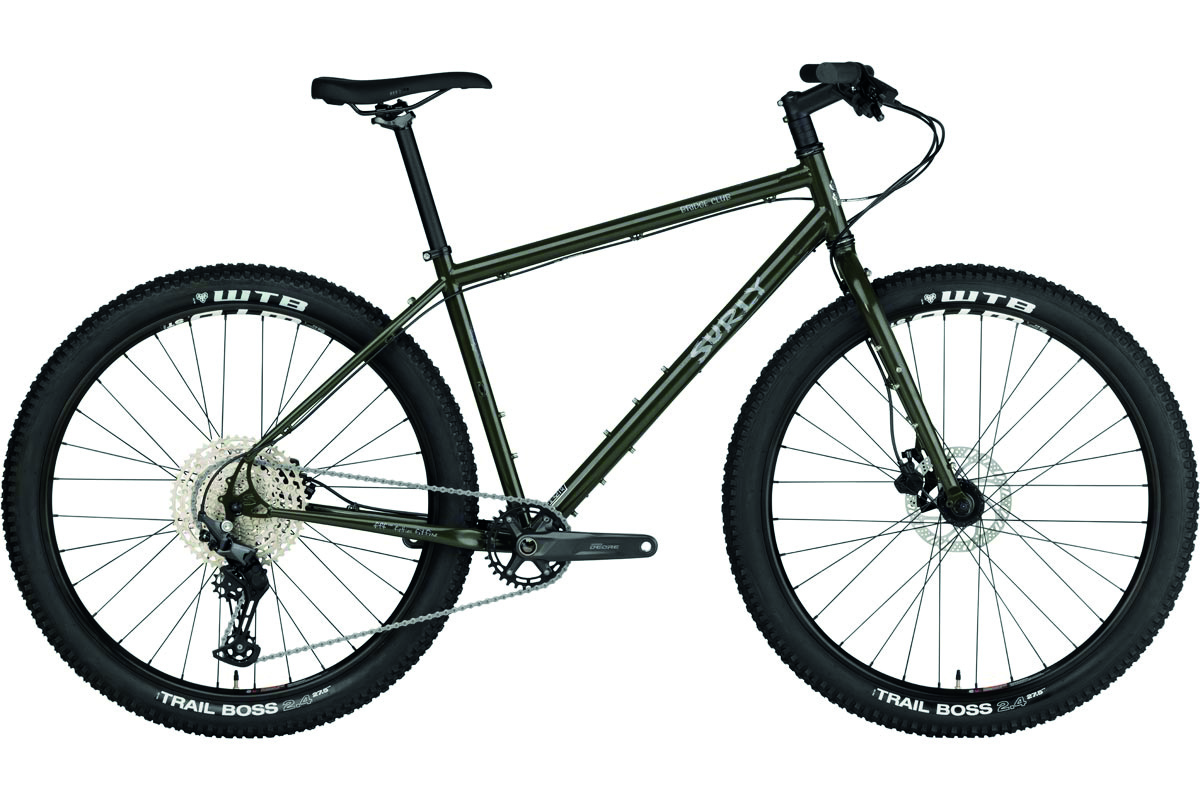 Surly's off-road-oriented steel tourer comes with a Shimano Deore 1× drivetrain, Tektro hydro brakes and WTB rims and 27.5×2.4in Trail Boss tyres.