How NOT to train for a long-distance bike ride?
Wednesday, 03 August 2016
Many years ago, my husband took the idea that we might try cycling together, and being a man of impulse, that same day he went out and ordered up two identical cycles with the happy name 'Elite Tourist'. They were lovely machines but we did not use them very often and they suffered an untimely death by rust because we stored them in a small and leaky shed near the block of flats we lived in. But we did join Cycling UK (when it was known as CTC) and even did some touring before the Elite Tourists were flung into a skip - I still feel remorseful about their fate.
Then our children came and we had a brief flirtation with a secondhand tandem and sidecar, which were going to free us for adventures. Time and again, we all set forth in hope and excitement and every single time that tandem broke down by the end of our road: punctures, gear problems, parts rattling and falling off; it ran through the whole gamut of bicycle ailments, it did not want to take us anywhere and finally we gave it away to someone selling us a secondhand car. Transport problem solved.
When we first joined CTC as a family, the magazine inspired us to plan exotic journeys to the ends of the Earth. You can have wonderful dreams when you read about the holidays on offer and we got so much technical advice from Chris Juden. As they got older, I took my son Pascal and daughter touring a few times but Pascal preferred mountain biking, which involved my putting two clean bikes in the back of the car and taking him and his friend to a muddy place where later on I would collect the happy filthy boys and their by now revolting bikes. Then he grew up and developed a passion for planes and flying: in the end I was the only one left cycling, and do boys grow up copying their mother?
The secret cyclist
Two years ago, Pascal, now much older, showed me two new touring bikes he had bought; I could not believe that with two small children, a house needing repair and a day job he would ever find the time for cycling. Soon the bikes would vanish on eBay. However, two months ago he casually let drop that he had entered for a 310-mile sportive and was doing 'a bit of training'!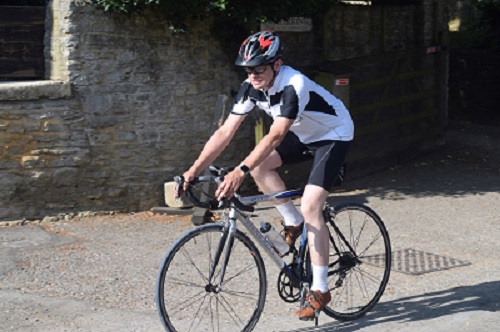 Little by little the facts emerged: at New Year his great friend, Simon, had asked him to ride with him from Newcastle to London in 24 hours. He had laughed at the crazy idea. Shortly afterwards, Simon tragically collapsed and died of a heart attack at the early age of 49. Pascal now felt committed to ride it for him and to raise money for the British Heart Foundation.
A frenetic training programme has been going on for the last few months: every long distance event in the area is entered. However, not with a super-light carbon fibre racing bike but on an ill-natured folding mountain bike - a 2006 Dahon Folding Cadenza that Pascal rescued from a backyard where it was lying after the owner had ridden it just once and then abandoned it for six years. It has gnashing and unreliable gears, and wide, flat handlebars. 
After a few months of this regime he has morphed from a bloke who sits at a desk all day long to one who looks like a paid up member of the SAS.

Gina, Pascal's mum
He calls it 'The Bastard' and it plays a big role in his strategy: when he is climbing hills, he has a ready excuse for being last, and if he ever manages to overtake a racing bike his feeling of triumph is indescribable. On the big day he will ride on his own racing bike, (yes of course he has acquired one!), and then he should just float round those 300+ miles. Well, that's the plan...
Of course he is very apprehensive about the challenge and you can imagine what his poor old Mum feels! Nevertheless, after a few months of this regime he has morphed from a bloke who sits at a desk all day long to one who looks like a paid up member of the SAS.
He is riding to raise sponsorship for the British Heart Foundation and for Parkinsons in memory of Simon. To find out how he gets on, you can follow his blog.
Editor's Note: Cycling UK wish Pascal well but don't recommend this method of training. We recommend following the advice of journalist Laura Laker rather than Pascal's own rather unconventional method! 
Good luck, Pascal!