My LEJOG blog - Julie completes her journey
I'm the kind of person who likes to have a destination, a purpose for a ride. I don't like just aimlessly meandering. I need a target even if it just means having a cafe to aim for or a particular sight to see. So when it comes to touring holidays, I prefer a challenge with a fixed parameter - last year, we rode the northern Coast to Coast mainly off-road. The year before, the length of the South Downs Way and the length of France from the Channel to the Mediterranean. 
So the next natural step is to tackle the biggest ride in Britain - the 1,000 miles or so from Land's End to John O'Groats. And possibly back again too! During the last decade and a half of my time at Cycling UK, I must have sent out dozens of our End to End packs but have never had the opportunity to ride it myself due to family commitments. But with both my children away for a while, and the launch of the new brand of Cycling UK coinciding with the tenth anniversary of National Office being in Guildford, it seemed like the stars were in alignment and the time was finally ripe for the ride.
Luckily my husband Roland, a supervisor at the Guildford Bike Project, was able to take enough time off to be able to tackle the route with me too. Now, after a few months of planning, it's finally time to hit the road. I'm looking forward to all the challenges: the unforeseen, the unexpected, the exciting and the more mundane realities of life on the road, as well as revisiting and discovering some of the most beautiful scenery in the world. 
Day 1 
It's 15 April and we are finally on the road. After a great train journey costing only £23 each including our bikes, we got out at Penzance to glorious sunshine and a sparkling blue sea. Optimistically we changed into shorts and short-sleeved tops after checking in to Penzance YMCA Backpackers.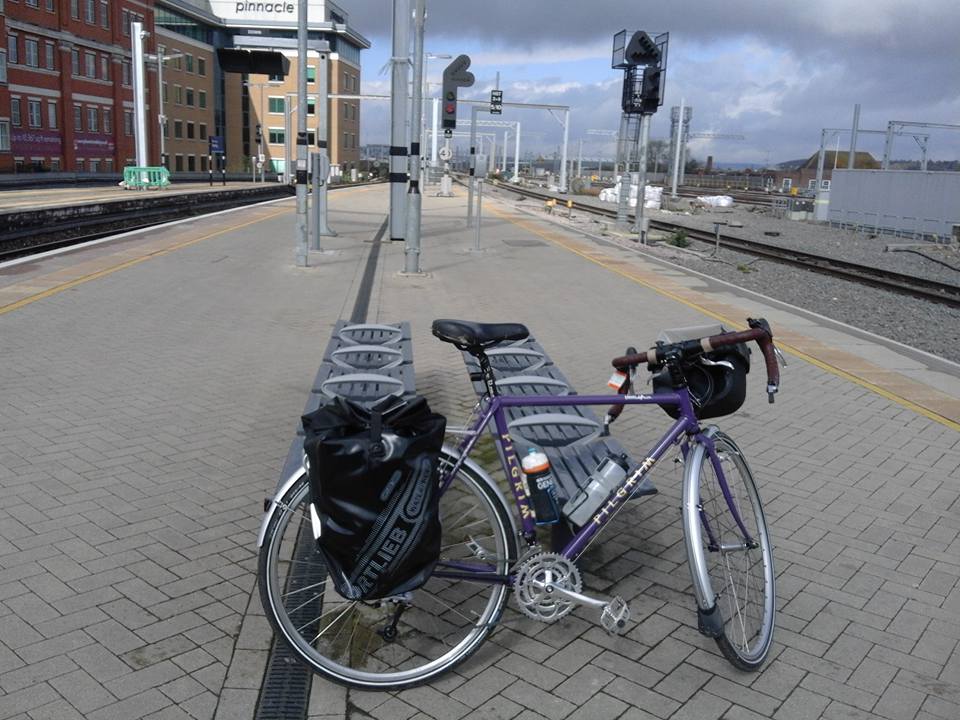 By the time we arrived at Land's End, we'd donned several more layers as an Arctic chill blew down from the North and cloud and drizzle rolled in off the Atlantic. But nothing could dampen our excitement at actually starting the journey at last. The quiet high rolling lanes of Cornwall weren't as challenging as I feared and a seemed a breeze on my Northdown touring bike. However this might change once fully loaded!
April seems to be a good time to make the trip as Easter was weeks ago and the crowds are yet to return. We actually have the hostel to ourselves, which makes for a relaxing start. The weather forecast shows snow further north but luckily looks like we'll miss it and a chilly but sunny week awaits! The heart-shaped gap in the clouds we saw as we turned the corner just above Mousehole definitely seems like a good omen.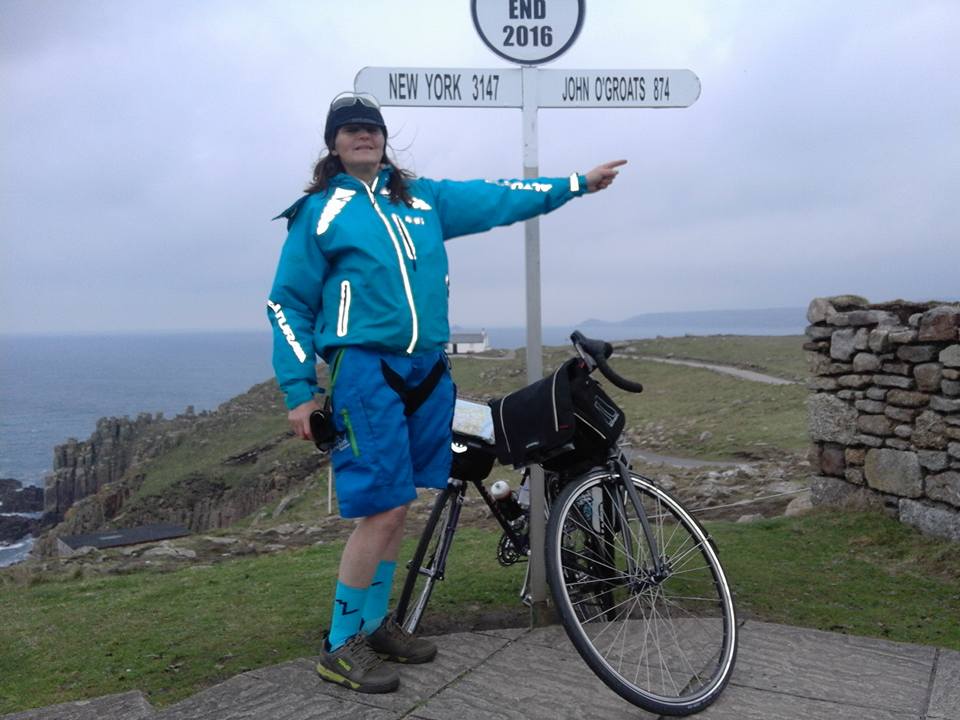 Day 2
Turns out the cloud heart WAS a good omen! As other parts of the country are covered in a blanket of snow, we are blessed with fabulous sunshine the whole day. At times it even feels almost warm, with the sun on our backs but a chilly wind. A slight detour to a fantastic food festival at Porthleven costs us a bit of time but is worth it to be able to sit by the harbour side eating massive Cornish pasties and cake and finally realising we're actually on our way and doing Lejog!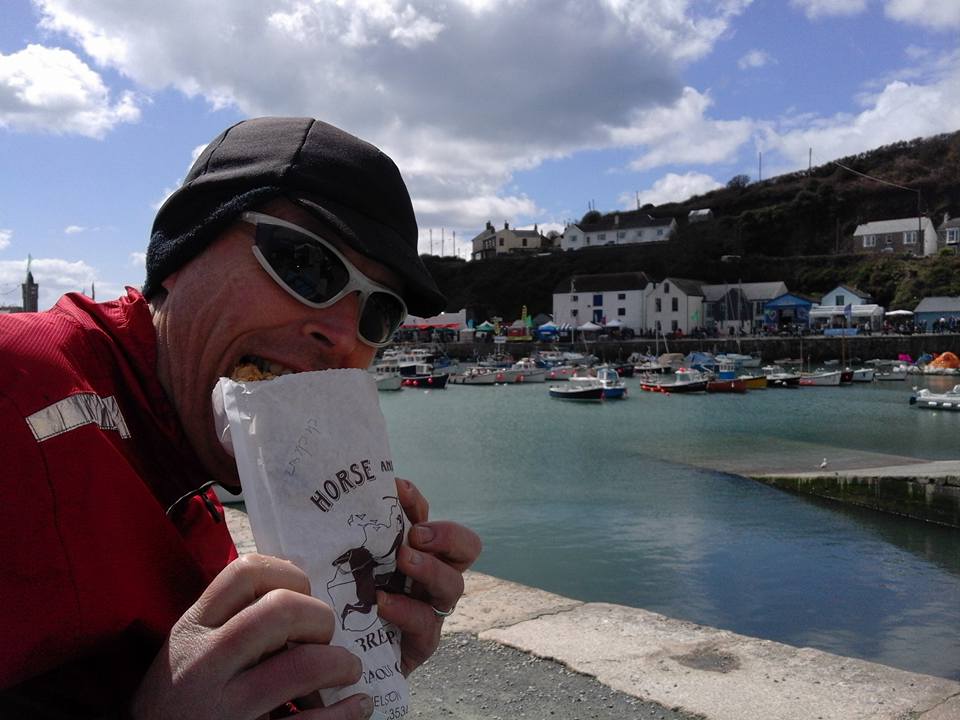 A maze of quiet and not-so-quiet lanes lined with great swathes of bright yellow daffodils and primroses takes us to tea at Trelissick Garden. For some reason, famous tourist attractions such as these are rarely signposted until the last minute. Just managing by a whisker to catch the next King Harry ferry across the River Fal, we realise again how lucky we are it's not the height of the tourist season when these narrow lanes would be packed.
It's a long, hilly stretch from there to the inn at Par and our accommodation for the night. Living up to their name, the Lost Gardens at Helligan stay lost until we are nearly upon them. By the time we roll up to the Royal Inn next to Par Station, it's nearly 9pm so we have to order dinner immediately. Unfortunately a royal night's sleep is spoilt by loud voices from next door at 1.30am, forcing Roland to knock on their door to complain. The realities of life on the road are kicking in...
Day 3 
Leaving Par we climbed up and past the Eden Project's vast bubble domes but sadly can't stop to explore them. However, the Luxylan Valley just round the corner has a natural beauty that transcends anything manmade. Hedgerows smothered in wild garlic and walls of gigantic slabs of what looked like granite boulders lined the meandering lanes which wound up through overhanging trees yet to turn green. Magical. Eventually we descend into Lostwithiel for lunch, my hands straining on the brakes to keep the Northdown from careering downhill too fast.
Annoyingly, after lunch a clever shortcut sees us lost in a Bermuda triangle of beautiful but unsigned lanes. The views are amazing but hard to enjoy without knowing exactly where we are! The Philips Atlas pages are no use without good signposts on the ground.
Liskeard seems a bit sad and down-at-heel and is followed by a long slog along a B road up to Craddock Moor but is rewarded with stunning 360 degree views to Bodmin, Dartmoor and the sea far away on the South coast.
Day 4
Leaving Tavistock and the luxury of our Wetherspoons hotel room, we climbed up onto the bleak road to Dartmoor. The climb is long but not terrifically steep so doable even with heavy panniers. Cresting the first climb, we feel on top of the world literally. Two friendly female cyclists ask us where we're heading and we are proud to say "John o'Groats". They say they'd love to do it too one day so we reply "Just do it!". Of course, easy for us to say now we have no commitments currently. But sometimes you just have to make a plan and then you'll do it.
Descending the road, however, 3 things happen simultaneously which show how quickly things can change from exhilaration to excruciating while you're cycling: first of all a Polish coach overtakes us at tad too close for comfort just before the road bottoms out. Then a roadie skims silently passed my right shoulder as I'm about to move out for the bend. Seconds later a large sheep to my left decides it's time to see if the grass really is greener on the other side of the road. Luckily I have read its mind and have time to brake but I dread to think what would have happened if the roadie or a car had hit it...
After Mortonhampstead, the lanes over to Crediton and then Tiverton are fabulous and quiet. Except for a postman in a red van hurtling about on his rounds. Every time we pull over to let him pass, a few minutes later he reappears behind us or in front of us or heading straight towards us so we wave and move over again!
Day 5
Fortunately today starts lovely and flat as we follow NCN 3 along the canal to Taunton then Bridgwater. It's nice to wheel along and feel like you're actually making good progress. After Bridgwater we skirt around the lanes a bit to Cheddar and a tea at the Sketch, a funky vegan cafe in a town of tourist tat. But there's no time to linger as it's already nearly 7pm. At the last minute we decide to take the owner's tip and ride through the gorge to Bristol. The climb is amazing and not too taxing and the Mendips are beautiful in the evening sun. There's a very bright moon rising too.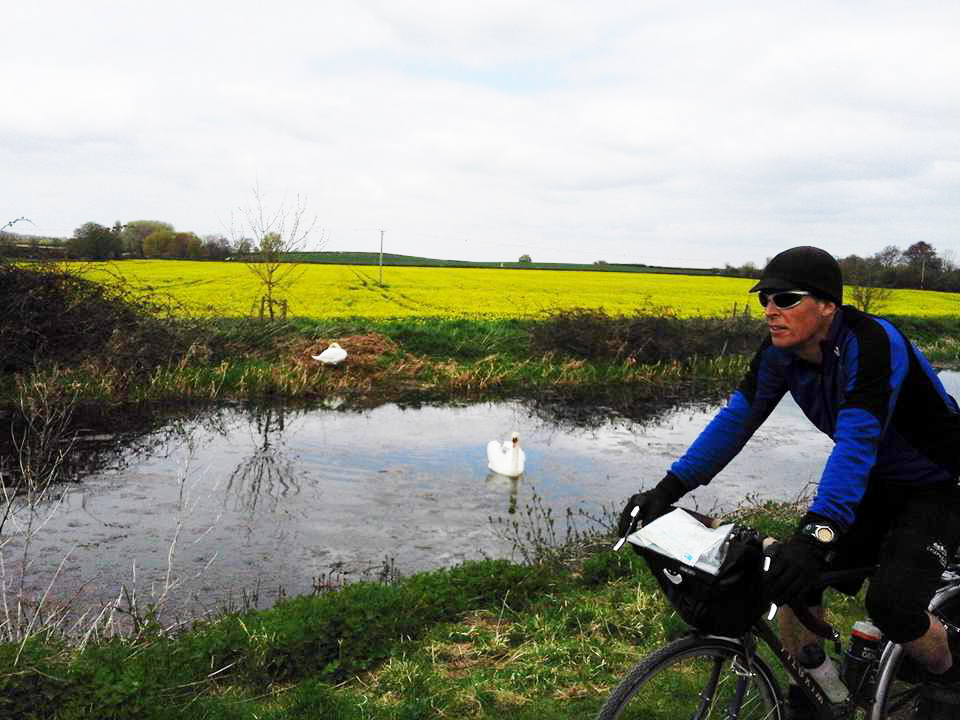 But the ecstasy is temporary as disastrously we lose the signs for the NCN and emerge onto a busy B road. Instead of looking for the missing sign, we carry on, not realising how steep the climb before the final descent into Bristol is. But there's no choice but to press on and walk some of it. At the top, we finally see the whole of the city and the Avon valley laid out sparkling below. Breathtaking. 
Another white knuckle descent takes us into the city, through some dark and dodgy feeling parks on cycle route to the YHA and a room between two groups of lads on a rugby tour.
Day 6
We leave Bristol in more brilliant sunshine wishing good luck to a group of women cycling from there to London along NCN 4. We head out along NCN 41 in the direction of Gloucester along the Avon. This is probably a mistake as it takes a very long time to leave the urban jungle around Bristol behind, although the route itself is quite easy to follow and quite nice until you hit the M5. But we have a long way to go and not much time. Eventually we hit the incredibly quiet lanes in the area bound by motorways and enjoy bowling along in the sunshine. 
Finally we stop at The Salutation 'the Gloucestershire pub of the year 2016' and have some delicious beer and ham rolls. Then another long stretch along lanes and towpath to Gloucester. Just outside Gloucester, an amazing coincidence - my brother-in-law Adam spots us crossing a very busy A road as he drives past on a route he rarely uses and takes our bags the 30 miles to his house where we're staying the night.
Unfortunately this doesn't make the next section to Ledbury a lot easier as we constantly go off-route. It's nearly 9pm by the time we roll into Cradley but the incredible orange and purple Herefordshire sunset silhouetting the mistletoe laden trees makes it all worthwhile.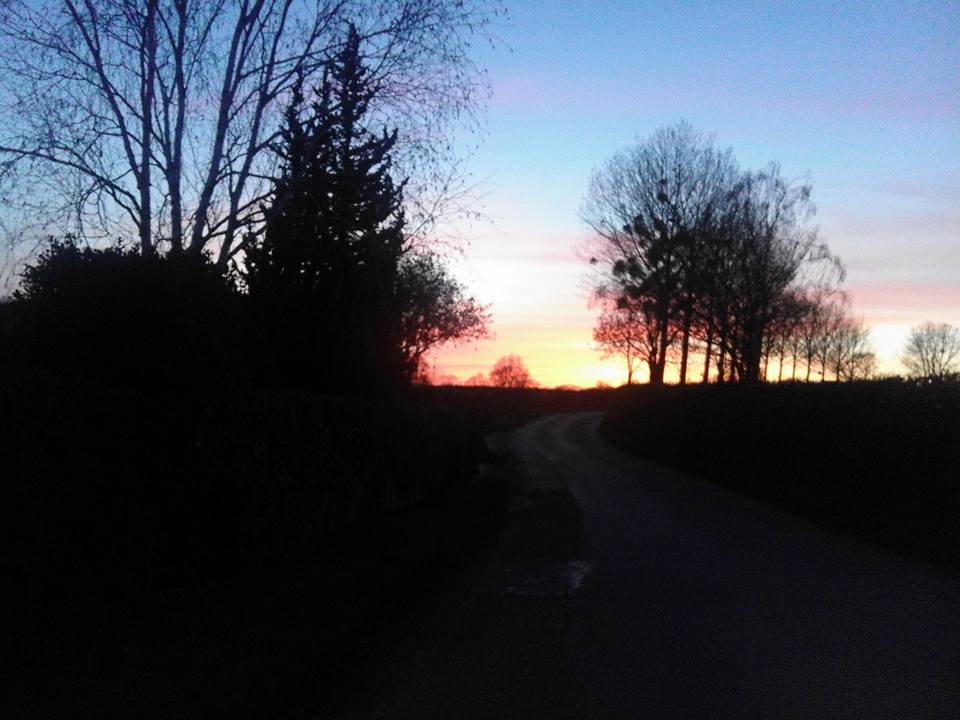 Day 7
This is the best day cycling-wise of the trip so far. Some stiff climbs away from the Malvern Hills to Tenbury Wells then blissfully empty smooth and well signposted lanes to Ludlow, where we enjoy local market produce in the castle grounds. Leaving the town, we meet a fellow weather-beaten cycle tourer who is riding through all the counties in the UK. He's the only one amongst hundreds of MAMILs we see on the trip.
On the lanes to Shrewsbury there aren't many MAMILs just loads and loads of spring lambs and wild flowers along the edges of the deserted lanes that run above the Teme Valley. We make excellent progress for a change and arrive in my cousin's village of Rosset near Wrexham around 8pm. However it takes another half an hour to find their amazing converted 16th century watermill after wrong directions from a jogger. 
We've covered over 110 miles after 12 hours of pedalling.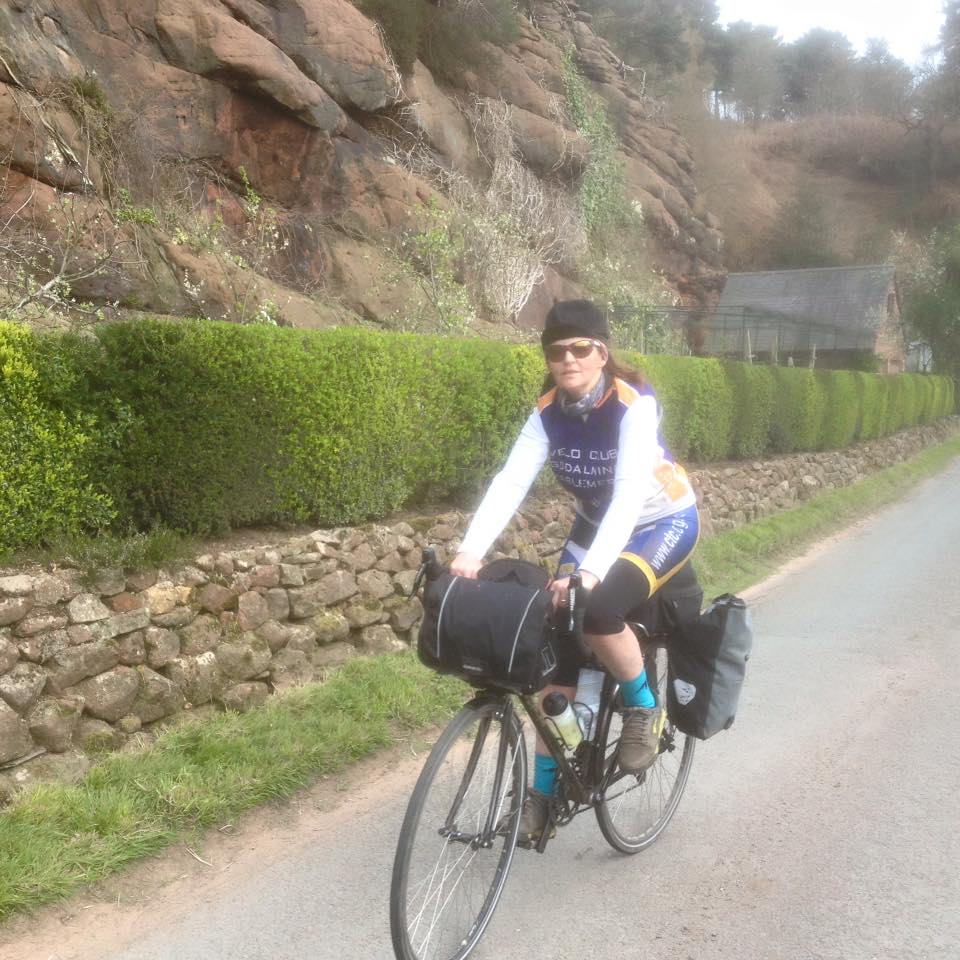 Day 8
Today is meant to be a rest day with just 40 miles to Birkenhead along NCN routes via Chester. Again it's a beautiful sunny morning as we set off. We dawdle around at the brilliant 69 Bikes in Chester changing the tyres on the Spa to narrower ones. I meanwhile spend lots of money on warmer clothing as we hear talk of an Arctic plume heading to the UK. We try and block out such thoughts.
Reluctantly we leave lovely Chester along the River Dee to Queensferry. We then waste loads of time trying to find the famous EurekAlert cyclists' cafe, which is at a horrible intersection of main roads. When we get there we find it shuts early on a Friday so we head to Neston and eat bara brith looking across the estuary at the Clwydian Hills in Wales.
It seems to take ages to ride around the Wirral peninsula on the NCN but again the coastal views are stunning, despite the cold northerly winds. We arrive in Wallasey tired and hungry looking for another relative's house while gangs of youths congregate on street corners. We then discover the relative moved to Birkenhead 10 years previously and we have another hour of frantic pedalling around the A roads and roundabouts before reaching sanctuary. As we ride a boy passes us in the other direction, hurtling along the main road with no lights carrying another boy on his handlebars. Not a sight you see very often!
Day 9
Unfortunately, the first ferry cross the Mersey on a Saturday isn't til 10.30 am, a minor detail I forgot to check, assuming it would be much earlier. We talk about getting the train but it seems a big faff with putting the bikes in lifts and so on. Plus we were really looking forward to the ferry trip. So we decide to take a chance and take the ferry anyway then save time by taking the Liverpool-Leeds canal route out of the city towards the Lancashire countryside. Only problem is we don't know how to get on it and spend ages riding through horrible industrial estates being attacked by flying plastic bags - ominously the winds are becoming strong Northerlies, not the South Westerlies that normally prevail in the UK.
Once on the canal, it's pleasant riding out through the suburbs of Bootle and Litherland until the track deteriorates into an unsurfaced path that's not really rideable. So we come off onto lanes near Ormskirk but are not really sure of the route. Out of the blue, a mountain biker appears and seeing we're lost, offers to show us the best route towards the Trough of Bowl and, which we can see in the distance.
Turns out the cyclist is a part-time comedian called Lennie and he helpfully escorts us for miles along flat country roads thronged with riders of all kinds enjoying the fantastic spring weather. We cover a lot of ground but are starving by the time we eventually find a great cafe for a late lunch of meat pies.
A short climb to Whalley - pronounced Wall E according to a local - is followed by an incredibly long descent. Did we really climb so high above sea level? Unfortunately we then waste half an hour of fading light and energy riding back in the direction we've just come from - is there anything more frustrating to a cyclist?
Yes - arriving in Slaidburn in the dark after a monster climb from Clitheroe and realising that we missed a much easier route up and the only pub had stopped serving food an hour before. Luckily they were still serving fine local ales so all was OK.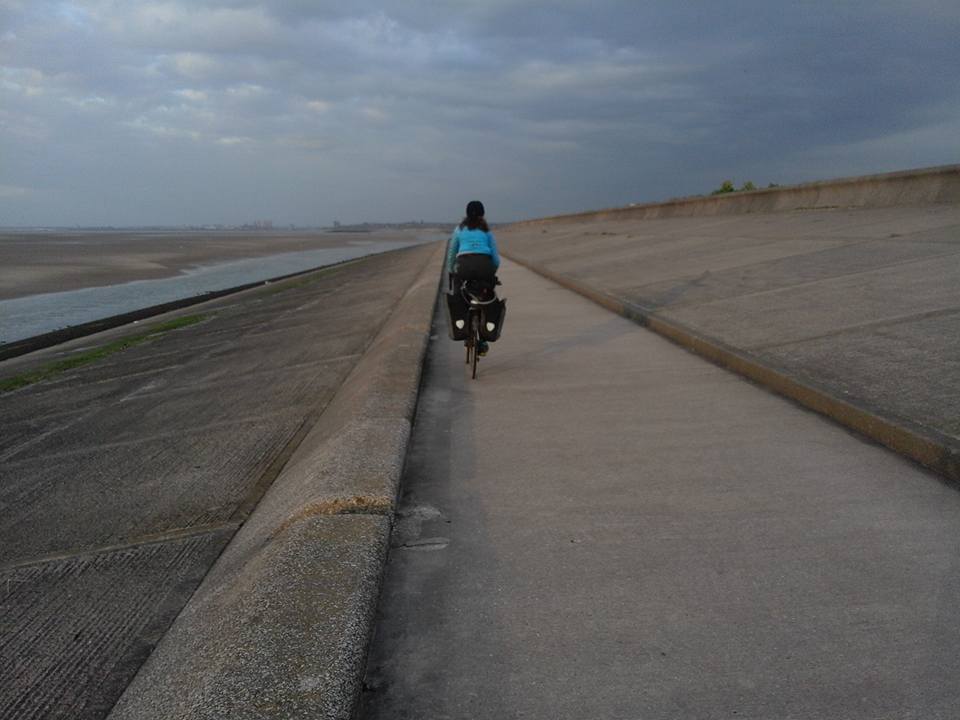 Day 10
The following morning is yet another beautiful one but soon we are wrapping up as flakes of snow flutter down. It's a pretty hilly route down to Wray and it takes us two hours to cover the 16 miles. The village scarecrow festival is in full swing and each building has an incredible but ghoulish creation in front of it. Annoyingly we have no time to look at them as we have to crack on to Kendal for lunch. I'm already feeling a bit weak and begin to wonder if I'll make it to Carlisle.
We have to ride next to some busy main roads to get to Ambleside, where it's brilliant to surprise our student son at the famous Apple Pie Bakery, where he works as a waiter. Naturally, we eat a slice of apple pie each.
The next section is an amazing ride along a 'ghost' road - the A591 between Grasmere and Keswick is closed to motor traffic due to flooding before Christmas. It's fun to listen to drivers trying to blag their way past the security guard as we trundle by the roadworks on a nice smooth new cycle path.
The route is deserted pretty much the whole way to Threkeld, apart from a handful of other cyclists. Unfortunately, I'm feeling weaker and weaker and eventually we have to stop for the night at The Mill Inn in Mungrisdale, which is being run single-handedly by Florim from Romania after the previous landlords did a moonlight flit in November after going bankrupt.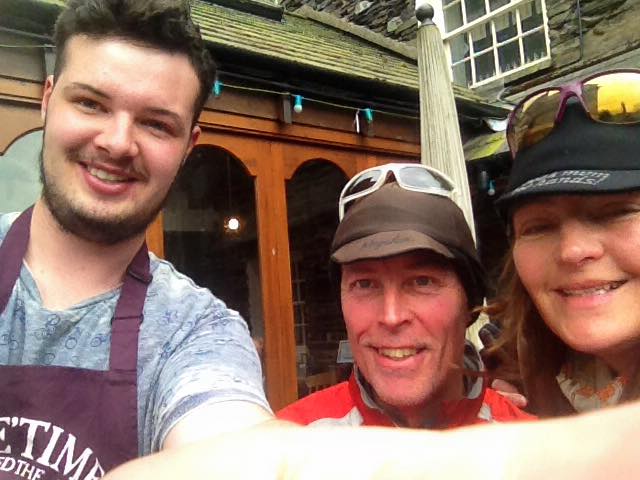 Day 11
Because of the early stop the day before, we have a very long stretch today to Innerleithen just 38 miles from Edinburgh. It takes 2 hours just to cover the 20 miles to Carlisle and we realise we should have got up and left at 7 am, instead of being tempted by Florim's offer of a full cooked breakfast for a fiver.
We stop for coffee at the first supermarket we see and then head off on the NCN towards Scotland. The NCN by-passes the ring road on wide pavements. Suddenly I feel a bump and the front handlebar bag flies off. At first I think the front light has smashed but then we realise I had ridden over a glass bottle. This causes the back tyre to puncture - our first of the trip so far.
It's quickly fixed and we have to press on. Out of the city, more quiet lanes lead to a busy road next to the M6, which takes us to Gretna Green and the Scottish border. A quick selfie at the sign as it's already 2pm and there's a very long way still to go. From Gretna, the scenery becomes more and more remote and the lanes amazingly quiet. The odd tractor rumbles past but that's about all. There's not one pub, shop, cafe or supermarket until we reach Eskdalemuir, where there is a small community shop and the famous Tibetan Buddhist centre tearoom. But it's 5.30pm and both are shut. A kind soul shows us where we can fill our water bottles up with spring water. A few miles further on amazingly there's a small shop open on a caravan site but it only sells sweet s, ice-creams and a few other bits. Luckily we find some bananas and flapjacks to keep us going to Innerleithen.
There are no signs telling us how far it is but we are starting to realise that with the strong headwind that we've been battling all day, we're probably not going to arrive til after dark.
Never mind. The sun is still shining and the mountains are gorgeous, sparkling streams and rivers flow along the valley floors. The climbing is relatively gentle and some of the descents are incredible on wonderful smooth roads that are devoid of traffic, except for the odd sheep.
However, after several hours of this, we're getting very tired and our hands are aching from constant braking. We start to wonder whether we will ever arrive in Innerleithen. But suddenly, there's a sign for Traquair, which I know is only a mile or so from there.
It's actually dark when we do eventually find the hotel and there's a few flakes of snow starting to swirl around. What a relief to finally find civilization and an open Indian takeaway!  Could the snow be the start of the Arctic plume that's supposed to be heading our way?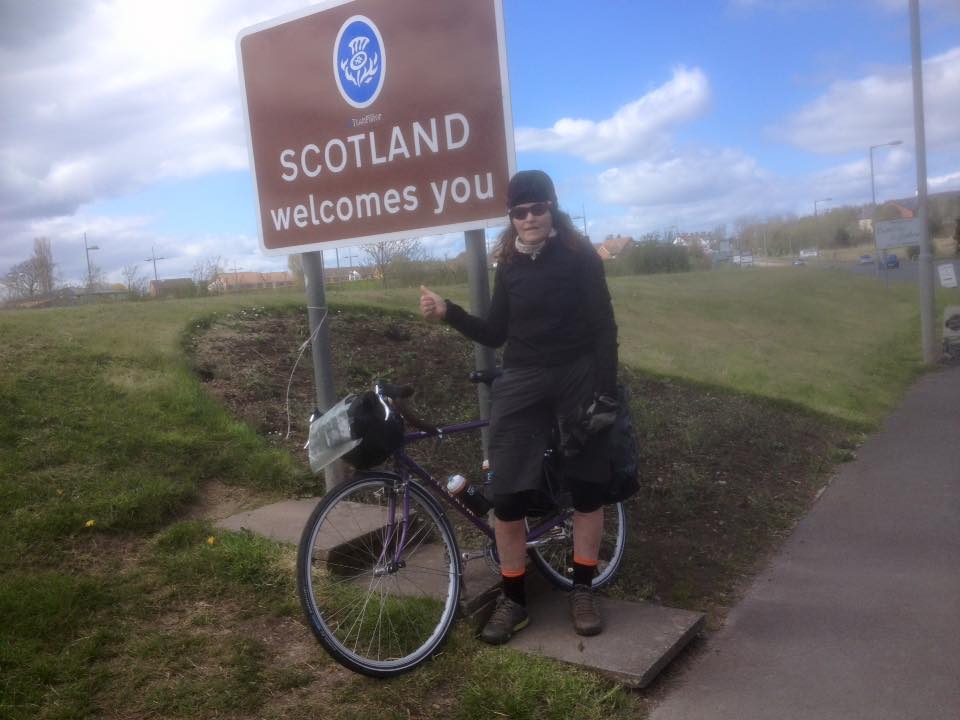 Day 12
Unfortunately it is. We make the mistake of watching the weather forecast in the morning. It says snow, sleet, hail, thunder, lightning, locusts, frogs, and damnation are heading our way. And a very strong northerly wind. I feel like crying but at least it's only 35 miles to Edinburgh and the morning is another beautiful one. We are lulled into a false sense of security. A few miles down the road, the wind is so strong we are both nearly blown off our bikes and have to stop riding - this on a downhill stretch of road.
Then it starts sleeting so we have to stop and add extra layers of clothing. Roland really feels the cold, especially in his hands due to Raynaud's Syndrome, which is potentially dangerous. As a bike mechanic by trade, he has to be very careful not to damage his hands, which can get very swollen and numb. Even with extra thick padded ones. We pile pairs of socks, two coats, a hood and overshoes on him but he's still freezing. The sleet stings our faces and we can barely see but luckily it's quickly over and suddenly the sun is out again and we can enjoy the ride into Auld Reekie. If we could find it that is. The NCN takes us all round Musselbrugh and it takes forever to arrive at Holyrood Park then find the accommodation in Leith.
Happily, it's a cosy apartment all to ourselves for only 30 pounds a night! We look at weather forecast again and, after much agonising, decide it's just too risky to try and ride across the Cairngorms with snow and ice forecast for the next few days. So we decide to book in for another 2 nights in Edinburgh then consider the options. The Lejog is on hold, at least for now.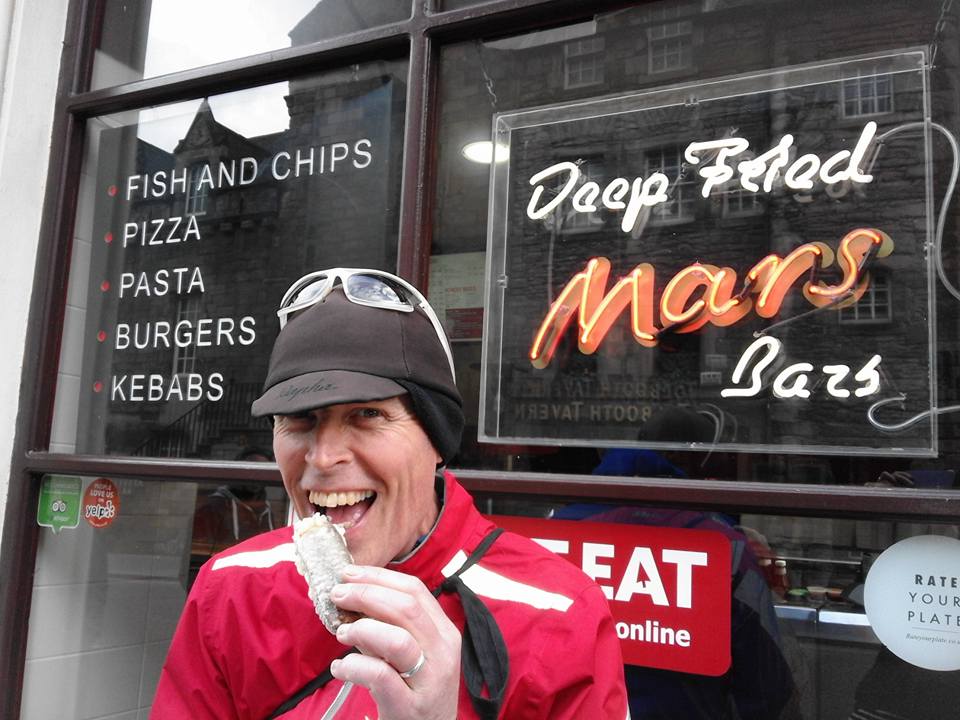 Day 13, Day 14, Day 15
An enjoyable but frustrating two days is spent in Edinburgh, visiting the Botanical Gardens and other tourist sites. The weather is chilly but sunny the first day, adding to the feeling that we should really be on the move, not killing good riding time staying in a city, even an interesting one like Edinburgh. But as we see photos of people skiing at Braemar in the news and hear of lorries stuck in the snow, we know it was the right decision. 
We cancel various carefully planned bookings and buy Roland a ticket home. I have already planned a trip to Orkney to meet a friend so I am committed to getting there by Sunday 1 May. I book trains to Inverness and Thurso and accommodation.
But I can't quite let go of the Lejog dream. I keep thinking there MUST be a way at least one of us can finish it. Suddenly my brain figures it out: ride the missing stretches on the way back, if the weather improves! Roland has to go back to work so I will be on my own but he can do them at a later date.
However, he decides he's not ready to go home just yet either so a frantic dash to Waverley station sees us booking him and bike onto the train to Inverness too. The weather is set to change and just maybe we can carry on riding after all. The Inverness to Altnaharra leg is meant to be one of the best of the whole route and, with accommodation booked in the Lejog cabin at the Altnaharra Hotel, this seems a better way of spending the bank holiday weekend than going home to do household chores.
Day 16
And what a lucky decision it proved. After leaving Inverness on NCN 1, we decided to cut out the Dingwall section and take our chances on the A9 across the Cromarty Firth. The road was busy but nearly every driver gave us plenty of room. A few miles of slow climbing were followed by a superb descent to the single carriageway bridge over the Firth. A couple of miles later we could come off the A9 and onto the NCN again. Then onto the B road to Bonar Bridge. After the slow progress of previous days, we could hardly believe how quickly we covered the ground. 
A failed attempt to locate the signed visitor centre at Shin Falls - they burnt down 3 years ago, apparently - meant we didn't stop til Lairg. The final leg to Altnaharra saw a few rainy gusts but also spectacular scenery, snow covered peaks and extremely beautiful rainbows arcing across the valleys. How could we have so nearly missed this? The icing on the cake is arriving at the luxurious Althaharra Hotel with its views across Loch Naver and the surrounding mountains to find that it fulfils all our expectations of a Highland hotel - large comfy sofas, tartan rugs, antlers and a well-stocked bar with a wide selection of whiskies.
We stay in the Lejog cabin, a cosy log cabin at the back of the hotel with three small basic single rooms and a shared bathroom. At only £30 a night including a slap-up Scottish breakfast, it's a real treat for what for many people is their penultimate stay of a Lejog. Amazingly, we are the only two Lejoggers staying there that night although the visitors' book has signatures from two other Lejoggers staying a night or two before. We wonder how they have coped with the wintry conditions.
Day 17
I decide that I want to try and get the 4.30pm passenger ferry from John O Groats to Orkney so that I can meet up with my friend the following day. It's about 76 miles so should be just about doable. Unfortunately breakfast cannot be served earlier than 8.00am so we don't leave til well after 9.00am and therefore can't afford to stop for long anywhere. The initial ride along the loch to Bettyhill is wonderful, although a tad too much traffic passes us to make it wholly enjoyable. Nearly all drivers slow down or wait in the passing places for us except for one Land Rover driver, who gestures for us to move over so he doesn't have to. Unluckily for him, we're from Surrey and used to this so we hold our ground, forcing him to slow down instead.
Surprisingly, the main A road after the B road is quieter and we hardly see any traffic until Thurso. Time is starting to look very tight for the ferry at 4.30pm so we bomb into Thurso, grab a quick banana and flapjack, use the public loos then hurtle onward, bypassing Dounreay power station by using the back road marked as the NCN to cut the corner off. It's around 20 miles from Thurso to JoG but it is slow going as the wind is still pretty strong. We realise as we turn the final corner that we're just not going to make it to the ferry in time - in fact it's pulling out just as we arrive. Luckily, there's another ferry from just a few miles away but not until 6.30pm. We therefore have time to take the obligatory photos at the Lejog sign but feel slightly fraudulent - especially as man approaches us immediately and asks us how long we've taken to do the ride. He's supporting his son and friend, who have ridden the whole Lejog in just 10 days and are due to arrive any minute.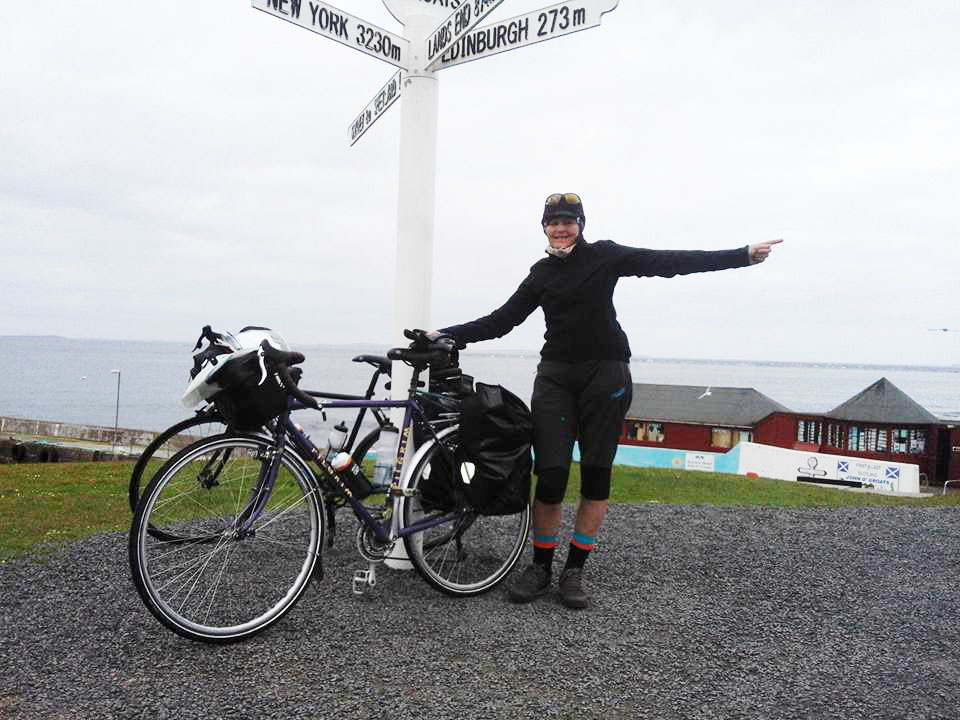 But while we are congratulating him and them, a tragedy is unfolding to our left as an array of emergency service vehicles and personnel deal with what we later find out is a dead body that has been found on the beach. It's a sober reminder that there's more going on in the world than cycling challenges.
The later ferry from Gill's Bay deposits me at St Margaret's Hope on Orkney at 7.30pm after bidding Roland farewell. It's getting darker and windier by the time I arrive so I have to use lights. I'm not too concerned as I think it's only about 10 miles to the capital Kirkwall, where I've booked into the Youth Hostel. However, this island is a lot bigger than I thought and, after an hour of pedalling through the drizzle along the long, fast, stretches of main road across the causeways that link the mainland of Orkney with the southern islands of South Ronaldsay and Burray, I'm beginning to think I'll never arrive.
Fortunately, the wind is now a strong tailwind so I reach some incredible speeds on the downhill stretches but, having not eaten a proper meal all day, I'm feeling quite weak. I pass a couple of massive food superstores on the outskirts of Kirkwall, Lidl and Tesco, which amazingly are still open at 9pm on a Sunday evening - unheard of in England! I think about stopping to stock up on supplies but want to get to the youth hostel first. The problem is that it's not signed until 200 yards away - I stop and ask a couple of elderly Orcadian gentlemen, who proceed to debate with each other in thick accents whether or not the hostel is actually open at this time of year - I assure them it should be as I've got a bed booked for the night!
Finally, the youth hostel appears after a bit more fruitless searching. I'm nearly dropping but warden Gareth could not be more welcoming. He takes my bike and puts it in the unlocked shed - he assures me it'll be safe as there's nowhere for a bike thief to go on the island! He carries my panniers into the hostel and offers me a large mug of tea and a homemade cookie. His wife offers me a bath in their own bathroom (although I only have energy for a shower) and her own homemade butternut squash soup. What service! Turns out Gareth and his young family are from Dorking, only a few miles from where I live in Surrey but moved to Orkney four years ago for the quality of life. He has rescued the hostel from near closure and now welcomes 5,000 visitors a year. It's still early season, despite being 1 May and there are just a few of us staying there. I fall asleep listening to the wind howling around outside and rain lashing against the window, thankful that I'm in a warm, dry bed, safe and sound after the 90-mile ride from Altnaharra.
Day 18 and Day 19
Day 18 is spent mooching about Kirkwall, which is surprisingly busy with traffic. The islands are inhabited by around 20,000 people in total and many of them shop at the superstores in Kirkwall on a weekly or monthly basis. Day 19 we decide the weather is not conducive to cycling as it's very blustery and there are occasional very heavy showers so we hire a car and explore some of the many Neolithic sites on the mainland such as Skara Brae, a 5000-year-old stone settlement revealed by a massive storm in the 1850s, and the Ring of Brogda. It feels strange not being on a bike but also quite relaxing. However, after a day of being driven around I'm gasping for some fresh air and the feel of the wind in my hair again.
Day 20
We visit the Orkney Museum in Kirkwall in the morning then I set off on the bike to Stromness, about 17 miles away, for the afternoon ferry back to Scrabster on the Scottish mainland. The A road along the coast via Orphir is very quiet and it's just me and the wild birds, which sadly I still cannot identify even after reading all the tourist leaflets and visiting various visitor centres. The birds shriek plaintively at me and fly inches from my head while the lambs in the fields baa mockingly at my efforts to make progress into the head wind, which is still blowing fiercely. I stop at Waulkmill Bay and use the loo, one of many on the islands that are a very welcome site to the female cycle tourist given the lack of tree cover anywhere.
When I reach Stromness ferry terminal there is a lot of kerfuffling about my bike - it's always entertaining seeing how various ferry companies treat cyclists. On the way over, Pentland Ferries let me board without any fuss or even any instructions to 'walk' my bike on board. Now, various Northlink officials fuss around telling me where to leave my bike before boarding and then leave me sitting in the waiting room ages after all the foot passengers and all the drivers have boarded. I'm beginning to think I've been forgotten when eventually I'm told I can board but mustn't ride onto the ferry. When disembarking, I have to wait until all the massive lorries and the few cars have driven off first. However, the ferry is one of the best I've ever been on - clean, comfortable, virtually empty - and passes right next to the Old Man of Hoy, which is incredible.
I stay the night at Sandra's Backpackers in Thurso, where unfortunately my bike has to stay outside all night, but which is cheap and convenient for the station.
Day 21
We leave early to catch the 8.30am train to Inverness, passing through much of the countryside I'd cycled with Roland a few days before. The sun is shining and the sections along the coast are spectacular and the mountains still have snow-capped peaks, despite the warmer weather. The four-hour journey goes by in a flash and soon we arrive in Inverness, where I decide that I'm going to press on back to Edinburgh over the Cairngorms to complete the Lejog section we missed. I initially think I can do this in two days but fortunately realise that it's much further to Braemar than I thought and that realistically, it's going to take at least three days, given that it's already nearly 1pm by the time I get out of the station.
I book into Tomintoul SYHA but then read that reception is only open until 7pm - unless I make good progress, I'm not going to cover the 48 miles in time. I start to panic slightly as I know there is a lot of climbing to do as well but as the first section to Culloden is east and there is a ridiculously strong south-westerly wind still blowing, I cover the first 15 miles to Cawdor crazily fast on the virtually empty B9006. However, as soon as I turn south towards the mountains, I'm nearly blown off the bike and it feels more like sailing than cycling as I fight to regain control of the handlebars. When will this wind ever die down - it's been blowing like this for days now. But soon there is more shelter from the trees and the route goes more easterly again so riding is easier. This is an incredible section as I literally see just a handful of vehicles for the next 20 miles or so and the route wends its way across forests and moorland in the foothills of the Cairngorms National Park.
When I reach Grantown-on-Spey, it's just 5.30pm so I'm optimistic I can reach Tomintoul, which is only 10 miles further on by 7.00pm.  I stock up on supplies at the Co-op, in case there isn't anything open in Tomintoul, and eat and drink so I have enough energy to get there. Suddenly it's now 6.00pm - it's incredible how much time it takes to do a bit of shopping! - and beginning to cloud over. Leaving town, a sign says it's actually 13 miles to Tomintoul so now I'm really panicking.
The route winds up gradually with ever more lovely views and it's just 6.55pm when I pass the sign for the village. Phew, I think, made it. Only the SYHA is at the furthest end of a very long main street so it's actually one minute to 7pm when I finally ring the door of the hostel. A young Canadian girl opens it and says: 'Oh, I'm living on site so there's no rush'. Great. I knew it would probably be OK but I'm relieved anyway that for once I made the sensible decision to not try and go too far. Although it's a lovely evening, Braemar is actually another 30 mountainous miles away so it would have been way too much to ride that evening - I'm not even there by lunchtime the next day.
Day 22
I decide I can make it as far as Blairgowrie the following day - only 65 miles but with nearly 4,000 feet of climbing over the Lecht Pass and Glenshee. I'm pleased that I only have to walk two short sections of the route - the wind has finally died down and I'm blessed with dry and - finally - warmer weather. There's a heatwave down south but I prefer the slightly cooler weather as it's much better for cycling uphill. There's a slightly annoying amount of traffic, some of which passes quite close, despite the wide road with plenty of overtaking room but no other cyclists whatsoever until I'm nearly at Crathie when I see someone who looks like they could be another End to Ender coming in the other direction.
I picnic outside the Balmoral Visitor Centre but don't have time to visit the castle itself. The church at Crathie, where Her Majesty goes when staying at Balmoral, is still resplendent with daffodils, even though Easter was weeks ago. Not for the first time, I'm glad that I've missed peak tourist season when I imagine the roads would be even busier with tourist coaches and cars and accommodation would be difficult to find and packed - I had a whole dormitory to myself the night before in Tomintoul.
The lady at Balmoral Visitor Centre assured me it would be mainly downhill from now on, once I'd ridden over the pass at Glenshee. I rarely believe people who say this and was expecting there to be at least another stiff climb but it turned out to be true, although Glenshee Ski Centre is a 1,000 foot climb from Braemar. The packs of motorcyclists whizzing past at high speed had it easy, I thought to myself through gritted teeth, but the adrenaline rush of having made it to the top by pedal power alone more than made up for it. And the slightly hair-raising descent into the valley was thrilling too. I was relieved to think that I'd finally conquered the Cairngorms, albeit a week too late for a continuous Lejog. It was hard to imagine that these roads were closed due to snow just a few days earlier.
Day 23
The final day of pedalling Lejog (or the InvEd - Inverness to Edinburgh as I was now calling it).  If I thought I was going to be in for an easy ride after the previous exertions, I was much mistaken. The first 16 miles or so to Perth passed easily enough but when I saw the amount of traffic on the A992, I decided to opt for NCN 1 after Bridge of Earn. This involved over 900 feet of climbing along deserted country lanes to Milnathort and another 700+ feet of climbing to a few miles after Cleish. But from here, it really was downhill all the way to Dumfermline, where I lost the NCN Route 1 signs, and the Forth Road Bridge. I navigated my way through the horrible, bumpy, busy, potholed roads to Inverkeithing and Rosyth using my road map and finally the signs for cyclists to the bridge appeared.
Nowadays, cyclists are not permitted to ride over new bridges (the new Severn crossing or the Queen Elizabeth bridge in London for example) but the Forth Road Bridge was built in 1964 when walking and cycling were more common. Numerous patronising and slightly ridiculous signs warn riders of the dangers of crossing the two-mile bridge on the cycle path - how are you meant to measure your speed to keep it to only 15mph (quite difficult to achieve, given the windiness of the crossing, I would think) and why is riding limited to single file when the path is quite wide? You are also instructed to dismount whenever there's an 'obstruction' - what exactly an obstruction is isn't defined. 
Riding across the bridge over the Firth of Forth is nevertheless a memorable if slightly nerve-wracking experience and one that will probably be denied to riders in future, once the new Queensferry crossing currently being constructed next to the Forth Road Bridge is completed. The opportunity to stop and take photos of the Forth Rail Bridge and the new construction is denied to motorists so I relish the opportunity cycling yet again offers. The ride would not suit anyone who suffers from vertigo, however, and the numerous signs for the Samaritans testify to the bridge's draw for the suicidal and desperate. I'm glad to finally reach the other side, especially as my bar bag is flung off when I ride over a bumpy 'obstruction' - maybe I should have heeded the warnings to dismount after all?!
Strangely, NCN 1 into Edinburgh is extremely well-signed after the crossing (if you want to get a good view of the bridges, there is a visitor centre just after you ride off the Forth Road Bridge) and takes you right into the city centre, which is about 10 miles away. I feel strangely subdued to finally be back in the city again.
Finishing a journey is always somewhat of an anti-climax. When you're on the road, you're always looking forward to the next bend, the next climb, the next descent, the next destination, the next food stop. The freedom to go wherever you want, to stop whenever you want, to breathe fresh air and to think about nothing except the journey itself is a fantastic state of being which no 'mindfulness' training could compete with. Arriving at the journey's end means that normal everyday concerns take precedence again, such as returning to work, thinking about household chores, and worrying about family members. Maybe it's time to plan that ultimate escape while I'm still fit enough - a ride around the world!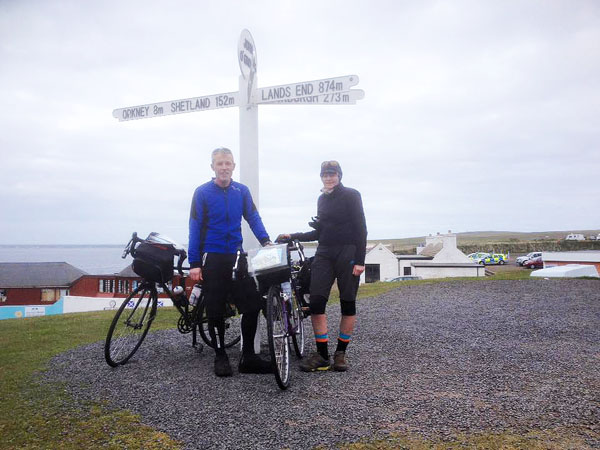 What I discovered doing Lejog
Total riding days to complete LEJOG: 17 days
Highlights of the trip:
Riding over the brow of the hill at sunset and seeing the whole of Bristol and the Severn Valley twinkling in the valley below.
The Teme valley in Shropshire - rolling traffic-free roads and plenty of signage!
The extraordinarily beautiful sunset and the misteltoe tree silhouettes on the road into Herefordshire
Riding up Cheddar Gorge
The wild, empty, stunning landscape and endless descents on the route between Carlisle and Innerleithen
The deserted A591 from Grasmere to Thirlmere - pure bliss
Lairg to Altnaharra - stunning views, fairly easy climbs, fabulous hotel at the end
Plus many, many more!
Doing Lejog was an incredible experience, there's no doubt about it. Here are a few of my top tips for planning and surviving your own Lejog:
Book trains as far ahead as possible (about 3 months) using Virgin East Coast so you can book your bikes on too and also secure the cheapest fares. Roland travelled back 1st class from Inverness with his bike for only £27 extra and reckons he consumed at least £30 worth of free food and drink on the journey! Thurso/Wick to Inverness trains are very cheap and the journey is amazing but there are only a few bike spaces per train. Most bookings can also be changed up to 2 hours before departure for an additional £10 fee but only to the same route at the same price if available. You can also now use Great Western to book bike spaces as they are using the same software as Virgin East Coast. 
We booked accommodation through Booking.com and the YHA directly. You can cancel a lot of bookings on Booking.com up to a day or two beforehand, which is very handy if you get diverted by the weather like we were. This includes bookings made at youth hostels if made using Booking.com. You can also cancel some bookings made through YHA. Don't forget to claim your Cycling UK member discount of 15% at many youth hostels.  Only two places didn't have secure storage for bikes - Sandra's Backpackers in Thurso, where the bikes had to stay outside in their yard overnight and the Wetherspoons in Tavistock, where they were locked to Sheffiield stands behind a locked gate. Everywhere else let us either put the bikes in the room or locked them up in a storeroom or similar. If you want to be sure your accommodation is cycle friendly, use Cyclists Welcome. 
Carry at least 2 bottles of water - we added hydration tablets to them, which really helped with energy levels. We also had energy gels, Haribos and other snacks in our bar bags.
Use a Garmin or smart phone navigation if possible, especially in Cornwall and Devon, where there are few signposts to help you out. Alternatively, take Ordnance Survey maps for those areas and/or use a Philips road atlas for the rest - tear out the pages you need and highlight the route, although this doesn't show gradients in detail. A tablet computer is a good item to carry so you can plan ahead if your phone isn't sufficient. 
If you're fairly fit anyway, you won't need a lot of training as you'll be getting fitter as you ride. If you're not a regular rider, start a training programme at least 3 months ahead and get used to the bike and the saddle you will be riding on. If the saddle starts to cause you pain on the ride, try adjusting it vertically and horizontally as this can make a big difference, as does wearing more than one padded layer and using Sudocrem before each day's ride.
Shorter days in Devon and Cornwall (45 to 60 miles) are equal to long days (60+ to 100+ miles) everywhere else, except the Highlands possibly.
Our Schwalbe Marathon tyres only suffered one puncture, which was caused by me riding over a glass bottle.
Plan a rest day if possible after, say, 5 or 6 days of riding. Another one after, say, 10 to 12 days would be a good idea if your schedule allows.
Don't rely on the directions of strangers - they often want to send you on to busy A roads, even though there are quieter alternatives!
Your hands may also get very sore after gripping the handlebars for hours on end - I bought some large gel mitts in the end and wore them over my fingered gloves when it was chilly.
It's 'gruelling' in places but most of Lejog is well within most people of average fitness's ability and, like childbirth, you'll forget the pain once it's over and might even consider doing it again! You can certainly fit it in in a couple of weeks, especially if you use a Bank Holiday weekend like we did - you could even consider using the Caledonia sleeper train to get to or from Inverness and save on a day's travelling time but you would need to book well ahead to be sure of getting your bike on the same train, otherwise it will go by van. 
Don't forget there's lots more advice, routes, accommodation and useful information in our End to End pack, which is FREE to Cycling UK members!
Full kit list: 
Julie - clothing
Long-sleeved base layer 
Altura Merino wool base layer
Gilet
Rapha rain jacket*
Rapha leggings*
Altura raincoat with detachable hood
Flow women's MTB shorts*
Teslar MTB shoes
3 x Buffs
Look Mum No Hands hat
Gel mitts
Long-fingered gloves
Padded extra-thick gloves
Julbo ladies' cycling sunglasses*
Morvelo socks
Morvelo Blizzard top
Waterproof socks
Woollie Boollie socks
Long-sleeved stripy cotton T-shirt dress 
Black leggings
Light suede boots
Bike and equipment
Pilgrim Cycles Northdown tourer*
Ortlieb Back Roller Classic panniers x 2*
Ortlieb Ultimate 6 Pro bar bag*
Ortlieb Tablet-Case*
Mobile phone and charger
Tablet and charger
2 x water bottles
Front and rear lights
Lock and key
Maps
Additional luggage
Phone case doubling up as a wallet
Wash bag with travel towel and travel size toiletries
Medical kit including Sudocrem
Energy gels, hydration tablets, Haribos, extra snacks
Sun cream
Lip salve
Small Thermos flask
A full review of items marked with * will appear on this web site soon. 
Route details - I will be adding GPX files to all stages in due course
Day 1 Penzance to Land's End to Penzance 
27.67 miles, 1539 feet of climbing, 1553 feet of descent
Day 2 Penzance to Par
61.55 miles, 3870 feet of climbing, 3906 feet of descent
Day 3 Par to Tavistock
​44.62 miles, 950 feet of climbing, 943 of descent
Day 4 Tavistock to Tiverton
​46.4 miles, 4200 feet of climbing, 4246 feet of descent
Day 5 Tiverton to Bristol
79 miles, 2611 feet of climbing, 2795 feet of descent
Day 6 Bristol to Cradley, Herefordshire
78 miles, 2279 ft of climbing, 2023 ft of descent
Day 7 Cradley to Wrexham
Day 8 Wrexham to Birkenhead
Day 9 Birkenhead to Slaidburn
Day 10 Slaidburn to Carlisle
Day 11 Carlisle to Innerleithen
Day 12 Innerleithen to Edinburgh
Day 13 Edinburgh
Day 14 Edinburgh
Day 15 Edinburgh to Inverness by train
Day 16 Inverness to Altnaharra
Day 17 Altnaharra to John o Groats and John o'Groats to Orkney by ferry
Day 18 Orkney
Day 19 Orkney
Day 20 Orkney to Thurso by ferry
Day 21 Thurso to Inverness by train and Inverness to Tomintoul by bike
Day 22 Tomintoul to Blairgowrie
Day 23 Blairgowrie to Edinburgh