How I got my stolen bike back!
Carol never expected to spend her birthday staking out a potential crime den in Leyton, East London.  And as I sat there sunk in the passenger seat of her van, eyes fixed on the wing mirrors, I too began to question what on earth I was doing.
It all started when I left my Specialized Sirrus overnight in Old Street in London and – perhaps unsurprisingly – it was stolen.
That feeling of defeat as you walk empty handed from the bike racks will be familiar to too many. I reported the bike stolen and marked it as such on the Bike Register, the national cycle database. All I could do now was dread my bikeless commute the following morning.
That day I began some detective work. Not expecting anything, I was shocked to find a listing on Gumtree that looked suspiciously like my bike.
The ad had all the hallmarks of theft. Poor photos, low cost and a description with no detail whatsoever. The bike itself had no back brake – possibly damaged when the thieves sawed through my lock. If it was mine, the mudguards and pannier rack had also been removed.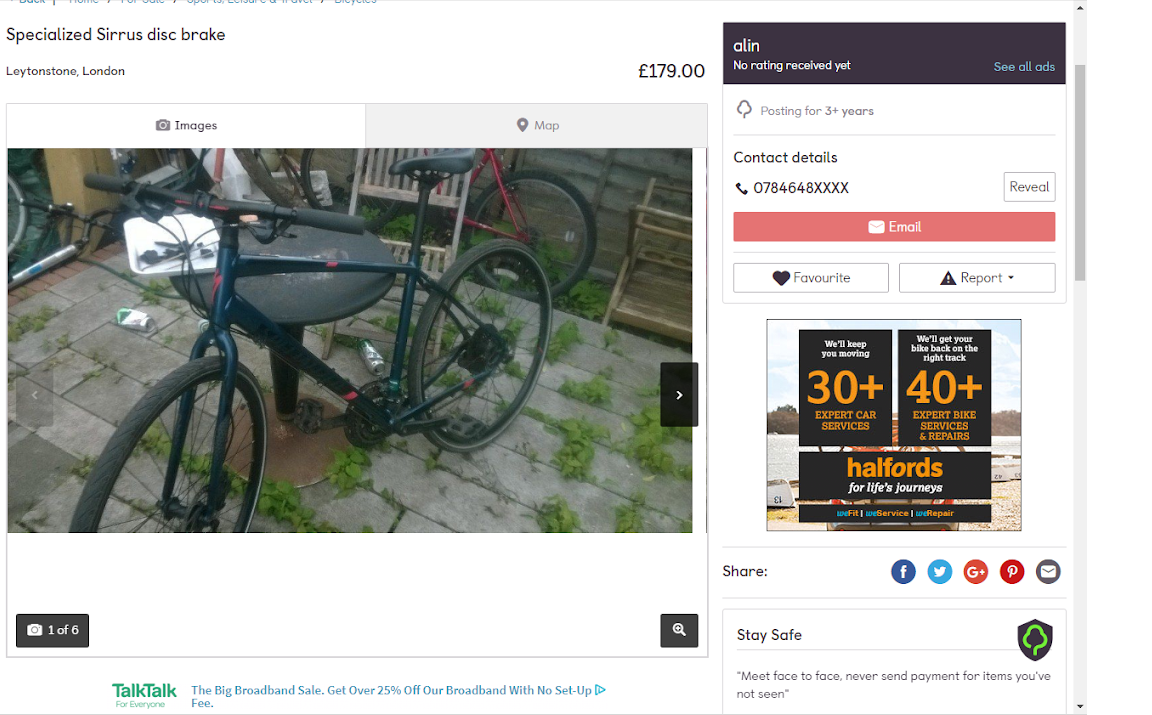 I called the police straight away but for 24 hours I was sent around in circles. I eventually settled on plan B… take the law into my own hands.
Posing as a buyer, I arranged to meet the seller the following evening. Panicking slightly, I tried to recruit some heavies to back me up. But as it dawned on me that I wasn't a Kray twin, I settled on Carol, my girlfriend's mum.
We met at Leyton station and devised a plan. I was to go and meet the seller and take some photos of the frame number. If it matched mine, I would call the police.
We decided that I would meet the guy alone but Carol would park within eyesight, just in case I got an opportunity to ride off with the bike.
We drove to the road where I jumped out of the van and anxiously shuffled toward the address given in the ad.
I knocked at the door. Two men answered and look at me confused. "I'm here about the bike," I shakily announce. The men look at me perplexed, "no bike here."
Bewildered, I turn around. Where is my bike? What have they done with it?
Suddenly a car comes screaming down the road and pulls up behind me. The men inside eye me with suspicion. "Number 30?" the driver asks, referring to the door number. My nerves flying, I confirm it. He stares at me, expectantly. I stare back, looking as hard as is possible in a pair of chinos. I'm trapped, I think. But who are these people? Gangsters? Police?
Suddenly, the driver smiles. "Curry?" he asks, before pulling a bag up from the footwell. The men at the address collect their meal and look at me, rightly, like I am utterly deranged.
A few minutes later I find the seller a few doors down, with a bike I instantly recognise as mine.
I attempt to ride the bike around the corner to take some photos where the seller cannot see me but he calls me back. Desperate not to spook him, I return. I know it is my bike but I cannot prove it. In a second, against all logic, I will have to willingly hand my bike to a bike thief. Surely there is a better way?
I begin doing a crazed limbo around the bike, trying to get a glimpse of the frame number. Unable to take a photo, I put all my trust in my brain. Questionable perhaps, given my brain's recent record.
On her majesty's secret cycle service
Eventually I leave, telling the seller I will call him later. I meet Carol on a parallel street and check if the frame number matches my memory. It does! My nerves jangling, I call the police. They will send a team that evening. In the meantime, they say, make sure the bike stays put.
Our stake out begins. Parked facing away from the property, we watch the seller's house in the wing mirrors. My anxiety is soaring but offset ever so slightly by The Archers theme tune on BBC Radio 4 – a classic vigilante soundtrack!

Tom Guha
This is where Carol and I become Starsky and Hutch and I feel like we are on her majesty's secret cycle service! Our stake out begins. Parked facing away from the property, we watch the seller's house in the wing mirrors. My anxiety is soaring but offset ever so slightly by The Archers theme tune on BBC Radio 4 – a classic vigilante soundtrack!
An hour passes by and we both begin feeling tetchy. We are already hours late for Carol's own birthday meal. Just as we begin considering alternative plans, the police appear. Barely able to string a sentence together, I point them to the address.
The seconds tick by and thirty minutes and two wrong addresses later, they finally find my bike. Face to face with the seller once again, he tells me he bought the bike in Brick Lane, cycled it home and decided he did not like it. An unlikely story but one the police cannot disprove without a full inquiry, which they are not going to pursue. I don't care. I am just pleased this episode of Startsky and Hutch had a happy ending. 
Obviously it is not advisable to go and meet a potential criminal. I was lucky but the situation can be dangerous. 
For sensible advice on bike security, please see our guide. 
The Met Police advise: 
In the event that your bike is stolen, contact your local police (either 101 or go to your local station) as soon as possible with as much information as possible.
If you have the frame number, BikeRegister number, a photo and any other details the easier it is for police to find your bike and return it to you.
Register it - Get your bike security marked and registered at BikeRegister. It's a highly effective, visible deterrent to bike thieves. They know that if they are caught with a registered bike, the owner can be traced and they will be arrested. Immobilise is another free site where you can register your bike's details.
Record it - Remember to record details of your bike such as the frame number (normally found underneath the bike between the pedals or where the back wheel slots in), the BikeRegister number plus any other distinguishing features, and take a photo. Also individualise the bike, make it unique to you.
If you see a bike online and believe it to be your stolen bike, make 100% sure it is your bike and not possibly your bike. – Make police aware of any distinctive marks etc. The Police will carry out an investigation.
If your bike has been stolen and you are able to give details of the bike then police will repatriate it to you following its recovery after an investigation. However, if several months/years have passed and it is sold on, it might become a civil matter.
In all cases, time and details are most important in this circumstances to get a bike back if should it be stolen.