The future of mobility: electric cars and vans... or bikes?
Thursday, 27 September 2018
Amidst all the Brexit-related headlines, one recent engagement in Theresa May's diary seems to have had very little media attention: her attendance at the Government-sponsored Zero Carbon Vehicles Summit in Birmingham, on 18 September.
The Prime Minister used the occasion to announce £106 million for research and development into electric vehicles. In her speech, she presented this as evidence that the UK is developing global leadership through "our modern Industrial Strategy, we are backing the industries and technologies of the future."
Interestingly, her speech also mentioned electric cargo bikes (though only once!). 
I'm pretty sure this is only the second time she has mentioned cycling in her role as Prime Minister. (The first was an answer at Prime Minister's Questions, about the death of pedestrian Kim Briggs, killed in collision with a fixed-wheel bike being ridden illegally without a front-brake by Charlie Alliston. Her response triggered the Government's review of cycling offences, the focus of our current Road Justice campaign - though, more positively, it now also forms part of the Government's wider Cycling and Walking Safety Review).
On the day before the PM's speech, Local Transport Minister Jesse Norman MP had announced that the Government would invest a cool £2 million in supporting the uptake of electric cargo bikes. This is hardly mega-bucks, but it is a heartening signal of the direction Jesse Norman is keen to take. 
However, The Times reported that he had asked Chancellor Philip Hammond for subsidies for e-bike purchases, potentially worth up to £800 on a £2,000 machine. We can only hope he persists in seeking Treasury support for e-bikes, and that he is more successful next time!
Cycling UK has long questioned why the Government's Office for Low Emissions Vehicles provides such generous subsidies for electric cars, vans and charging-points, yet nothing for e-bikes. 

Roger Geffen, Cycling UK Policy Director
Cycling UK has long questioned why the Government's Office for Low Emissions Vehicles (OLEV) provides such generous subsidies for electric cars, vans and charging-points, yet nothing for e-bikes. 
We have pointed out that, whilst electric cars and vans can tackle air pollution and greenhouse gas emissions, they do nothing to reduce the costs to society of congestion, road casualties or physical inactivity. 
Evidence from a 2009 Cabinet Office report on the costs of transport in English urban areas shows that the economic cost of these three things is of a similar magnitude to that of air pollution. By investing in e-cars and vans but not e-bikes, we are spending a lot more money, whilst tackling only a fraction of the problem.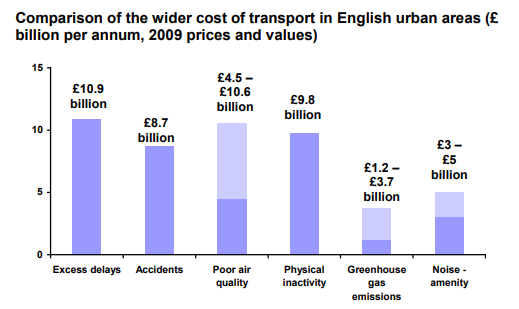 The Zero Carbon Vehicles Summit also coincided with the close of two Department for Transport consultations (or 'calls for evidence' as they now prefer to call them). Both of them related to the Government's Industrial Strategy, and specifically to two of its four 'Grand Challenges': these being 'clean growth' and the 'future of mobility'. 
The first was a wide-ranging call for evidence on the Future of Mobility itself. The other focused on last mile deliveries and specifically the role that electric vehicles could play in replacing the petrol and diesel vans that are increasingly replacing cars as the major source of urban congestion (this, of course, is partly due to the growth of online shopping).
Cycling UK has responded to both consultations.
Our Future of Mobility response put forward a range of measures under four main headings:
Funding: substantially shift the balance of transport funding as part of the Government's forthcoming spending review, increasing investment in the Cycling and Walking Investment Strategy, supplemented by revenues from charging to tackle air pollution;
Cycle-friendly planning and design: including protected cycle lanes on faster and busier main roads, 20 mph streets and solutions to improve pedestrian and cycle safety and priority at junctions;
Alternatives to cars and vans: such as e-bikes, hire-bikes and the wider integration of cycling and public transport;
Other cycle safety measures: strengthening driver awareness and the Highway Code, backed by improved road traffic law and enforcement, together with a range of actions to tackle the threats posed by lorries.
We will be making similar points in our forthcoming response to a Commons Transport Select Committee inquiry on active travel - of which, more anon.
As for our Last Mile response, we naturally supported action to boost the use of e-bikes.
We made the point that recent reductions in car use in urban areas are creating opportunities to reallocate road space to create protected cycle lanes. These could, however, be threatened by pressures from increasing van use, if we do not take action to promote cargo-bikes as an alternative. We also argued for stronger action to reduce the risks to cyclists from urban lorries, particularly when turning left at junctions.
The Government has a choice in how it responds to those two 'Grand Challenges' it has set itself in its Industrial Strategy. It can focus solely on reducing the pollutant and greenhouse gas emissions from motor vehicles, while failing to tackle congestion, physical inactivity and road casualties. Or it can recognise that pedal cycles, and particularly e-bikes, have a major role to play in tackling the full gamut of transport-related problems. That £2 million for electric cargo bikes that Jesse Norman extracted from the Treasury needs to be the start of something much, much bigger.