Cycling and the future of urban mobility
Transport Minister Jesse Norman MP has been busy this week. On Tuesday (19 March), he unveiled the Government's Future of Mobility: Urban Strategy.
Two days later, he was responding to transport questions in Parliament, one of which was about Government support for cycling and walking. In response, he told MPs that he had allocated a very welcome £21m of new funding to support Sustrans' plans for the National Cycle Network.
This formed part of an announcement which also included £1m for Cycling UK's Big Bike Revival programme – a much-appreciated doubling of last year's figure – and another £1m for the Walk to School Outreach programme run by our friends at walking charity Living Streets.
There had been more good news for cycling and walking in the Chancellor's Spring Statement the previous week.
His allocation of £60m from the Transforming Cities Fund included almost £3m for active travel in Derby and Nottingham, over £6m for Leicester, another £5m for schemes in the north-east, £2m for Sheffield (including an e-bike scheme for employers), over £3.5m for Stoke, £2.2m for West Yorkshire (for projects in York and Kirklees) and £0.5m for Plymouth.
We are genuinely grateful for investment, and for the real efforts made by Jesse Norman and the officials in the Department for Transport's (DfT) cycling and walking team to secure it.
Yet, at the risk of staring a gift horse in the mouth, it has to be said that it's still some way short of being the long-term consistent funding that's needed if the Government is to achieve its stated aim – as set out in its Cycling and Walking Investment Strategy – to make cycling and walking "the natural choices for short journeys, or as part of a longer journey".
The Government has quietly acknowledged (see paragraph 2.8, page 12) that its current policies will only achieve a third of the growth in cycling needed to meet even its modest target to double the number of cycling trip 'stages' (journeys made wholly or partly by cycle) by 2025. 
That would increase cycling from less than 2% of trips to about 3.5% (after allowing for population growth). That's still a lot less than countries like Sweden (8% of trips), Germany (10%) or even mountainous Switzerland and Austria (both 9%), let alone Denmark (19%) and the Netherlands (26%).
In short, we still have a long way to go.
Urban mobility
So what does the Government's new 'Urban Mobility' strategy have to say about all this? Given the prominence given to cycling on its front cover!
Well, the first thing to note is that its focus is on adapting to changes in both travel behaviour and transport-related technologies. It notes that individuals are travelling less (fewer commute trips due to remote working, fewer shopping trips due to online shopping), but that van use is increasing; again, online shopping is a big factor.
It discusses how travellers are making use of live journey planners and other online data to help them decide how to get around. It talks about ride sharing, hire cars, hire bikes, electric cars and electric pedal cycles, electric scooters, 'autonomous vehicles' (driverless cars and other vehicles) and even drones. It outlines both the potential upsides and downsides of all these changes.
Much of this reflects Cycling UK's input to the original consultation.
The document then sets out some very sensible Principles which will guide the Government's approach to these changes: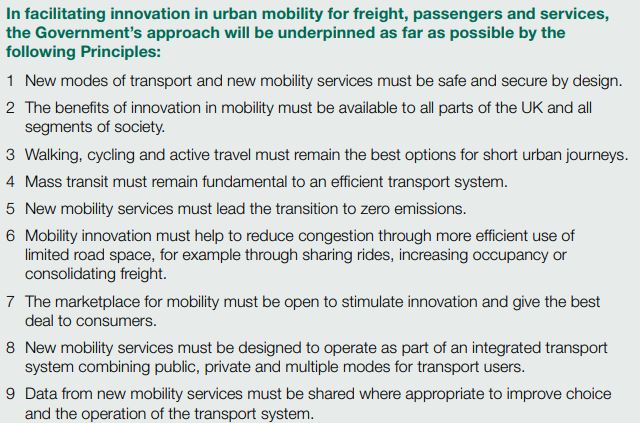 I could quibble with point 3. Walking and cycling surely need to 'become' (not remain) the best options – they are far from being good options at present! This needs to apply to short rural, as well as urban, journeys.
In terms of the detail, it would have been good to see more on things like support for e-bikes in general, not just for electrically assisted cargo bikes, welcome as that may be; integrating hire-bike schemes with smart public transport ticketing; and the use of cycling travel data (including from hire bike journeys) to plan local cycling networks.
Still, the principles overall are pretty sound.
Yet I can't help wondering if they could have been expressed more succinctly? How about: "The Government will seek to reduce the overall use of motor vehicles, and the congestion, danger, pollution, noise and greenhouse gas emissions they cause."
Parliament passed two excellent Traffic Reduction Acts in the late 1990s, yet they have lain dormant for almost 20 years. The Government is facing repeated legal action for its failure to tackle air pollution.
It has received stern criticism from the statutory Committee on Climate Change over the likelihood that the Government will miss its fourth and fifth carbon budgets – and particularly the inadequacies of its Road to Zero strategy for tackling emissions from road transport.
Isn't it time the Government exercised its powers and duties under the Traffic Reduction Acts, and put in place a plan to reduce road traffic? And – as we pointed out in our recent evidence to the parliamentary inquiry on active travel – will that not require a substantial shift in transport funding, from the £28.8bn National Roads Fund to its sorely under-funded Cycling and Walking Investment Strategy?
In this respect, I was much heartened by Jesse Norman's final answer to yesterday's session of transport questions in Parliament. With his ministerial boss (Transport Secretary Chris Grayling) sat beside him, he was asked whether the Government's current funding for cycling and walking was anywhere sufficient. To which he answered: "We'd like to get it a lot higher if we can."
Yes Minister – we like it!
(Oh, and do enjoy this wonderful bit of parliamentary comedy a few moments earlier!)
Cycling UK and our partners continue to support Jesse Norman and his valiant cycling and walking team in seeking a greatly strengthened Cycling and Walking Investment Strategy, as an outcome of the Chancellor's recently announced three-year Spending Review.
Take action!
You can help support our funding campaign, run jointly with Living Streets, to increase the 'Investment' part of the Government's Cycling and Walking Investment Strategy.
Please email your MP and your lead councillor, asking them to write to Jesse Norman, seeking earmarked funding for local councils in England (outside London) to deliver comprehensive Local Cycling and Walking Investment Plans for their areas.
Their letters will help Jesse Norman make the case to the Treasury, not only that investment in cycling is incredibly good value for money, but also that it has huge local and national political support from across the political spectrum.
We understand that the Minister has already had 186 letters and emails from MPs as part of our campaign. Please keep 'em coming!