What bike is best for King Alfred's Way and other questions
King Alfred's Way is a wonderfully diverse route in terms of landscape. Between the Roman road singletrack tunnels out of Winchester, the tank roads of Salisbury Plain, the chalky ruts of the Ridgeway, the sandy heaths and woodland of the Surrey Hills and the steep, flinty roller coaster trails of the South Downs Way, there's certainly no 'standard' surface.
Add all the back roads and cycle paths in between and you might be wondering what bikes will work best and what kit, clothes and food should you take for a safe and enjoyable time.
What's the best bike to ride King Alfred's Way?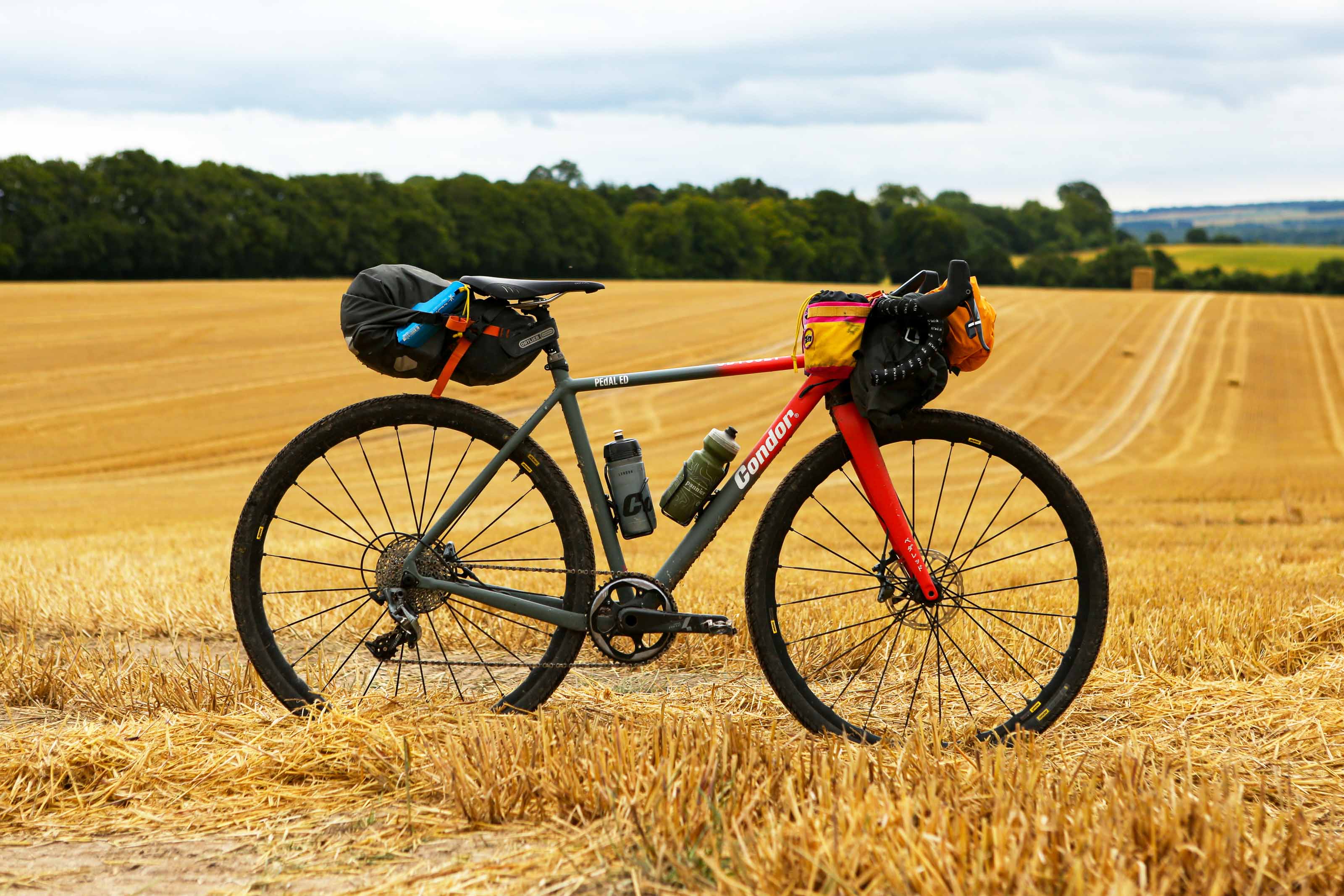 A modern gravel/adventure/hybrid bike with 40-50mm tyres is ideal for this route and it's what we used for the recce ourselves. Obviously that covers a huge range of cycling's latest favourite bike type, from sturdy steel to super-light carbon and relaxed to racy handling.
In general that's enough tyre cushioning, protection and traction to cope with the rougher sections, without too much drag on the easy bits. Plenty of thorny bushes and sharp stones make punctures likely, though, so we'd really recommend running tubeless tyres with extra sealant.
Drop bars on gravel/adventure bikes will sneak through the tight bushes better than MTB bars and tuck you out of any headwinds waiting on the wide open plains or ridges of the route. Flat bars on hybrid bikes will catch more wind and shrubs but will give a more upright, relaxed riding position.
Unless you've got really low gears expect to push some of the steeper, rougher climbs, especially if you're loaded, and be careful on some of the descents too.
Can I ride the route on a mountain bike?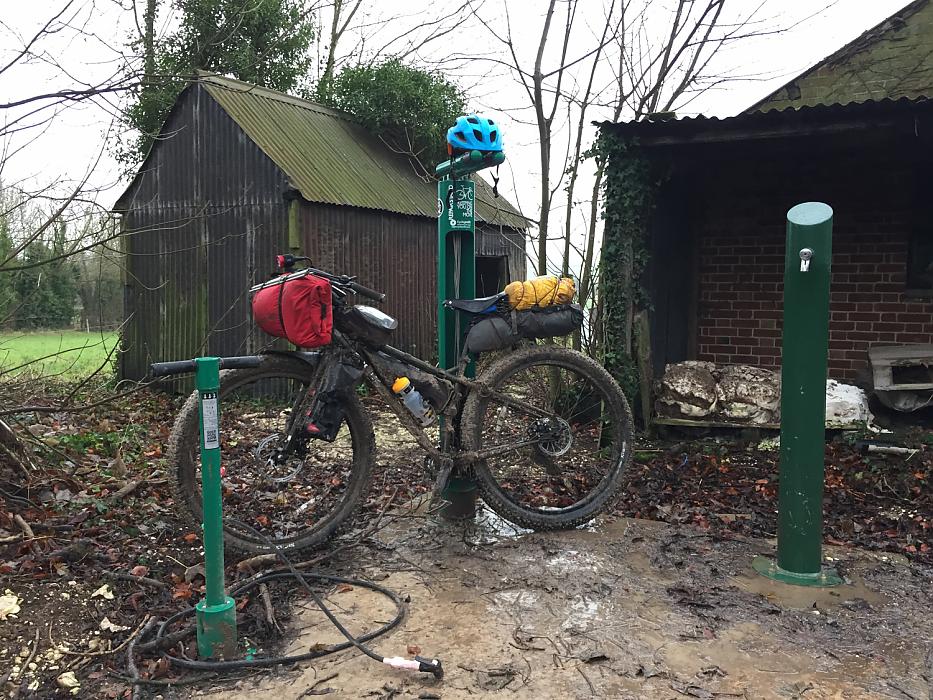 With bigger, grippier tyres, a more upright position, lower gears and maybe suspension, a mountain bike will make any of King Alfred's challenges a piece of burnt cake.
A lighter, narrow-bar, cross country-style bike will be easier on your legs and less likely to snag on shrubbery than a heavier trail bike. However, if you're wanting to add in the extra 'fun loops' at Queen Elizabeth Country Park or Rogate B1ke Park then they're worth the extra drag on the roads.
I'm a tourer at heart and don't mind a bit of the rough stuff, would my trusty touring bike cope?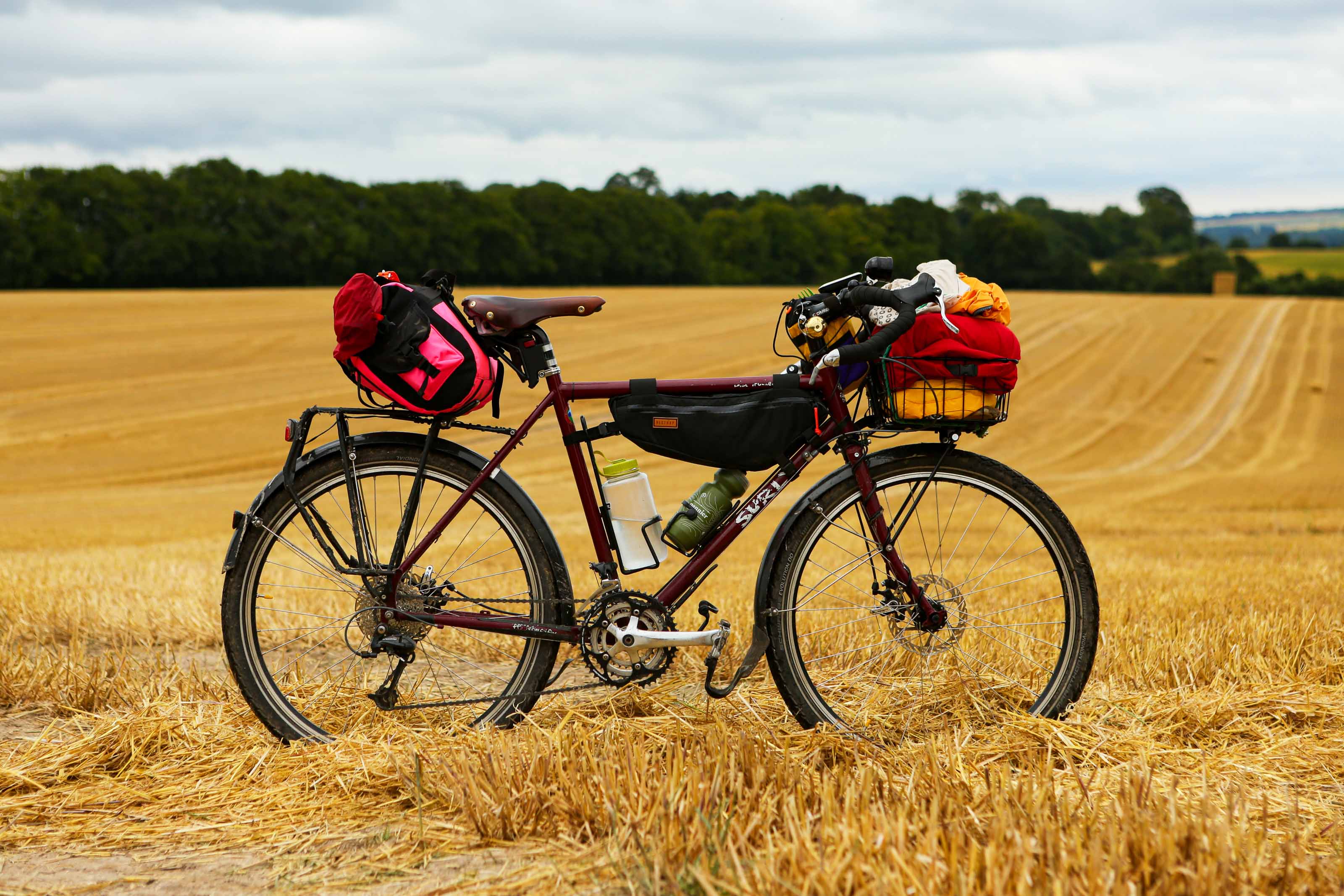 The route is do-able on a touring bike – or even the latest fatter-tyred road bikes – but if you're on narrow 28-32mm tyres expect to nurse them through the rockier sections and sink or slip more in any mud and sand than you would on fatter rubber. That'll be even more of a concern if you're heavily loaded.
If you're on wider 26in or 650B tyres, though, you'll bowl along fine and all the drop bar advantages we've mentioned for gravel bikes still apply here.
How about an e-bike – are there enough charging points to make it possible?
With lots of potential stopping/recharging points very close to the route, just a couple of sets of ramped steps and no 'lift over' gates, King Alfred's Way is definitely much more suited to e-bike use than wilder routes like the Great North Trail.
As always with e-bikes, add a safety margin of assisted range into your daily plans rather than risking being caught out with a flat battery on a far-from-flat trail. If you ask nicely, many cafés and pubs will let you top up batteries while you take a leisurely lunch, but we'd suggest ringing ahead to be sure.
What sort of luggage should I use?
How you load your bike obviously depends on what that bike is and how much kit you're taking.
Bikepacking rigs (bar bag, frame bags, seat pack) are all the rage right now as their softer mounts cope with off-road rattling better and keep your bags clear of low bushes and puddles. If you're carrying a lot of weight up high then they can be a bit wobbly on twistier, more technical trails, where the constant movement will wear paint away very fast if it's not protected.
A traditional pannier rig is the most stable approach but you'll need to be careful of clearance on some of the deeper ruts and check your rack bolts haven't rattled loose on a regular basis.
Are there any particular tools/spares I might need?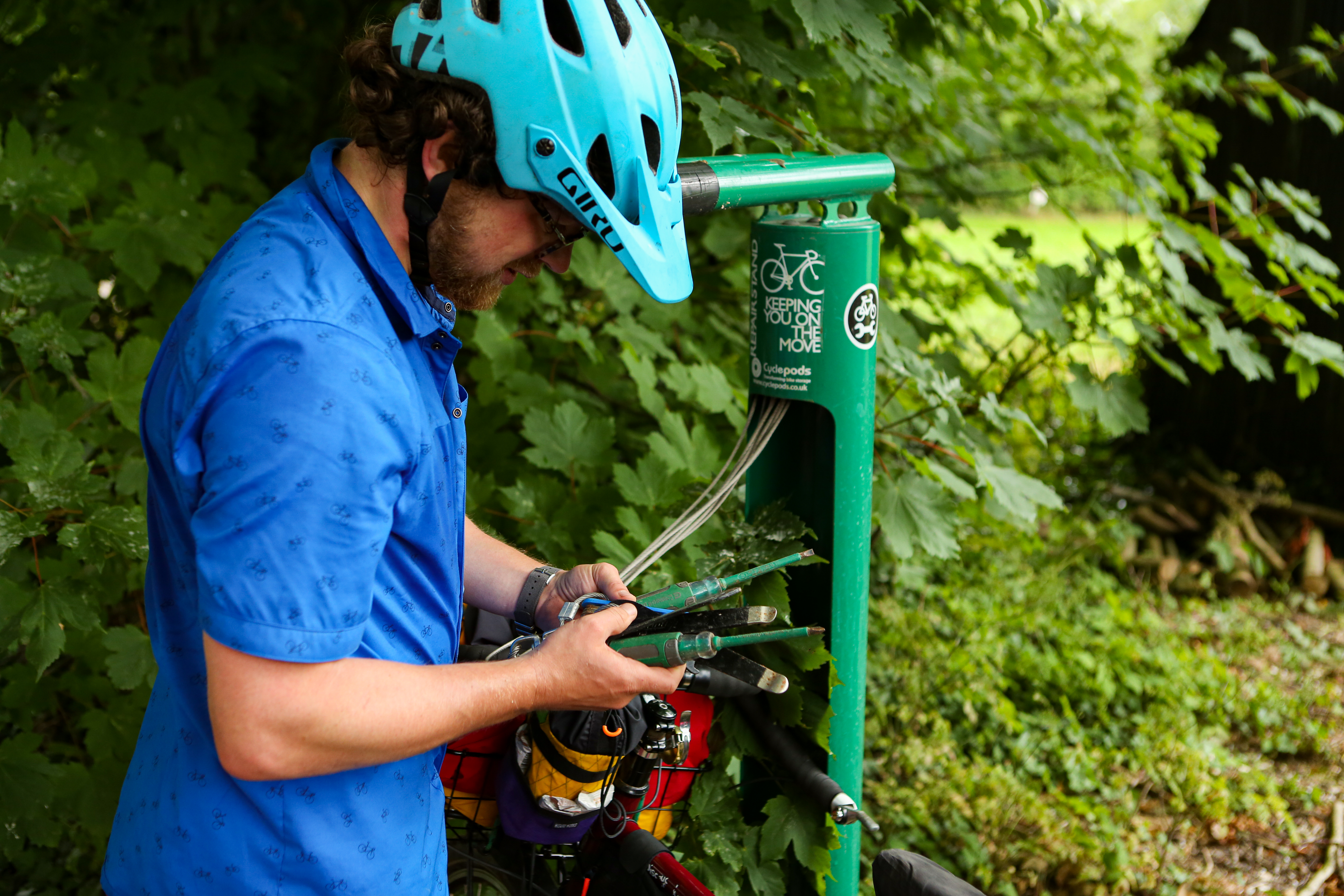 The South Downs Way has handy tool stations along its route and there are lots of bike shops nearby from Swindon round to Salisbury.
Nobody likes a needless diversion, though, so we'd definitely cover the basics. Lots of pointy thorns and rocks along the way make tubeless plugs, inner tubes, patch kits and a pump essential. The sharp flints that made this area so popular with Mesolithic and Neolithic tool-makers can slash tyres easily too, so we'd definitely suggest taking a tyre repair boot/patch as well.
Make sure your multitool fits all the bolts it needs to and tape a spare chain link onto it for a fast fix. A small bottle of lube for lunchtime top-ups will also make your ride a lot smoother and quieter in mixed weather, while gaffer tape and zip tie bodges have saved many a ride from disaster.
It's always sunny in the south of England, I should be fine with just shorts and a short sleeve top, right?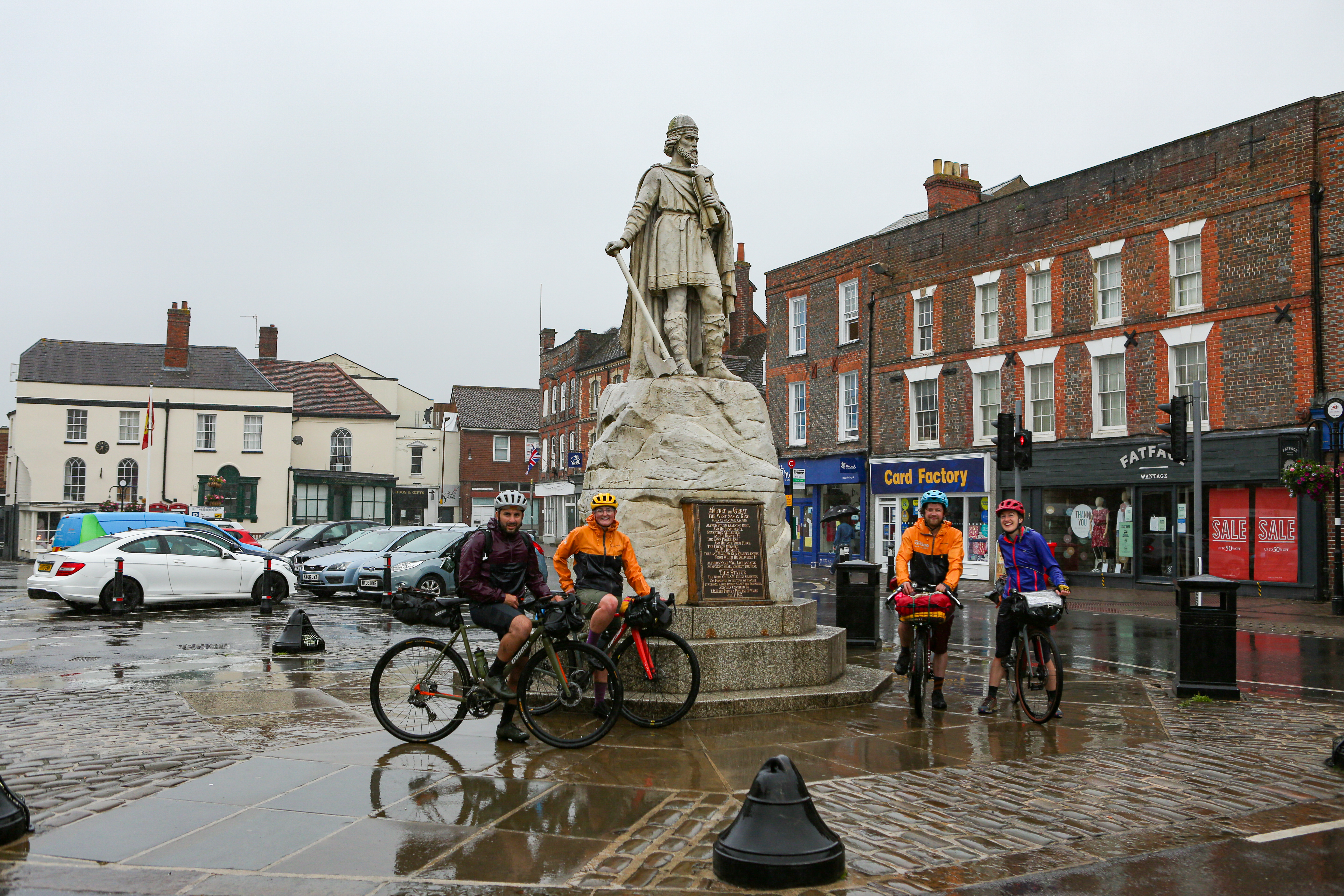 When choosing your King Alfred's Waydrobe, pack with the ever changeable English weather in mind.
While a lot of the eastern and southern part of the route is well sheltered with woodland or tunnels of trees, Salisbury Plain and the Ridgeway offer little shelter from wet or wind. Neither of those are nice but combine them together and things can get really miserable, really quickly.
Everyone has their favourite gear but taking a lightweight shell, mid and base layer that you can switch around to match varying warmth/waterproofing needs is the most versatile solution. Multiple light layers will also dry faster between showers or overnight.
A pair of waterproof over shorts to stop grit grinding you down takes up minimal space and a fresh pair of socks for each day is a delicious comfort treat for your feet. Packing a jacket and riding trousers that are 'civilian' enough for the campsite, hotel or B&B also means you don't have to double up, as long as you don't get them too dirty.
Is it easy to stock up on food along the way?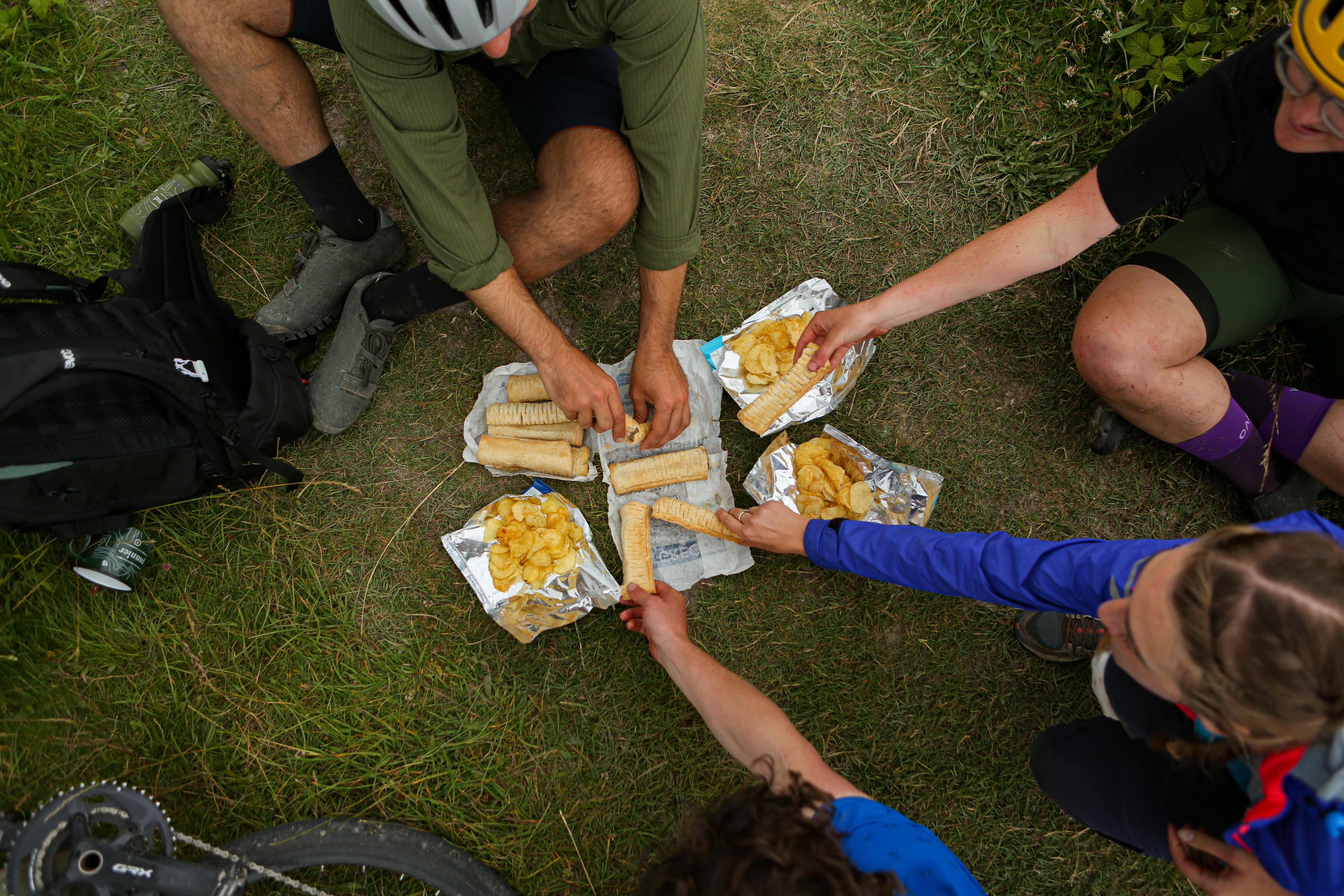 Again catering convenience varies depending on where you are.
From Salisbury to the Thames there are relatively few shops, pubs and cafés close to the route so we'd definitely take two bottles and a decent selection of snacks if you don't want to be stopping every couple of hours. Even with refills at lunch stops we were glad of a third bottle when we did the recce in three days in hot weather.
From the Thames round to Winchester shops, cafés and water taps are more frequent, but keeping the route quiet means most are at least a short diversion away. So again, the more you can carry, the more you can stay on the route and stay on schedule.